Belkin Family Lookout Farm
| | |
| --- | --- |
| Hours: | Open Daily from 10:00am - 5:00pm |
| Ages: | Toddlers, Kids, Teens, Adults |
| In/Outdoor: | Outdoor |
| Cost: | $$$$ see below |
| Category: | Farms & Orchards |
Other Ideas:
Kimball Farm
;
Connors Farm
;
Parlee Farms
;
Carver Hill Orchard
;
Honey Pot Hill Orchard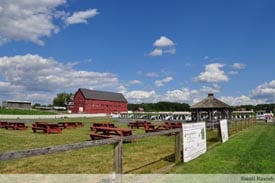 Established in 1680, Belkin Lookout Farm (formerly Marino Lookout Farm until 2005) is one of the oldest working farms in Massachusetts, and the country!
Certified organic - you can pick your own apples - with 11 types to choose from as well as Asian pears.
Belkin Lookout Farm invites you to take part in the New England apple picking tradition! Each harvest season at Lookout Farm offers a unique opportunity to enjoy a spectacular autumn day while you pick your own apples, Asian pears, peaches, berries and more.
Monday- Friday Activities
Train rides, farm animals, hay pyramid, farm maze, children's caterpillar rides, and more!
Saturday and Sunday Activities
Live children's entertainment( shows at 12:00, 1:00 and 2:00) and children's face painting(12:00-4:00), Train Rides - Farm-themed Children's Play Area - Face Painting - Live Children's Entertainment - Hay Pyarmid - Caterpillar Rides - Burlap Maze - Farm Animals - Moon Bounce - Busy Bee Learning Center.
Burlap Maze
Can you find your way through this handmade burlap maze? This challenging attraction is sure to be a hit, and your friends and family can watch from atop the Hay Play Pyramid to see who's winning the race.
Caterpillar Rides
Let the kids take a spin on the Caterpillar Ride, a rubber–tire train that takes you along a scenic path around the Children's Play Area. This is perfect for 3–10 year–olds. Each ride takes about 5 minutes, and they're held at the children's play area daily (except for the occasional Wednesday).
Hay Pyramid
Hay is for horses. But this hay is for anyone who loves to climb! This safe play area, made out of 400 hay bales, is located near the petting zoo, pony rides, and bee observatory, and is open during our Fall U-Pick season beginning September 1 through the end of October. To make it even more fun this year, you can watch those making their way through the new burlap maze from the tip top of the pyramid!
Train Rides
Belkin trains transport happy customers through our acres and acres of fruit daily during U–Pick season, and on the weekends beginning in the late spring. These unique, environmentally friendly rubber–tire trains were imported directly from a company in Italy. Trains board at the U–Pick station, and our conductors announce the different stops and what's pickin'. You can get on and off as often as you'd like; see our map for the train route.
Children's Play Area
Tag — you're it! From the slide to the seesaw sheep to the climbing area dubbed the "Wiggley Worm," there are hours of fun at to be had on this playground for the kids. Stop by the concession area to grab a snack, then enjoy a little relaxation on one of our cozy picnic benches while the children have the time of their lives.
The Petting Zoo
Our petting zoo is located by the children's play area and is open whenever our trains are running. Our animals are all very friendly and love to interact with children. Kids (and adults) of all ages will enjoy spending time here! Meet and pet our rabbits, sheep, goats, and even our pot–bellied pigs.
If animals are your thing, you can find more
farms with animals near Boston
.
Looking for more places go
apple picking near Boston
or to find places to
Pick your own blueberries
? Check out our handy guide featuring some of our favorite spots to pick your own fruits!
---
View Admission & Pricing

Fruit Bag Pricing:
Small $14
Medium $22
Large $36
---
---
89 Pleasant Street, South Natick, MA, 01760
map
Phone: 508-653-0653
---
Be prepared to pay an entrance fee, and a la carte for most activities.
---

They treat you like a thief
I will never go back there. I went to this farm today with my 70 yr old mother, a friend and 2 kids. Very expensive to get in and you are forced to buy a bag on top of the tickets. On our way out there are guards at the door to search you like you are a theaf, I had to explain to my 4 yr old that those people were checking the guest for stolen apples, so embarassing! Then my 70 yr old mother was walking out w ONE apple on her hand, visible for everyone to see and the fat security lady started yelling at her that she had to pay, my mother doesnt speak english so she couldnt understand, the lady kept yelling at me that she had to pay for the 1 apple that she had on her hand. I got so mad and said that we didnt want the apple anymore, so she called the supervisor to explain to me why was so important to pay for that 1 apple. After we spent almost 100 dollares to get in and get a tine bag that fits 6 apples. I have to say that next time I will take my son somewhere else where people have more respect for you. The supervisor came w this story about the farm lost over 1000 dollars from people stealing apples... excuse me? And how much money do they make with the outrageous cost to compensate? I am sure they dont need to check baby diper bags. It was like people were walking out of there with gold. I will never go back and if you go make sure you bring NO bags from home or you will have to explain to your little ones why people are checking their snack bag.
---

Belkin Lookout Farm
It's good for small children but incredibly expensive for the experience! If it was priced right, people would return...
---

A Little Pricey For A Large Family
We went apple picking here on Columbus Day. It was $14 for each of the two adults and my son is 2 so he got in for free. He had a fantastic time. We weren't charged extra for anything as it was a holiday (not sure if they do this for other holidays as well.) He loved the train ride to the play area and to the orchard. There were lots of families there and we did have to wait in a few lines. Everyone on staff was very friendly, especially with my son. His favorite activity was the tree house slide but he also liked the petting zoo and the caterpillar train. He's still too squirmy for the face painting but the designs we saw on other kids were cute. There was even a magic show. The picking season started early this year due to the weather so many of the trees were picked clean. We had to walk a bit but ended up with 11 pounds of Jonah Golds. We ate several while picking and they were so yummy. We picked out some nice big pumpkins on our way out and took lots of pictures of our day. We'll definitely go back again next year.
---

Way Too Overpriced Nothing Special
It was $14 for adults and $12 for kids = $52 for my family of four JUST TO GET IN!!! A bag of apples also cost us an addition $25 which I could've gotten at the grocery store for maybe $10. My kids are 7 & 11 and were bored with all the little kiddie stuff. The bee house is nothing but some informational posters on the wall, the maze took us 5 minutes, the hay pyramid took my son 3 steps to get to the top, i made them play in the playground longer than they wanted for how much we paid, i waited in line for 20 mins for the facepainting, TWICE so my daughter could get one on each cheek (thats the rule), we looked at the cute animals for 5 minutes, the food was too expensive to buy ($4 for a hot dog, $7 for a burger!!). The orchard was beautiful to look at, but when walking through we saw more rotten apples on the ground and bees sitting on them then apples on the trees for picking. All in all i thought it would be a nice family outing for us instead of always doing the usual movie theatre or indoor thing - and it costs us $90 for 2.5 hours and nothing spectacular. If you have money to waste, then great, you'll have a little bit of fun, otherwise you'll wish you spent the money on groceries or went to the movies instead.
---

Unbelievably Overpriced
This is the disneyland of you-pick-'em spots: with a family of four, you're out ~$50 just to get past the parking lot, and it's definitely institutionalized apple picking, from the 'train' that takes you to the various orchards to row after row of stunted trees. If you're looking to pick fruit, go to any one of the other orchards around Massachusetts; if you want the zoo, go to Franklin Park.
---

Over Priced And Not Worth It
Went to the farm with my sisters and their children. I could not believe the admission prices $14.00 for adults and $12.00 for children under 2. If the children wanted a pony ride or camel ride it was an extra $5.00 per ride. You would think with a $12.00 admission price the pony and camel rides would be free. I paid $7.63 for 5 Red Delicious Apples (YES, 5 APPLES). They will never see me there again.
---

Belkin A Beautiful Spot For People Who Have Money To Burn
We went apple picking today with friends who suggested Belkin Farms. Althought the drive there and the place is beautiful, it's for people who have money to burn. Admission alone is $14.00 per adult and $12.00 for each child over 2 yrs. Pony and camel rides are an extra cost. After you pick your apples, they weigh them and charge $2.50 per pound. That means that for a family of 4 with the entrance fee and if you pick 1 large size bag of apples , it will be 80.00 if you purchase nothing else while you are there! We will not be returning.
---

Cost And Service
My mother-in-law and I went last week knowing in advance it would be $8 a person for anyone over two. Luckily my kids were both under that age. Because of traffic we arrived at 4:30pm. They staff was rude in making us wait in line to pay, thus making our time there even shorter. They made us pay full price for 20 minutes of being there. My mother-in-law missed the train b/c she had to wait in line to pay for us and had to walk to the petting zoo. Once we were at the petting zoo for about five minutes, the only staff person there told us we had to leave. I couldn't believe it!! $18 for 5 minutes and a train ride. It just showed me that the owners are about the money, not the family fun they talk about and advertise. Suggest giving yourself plenty of time to get there and go on a weekday.
---

Chaos
I went to this farm with my two small children and it felt like I was being shuttled like cattle with all the waiting in lines. It was very expensive and not at all worth the money. I would not do this again. Perhaps if they lowered the prices it would be an option on a not so hot day, but I could go to Six Flags for the price that we ended up paying at the end of the day for everything. My kids would get more than a crowded train ride and a $6 apple.
---

Mix Review But In The End Very Expensive Trip
This was my first time apple picking as well as for my kids, so I didn't realize how much cheaper it is to go elswhere. Over all it was ok. I went during their fall harvest fair but by the time I got in because of the long line to get tickets then another line to get on the train we missed the festival. The orchards were a mess, hardly nothing was available to pick. Staff was not friendly at all, didn't matter the age or the position. They have a catapillar ride in the childrens area, that we waited to get on for 30 mins and then were told it was closed. Only to walk away and then it was reopened 5 mins later. Stood in line 2 more times for about 15 min each and was kicked out because it was closed. And yet a whole new group of kids on. No sympathy for the kids who had been waiting in line patiently in the hot sun for a long time. The food stand was dirty, flies everywhere touching every food container, plate napkin everything!! NASTY!! Trash barrells were over filled. And this is all in the food area!! The only positive thing there is the large children's area and petting zoo. Cost for apple picking was expensive, admission was expensive and their country store items were expensive. I get better fruit choices at my local grocery store then this. Next time I will research another family farm.
---
Info changes frequently. We cannot warrant it. Verify with Belkin Family Lookout Farm before making the trek. If you find an error, please report it...