Where to pick your own blueberries in Massachusetts
Places to Pick Your Own Blueberries Near Boston with Kids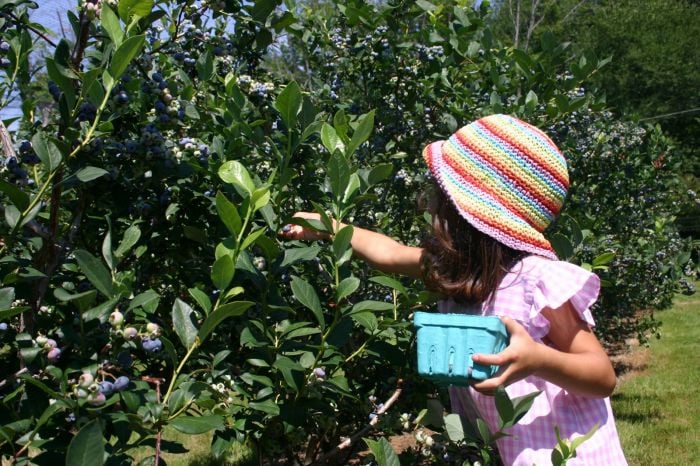 With the heat of summer upon us, there is no better and more refreshing way to keep the kids entertained than fruit picking. It's the perfect season for picking fresh and juicy blueberries. A trip to the farm is the perfect way to show kids where their food comes from, while keeping them active and engaged.
Pick Your Own Blueberry season in Boston begins in early July and can extend into early September if the season permits. Be sure to check each venue's website or call for up to date field and picking conditions.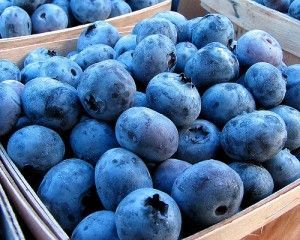 photo credit: BostonCentral
Enjoy this little blue superfruit in all of its glory this summer either by the handful or use them in a variety of different amazing recipes.
Boston Hill Farm - Northboro
For a great family excursion, take a day trip to Boston Hill Farm in North Andover. The farm and orchard is quaint and lovely and features a petting zoo and payground area that children will love. Boston Hill has a variety of pick-your-own produce that ripen in the following order: strawberries, blueberries, peaches, apples and pumpkins.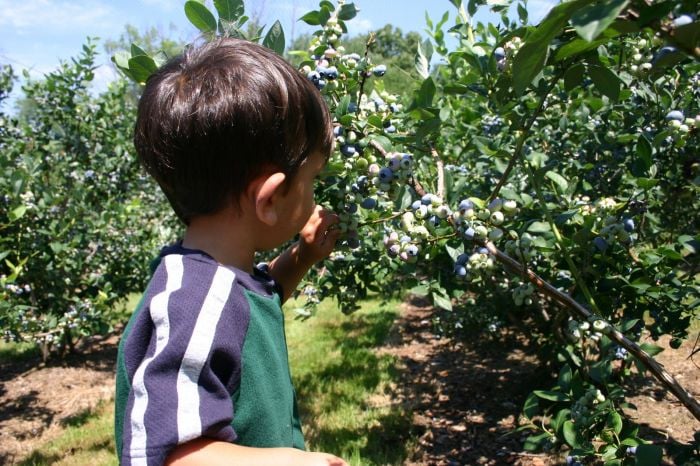 photo credit: BostonCentral


Richardson's Ice Cream is available at the ice cream stand. In addition to fresh produce, the farm store sells homemade apple cider donuts, pies, turnovers and many more bakery items, as well everything from chicken pies to penny candy.

Boston Hill has goats, bunny rabbits, sheep, chickens and roosters. The adjacent, shady play area has picnic tables and really fun play equipment, including tire swings shaped like horses, a giant wood tractor and a big wooden boat to climb up and slide down.
Doe Orchards - Harvard
Take a day trip over to Doe Orchards in Harvard, MA. Be ready to pick blueberries that are so ripe that they nearly fall right into your hands as you meander the nearly two acres of luscious blueberry bushes. Be sure to call the farm in advance to verify picking conditions and in season pick your own fruit.
Honeypot Hill - Stowe
Honey Pot Hill Orchard is a great place to spend an afternoon with kids. You can pick your own apples, blueberries & pears, seasonally; pet & feed the barnyard animals (goats! bunnies!), enjoy a hayride, or navigate your way through the hedge maze. Blueberry picking is especially fun here, and you'll always reap big juicy berries.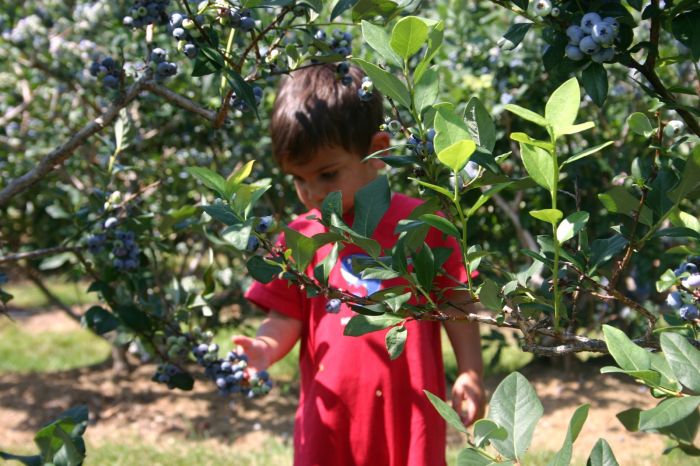 photo credit: BostonCentral

Parlee farms - Tyngsboro
Create memories with the family with a trip to Parlee Farms to go blueberry picking. The farm features a grove of blueberry bushes which are available for picking from mid-July through August. Be sure to check the website or call for up to date field and picking conditions.
While you are there, visit the Bakery and Farm Stand which feature fresh fruit desserts and goodies as well as ice cream. Add to the family adventures by visiting Annie's Animal Barn where you can feed and visit over 60 animals.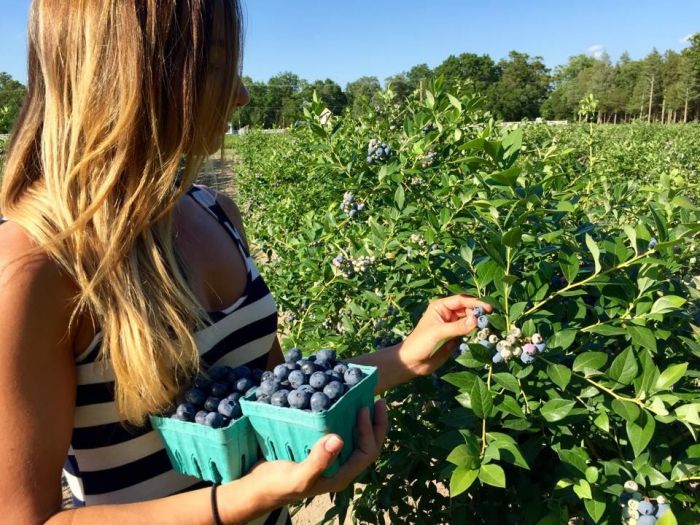 Tougas Family Farm - Northboro
Enjoy a day with the family at the Tougas Family Farm. Pick your own blueberries, play on the playground, visit the barnyard for all ages and view the farm in action on a scenic hayride. The farm features a variety of fruits from June to November. The scrumptious, juicy blue superfruit available for picking from mid July through August. Be sure to call the picking info line, (508) 393-6406, to check on field and picking conditions. Enjoy real berry slushies at the kitchen, along with other delicious fruit filled treasures.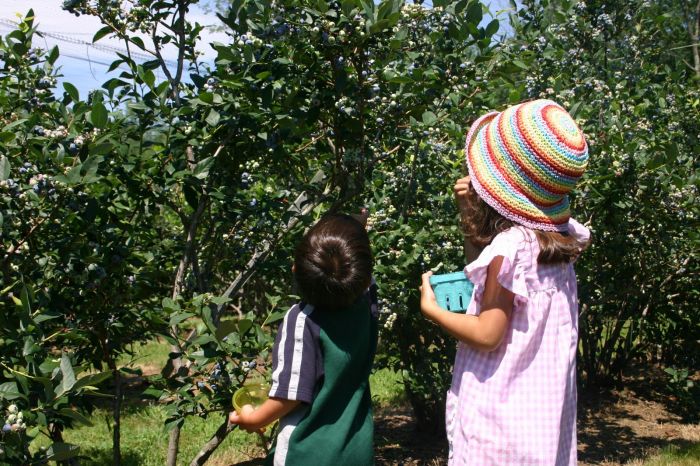 photo credit: BostonCentral
Turkey Hill Farm - Haverhill
Head over to this beautiful hilltop farm to gather blueberries for the whole family to induge in. The farm family provides containers and refreshing drinking water for all pickers. Be sure to check in with the farm prior to your visit to confirm field conditions and availability of in season berries.
Wards Berry Farm - Sharon
There's nothing like the flavor of produce when it's ripe, juicy, and just picked! At Ward's pickers can enjoy eight luscious varieties of blueberries and is a great place for families to visit and spend the day. It's a wonderful family run farm that offers berry picking, hay rides in the fall, a hay maze, pony swings, 4H animals to visit, a large sand box with toys, and a farm stand/store that includes veggies, fruits, homemade pies, jams, etc, and also smoothies made to order.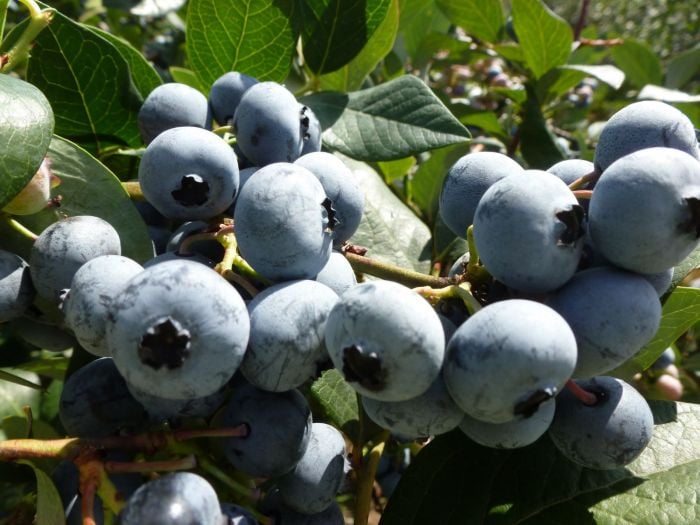 photo credit: BostonCentral

More Ideas for Summer Fun!
Find lots more fun things to do in Boston during the summer in our July & August guides to family fun. If you are a fan of fresh produce, check out our guides about Pick your own Strawberry farms, as well as favorite Boston area farmers markets.
And since summer is a great time to be outside, check out our guide to Boston outdoor activities, featuring lots of cool places to enjoy a beautiful summer day.
And on the occasion of a rainy day in Boston - here are some ideas for indoor things to do until the sun returns. You can find many more things to do in Boston with kids in our handy guide for families looking for fun things to do all year round.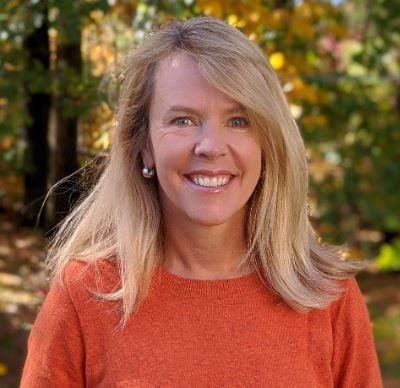 ~~~
Stacey Sao has been the Managing Director of the family-friendly events and activities website, BostonCentral for over 20 years. She continues to enjoy discovering and exploring new places to visit in the Greater Boston area.