Cider Hill Farm
Other Ideas:
Connors Farm
;
Parlee Farms
;
New England Botanic Garden at Tower Hill
;
Shelburne Farm & Orchard
;
Carver Hill Orchard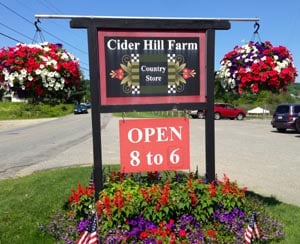 Thereís always a lot going on and growing at Cider Hill Farm.
Whether itís selecting bedding plants or picking fresh strawberries in the spring, or savoring vine-ripened tomatoes, butter and sugar corn or the juiciest peaches in the summer; taking a hay ride, finding your way through corn and hay mazes, or picking your own apples and pumpkins in the fall, Cider Hill Farm offers you and your family all these simple pleasures and more.
The 145-acre farm affords you the opportunity to while away the hours and to convene with Mother Nature. Thereís a picnic area where you can sit, eat, and drink in the tranquil surroundings.
Seasonally, visitors can enjoy afternoon hay rides (weekends and holidays), a sheep pen, animal tire swings, and a hay jump to keep you busy. They are also groomed walking paths for your added enjoyment.
Cider Hill Farm is a terrific learning experience for kids, and the farm welcome school tours during the week. Teachers and parents love the one hour fall tour program which includes a hay ride, apple picking, a hay maze adventure, and refreshments.
September Activities
:
- Pick your own apples
- Pick your peaches
- Pick your own nectarines
- Pick your own pumpkins
- Pick your own raspberries
- Hayride 12:00 to 5:00 weekends
- Mazes 12:00 to 5:00 weekends
- Apple cider pressing weekday -call ahead
This is when it all comes together. We could be picking as many as 30 varieties of apples now, and have most available in the store by later in the month. Pumpkins, by the ton, begin to pile up, and beautiful Belgian mums of every color come down from our growing area.
Pick-your-own apples, peaches, and pumpkins are available seven-days-a-week. The first apple cider is pressed on Labor Day weekend. We're one of very few orchards in the state specializing in all-natural, non-pasteurized, non-preserved apple cider. Wait until you taste it!
On weekends, our hay rides and mazes are available from noon until 5:00 p.m. The mazes are great fun! One is a living maze, and is surprisingly difficult, while another is a corny walk through a seven foot high forest of corn. The favorite one, though, is the 800-bale hay maze, where children would stay all day long if you let them! This is one of the best times of the year to experience Cider Hill Farm.
Cider Hill Farm Crop Schedule
:
Fruits
-
They start the season in early June with strawberries, with the best picking typically around June 20. Strawberries go strong until the Fourth of July. As strawberries finish up, they're soon picking blueberries, which will produce until late August. Summer raspberries start a little later, but will go all summer, and are replaced by fall bearing raspberries which go until the first frost, typically late September.
Tree fruits produce their bounty starting with apricots around mid-July, followed by peaches, plums, and nectarines in late July until early October.
The Cider Hill big apple line-up of over 50 varieties begins with summer varieties around August 20, and continues into November! When picking your own tree fruits, they allow you to explore the entire orchard, but will guide you to the right varieties. At Cider Hill Farm, you donít have to buy a bag and pick a minimum quantity. They allow you to pick just what you need.
Find more places to
, or to
local farmer's markets
in our handy guides.
Vegetables
-
Suffice to say Cider Hill Farm grows many, many varieties of vegetables. A complete list can be found in the monthly menu. They do specialize in early beefsteak tomatoes, grown in compost in heated greenhouses, and ready for sandwiches and salads by mid-June.
After all, why wait until August to savor them, when you can have them sooner! Our other passion is for sweet corn. They continue to perfect our varieties, always looking for exceptional tenderness and real corn flavor.
Itís not unusual for us to pick our corn three or four times a day, so youíre ensured of getting the freshest corn around. Itís a fact that local fruits and vegetables are more nutritious than those shipped from other areas, and that theyíre essential for a healthy diet.
Pumpkins
-
Cider Hill just has to mention their pumpkins, because they just love to grow them. Youíll find every size and shape and color possible at Cider Hill Farm. Cider Hill Farm produces between 50 and 100 tons, so youíre sure to find the 'perfect one'.
They're also putting special effort into growing the 'big' one this year. Ask them where it is, and theyíll give you a sneak preview.
---
Open Monday-Sunday
9:00am - 6:00pm.
---
---
45 Fern Avenue, Amesbury, MA
map
Phone: 978.388.5525
---

Wonderful Experiences At Cider Hill
My sons (4 1/2 years old) and I have had wonderful experiences at Cider Hill Farm. I was really impressed with the pick your own blueberries (this year) and apples and pumpkins (last year). They have big wagons to pull into the fields which the boys love. The staff were very friendly and gave good tips on the best places to pick. Many farms that we have visited have so many rules, too many rules. Cider Hill was very warm and trusting. I was so impressed that I joined their email news. I was really impressed when the owner himself wrote to thank me for my comments! I think it's a farm worth going to for the first time or trying it again. My sons and I visit many farms all over Massachusetts and New Hampshire and Cider Hill is on the repeat list!
---

UPDATE TO AUGUST 31st REVIEW
UPDATE: Since my last comment, I have been contacted directly by the farm's owners, Glen & Karen Cook. They seem to be genuinely concerned about my family's bad experience. They have even invited us to the farm to be their personal guests for a tour. We are planning on taking them up on this offer after soccer season.
---

NICE FARM POOR CUSTOMER SERVICE
I accompanied my children to go peach picking today. The farm was beautiful; however, the customer service was not. I was yelled at by a staff member for not keeping a peach that I picked that had a worm hole. My son was then yelled at because two peaches fell out of a tree that he was picking from. Needless to stay, this constant scrutiny made our outing very tense. Upon paying, the $1.40 per pound price I was given before picking turned out to be incorrect. The actual price was $2.00. At the end of the morning and $75 dollars later, my children said that they had a good day but are still asking why the people who work at the farm are so mean. We will NEVER visit this farm again!
---

Love This Farm
This farm is amazingly beautiful in it's natural state, any time of the year! The family farm, is one of Amesbury's treasures and this year, it's celebrating it's 25th Anniversary~ (a first generation family farm) ~ it has hosted 50 plus, Agricultural exchange students for 20 years from all over the world ~ is very innovative in it's approach to farming ~ has the #`1.cider in Massachusetts award winning for 5 years and their cider was voted 5rh in The Nation! Was featured on PBS's The Victory Garden and the BBC England featured a show there! Cider Donuts to die for!!!!!!
---
Info changes frequently. We cannot warrant it. Verify with Cider Hill Farm before making the trek. If you find an error, please report it...