Roger Williams Park Zoo
Other Ideas:
New England Aquarium: Boston
;
Butterfly Landing at Franklin Park Zoo
;
Franklin Park Zoo - Zoo New England
;
Mystic Aquarium
;
Capron Park & Zoo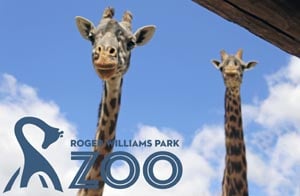 Roger Williams Park Zoo has received accolades from all over the country for its conservation efforts as well as for its entertainment value.
Visitors to Roger Williams Park Zoo can see the world's tallest, heaviest, fastest and rarest land animals, including the Masai giraffe, the African elephant and the cheetah — all roaming through natural settings.
The Zoo's population numbers nearly 1000 animals, with more than 150 different species on display at any given time, including mammals, birds, fish, reptiles, amphibians and insects.
Popular Exhibits
Brand new for summer, 2007, African wild dogs and giant anteater!
An endangered species, African wild dogs debuted in the zoo's Plains of Africa on Memorial Day weekend. Wild dogs sport a mottled pattern of light brown, black and white fur; accordingly, their scientific name, Lycaon pictus, translates from Latin to "painted wolf." They are an extremely social pack animal that can be seen conducting "greeting ceremonies" at various times throughout the day.
The ciant anteater
debuts at the zoo August 4. Surely one of nature's more curious creatures, the giant anteater can grow up to 8 feet long, weigh up to 140 pounds – and can eat up to 30,000 ants and termites a day! The brand new exhibit also features the "Anteater Cantina," an interactive learning station where you can see how many "ants" (magnets, actually) you can collect with a plastic anteater tongue.
The Tropical America building
, where you can either climb a spiral staircase to a rope and wooden bridge and experience the free-flying birds and several species of primates from the top of the trees, or stay on solid ground and get enveloped in the lush, tropical atmosphere;
The Plains of Africa
, where elephants, cheetah, giraffes, wildebeests and zebra roam and where the elephants' bath-time (around 10 a.m.) is a major daily event.
The Marco Polo Trail
, the first exhibit of its kind to truly embrace the 'biopark' concept -the idea of combining cultural, historical and zoological experiences. The Marco Polo Trail is a multifaceted exhibit tracing a three-year journey of explorer Marco Polo through Asia.
To give visitors a sense of the culture and history of the era, the Zoo recreated scenes from Marco Polo's journey including a Venetian plaza, Bedouin tent and the hull of a 16th century trading vessel. The exhibit features snow leopards, moon bears and camels - all animals Marco Polo encountered on his journey.
Roger Williams Park Zoo is a great place for families to learn together. Today, awareness and appreciation of wildlife, in addition to recreation, serve as major goals of Roger Williams Park Zoo.
---
Daily 9:00 AM - 4:00 PM
(last admission is at 3:30 PM)

*Close on Thanksgiving, Christmas Eve, & Christmas Day.
**Also closes at 2 PM on the last Saturday in June.
---
Adults: $14.95
Seniors (ages 62+): $12.95
Children (ages 3 through 12): $9.95
Children under 3 and Zoo members are admitted free.
Group rates are available and parking is free.

View Rates & Information
---
Elmwood Avenue, Providence, RI, 02907
map
South on I-95
Take exit 17, Elmwood Avenue; Left at light; Park entrance is 1/2 block on left. Follow the signs to the Zoo entrance
West on I-195
Take I-195 West to I-95 South; Take Exit 17, Elmwood Avenue; Left at light. Park entrance is half a block on left. Follow the signs to the Zoo entrance
North on I-95
Take Exit 16, Elmwood Avenue; Bear right; Left at light. Park entrance is half a block on right. Follow the signs to the Zoo entrance
---

An Okay Zoo And A Wonderful Park
We had the pleasure of getting down to Roger Williams Park Zoo on a cool day. The park was surprisingly spread out, and most the animals were atleast 100 feet away from you, sleeping or not to be seen. We were able to get closer to the elephants and giraffes, which my daughter loved. At the end of the day, we had a picnic in the park and watched the Canadian Geese.

A Great Zoo And Park
this is a great zoo that I have visited countless times over the last five years. It was a tragedy to lose the polar bear, since it was one of my favorites. a new habitat will not be open until 2007, drat. there are plenty of other exhibits that will hold your interest. However, some of the exhibits could use some updating and refreshing (australia, asia). pack a picnic for the park, and you have one fun day! beware, that the park gets very crowded on the weekends. One Sunday, the parking lot was closed down and no one else was let inside the zoo. We had to creep along in bumper to bumper traffic all around the park for almost an hour just to leave so we could find somewhere else to go.
| | |
| --- | --- |
| Related Links | Top |
---
We make best efforts to update information, but it changes frequently, so we cannot warrant it. Please call to check Roger Williams Park Zoo schedules, fees, and directions before making the trek. We help you, please help us. Report an Error if you find one.