Mystic Aquarium
Other Ideas:
Southwick's Zoo
;
Franklin Park Zoo - Zoo New England
;
Magic Wings Butterfly Conservatory
;
Buttonwood Park Zoo
;
Forest Park Zoo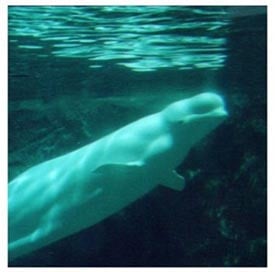 Experience Mystic Aquarium's marine creatures in their underwater world. A good New England day trip from points south and west of Boston.
Encounter ocean animals in an exciting new way – no scuba gear required! Reach in and touch a ray, go beak-to-nose with a penguin and feel the splash of a beluga whale.
Watch the playful California sea lions – including Boomerang, the sea lion pup – strut their stuff during a live show, and meet a variety of animals, from African penguins and Steller sea lions to sharks and blue-tongued skinks.
Take a ride in the XD Motion Theater "Deep Sea 3D." Explore the deep ocean with the world's only exhibits on Dr. Robert Ballard's fascinating expeditions, including his discovery of the R.M.S. Titanic and visit his newest exhibit, "Exploring Your National Marine Sanctuaries," which takes you live into some of the country's sanctuaries to discover shipwrecks and see colorful corals – all without ever leaving the aquarium!
If animals are your thing ,be sure to check out our guide to
Boston Zoos and Aquariums
! You can find many options both in Boston and within a short drive.
Looking for more fun
daytrips near Boston
? Check out our handy guide for some great ideas of places to go within an hour or two of Boston.
---
Open daily: December - February: 10 a.m. to 4 p.m.
March: 9 a.m. to 4 p.m.
April - October: 9 a.m. to 5 p.m.
November: 9 a.m. to 4 p.m.
*Hours are subject to change.
Once inside, guests may visit one additional hour after close.

*Closed on Thanksgiving and Christmas.
---
Adult $37.99 ($31.99 online)
Senior (age 60+) $32.99 ($26.99 online)
Youth (13-17) $27.99 ($21.99 online
Child (age 3 - 12) $24.99
Child (age 2 and under) Free!
Parking is always free.

View Rates & Value Options

Tickets can be used for 3 consecutive days when validated
---
---
55 Coogan Blvd., Mystic, CT, 06355
map
Phone: 860-572-5955
Take Interstate 95 south to exit 90 and follow the signs to Mystic Aquarium. Travel time is approximately 2 hours (approx. 108 miles).
---
Did you know that when you buy your tickets to the Mystic Aquarium, if you get your ticket validated on the way out, you can return to the aquarium for 2 more consecutive days? Three days for the price of one! That way you can visit the aquarium in small chunks of time, rather than in a marathon session. The Mystic Aquarium in Mystic, Connecticut, is a beautiful aquarium with many outdoor viewing areas - including their 3 special white Beluga whales. There are plenty of opportunities to burn off some energy - including a climbing wall and a 3D movie! And don't forget to get your discount tickets to the Mystic Aquarium through the Big Y - Simply show your Big Y card for the discounts at the attraction.


If you live in the area, or plan on visiting the aquarium multiple time, the grandparents package is a good bet. It allows unlimited free access for grandparents and all of their grandchildren.
---

What A Waste Of Money
I have been going to mystic aquarium for years. you cannot see beluga whales anywhere else in new england, so this is the main draw. This year, the admission has gone up to $19.75 for an adult and $19.25 for a teen. It was around $10 for a child, I think. Nothing is new at the aquarium to warrant the added price, except for an amazon exhibit. Most of the fish in the exhibit you can find in most pet stores for your home aquarium. The outdoor stuff (belugas, sea lions, seals) are great. THe penguin spot has one penguin in plain sight, but the rest seem to be hiding. It's best to see the penguins swimming underwater which is cool. The indoor stuff is a waste. tank of jellyfish, couple of tiny tanks of tropical fish, an octopus that I could not find in the tank, one tank of long nosed fish, and a small coatal tidepool with a host. The tanks of sharks and rays are decent. You can get through the inside portion in about 25 minutes. The sea lion show was okay, but a very fast fifteen minutes. you are in and out in a hurry. Do not bother the exploration boat....a complete bore. But, it is cool, dark, and air conditioned.
---

Great aquarium
This is one of the best aquariums in the area. Well worth the trip. (It's about 1/2 hour from Mohegan Sun). Really nicely laid out - it includes lots if indoor AND outdoor exhibits. The facilities are clean, spacious and well maintained. The exhibits are spaced out nicely and there are lots of wonderful things to see. We liked the Sea Lion Show, the Manta Ray Pool - (The kids can get right up there and pet the manta rays!) and the Beluga Whale. My three year old LOVED the giant indoor tanks of fish.
---
Info changes frequently. We cannot warrant it. Verify with Mystic Aquarium before making the trek. If you find an error, please report it...