Boston Zoos and Aquariums
Zoos and Aquariums Near Boston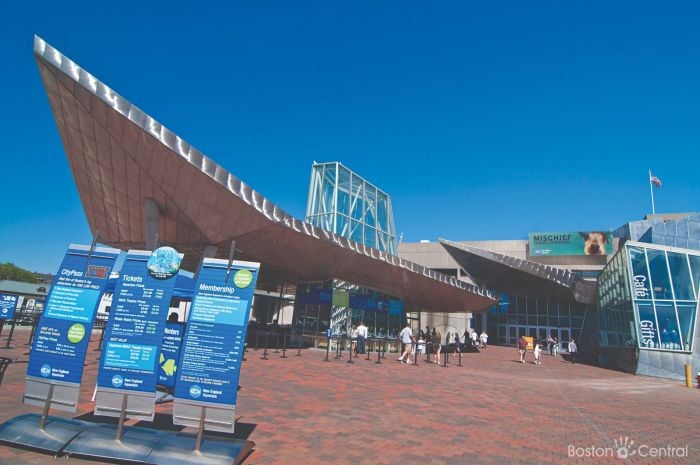 Kids love animals and the Boston area has a number of Zoos & Aquariums both in town and a short drive away to enjoy.
Boston is home to the Franklin Park Zoo (Zoo New England), as well as Southwicks Wild Animal Zoo, Stone Zoo, and Capron Park Zoo. Boston also boasts an oceanside Aquarium with an amazing center tank, penguins, seals, sting rays and lots of interesting exhibits.
Boston also boasts an oceanside Aquarium with an amazing center tank, penguins, seals, sting rays and lots of interesting exhibits. Experience the wonder and excitement that thrives beneath the world's oceans and spark your family's imagination as they learn about the world around them which consists of over 70% water!
New England Aquarium
The New England Aquarium is located on Boston's scenic waterfront. Out front, frolicking sea lions glide back and forth in their large, deep tank entertaining walk-up visitors. Inside, colorful & educational exhibits await, featuring more than 8,000 aquatic creatures, including the playful penguin pool.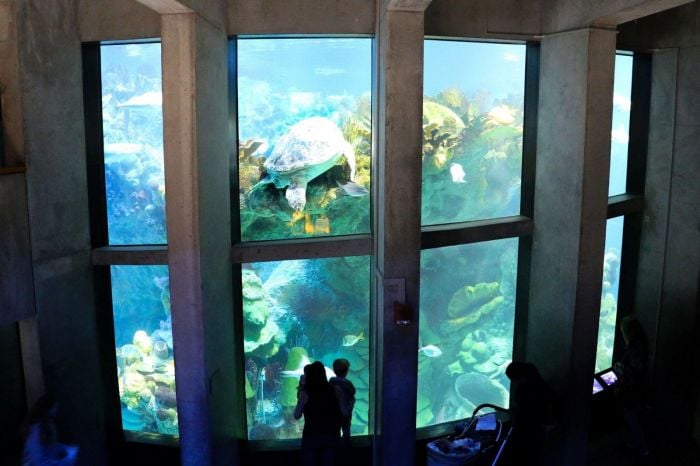 The unique four-story central tank shows off all the colorful inhabitants of its Caribbean coral reef, complete with small sharks, giant eels, many varieties of fish and a huge sea turtle. The surrounding corkscrew pedestrian ramp allows visitors to easily see all of the amazing creatures from many different viewpoints.
Find what lurks in the depths of the dark icy-cold waters 2,000 feet below the ocean's surface at the New England Aquarium in Boston! Gaze and giggle at the antics of the harbor seals, place your hands in the tank and get up close and personal with stingrays and even sharks in the touch tank!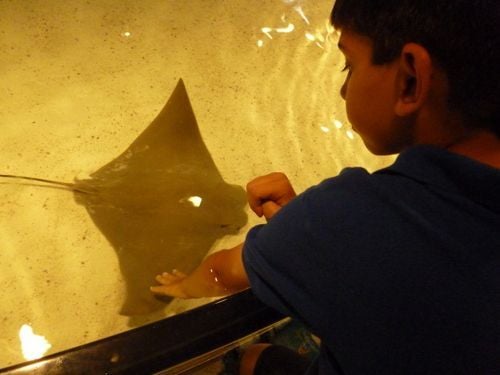 photo credit: BostonCentral
Enter the rainforest without stepping outside of Boston and explore the habitat of animals such as anacondas, electric eels, piranhas and poison dart frogs! Meander around the spiral ramp that encases the four-story Giant Ocean Tank and feel like you are right down in the depths of the ocean and the amazing coral reef!
Adults and children will be mesmerized by the hundreds of Caribbean reef animals, including sharks, sea turtles and tons of fish of different shapes, colors and sizes.
The Trust Family Foundation Shark and Ray Touch Tank features sharks and rays in a 25,000-gallon tank surrounded by shallow edges and viewing windows, allowing visitors to experience a close encounter with these animals.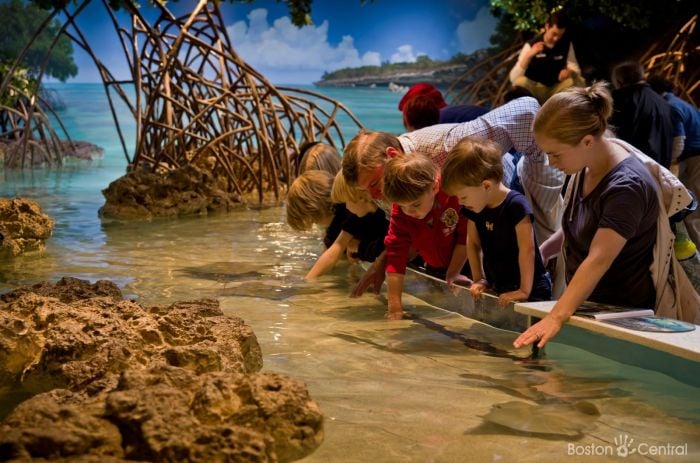 photo credit: BostonCentral
This beautiful space replicates a large mangrove area. The rays glide around the tank where visitors have the opportunity to reach right in and touch these graceful creatures.
Out back, near the pier, Northern fur seals and California sea lions cavort and Atlantic harbor seals swim out front. Kids can also hold sea stars and hermit crabs at the aquarium's touch tank.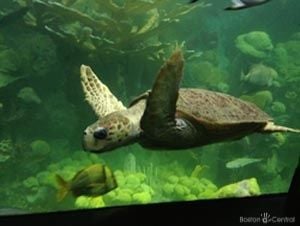 photo credit: BostonCentral
To maximize your visit, check the daily schedule for daily presentations like penguin feedings, harbor seal training sessions, and divers descending into the Ocean Tank. The Aquarium also shows I-max films in the adjacent Simon's Imax building.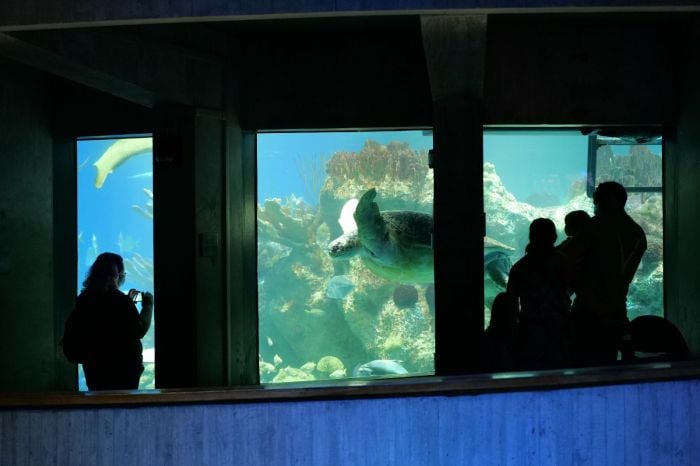 photo courtesy of New England Aquarium


Mystic Aquarium
Journey to the depths of the ocean and meet the creatures that live beneath the surface at the Mystic Aquarium in Connecticut! Play pantomime with Beluga Whales, check in on the African Sea Penguins, sit and watch a fun Sea Lion show, peek in on the sharks and touch some stingrays.
Encounter ocean animals in an exciting new way – no scuba gear required! Reach in and touch a ray, go beak-to-nose with a penguin and feel the splash of a beluga whale.
Watch the playful California sea lions – including Boomerang, the sea lion pup – strut their stuff during a live show, and meet a variety of animals, from African penguins and Steller sea lions to sharks and blue-tongued skinks.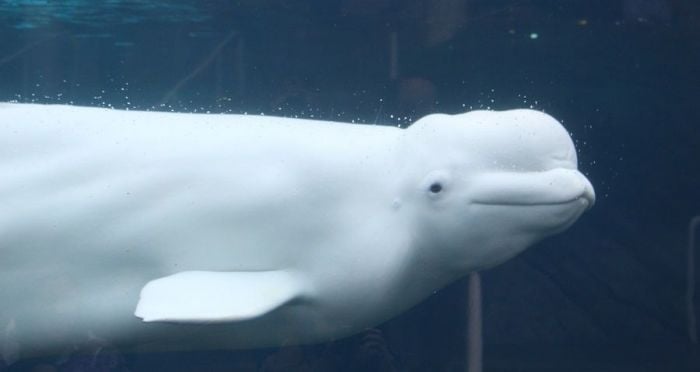 This is a great day drip from Boston. Many of the exhibits are outdoors, so we recommend visiting during the summer & fall months to maximize your experience. Validate your ticket when you leave and you can return to the aquarium for 2 more consecutive days. Why not make a weekend trip of it and also visit Mystic Seaport.
Woods Hole Aquarium
Make a free visit to Woods Hole Aquarium in Cape Cod and visit with more than 140 species of marine creatures! Watch the seals frolic in the outdoor seal pool and peer into the 20 tanks and 15 aquaria with a wide variety of fish and invertebrates.
Place your hands right in the water in the two touch tanks and gently two finger touch various marine animals. Settle in behind the scenes and chat with the staff about the care and keeping of the animals that call the aquarium home.
The Woods Hole Science Aquarium is a small public aquarium that displays approximately 140 species of marine animals found in Northeast and Middle-Atlantic U.S. waters.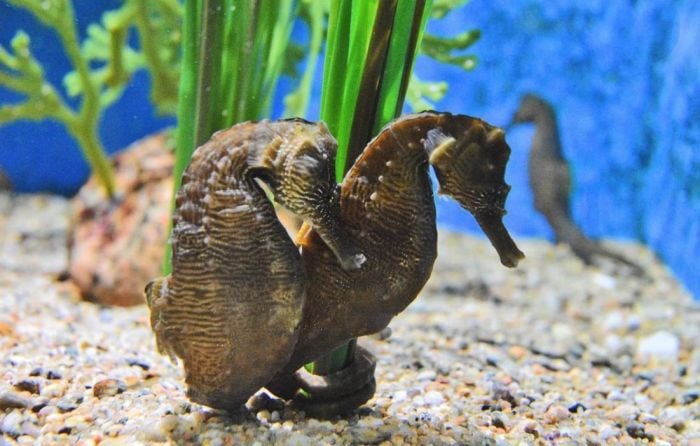 photo credit: Brenda Sharp
The aquarium also features an outdoor seal pool, 20 tanks and 15 aquaria with fish and invertebrates, two touch tanks where children can gently touch marine animals, and a behind-the-scenes area where visitors can talk to the staff as they go about their daily tasks of caring for the animals.
TIPS: Parking
Visitors should use public transportation if possible. There is no parking available at the aquarium. The village has some metered parking, but the spots fill up quickly in busy seasons. In the busy summer months, you may want to park in Falmouth and take the trolley to Woods Hole.
Zoo New England - Franklin Park Zoo
Get up close with all kinds of animals from brightly colored budgerigars to playful red pandas at Boston's Franklin Park Zoo - Zoo New England in Boston. Explore the 72-acre site, nestled right in the heart of Boston's historic Franklin Park and only four miles from downtown Boston!

The zoo is located just four miles from downtown Boston in the northeast portion of Franklin Park, Boston's largest park and the last component of the city's Emerald Necklace. It has been accredited by the Association of Zoos and Aquariums (AZA) since 1990.
Maneuver through the grass Maze to discover sculpted elements that represent animals that live in the grasslands. Pop in to visit the turtles swimming and sunning themselves in the two turtle ponds. Pretend you are on safari and discover gorillas, zebras, giraffes, tigers, lions and more exotic animals that are lurking around the zoo in their habitats.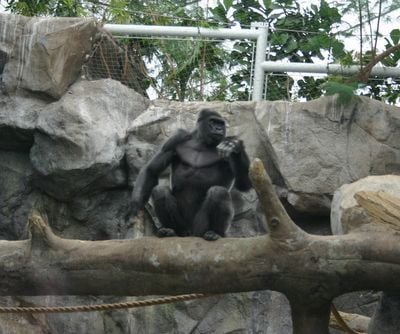 photo credit: BostonCentral

Let your kids' imaginations run wild at the all-new Children's Zoo at Franklin Park Zoo. Discover aviary friends, like the hooded crane or the scaly-sided merganser, atop the Eagle's Nest, and get a bird's eye view of the entire Zoo. Get an up close and personal view of the adorable little critters in the Prairie Dog Pop Up.
Play next to the red pandas on the Bamboo Climber, featuring live bamboo plantings and an array of climbable "bamboo" poles. And adventure through the Grass MAze to discover sculpted elements representing animals that live in the grasslands. Don't forget to visit the turtles swimming and sunning themselves in the two turtle ponds!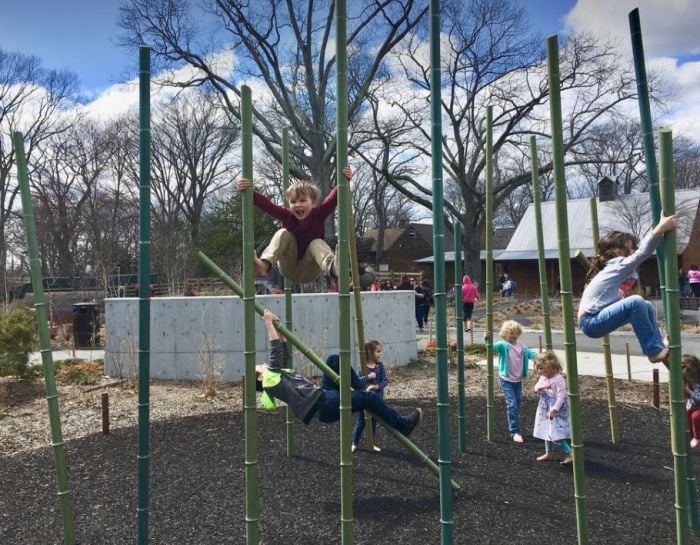 In the Aussie Aviary, feeding the animals is encouraged! Hundreds of brightly colored budgerigars, affectionately called budgies, flutter through this free-flight exhibit. If you're lucky, the birds will land on your seed stick and let you keep them company while they enjoy a little nibble.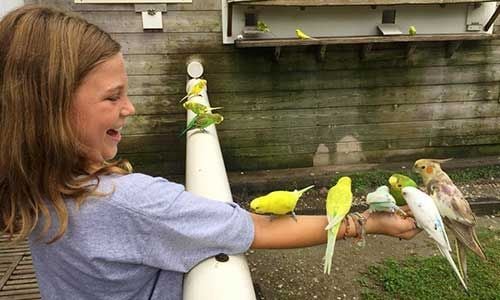 Get up close to camels and enjoy a ride at the Camel Trek attraction! Known as 'ships of the desert,' dromedary camels are incredibly adapted to harsh, arid environments. Learn more about these animals and enjoy a camel's-eye view of the Zoo!
Visit the magnificent Butterfly Landing at Franklin Park Zoo. Open seasonally, Butterfly Landing is filled with hundreds of butterflies. Kids will also like the African Tropical Forest Habitat where they'll see Gorillas at play (a must-see), and don't miss the Australian Outback where you'll come face to face with wonderful Red Kangaroos.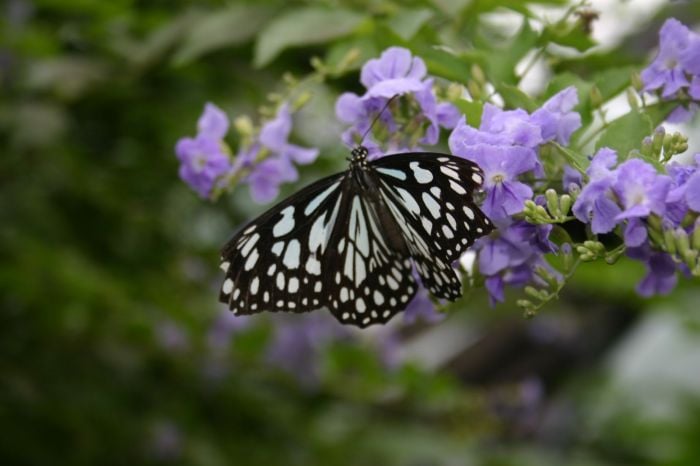 Help the zoo welcome back 1000 butterflies representing 40 North American species to beautiful Butterfly Landing. Spread your own 'wings' and welcome these vibrant fluttering friends to land on you as you gaze with wonder at the beauty of the butterfly varieties and the grace that they behold.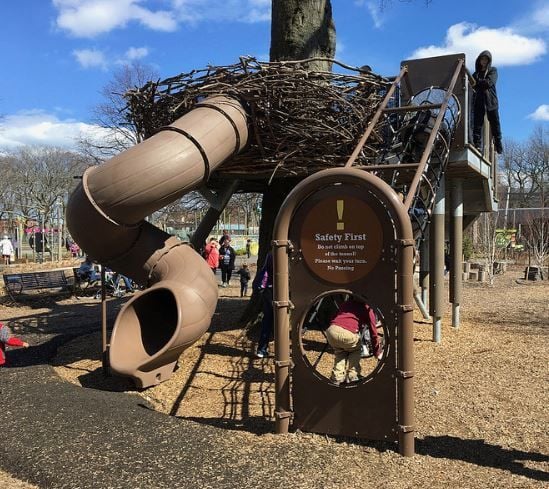 With 10,000 square feet of playground to let children's imaginations run wild, we're serious about playtime. With designs inspired by the wildlife that inhabit the Zoos, kids can frolic among giant fish, slip down a giraffe-like tube slide, and 'hop on' a Panamanian golden frog spring rocker. Parking at Franklin Park Zoo is limited, but free.
Buttonwood Park Zoo
Head over to the Buttonwood Park Zoo in New Bedford and explore the land- and water-based wildlife of Massachusetts! Take an up close look at the animals that share our state with us and admire the natural habitats that have been created for them at the zoo. Learn about the more than 200 species of animals are represented in the Buttonwood Park Zoo, ranging from tiny frogs to enormous elephants. Climb aboard for a train ride or a pony ride or indulge yourself in a weekly music hour offered as part of the zoo experience!
Capron Park Zoo
Bring the whole family along and take a stroll through the quaint Capron Park & Zoo in Attleboro. Check out the African Lions, llamas, goats, sloth bears, snow leopards, binturang, snakes, fox, birds, kangaroos, emu and countless other animals that inhabit the zoo. Get your giggles going while watching the river otters frolicking with their tricks and follies. Be sure to bring along a bathing suit and towel and have a blast splashing it up and cooling off at the Spray Pad to round off your zoo experience.
Southwick's Wild Animal Zoo
Feed the deer and ride on an exotic camel at Southwick's Zoo in Mendon! Privately owned and maintained, Southwick's has the largest collection of wild animals and endangered species. Visitors can get right up close to many of the unique enclosures for a wonderful family experience.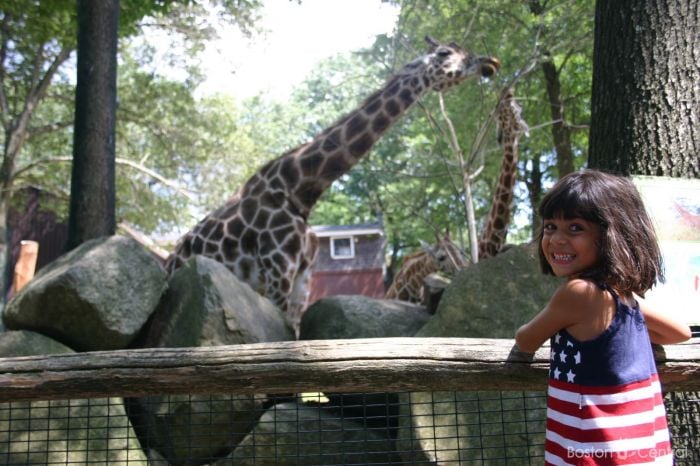 Enjoy one of the nicest zoos in the region which is only about an hour West of Boston. Meander through the expansive zoo and explore the unique exhibits and exotic animals, as well as an amazing deer forest, where you can walk amongst and feed deer!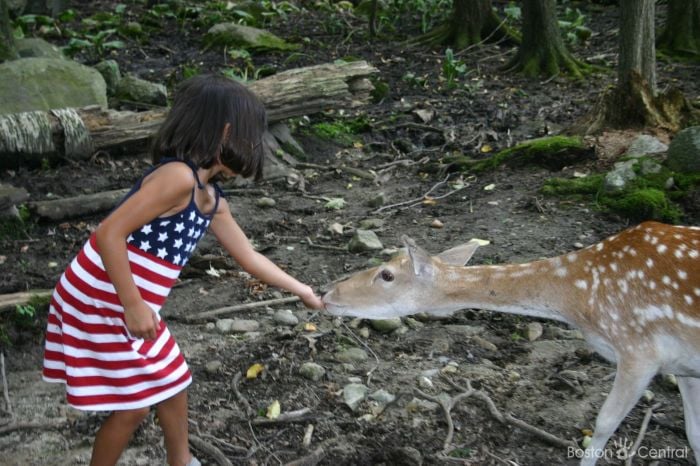 The zoo features daily interactive bird shows that allow visitors the chance to hold exotic birds and parrots. This was a really cool experience and one that everyone enjoyed.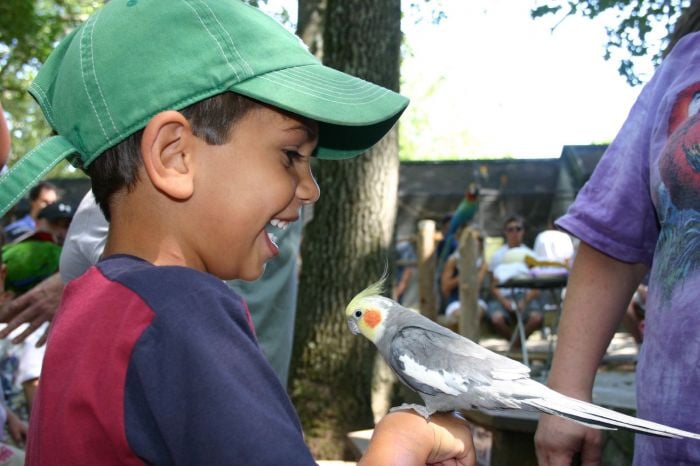 Hop on some of the Mechanical rides (available at extra cost) include the Carousel, Rodeo, Rocket, Cars, Frog Hopper, Bear Affair), Woodland Express (Tire Train) and the SkyFari Sky Ride!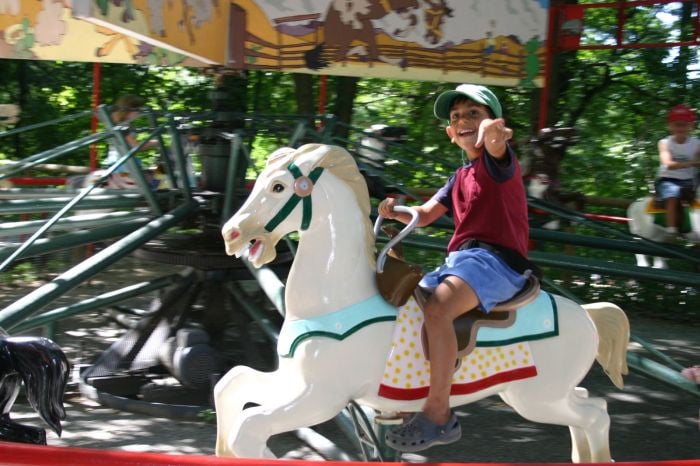 Magic Wings Butterfly Conservatory
Spread your wings and relax at Magic Wings Butterfly Conservatory in Western Massachusetts. Visit 7 days a week - year round - and experience this magical butterfly conservatory. Peruse the 18,000 -square foot facility that includes an 8,000 sq. ft. glass conservatory filled with butterflies, moths and tropical vegetation and breathtaking gardens.
Butterfly Garden at Museum of Science
Flutter over to the serene Butterfly Garden at Museum of Science, Boston. Enjoy a wonderful multi-sensory experience and a wonderland of delight right within the museum. Discover the fluttering flight of over four hundred colorful butterflies in a lush environment!
Enjoy the scent of flower blossoms and follow the flight of the butterflies through the green and flowerful butterfly habitat. There are actually a ton of top-notch Boston Museums to visit, but that's a whole other guide. ;)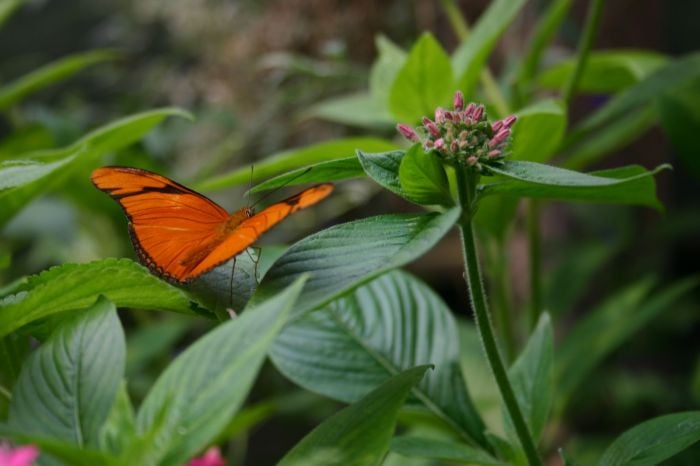 Forest Park Zoo
Experience the world of exotic animals and local wildlife as never before at Forest Park Zoo in Western Massachusetts Take in the sights as you enjoy a leisurely and informative train trip around the park, get a first hand look at freshwater pond life, and learn about endangered animals and captive breeding programs.
Find out all about the creatures that frequent your backyard, and visit a Heritage Breeds Barn. Be sure to stop at the Zoo's unique gift shop for unusual, educational, or whimsical gift items.
Lupa Zoo
If animals are your passion then take a trip to Lupa Zoo in Western Massachusetts. Get up really get close to some of the most intriguing and engaging species on the planet like monkeys, otters, camels, and zebra. Explore this non-profit wildlife facility is dedicated to promoting appreciation and respect for the conservation of animals and their ecosystems.
Visit the Family Farm and gain the opportunity to see domestic animals up close and touch goats, sheep and other animals.
Stone Zoo
Explore your environment and make new discoveries at Stone Zoo. Stone Zoo, formerly known as the Middlesex Fells Zoo, is located on a 26-acre site near the sparkling Spot Pond reservoir in Stoneham, MA.
Interact with goats and sheep with a visit to the touchable barnyard!. Broaden your view of the Animal Kingdom as you adventure through the wild animal exhibits which include colobus monkeys, flamingos, llamas, goats, bald eagles, Mexican gray wolves, river otter, emperor tamarins, ring-tailed lemurs, snow leopards, jaguars, black bears & tortoises!
The Butterfly Place
Don't miss a trip to The Butterfly Place, Westford! Experience a living exhibit that features hundreds of free-flying butterflies around the world! Relax and enjoy the indoor preserve which has been carefully designed for the development of magnificent colorful butterflies.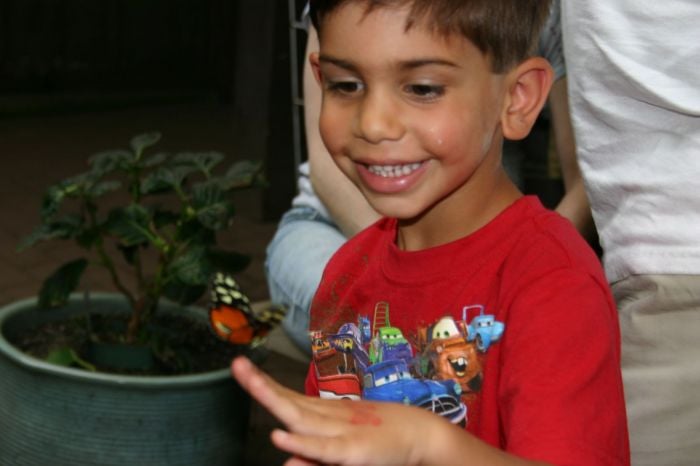 Wander through the atrium which contains up to 500 butterflies representing as many as 50 different species from around the world and enjoy the lush surroundings that fragrantly grace the habitat.
Put your safari hat on and walk through the beautifully landscaped 40-acre Roger Williams Park Zoo in Rhode Island.  Prepare to encounter an African elephant, a Masai giraffe, zebras, a red panda, snow leopard, moon bears, a gibbon, a giant ant eater and in naturalistic settings.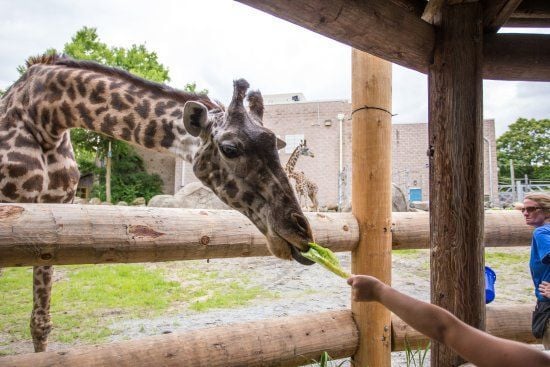 At the end of your adventure, be sure to visit the unique play area which will tire the kids out before the journey back home.
You can find lots more ideas for fun things to do in Boston with kids in our handy guide to fun places to visit with your family. If your kids are animal lovers, check out our guide to Petting Zoos near Boston for more places to visit farm animals up close.
Stay on top of what's going on in Boston on our Boston events calendar and weekly newsletter. We highlight lots of family-friendly events and activities to help you make the best of your free time.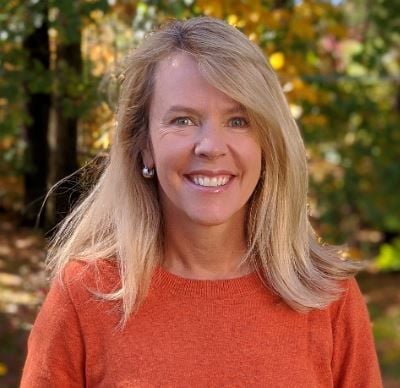 ~~
Stacey Sao has been the Managing Director of the family-friendly events and activities website, BostonCentral for over 20 years. She continues to enjoy discovering and exploring new places to visit in the Greater Boston area.