Charmingfare Farm
Other Ideas:
Shelburne Farm & Orchard
;
Kimball Farm
;
Connors Farm
;
New England Botanic Garden at Tower Hill
;
Parlee Farms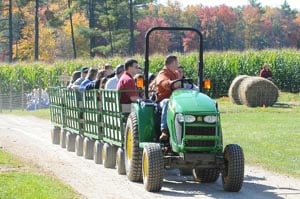 A visit to the 180-acre Charmingfare Farm is affordable, educational, and exciting for children and adults. The farm is home to over 200 animals consisting of 30 different species.
The barnyard area includes all the traditional agricultural animals you would expect to see on a farm. Children especially enjoy the 'hands-on' petting area. Follow the paths leading into the woods and you will encounter multiple wildlife exhibits.
Throughout the day various demonstrations, presentations and activities are offered. Pony rides and horse-drawn hayrides are favorites with our guest. You may even want to pack a picnic lunch so you can spend the day at Charmingfare Farm.
Sleigh Rides
:
In the winter, sleigh rides are reminiscent of 'over the river and through the woods...' except instead of heading to Grandma's house most folks look forward to roasting marshmallows and eating S'mores around the campfire. The trail makes it way through our 'North American Wildlife Exhibits' allowing passengers the opportunity to see wolves, mountain lions, river otters, wolverines, reindeer and many others playing in their exhibit areas. The trail continues into the forest past the pastures for the Scottish Highland cattle. The ride is 1.5 hours long including a stop around the campfire area for about 30 minutes. Be sure to bring along snacks to enjoy while warming up by the fire.
---
May thru mid-October
10:00am to 4:00pm Wednesday - Sunday.
No Reservations Required (weather permitting)
---
---
774 High Street, Candia, NH, 03034
map
Phone: 603 483-5623
---

Cheap Let Down
We attended the hunt last year and it was such a let down. The eggs are filled with cheap dollar store candy and plastic cheap penny toys. We got an egg with a prize slip in it and went down to the barn to claim our prize only to find that the egg my son found was from last years hunt and they didn't have a prize for him! There were all sorts of fun things like trips to Story Land, giant baskets and gift cards. They promised they would go find a fun prize for him and caem back with a musty vending machine stuffed animal. It was such a let down. I would never do it again, and I certainly would not recommend it to any of my friends!
---

RIP OFF
Add us to the list of dissatisfied custormers. First, to be fair, while the zoo is depressingly small and includes species that should not be on display in a zoo of this size, the animals on all parts of the farm look well cared-for and the enclosures well-kept. The people who worked with the animals also seemed nice and knowledgeable (I worked at a stable for 10 years, so I can at least judge how the farm critters were doing). We went for the pumpkin festival in Oct. Due to heavy recent rains, they told us that the fields were flooded, and those rides were cancelled. But this wasn't told to us until AFTER they'd sold us the ride tickets. There was an hour wait for the horse-drawn hayride, the pony ride was less than 2 minutes long, and the substitute tractor train ride went in a small loop around the central part of the zoo/farm (instead of to the pumpkin patch) but they still charged the $2-3 tickets for it. The advertised pumpkin decorating was another $5.50. All this on top of the $11 admission. Given the long wait times, we'd have been out more money if we'd paid for the $17 combo tickets like they were pushing. The activities were billed as 'continuous from 11am until 3pm'. We got there at 12:30, and only had time to do the tractor train ride and one pony ride due to the long waits, and confusing map. As it was, everyone left (grandma, mom, and both kids) feeling really ripped-off. At least the drive up was beautiful.
---

Take Your Kids Someplace Else
This 'farm' has animals packed into enclosures that are very small. With all of the money you spend on admission tickets $11/person, they should be able to afford better quality animal care. This is a very sad place to take the kids, you are much better off taking them to a larger zoo that treats their animals with kindness and respect. This is a good place to take the kids if you want to pay money to teach them about how animals shouldn't be raised or about factory farming.
---

Dangerous Farm
I went to the farm's 'annual' easter egg hunt. The hunt was for children 1+ yrs old. The cost was $11 pp. There was nothing included but the hunt and only children were allowed to get 12 eggs so the parents paid to watch. The dangerous part was the 'prizes' they gave to children of all ages. Tiny plastic toys that any child could choke on. My daughter even got a pin with a RUSTY safety pin on the back. They has an unattended bonfire that had a tiny slippery snow path you had to walk on to get to a bench to sit down. Think twice if you ever want to bring young children there.
---
Info changes frequently. We cannot warrant it. Verify with Charmingfare Farm before making the trek. If you find an error, please report it...