Davis Farmland & Water Spray Park
Other Ideas:
Parlee Farms
;
Honey Pot Hill Orchard
;
Parkers Maple Barn
;
One Stack Farm
;
Land's Sake Farm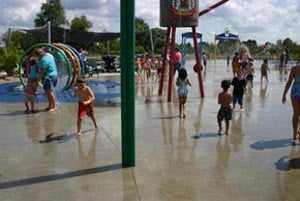 Spend a Day at the farm! Kids can feed* and see all sorts of farm animals including baby goats & cows, chickens, ducks, & llamas, as well as play in the various play areas.
They can simulate milking a cow on the big pretend cow. Pony rides are also available for an extra fee.
*(Feed & Pony Ride tickets must be purchased upon entry. You can replenish the feed as you go. Or, if your kids are industrious, they can scavenge loads of spilled feed around the grounds).
Play & Spray
:
This whole new area at Davis' Farmland includes both 'dry' adventure play and cool, wet 'spray' play. It's down home fun on the farm for infants to 8 year olds. Dry play features exotic play areas with a dinosaur dig, Moo Moo's sand play, and 800-foot long children's pedal track and hiding huts.
Spray play adds a whole new twist to the old-fashioned swimmin' hole. It's New England's largest, zero-depth, water sprayground for children and features every kind of water spray imaginable. From ground bubblers and misters to a pretend car wash and even a water tower geyser. So beat the heat and have some totally safe, refreshing fun.
Play area & Mega Maze
There is also an extensive play area with play houses and a large playground. For older kids there is a 'mega maze' across the street (separate fee) made out of a giant corn field. This is new Englandís largest maze and one of the finest field mazes in the world and is open from July-October.
Maze admission is good for the entire day. You can do Davis' Mega Maze as many times as you desire and experiment with different intensity levels.
Prices change periodically - please check their website for price updates.
Attire Tips
:
Farmland is located on a hill. Wind conditions are generally stronger than in most surrounding areas. In the cooler seasons it is always better to overdress and leave a layer in the car. Closed-toe shoes or sneakers are recommended.
Visit our Listing on FamilyZip
for photos, insider tips and more information.
About Davis Farmland
:
Located in beautiful, rural Sterling, Davis' Farmland is a unique farm experience. It boasts the largest collection of endangered farm animals in the United States with exotic species of goats, sheep and fowl. For about $1.50 you can get a bag of animal feed which the animals are very happy to eat. Your kids can have pony rides and the whole family can go on a hayride.
*
Important Weather Information
:
Both Farmland and the Mega Maze are only open weather permitting so please call before visiting for dates, rates and times. All are subject to change. Our daily weather decision is made by 8am. Call (978) 422-6666 for daily weather information.
---
Open Daily 9:30am - 6:00pm (last admission 5:00pm) May thru Labor Day
Thursday - Sunday 9:00am - 5:30pm Sept. & Oct.
---
View Rates
---
---
145 Redstone Hill Road, Sterling, MA
map
Phone: 978-422-6666
Get Directions
---
Pack a lunch - they have covered picnic tables outside and indoor cafe seating that are open to all. Otherwise, meals run $4-7 each, and a pizza costs $19.95.


Use the directions that are found on the Davis Farm website, as the ones from Yahoo & Mapquest are confusing. It's easy to get lost if you don't know where you are going.


Rubber boots are a good option in the animal area - especially if it has rained recently.
---

Davis Farmland
While in the Boston area, we went with family members to the 'farm', which had an abundance of goats and all the other farm animals one might expect. It was really somewhat like a petting zoo, albeit much overpriced! It was nice that the tractor/hayrack ride was included in the $20.00 admission since there's not too much in the pens/exhibits! The splash area was the big hit of the day with the kids although the farm itself was somewhat enjoyable. It was a nice afternoon but I would definitely hesitate to pay those prices to go back again for what it offered. There have to be better deals for families than this.
---

You just gotta go
I have been going for several years now and each time is always a great experience with my son and now with a friend or two of his to tag along. We showed up just in time one time to watch a live birth of a baby goat. What nice little miracle for all to see young and old. It is an all day event at the farm. We go from the animals to the pony rides, to the hayride, to the go-carts, then finish the day off at the water park. And somewhere in all that we eat lunch we pack ourselves. And you pay just 1 price for whole day. Just a minimal extra fee for the pony rides. When it's time to leave, the kids are in the car for about 10 minutes before they slip into a virtual coma and then its time to carry them off to bed once we get home. What a wonderful way to spend the day and they have something great to talk about!!! I love this place!
---

This is a don't miss
What an excellent day we had at Davis Farmland! This was the most cleanest, well run, well maintained, creative, kid friendly adventure we have ever been on! Something exciting to do around every corner! Every exhibit was overseen by a very enthusiastic staff member and it showed! Not only fun, but a learning experience as well! the farm animals, the learning fun areas and the spray park! So geared to little kids, fantastic! I loved that there were clean sinks with soap and papertowels around every corner, they really promote washing hands after petting the animals! They have remembered every little detail! At first i thought it was a little pricey, $18.95 (don't forget your aaa card for a $2.00 discount on each ticket, $16.95), but after spending the day, i decided it was more than worth the $$$$!!! You can also have your childs birthday party there, there was one going on while we were visiting and it looked as if they really accommodate you and your party! again, this is a don't miss! worth the trip!
---

Definately a great place
My boys and I went to Davis Farmland in Sterling , MA yesterday and we had a wonderful day. It is pretty straight to get there staying on Route 2 most of the way. THe price is $16.95 to get in. Definately enough to keep all the kids happy! I took my 11 year old and 5 year old triplets. THe $2 cup of feed that you can purchase is great. My boys (and myself) loved feeding the animals. They walk right up to you. Very friendly staff, clean, restaurant and gift shop reasonably priced. free hay ride, pony rides for $3 and a play area and a sprinkler park. Definately a great place.
---

Excellent Day Trip Especially In The Heat
Farm was clean, well run, and a terrific day trip for the kids. The spray park provided hours of relief and terrific fun in the heat. Hay ride was complimentary (included) and although short it was fun. Food was reasonably priced. Kids can apply their own face paint, a big hit esp. for the girls. Lots of little animals that the kids can mingle with and larger animals accessible through the fences.
---

GREAT GREAT Place
My first trip here was as a teacher on a field trip. I was impressed with the organization of it as well as the cleanliness. Years later when I became a parent I ventured out again and was doubly impressed. I didn't realize just how family friendly the whole place is. They have a nursing room which is clean and has activities for the sibling while you nurse, they have complientary sunscreen and wipes to use which was fantastic when the sun came out unexpectedly. They also have a wonderful cafe which has kid friendly food like PB&J's as well as salads and wraps for adults. The animals are all well taken care of and the staff is so friendly. The spray park is such fun my kids age 19 months and 3 BEG to back every day. I can not say enough wonderdul things about it. They are so much more then a farm with their imagination station which are little sheds that are set up as a house, market, vet etc. to encourage imaginary play. If you have never been I say try it you will not be disappointed.
---

Fantastic spray park
I brought my 3 & 5 year old for to Davis Farmland the first time today. At first, I kind of felt that it was just a really expensive & somewhat crowded petting zoo. (Most of the animals are behind wire fences and you feed them through there). It's a little pricey at $12.95 per person (2+), plus the cost of food $2/cup, pony rides $2.50/kid, hay rides, and then lunch, it can really add up. But as you explore, you'll find that there really is quite a bit to see & do here - and then we found the spray park....which totally made the day! This is one of the nicest spray parks I had ever been to. It's large, with lots of fun sprayers & water structures, and lots of room to cool off and explore. It's fun to hear the squeals of excitement and to see the ear to ear grins on all the kids as they splash through the sprinklers. There is ample room for adults to sit and watch in both sun and shade. I liked that it had 2-3 active staff on hand to remind kids of the no-running rule. Overall our visit to Davis Farmland turned out to be a rather enjoyable outing!
---

I LOVE This Place
We live in Winchester, so this is a 55-minute drive for us -- but still, we're getting season passes for the whole family this year! My daughter was almost 2 last summer and loved it -- she cried every time we had to leave, and I find it dficult to find things she really gets excited about, normally! I know she'll have even more fun this year! the whole place is just perfect. It's perfectly clean, sized for kids, has great extras like fun guests (jugglers, birds of prey ... ) , paint brushes and water in the park area, and a face-painting area ... they even set out boxes of diaper wipes and bottles of sunscreen in case you forgot yours! The spray park alone provides hours of entertinment! I just can't praise this place enough. I truly don't think there could be a better place to take your young child.
---

This Place Is Definitely Worth The Trip
I heard about this place from a stay-at-home mom. As a working mother of two, I am always looking for fun places to go with the kids on the weekends. I grew up in the Boston area and never heard of this place, so I was skeptical. I was very glad we decided to go. There was a lot of shady spots, nursing room, great ice cream, the water park was awesome for all ages of children because it was a spray park and it had PLENTY of shaded tables unlike every other water park I have ever been to in my entire life. The zoo/farm wasn't massive, but it was plenty big for a one day looksy around with the kiddos and there was plenty of fun picture taking opportunities, like the kids on tractors. It wasn't overly crowded and the people were all pretty nice there, you really felt like you were outside of the city. There is no high-tech stuff here, which is one of the things I really like about it, my son who is a Gameboy addict really enjoyed it. The only bad thing was it was a bit of a drive to get there.
---
Info changes frequently. We cannot warrant it. Verify with Davis Farmland & Water Spray Park before making the trek. If you find an error, please report it...