Inside PlayGround
Other Ideas:
Belmont Kidspace
;
Mohegan Sun Kids' Quest
;
Cedarland AMAZEment Action Playcenter
;
Jump On In Parties & Play
;
CLOSED: Bonkers Funhouse Pizza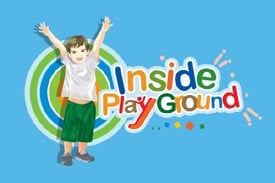 The Inside PlayGround's two facilities offer four season indoor play area for children,and creates its unique presence among other playgrounds by permitting the kids to engage themselves in activities from morning to evening, seven days a week.
This competence is provided for an affordable flat fee or membership rather than subscribing a 1-hour weekly class that sometimes enforces restrictive regiment. All activities and equipment are kid-proof, and adhere to the strictest safety codes.
Enjoy 8000 SF of spacious area for the kids to enjoy physical activities (inflated structures, slides, swings, play-cars, ball-pools, etc.) as well as sit-down games (books, puzzles, miniature furniture, dolls, computers, etc.).
Come and check out the brand new Inside PlayGround's
outside
PlaySpace! The Outside PlaySpace is included in the price of admission and will be open all summer long.
Enjoy an outside water & sand tables, bubble factory, lazy tent, wooden playhouse train, kids gym and much more!
---
Walk-ins are welcome
7 days a week
Monday to Friday 9am ~ 7pm*
Saturday 9am ~ 8pm*
Sunday 10am ~ 8pm*
---
View Pricing
---
---
| | | | |
| --- | --- | --- | --- |
| Watertown | 877.2929.FUN | map | 100 Parker Street, Watertown, MA, 02472 |
| Watertown | 617.923.1772 | map | 100 Parker Street, Watertown, MA, 02472 » more |
---

New Southboro Location
I visited the inside playground in southboro with my 4 year old son. I was excited to try a new place. I have visited many indoor play spaces in the area and this one did not quite measure up. There is lots of space to run around but very little in the way of climbing structures. There were two inflatables and a train to climb on. There were toys and some books. But the space really seem underutilized. My son had a good time , so that is all that counts. Maybe once this location is open a little longer, they will get more stuff.
---

2nd chance
The first time we were there, it was ok -besides the inflatable train that I felt was a hazard when it collapses! We gave it a 2nd chance this year, the train was gone, replaced by an amazing bouncy train house but unfortunately a lot of the toys are broken which is very disappointing. For the cost of entry, I would expect toys that aren't falling apart. Its great in that its a large play space for plenty space to run and with lots of activities. Dont however 'run' over there, if you cant find anywhere else to go, then give it a try but i have been to much cleaner places.
---

Arbitrary hours
The posted hours are 8am to 8pm Mon-Sat, on their web page and voicemail. However, the last two times I have come here after work, with an excited toddler, the door has been locked. No sign, nothing on the webpage, no emails to members like myself. Finally, I got someone on the phone who said that now they're closing 'around 6' on 'slow days.' I paid for a membership specifically to have somewhere to bring my son for some fun after a long day at work. Now they're sometimes open, sometimes not, sometimes answering the phone? This was the only place near me where working parents could go in the evening, and it seems to me that it is longer an option. Such a shame.
---

LOVE IT
I think this place is the best! I have traveled to well over 12-15 places in MA and my kids love this the best. The space is HUGE! During the summer they have a great outdoor space as well, with a water table and sandbox. The fact that you can order food or bring it is a huge plus!!! I have never encountered dirty toys and as far as the mess - thats what happens at a play place. When you have 20-30 kids playing at a time, stuff will get moved around!! And when I was there last week, there was a woman who worked there and she was cleaning up the whole time. As a parent I usually pick up my own childs mess but some parents dont. And this person had everything back in place the minute a child was done with it. Its clean, fun and there is lots to do!!! I HIGHLY recommend it!!! And I could care less if there was a climbing apparatus. If there was one...great, if not than my kids are just as happy! They dont seem to miss it at all. And for me, less risk for falling!!! They also have tons of events (Coach Mike, Face painting, characters) all included in price. BY FAR BEST VALUE FOR MONEY!!!!
---

Such a love hate relationship
I have gone to this establishment several times since it opened. My favorite things about it are #1 the space, #2 location, #3 you can bring in your own food. That has to be the best part given the cost and quality of the food at some other establishments. Now with that said I'm going to agree with some of the other authors here. The space isn't being used to its full capability at all. A climbing structure would fare well there; yet, after speaking with management I was told ' I don't like those because I can't see my child.' I know for a fact they sell climbers that allow parents to keep an eye on the kids. The toys are often times broken and or dirty thats not cool. I've paid a lot for more in smaller spaces and paid less for more in bigger spaces. I'm not certain they consulted with anyone or visited competition. Interactive exhibits are big for kids. My little one gets bored so fast. To the writer whose feelings got hurt or whoever thinks this the coolest place I encourage you to take some 'ziptrips' to some other indoor playspaces then tell us you feel like this place is still the coolest and then tell us it doesn't have to change anything. Insideplayground management we know you guys are making a killing - step your game up please. Just being fair. My little one and I go to playspaces all over the state - but this one is giving the greater Boston area a bit of a bad rep.
---

This place is just ok
I took my 2 yr old and 5 yr old here yesterday. It's a nice big space with lots of room to play. However, our overall experience was just ok...not worth the long drive or the money! This place was full of broken, overused and dirty toys. The two blow up bounce houses were the only things that held kids attention. My boys just wandered around unengaged much of the time we were there. With such a big space they should use it more effectively with large climbing structures or more interesting toys rather than little cars and broken train tables. The bathrooms were dirty and the workers looked tired and unamused to be working there.
---

Great Place BUTsee My Recommendations
Visited the playground last week. My child had a great time as usual. This Place is great but my recommendation is that during peak periods, have a worker overseeing the front of the playground how many kids get into the bouncy house and how many go into the inflatable train. At one point , there were too many kids in the inflatable train and the Air was coming out. One kid instead of coming out throught the exit came out through one of the holes in the train. I was so nervous, I did not allow my kid to go into it anymore. I also saw some older kids I think were there for a party running around almost bumping into the little ones. I think they should be a NO RUNNING sign posted somewhere/everywhere. Too dangerous with little ones around. I will come back but I hope the concerns above are addressed. It's really a great place just needs a little bit of safety housekeeping and than it will Rock!
---

Inside PlayGround
Hi there Winter comes and we're all looking for somewhere to go and play with the children. Cold, rain, snow and really not pleasant to be stuck at home. So here is a new place for us all to come. Inside PlayGround 100 Parker St, Watertown MA 02472. A great place for children from the age of one to five. enjoy. Inside
[email protected]
---

Sorry I Visted On 72910
I visted the Inside Playground for the first time on Thur. 7/29. It was raining out and I hoped for my 5 and 2.5 year old to enjoy themselves indoors. We arrived at 12 noon and paid the fees which were reasonable. The place was extremely hot and the toys were littered thoughout the area. There were kitchen items near the road area and trains in the bounce house. I actually threw over 50 balls into the ball pit with my son. We counted to make it fun. I was actually sad for the kids (mine and others) because it was a mess. In addition, the water fountain was broken and there was water on the floor in the eating area where the vending machines were located. I actually saw a little one slip and the cashier continued to check his email and facebook and did not even notice. I understand the location and layout but feel like there was way too many toys and things thrown togethers. It is clear that they did not consult an early childhood educator when planning this space. For example, there is no definition of spaces and many toys were not appropriate or did not go together. There was also some very cheap toys and furniture that are for household use and not a playspace (is..Ikea table and chairs). There are also sharp edges around the reading area and fire alarm boxes that should covered for safety. There is also a few jolly jumpers that are way too close to the ball pit making for a accident waiting to happen. I highly advise the owners or managers to pay someone to help clean the area throughout the day since young children and parents are not doing it. I think I would rather spend the same amount of $ or less to drive further to the Klubhouse or a Plaster Fun Time. I am sad to give this place such a low rating wished I knoew what it was all about before I entered romper room. I could of went to the Natick Play Space for free if that was what I was looking for. I give this place a 1-2 since it was in a good location. I hope the owners and manager think about how to improve this place by consulting with an educator or two.
---

New Outside Playspace at Inside Playground
We are happy to announce the Grand Opening of our new Outside PlaySpace!!! Bubble Factory! Fun Art!Water & Sand Activities!kids fun exercise equipment! Giant Inflatable Slide!...Wooden Choo Choo Train!Bean Bags, Hammocks & picnin tablesfor your convenience
---
Info changes frequently. We cannot warrant it. Verify with Inside PlayGround before making the trek. If you find an error, please report it...