One Stop Fun
Other Ideas:
Boston Playground
;
Jam Time Playspace at the Natick Mall
;
The Anchor, Boston
;
Children's Museum at Holyoke/Heritage State Park
;
BB Kidz Klub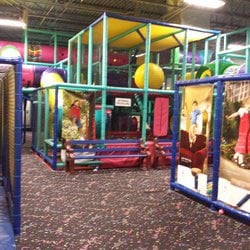 This family fitness and activity center includes a full service play structure that has three stories of tubes and tunnels for climbing and exploring, a wave slide, a spiral slide and its own toddler area for hours of fun and adventure! Their new rock wall adds a whole new section of fun.
Free WIFI is now available. A snack bar offers pizza, hot dogs, French fries and the like. No outside beverages or food are allowed.
One Stop Fun also offers gymnastics, dance, karate, swim and yoga classes, as well as holiday, vacation and summer programs. Birthday parties and other events are also welcome.
Check
upcoming events
.
Outdoor Splash Pool
:
The outdoor pool at One Stop Fun is 1½ feet deep in the "toddler friendly" area, and 6 feet in the deep end, where there are four water slides.
Kids love the spraying mushroom, shooting lemon drops and our floating wattsit. There's a small "preschool" slide in the shallow end for the smaller kids. A squirting playground and fun water tables provide a great pool alternative for our younger non-swimmers.
The pool area offers lounge chairs, umbrellas, patio tables, access to indoor snack bar and restrooms. The pool has certified lifeguards on duty at all times.
Pool Season
:: June 16th - Aug. 30th
Pool Hours
: Weekdays: 11AM - 7PM, Weekends: 10AM - 7PM
Daily Passes
:
$13 per child (ages 1+) on a space available basis.
$18 Daily Combo Rate (Pool & Gym Mania).
---
School Year: Mon-Thurs. 9-6pm, Fri. 9-8pm, Sat. 9-6pm, and Sun. 10-6pm
Summer: Mon-Sat 9-4:30, Sun 10-4:30
View Hours
---
ALL DAY Admission is just $11 for ages 1+ ($7 for students currently enrolled in any One Stop Fun program)
(Adults are Always Free.)
View Rates

Annual Membership (best value) *

$199/year per family with one child
$249/year per family with two children
$299/year per family with three or more children
---
---
49 Power Rd, Westford, MA
map
Phone: (978) 692-9907
Boston or Rt. 95/128
:
Take Rt. 2 West to Concord Circle, then West on Rt. 2A/119. Proceed for about 6 miles to Power Road (on your right). One Stop Fun is 1 mile on your left.
North of Boston
:
Take Rt. 495 South to Exit 32 (Westford), left off exit, first right (at lights) on to Rt. 110. Proceed for about 1 mile to Power Road (on your left). One Stop Fun is 1 mile on your right.
North Shore
:
Take Rt. 128 South to Rt. 3 North to Rt. 495 South to Exit 32 (Westford), left off exit, first right (at lights) on to Rt. 110. Proceed for about 1 mile to Power Road (on your left). One Stop Fun is 1 mile on your right.
South of Boston
:
Take Rt. 495 North to Exit 31 (Littleton Common), then East on Rt. 2A/119 about 2 miles to Power Road (on your left). One Stop Fun is 1/2 mile on your left.
---

Not a fan for birthday parties
You know - this place, in concept, is a fun way for kids to burn off energy on a rainy day. We had my son's birthday party here last year, and I have to say that I was not impressed. Keep in mind, that on weekends, this place is a birthday party factory. So there may be up to 4 other parties going on at the same time as yours, in addition to the walk in traffic. this can make for a chaotic and stressful day. I wouldn't host another birthday party here again, unless I did it on a weekday. And I'd wait for grade level kids to ensure a more stress free day. The other thing that I don't love is that the birthday child gets to jump on the trampoline in a special harness that lets him/her jump really high - while all the other kids sit there and watch. This always breeds unhappiness from all the other kids because the birthday child is the only one who gets to do this. in any event - my experience wasn't so great. My recommendation is to either have a party here on off hours, or find another place.
---

STAY AWAY
Horrible! Let my child leave with another family!!!!!! Yes, that is correct! The design of the place is AWFUL. Entrance on one side and exit on other. Exit is blocked off by large play structure and netting. I could see my child leave, but was unable to get to him. I assumed he would be locked in and unable to leave (as we had bracelets put on at the entrance for 'safety'...Right!), but no! By the time I got to top of stairs a 'manager', possibly owner informed me, 'You're son was almost in the parking lot!' I was aghast! I asked why he was let out! I did not get an apology at all! If it had been my business, I would have apologized profusely, offered free passes, offered a refund...I didn't even get an I'm sorry from this woman. Upon leaving, I could only tell her, 'just imagine how I feel...You're a mother...Just imagine how this feels...' I DO NOT RECOMMEND taking your child to this place. Imagine this story happened to you and your child....how would YOU feel?
---

Terrible Place
This place was awful....to start it was filthy, overpriced for limited activity escpecially if you are bringing younger toddlers which still pay the same price as older children, and completely unsanitary. There was no toilet paper and wasn't replaced for over 30 minutes after staff was notified. The manager was completey unprofessional and no desire to achieve costumer satisfaction. I will NEVER go to this place again. Not even worth a dime!
---

One Stop Fun Again and Again
After having the kids there this summer for a week of camp each we were sold on the programs. That was once again reinforced this past weekend... summer has long been over and when we arrived for a friend's birthday party the girls at the desk remembered my daughter. So many kids go through One Stop Fun it made us feel special to be remembered. They are doing it right at One Stop Fun and we will be back again and again.
---

Wonderful
Ever since the new ownership this place is wonderful!! I bring my 3 yr.old neice regularly, once I step foot through the front door the staff is smiling and more welcoming then ever. Then we go downstairs to gym mania and play for hours on end, there is internet access so i can get my work done and play with my neice. The snackbar food is great, and the cleaniless has improved since previous experiences i have had. All and all One Stop Fun is a tradition I will maintain with my neice until she out grows it but the facility offers so many programs that could take a while! A fabulous place for family to be together and have fun.
---

One Stop Fun - Westford - Less Than Stellar
I enrolled my children in their summer camp for a week and was disgusted with the lack of customer service and professionalism of the management. We lost a few pair of socks that week, (no big deal) but I found my daughters bathing suit lying in a pile of trash 'the cleaners had made'. I overpaid accidentally for the week since I needed to add a day and then they refused to issue a refund to me saying I could only have a credit to use the facility again. When I tried to speak the the owner I was refused.
---

Ugh
This place is filthy. I keep going back thinking that it will be better (often times there's not much to do on a rainy day with a bouncy 3 year old) but after last time, never again! Pieces of carpeting were ripped up, plaster crumbling off the walls, duct tape on the corners of walls to cover up the crumbling plaster, dust bunnies in the corners, unidentifiable goop on the walls ... yuck! In addition, it's poorly lit and there's no way to keep track of your child unless you crawl around in the tubes after him. There's no staff supervision and there were kids in the tubes eating chips and leaving the trash and crumbs everwhere. I don't care if it's a torrential downpour, I'm never going back there again!
---

Birthday Parties
I was extremley dissappointed. There were inexperienced Teenagers running the show. One child at the birthday party i attended came out of the tubes covered in another childs Bowel movement. The staff joked and did nothing to help the poor girl. went in with papertowels and a spray bottle to clean the spot. Did not check the rest of the play area for any other soiled areas and allowed the next birthday party behind us to go in and play. The Vegetables were bad. The ice cream had melted. We got Nothing but attitude from most of the workers. There wasn't even soap in the bathrooms to wash your hands. Disgusting.
---

One Stop Fun Experience
awful, their was feces in the ball pit and one child got covered in it, their was no soap for the child to clean her self with. not even an offer of a new shirt. then they picked up the feces and washed the small area. and let the rest of the kids go play in it. no manager on duty. very unorganized party. kids run the place, garbage bags next to presents. we paid for tatoo's got none, had to ask for everything that was supose to be included. not to mention , how do the workers wash their hands , after handling food. it was an embarresement to us to bring other parents there, this was suppose to be a childs birthday party?? and they had to sit and wait around and look at each other for a period of time that was paid for. beware its not a clean place !!!!
---

Great place for kids
I really like the concept of this place. It's got all sorts of ball pits, and things to climb on and in for kids - and you pay 'when you go' instead of paying for expensive memberships at other kids gyms. They even have a little eating area where you can buy pizza and snacks. A trip here will bring on a good nap afterwards for any toddler!
---
Info changes frequently. We cannot warrant it. Verify with One Stop Fun before making the trek. If you find an error, please report it...