Monkey Joe's
Other Ideas:
Jam Time Playspace
;
Children's Museum at Holyoke/Heritage State Park
;
Mohegan Sun Kids' Quest
;
Cedarland AMAZEment Action Playcenter
;
Metrowest YMCA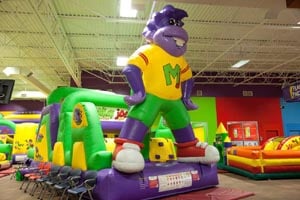 At Monkey Joe's, kids have fun jumping, sliding and playing on gigantic, complex inflatables. Unlike other inflatables places that open just for parties, Monkey Joe's welcomes walk-ins all day, every day.
Monkey Joe's has over 15,000 square feet of wall-to-wall fun divided into age-appropriate areas that are clean, well lit, and have sufficient supervision for each age group.
Pizza and snack food are available; no outside food or drinks permitted. A TV shows sports and news, there's free internet access, and two public-use computers.
'SACCS' Safety Access Child Control Program makes Monkey Joe's the safest kids play facility in the business.
Birthday Parties
Parties start at $149 (weekdays) for up to 8 kids and go up $329 for 24 kids (weekends.)
---
Walk-in hours
Monday-Saturday 10 am-6pm
Sunday 11am-6pm
---
Mon -Thurs: $8.99 Per Child (3 & up)
Fri - Sun: $9.99 Per Child (3 & up)
Frequent User Card: $70 for 10 Visits (Any day of the week)
---
---
10 Newbury St, Danvers, MA, 01923
map
Phone: 978-739-8099
At Danvers Crossing Mall, behind Circuit City and Chilis Restaurant and next to David's Bridal on Route 1 South (between Lowell Street & Route 114.)
---
Plan to stay about two hours. Kids who can bounce longer are Olympics material!


Monster Mini-Golf is steps away if you want to extend your day of play.


Be prepared for mobs on weekends, esp. when weather demands indoor play. Weekdays are a better bet for younger, more vulnerable children.
---

Great place for kids
Fantastic place, my two kids had a great time. It's very clean, 8 or 9 huge inflatables . the building must be over 15,000 square feet ( big place!) the staff is very polite and I felt very safe. They have a concession stand with pretzels, hot dogs, pizza, natchos and beverages ( very affordable, compared with other places). We stayed for 4 hours and my kids had the best work out / fun ever ! I will be back!!! It was cheaper than going to Mcdonalds or to the movies...
---

Would rate a zero if I could
Weve been several times the past 4 years when desperate for an indoor play area on cold days. Never again. It's always chaotic, understaffed and the manager is rude. No outside food allowed and the snack bar offerings are of poor nutritional quality and overpriced. Most recently the manager completely disregarded a safety concern I brought to her attention. A man kept approaching my child and was verbally aggressive with us. Manager said the man was a regular and would not speak with him. Really?! A place for kids and you disregard a parent's request. I requested a refund because I wasn't going to stay in a place with a stranger who made us very nervous. The manager said, 'read the sign. No refunds.' I will never go back and will discourage everyone I know from going.
---

fun place
Despite the bad reviews,we have taken our 5yr old and 9 yr old grandchildren there to the one in Danvers and had wonderful times. The staff seems capable and attentive. There is a little tot area. If you have small children it is wise to go with them if they insist on going in the bigger structures. This said, the parent shouldn't have to go inside posing a problem to other children. If you can't see your little one at all times don't let him in it.I have also seen parents sitting on the entry ramps and blocking the way for other children. One time I went, the carpet smelled like feet. But all the other six visits the place looked , and smelled, clean. It is certainly a fine place to go and let kids use up their energy.
---

awesome party
just had a great party at Monkey Joes...From start to finish everything went well...My child was so happy, and our friends and family that attended couldn't believe this place....Our party host, (Alex, I believe) was great...I had to move my party along, due to other obligations. I spoke with the Manager about my issues, and within 10mins, our party was called into our room. Our host without hestitation, went into action...my guess and family never felt rushed, (even though I asked for our party to moved along quickly). I only had 90 mins. for this party to start and end, with pizza, cake,etc...Everything was great...I would personally like to thank everyone at Monkey Joes, for giving my child a great party and getting me and my guess to our next event...Thank you all.....
---

fun timeparty time
after reading all the reviews, I decided to visit. I was on the defensive side, and read the entire waiver form at the front door. Because of the reviews, I ran around to each moon bounce with my kids, after an hour, I had a good work out. After an hour,(keeping in mind the reviews), I took a seat and allow the kids to go on their own....The kids only came back when they needed a drink/food...After 4hrs. and watching the staff members, and all the kids, along with party members coming in. I personally believe, the staff members have full control. I stood by the door for 10 mins. to see what all the reviews where stating, and I must state: the staff members during the party time, had everything under control. The staff at the door, they were very pleasant. There were a few issues with parents wanting to be on rides with their kids. The Manager was very agreeable with the parent, and allowed the parent on the ride with restrictions to avoid any contact with other kids...I was very impressed...This Manager during my time, took a lot of abuse from parents, who decided to bring in there kids, take a seat, and let their kid run wild. Thoughout this the manager, listened and took the right action. The manager: Laura was very pleasant, always kept her smile when she dealt with unpleasant clients. In the end, this manager made sure that all needs/wants were met (even though some didn't deserve them) and continue during the time I was there, made sure those unpleasant clients were doing well....My hats off to her and the staff she maintains...A professional manager....and let's not forget how clean the place is. The manager cleaned tables, vacuum during the busy time, so little ones crawling wouldn't pick up yuk food. Parents appreciated this kindness....The bathrooms always cleaned and you can smell the cleaniness throughout the business....Thank you Monkey Joes and your manager with her staff, giving my kids a great place to run off their built up energy....
---

What A Great Place
This is the best indoor playground in the North shore! Great staff, super...super clean WOW ! The pricing is great and the kids have a lot of fun.
---

Great Place
This was a great place to spend an afternoon with my children. The staff was very friendly and the facilities were amazingly clean. Staff members were constantly surrounding all moonbounces, watching over all kids playing. I will be very likely to return to Monkey Joe's in Danvers MA for another great day of play. I would strongly suggest some rethinking of other parents who talk negative about this great indoor playground for children.
---

Stay Away From This Disaster
What a mess!!! This place is the worst place I have ever had my son's Birthday party at! EVER!!! I decided to book his 4th Birthday party at Monkey Joe's in Danvers, Massachusetts and it was such a mistake. The place was over crowded, under staffed and they breached their contact with their party amenities. The party started with me putting an initial down payment on the party of $150. This was to reserve the party room. Then, at the end of the party I would pay the additional $150 and the cost of Pizza ($15 per box, sliced into 7 pieces, that they don't even cook in the facility and have delivered by a service down the street... Ice cold and gross! I'm not sure what time they ordered my 7 pizza's for my party, but it was not within a reasonable time frame of the party, since it was ICE COLD AND AWFUL!) Moving on...I was under the impression from speaking to the staff that my guests would have an hour of supervised play before we were allowed into the party room. If supervised play is considered 500 kids running around chaotically, without safety wrist bands for parents .. then they have achieved their goal. I had multiple kids with injuries.. including 2 with bloody noses and a another with a black eye. NOT Happy!!! Then .. when it was time to go into the party room, a 'waitress', which I use loosely, carried over the 16 specialty goodie bags (value around $120) and dropped them on the floor. Accidents happen, I understand .. but then she proceeded to shovel what was in the goodie bags into a box as if they were trash... while the 500 kids in the place trampled over the candy and toys for the kids ... NEXT! The Pizza .. ice cold .. ordered outside . the price was even more of a scam!! $15 per pizza for 7 slices ... and they microwave it since they order it at the start of the day, roughly 10am! The cake ... I had $150 specialty cake made at an elusive bakery for my little ones big bash ... don't you know by the time it got to me, the box was crushed and the sides smushed in... fun huh??? And they said that there was nothing wrong with the cake ... of course, the cake being crushed was no big deal to them... it wasn't their kids birthday party! Finally .. after all the mishap, I asked to speak to a manager .. 'sorry lady ... we don't have one on duty!' ... what type pf facility that ensures the safety of children doesn't have a manager on duty??? So finally, I told the girl (and she was maybe 17 or 18 years old) that I would pay the bill of $170 for the pizza, because we ordered it (in cash) but was refusing to pay the remaining balance for the party since they did not keep up their end of the party amenities (forget the ruined cake, goodie bags and hurt children ... ) She said no problem. And Monkey Joe, he came in the room, for 2 minutes, before he had to leave because he was suppose to move to another party room. Since my son was in the bathroom when he came in (they never informed me of the time) he missed out on meeting Monkey Joe... but the waitress said it was okay since he would be walking around later ... REALLY??? After we left, we thought this nightmare was of the past, I come home to find they swiped my credit card I had put the down payment on after I had left for $150 UNAUTHORIZED! Criminal ???? Oh yes!!! Don't have your birthday party here or patron this mess! I am working with corporate right now (since even the owner of facility has ignored my calls) and going to the actual franchise. This place is dangerous, unclean and a rip off!!! And when you have a question or problem, a 17 year old will gladly greet you with 'it's not my problem' I am also in the works with town hall and inspectional services to look into the facility. This place should be shut down!!!
---

Do not bring your toddler here
Unlike every single other inflatable place, they do not let adults on the often challenging and opaque equipment. I got yelled at immediately for just sitting on the ramp and helping my child up. Later on, I lost him for a good 10 minutes on a slide/maze thing and when 2 little girls found him he was trapped and crying. It's simply not safe. The fact that under 3 is $5 does not make up for this. I'd gladly pay more to be able to help my child and keep him safe. If you're thinking of a birthday party here, consider a place that would also let the adults have fun too.
---

Never Again
Not af an of this place. Went with 4yr old twins and older kids were in bouncing roughly and took over th place. Little supervision by the parents! Will not be going back.
---
Info changes frequently. We cannot warrant it. Verify with Monkey Joe's before making the trek. If you find an error, please report it...