This In-Active Profile Has Been Archived
The following profile has been archived in our database and is
no longer active
. Click the
here
to view similar profiles that are currently active and up-to-date.
---
Mapparium - Mary Baker Eddy Library
Other Ideas:
Arlington, Robbins Library
;
Acton Memorial Library
;
Harvard Public Library
;
Boston Athenaeum
;
Newton Free Library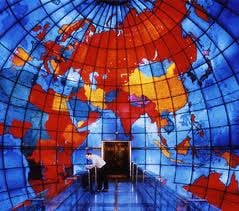 Located on the border of Back Bay and the South End, The Mapparium - or 'Globe Room' is a wonderful visual and auditory experience for children of all ages. You'll find an enormous 30-foot-wide globe of the world as it was back in 1931 back-lit by a new lighting system that illuminates how the world has changed.
This unique, three-dimensional perspective is enhanced by an original, seven-minute presentation that features a rich orchestration of words, music, and LED lights to illustrate how ideas have traversed time and geography and changed the world.
Admission includes the 7-8 minute globe presentation, and access to the 2nd floor exhibits. The building is beautifully designed and a peaceful diversion from the busy city outside.
The Mapparium has been a popular Boston attraction for over 60 years. The world-famous, three-story, stained glass globe is one of the key attractions of The Mary Baker Eddy Library, where visitors are invited to cross its glass bridge into the illuminated spherical space and consider how ideas have expanded and shaped the world over time.
In 1935, electricians illuminated the Mapparium, a masterpiece of art and technology, with 300 60-watt light bulbs. Today, its 206 LED light fixtures can be programmed to produce up to 16 million colors for a dazzling performance.
Whispering Chamber
Don't forget to whisper! Like the US Capitol rotunda, the mapparium is a whispering chamber - if you whisper at one end, a person can hear you at the other end as if you were speaking in a normal voice. But the mapparium's spherical bottom, and the fact that it's almost entirely enclosed, make it unique.
Reflecting Pond
In addition there is a wonderful, 600-foot reflecting pond outside on the plaza with a circular, spray jet fountain (great for cooling down the tots). Or take a stroll through the 'Lollipop Orchard' (loden trees trimmed into spheres) along Huntington Avenue.
Exhibits, Shop, and Reference Room Hours
:
Tuesday, Wednesday, Saturday, Sunday 10:00am to 5:00pm
Thursday, Friday 10:00am to 9:00pm
Mondays the Library is Closed
---
Open Tuesday - Sunday from 10:00am - 4:00pm
Closed Mondays
---
Admission is $6
Children under 6 admitted free
| | |
| --- | --- |
| Related Links | Top |
---
We make best efforts to update information, but it changes frequently, so we cannot warrant it. Please call to check Mapparium - Mary Baker Eddy Library schedules, fees, and directions before making the trek. We help you, please help us. Report an Error if you find one.