Brooksby Farm
Other Ideas:
Parlee Farms
;
Shelburne Farm & Orchard
;
Honey Pot Hill Orchard
;
Carver Hill Orchard
;
New England Botanic Garden at Tower Hill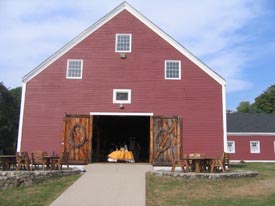 Brooksby Farm is an 275-acre working farm, managed by the City of Peabody.
Brooksby Farm is a fun place to visit almost any time of the year. It's also a popular spot for wedding receptions.
Pick your own fruits including strawberries in June, blueberries and raspberries in July and August, apples in fall, cut flowers in summer, or choose that perfect Xmas tree in winter.
Farm Animals
Visit the barn to see goats, sheep, pigs, chickens, geese, ducks and even a llama! Feeding animals is allowed for an extra treat.
Winter Activities
Cross Country Skiing trails are available to use for free. You can rent equipment for $6.00 and take a lesson for $3.00. In addition, the trails can also be used for snowshoeing and hiking. The pond is also a great place to Ice Skate (call ahead to ensure it is frozen enough).
Birthday Parties
Have your birthday party at Brooksby Farm. Large parties and corporate parties can be accommodated.
Note:
The 3rd weekend in October is
Harvest Happenings
at Brooksby Farm, with lots of free activities.
Looking for more places go
apple picking near Boston
? Check out our handy guide featuring some of our favorite spots to pick your own fruits!
---
Daily 9 a.m. - 4 p.m.
Farm Stand 9 a.m. - 6 p.m.
---
---
Felton Street, Peabody, MA
map
Phone: (978) 531-1631
---

Farm Birthday Party
We recently had a kids' birthday party at Brooksby Farm and could not have been happier. The prices are reasonable and they don't limit the number of guests. You can bring in your own food and decorations while other places limit you to 20 and require you to use their caterer and cake. The picnic table area is covered and had a nice breeze even on a warm June day. They had a food table and trash cans out along with a welcome sign for our guests. There are restrooms and they have a cooler and freezer where we were able to store ice cream and extra sandwiches until needed. The staff were so wonderful to work with leading up to and including the day of the party. The kids had a great time feeding the animals and taking a hayride through the orchards. There's a farm store and greenhouses which were popular with the guests too. You will be very pleased at Brooksby!
---

Great For Birthday Parties
We live close by and have been going to Brooksby for years to pick apples, eat cider donuts, take pictures in the pumpkin patch, and feed the animals. A few years ago, we inquired into having a birthday party there for my daughter. It went so well, we've done it 3-4 times. It only cost $75 for the space, and you can choose from a few areas around outside--picnic tables, or a covered 'greenhouse'. They provide free feed cones to each of the kids, and for $2.50 per chld, they can each get a pumpkin. They also offer a hayride for an extra price. We usually bring a pinata and have the kids decorate their own goody bags. Since my daughters birthday is in October, they always have a ton of pumpkins in the pumkin patch, which makes for great photos for all the children. The mothers love it.
---

Very Crowded In September
The place is very close to Boston and surrounding suburbs, so it gets very crowded in the weekends. Especially during apple picking season when the place turns into disneyland, complete with tractor rides and kids munching on donuts. Otherwise the apples are very juicy.
---

Enjoyable For Family Outing
I have been going here for quite a few years. Everyone that works the farm is very enjoyable and helpful. They have a great animal farm for kids of all ages. Thier country store has a large varitey to choose from including the pets in your life. I highly reccommend this to anyone who loves the out doors and apple picking. don't forget the pumpkins either they usually have a great pumpkin patch right outside the store.
---

Apple Picking At Brooksby And Much Much More
It's always great --- the roads are narrow and the apples are great to eat right off the tree. The white on the apples isn't pesticides -- is an natural protectant and they give you a paper stating all the facts about it. If you go too too late after apple picking has peaked, then the apples will be high, but they give you a rod, or you can shake the tree that's only 20 feet high. SO GOOD is the hot apple cider and CIDER Donuts that you get BAKED fresh inside. ALSO, they have so many home canned jams, jellys, and GREAT for Rasberries in season. I love the Thanksgiving Craft Show that is 3 stories high and filled with so many charming New Englanders that I look forward to it every year and bring back Pumpkin Spreads, Pumpkins Breads and MAPLE SYRUP that spoils you for all the rest !! Love it and do it every year. Very quaint, and great apple and blueberry pie - made on the premises.
---

Convenient To Get To And Lots Of Fun
We didn't try to pick our own apples. Our 18 month old loved the farm animals so much we never got away from the barn. There were picnic tables nearby so we sat and enjoyed some tasty cider donuts. Overall, we had a great time and purchased a great assortment of apples to take home. We found it much easier and faster to get to (from Boston) than the farms out on Route 2.
---

Brooksby Farm
We went last weekend, 10/10/04, and had a fairly unpleasant experience. We had to take a hay ride to the apples, which is normally fun, but not this one. The road was so narrow that people on the sides of the truck were hit in the head and back by trees as we drove by. We were dropped off near trees that only had apples very high off the ground -- but, we weren't told that beforehand, so we had no picking pole. The kids were very frustrated and so were the parents. Last, but not least, the trees appeared to have some sort of pesticed sprayed on them at the base - they were covered in white powder. This made us pretty nervous about eating the fruits of our labors. All in all, not a great day.
---

Excellent Time for Kids
Had a Great time with our two boys ages 5 & 8. Nice day trip that the family will enjoy.
---
Info changes frequently. We cannot warrant it. Verify with Brooksby Farm before making the trek. If you find an error, please report it...