Boston May Events 2024
What to do in Boston in May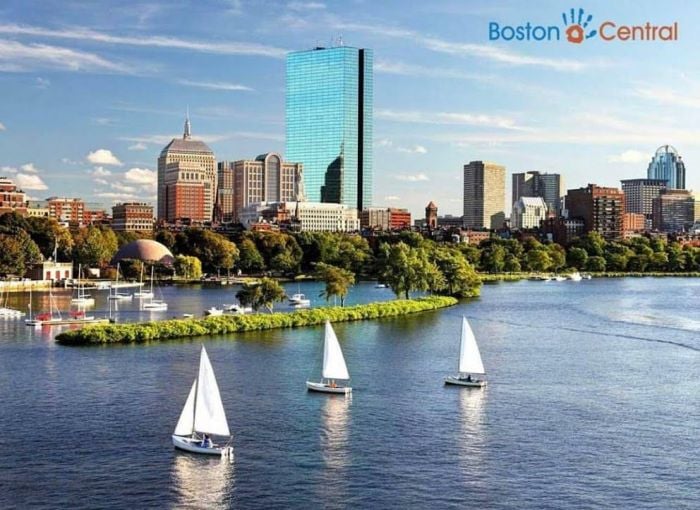 Things to do in Boston in May 2024
Ahh, May. The month we can finally put the winter coats away until next year. Popular May events in Boston traditionally include the Boston Calling Festival, Lilac Sunday at the Arnold Arborteum, Memorial Day Weekend, concerts, and art walks.
See for yourself why May is the perfect month to be in Boston!
Boston Calling Music Festival
The Boston Calling Music Festival is a three-day, two-stage festival featuring some of the biggest and best acts in live music! The musical celebration takes place at the Harvard Sports Complex, with easy access to stages, food, services and more. Top bands of all genres rock the house each year rain or shine at this exciting annual event.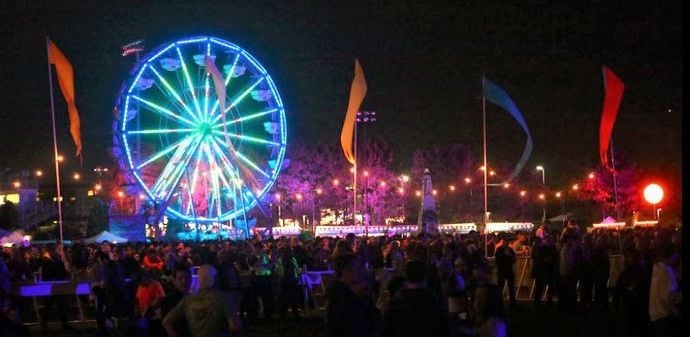 Other well known events include, the Memorial Day Garden of Flags on the Boston Common, Duckling Day Parade in the Public Garden, special Harbor cruises, and lof course ots of Theatre District shows and performances.
Hidden Gardens of Beacon Hill Tour
Beacon Hill's Hidden Gardens tour: this self-guided tour offers visitors a rare opportunity to see hidden landscapes and secret pathways behind the brick facades and shutters of historic townhouses. You'll be amazed at what you'll find inside these beautiful courtyards.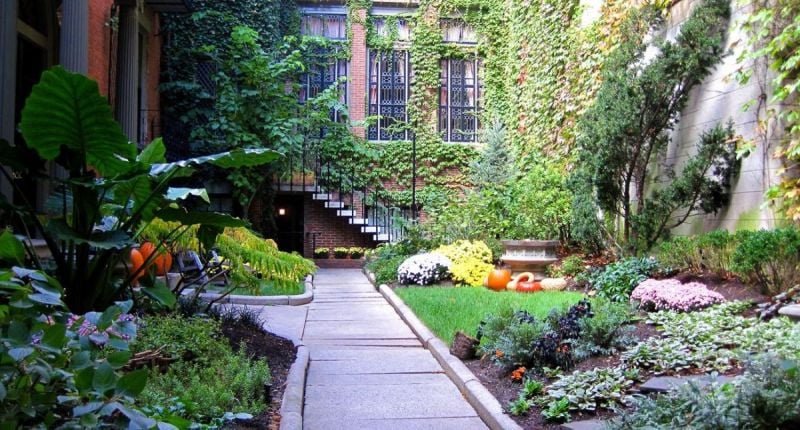 Duckling Day Parade
Duckling Day is Boston's most adorable Mother's Day event - come celebrate springtime in Boston's iconic parks! Every year, hundreds of children parade through Boston's most picturesque parks led by the Harvard University Marching Band, and dressed like characters from the story. The Ducklings Day Parade a festive fundraiser for the nonprofit Friends of the Public Garden.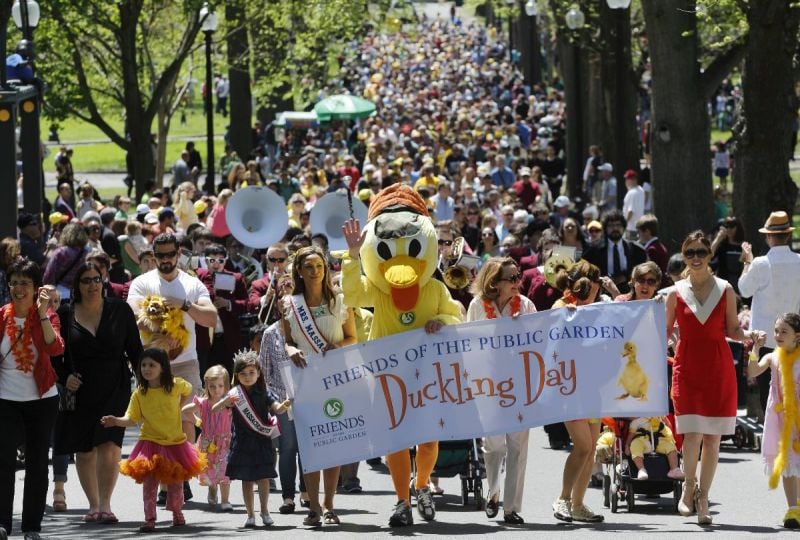 photo courtesy of Friends of the Public Garden
Art in Bloom at the MFA
Enjoy exquisite art from across the MFA's collection paired with magnificent floral interpretations created by New England-area garden clubs. Professional designers delight with creative designs in Museum entrances and public spaces at Art in Bloom, an annual event in May at the Museum of Fine Arts, Boston.
Lilac Sunday
The beloved Boston tradition of Lilac Sunday at Arnold Arborteum celebrates the lilacs as well as many other special collections at their peak at this lovely time of year. It's the only day of the year that picnics are allowed. Come celebrate spring at the Arnold Arboretum.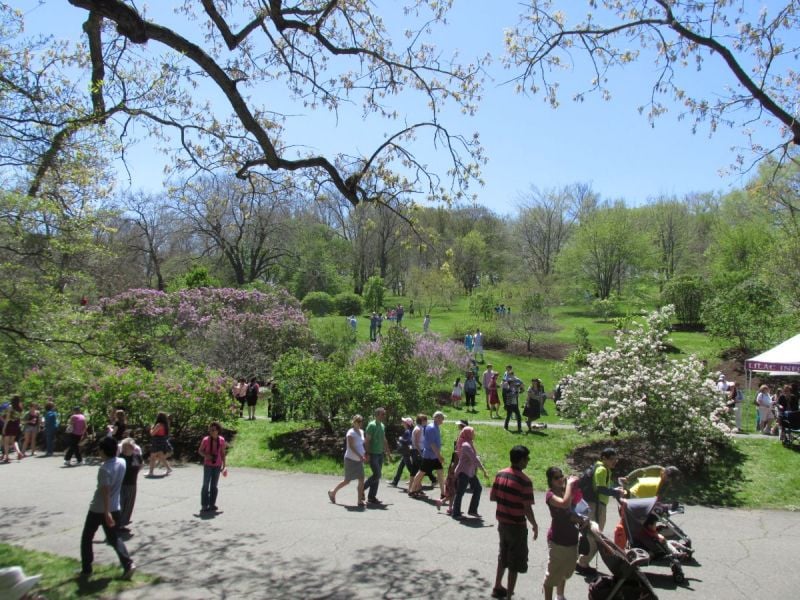 Boston Memorial Day Events
Memorial Day is a day to to honor those that gave their lives in the service to their country and to celebrate the freedoms that we all enjoy. Many Boston-are towns sponsor Memorial Day Parades to pay tribute to America's fallen heroes.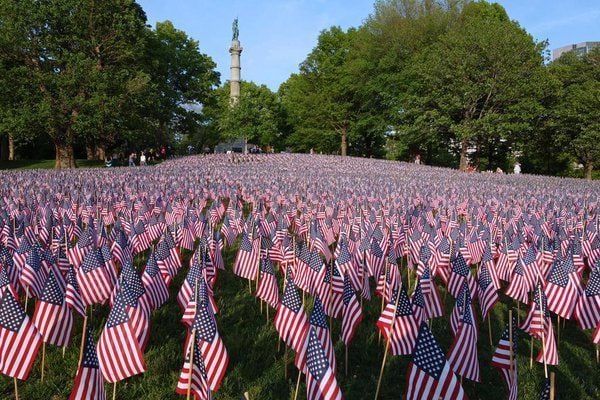 photo credit: BostonCentral
Memoral Day Garden of Flags on the Common
Every year, the MA Military Heroes organization plants a Military Heroes Garden of Flags (37,000 flags, in fact) in front of the Soldiers and Sailors Monument on Boston Common to commemorate the MA service members who have given their lives to defend the United States and our freedom. Its quite a sight to see.
The Museum of Fine Arts hosts an MFA Open House on Memorial Day offering free admission to all. Each year, the event activities center around a specific exhibit and include a number of interactive things to do for all ages, as well as access to the entire Museum.
Free Ferry Day - Boston Harbor Islands
Now that the weather is getting more temperate, it's time to plan a visit to the Boston Harbor Islands! To kick off the season, the Boston Harbor Islands hosts Free Ferry Day, offering free ferry service all day - first come first served. If you plan to get to the ticket kiosk early, you will be rewarded with a lovely day on the harbor, on the house.

photo courtesy of Boston Harbor Islands
Popular islands to visit with kids & families include Georges Island, featuring Fort Warren, a historic fort on the 28-acre Georges Island at the entrance to Boston Harbor. The fort is named for Revolutionary War hero Dr. Joseph Warren, who sent Paul Revere on his famous ride, and was later killed at the Battle of Bunker Hill.
Spectacle Island functions as a park for the public to explore. Enjoy a day of hiking, listen to the sweet sounds of a jazz concert, or take in the breathtaking views from the top of North Drumlin.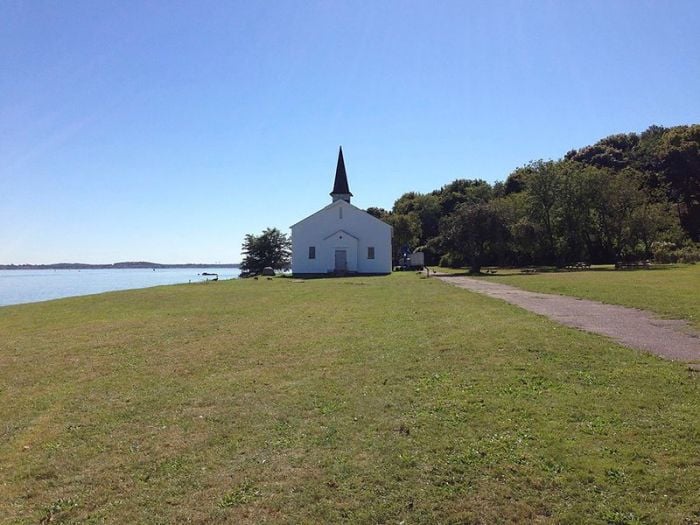 photo courtesy of Boston Harbor Islands
One of the largest islands, Peddock's Island is a popular destination for hiking, bird watching and camping. Peddocks Island is both beautiful, rich in history and off the beaten path. Historic structures, such as Fort Andrews, built at the start of the 1900's, along with the restored WWII-era Chapel, reside at this location.
Street Performers at Quincy Market
By May, the Street Performers & Buskers start their showcase at Faneuil Hall. As you stroll the cobblestone walkways, you'll surely be drawn into watching some amazing and talented entertainers along the way.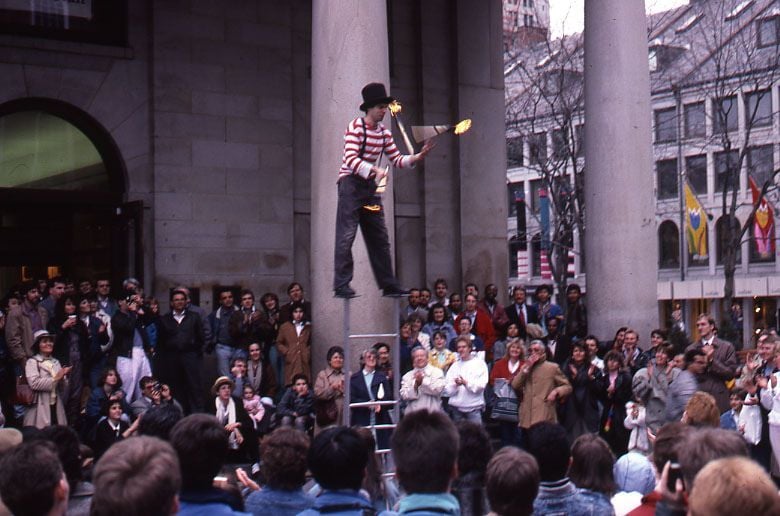 Baseball Season
Take in a Red Sox Game at one of America's most beloved ballparks! The season gets into full swing in May, and the weather is more baseball friendly for players and fans alike. From the iconic Green Monster, pesky's pole, belting out Sweet Caroline in the 7th inning stretch, and the right field manual scoreboard, it's always a great day at Fenway.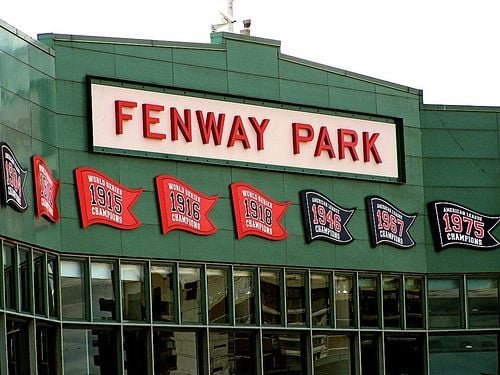 In addition, Polar Park, the new minor league stadium in Worcester, is set to open in the spring 2021 season hosting the Worcester Red Sox. Minor league games are terrific for families with lots of interactive entertainment, affordable tickets and great seats.
As we mentioned, May is a great month to take advantage of the more balmy temperatures in Boston to take a Duck Boat tour, catch a Red Sox game at Fenway, or just relax as you enjoy outdoor patio dining at one of our wonderful restaurants. In fact, there are an quite a few unique ways that you can tour Boston.
Many venue also host open houses on certain holidays, so you can always stay in-the-know about holiday happenings in Massachusetts in our helpful guide to family fun.
Check our Boston Events Calendar for May for fun things to do as spring arrives. Boston really starts bursting into bloom, and you'll want to be outside soaking up the sun.
And of course, May is a great time to find ideas for Boston Summer Camps as well.
Find more things to do in Boston in our handy guide. You can stay in-the-know about family-friendly events in Boston all year round by subscribing to our free weekly events newsletter!
~~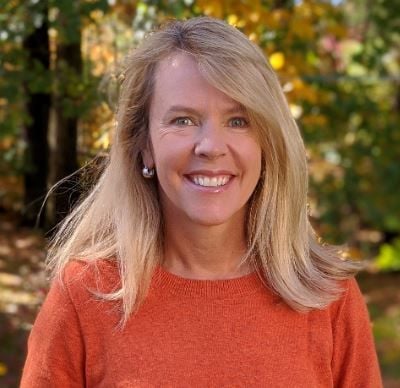 Stacey Sao has been the Managing Director of the family-friendly events and activities website, BostonCentral for over 20 years. She continues to enjoy discovering and exploring new places to visit in the Greater Boston area.