The Christmas Revels
We have Not Yet Posted This Year's Information for This Event Yet
If new information for this event is already available for this year, please let us know
.
Dates:
Friday, December 18, 2020 - Thursday, December 31, 2020
Hours:
Hours Vary see below
Ages:
Kids, Teens, Adults
In/Outdoor:
Indoor
Cost:
$$$ see below
Category:
Theater & Shows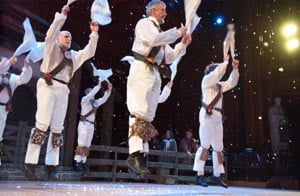 Join us for this year's Christmas Revels featuring some of our favorite artists plus a special performance by cellist Yo-Yo Ma!
For the first time in 50 years, the annual Christmas Revels will not be celebrated live in Harvard's historic Sanders Theatre. The shortest day will come, and the year will die. As any one of the thousands of Revels attendees knows, that is never the end of the story …
For this extraordinary year we are creating a unique, virtual Revels - a cornucopia of music, dance, song, and ritual from our richly recorded archives, spanning half a century and a good half of the globe.
This December, a small band of performers will walk into an empty theater to fulfill the promise of …. "people singing, to keep the year alive," as stipulated in Susan Cooper's poem, 'The Shortest Day.'
They will be joined by two stalwart audience members who have been present since the first Christmas Revels in 1971: the marble statues of James Otis (Paula Plum) and Josiah Quincy (Richard Snee). James and Josiah remember every song, every dance, and every "Welcome Yule!" and are quite excited to share their vivid memories with us!
2020 Performers Include:
Yo-Yo Ma, cellist
Paula Plum (James Otis)
Richard Snee (Josiah Quincy)
David Coffin, songleader and Revels' Artist-in-Residence
Johnny Nichols, Jr., singer and Revels' Education Director
Carolyn Saxon, singer
and Revels directors Patrick Swanson and George Emlen
We hope that you will join us, however you choose, for this rare event!
Learn How to Record and Submit your Audience Videos
For this special year, we are seeking a big, multicultural, multi-generational audience as well as an adult chorus to sing with us! All are invited.
There will be three "All Sing" moments, for which we will need many voices from every age demographic: Joy to the World, Dona Nobis Pacem, and the Sussex Mummers' Carol.
This is your chance to participate in the production, singing along to our splendid brass ensemble and in the company of hundreds of other Revelers.
We will assemble all technically usable submissions into an enthusiastic Revels audience, with Sanders Theatre as a backdrop. You may submit family videos if you wish, with multiple singers in one frame.
This will be a wonderful (if unusual!) celebration of the winter solstice and a way for us to mark the seasons together, with song and festivity, even in the face of formidable headwinds. We hope you will join us - in the audience or perhaps even 'on stage" in the chorus – to make this a truly memorable occasion.
We will also need an adult chorus to sing on two songs (still to be determined). Adult chorus members will be selected on the basis of their submitted "all sing" recordings. If selected, each adult chorus member will be asked to make two additional video recordings of the two chorus songs. Anyone not selected for the adult chorus will be included in the audience.
Viewing Window: December 18 - 31 (Video-On-Demand)
============2019 - Past Year's Info===========
A holiday tradition for nearly five decades, The Christmas Revels is a joyful theatrical celebration of the winter solstice that travels the world each year showcasing cultural traditions including music, dance, folktales and rituals.
For the 49th annual Christmas Revels we will be coming home. Beginning at a remote radio station at a crossroads in the dusty heartland in the 1930's we will be exploring the roots of American music.
The show makes its way from the bluegrass of Appalachia to the traveling songs of California, from the bony harmonies of New England to the easy melodies of the South. And when the destination is reached, you will be invited to join in the old tradition of 'Breakin' up Christmas.'
There's a long way to go and a great tale to tell - join us for the ride!
The seasonal festivities do little to reduce Sven's moodiness that is tied to the loss of a favorite uncle. Change comes in the guise of three unusual Christmas presents.
They usher Sven into an alternative universe populated by witches, snakes, and superheroes where he is reunited with his late uncle in a series of life-changing adventures.
With gorgeous melodies, rich choral harmonies, and filigree ornamentation, this is a rare musical experience awaiting your participation.
ORDER TICKETS
at or by phone through the Harvard Box Office at 617-496-2222 (Tue-Sun 12-6pm).
The Christmas Revels performance lasts about 2.5 hours.
Find more
December Events in Boston
in our holiday event guide.
Looking for
more ideas for VIRTUAL family fun
? Visit our guide to social distancing activities for families, with ideas for both indoors and outdoors!
---
Check out the website for details on hours each night.
---
Event Pass per household $50 + $5 fee | Event Pass and CD - $80 per household + $5 fee |Wassail Party (12/20) & The Christmas Revels Event Pass $200 + $7 fee Purchase Tickets
---
www.revels.org/calendar/the-christmas-revels/
---
Sanders Theatre, Cambridge, MA
map
Phone: (617) 496-2222
---

Inclusive Mish-mash Of Cultures
On December 12, 2009 the showing at 3 PM was amusing after several decades of not going. As a child memories were quite different and much more Northern European with the old familiars from the second half of the Christmas Revels. Still though there was that sense of community through the rough and tumble. The group has gotten larger though it seems the audience has become more select. I remember looking up as a child, but now as an adult I am looking down from the Balcony and bringing all sorts of other experience to the tried and true. I still found it quite amusing, though not what I expected. This is defintitely for those with hearts of children. Heart warming and down-to-earth I find my soul resounding in the new generation of faces in this place, that once was my playground, now the beat turns to an attentive diverse crowd as is the stage players.
---
Info changes frequently. We cannot warrant it. Verify with The Christmas Revels before making the trek. If you find an error, please report it...