December Events in Boston
What to do in Boston in December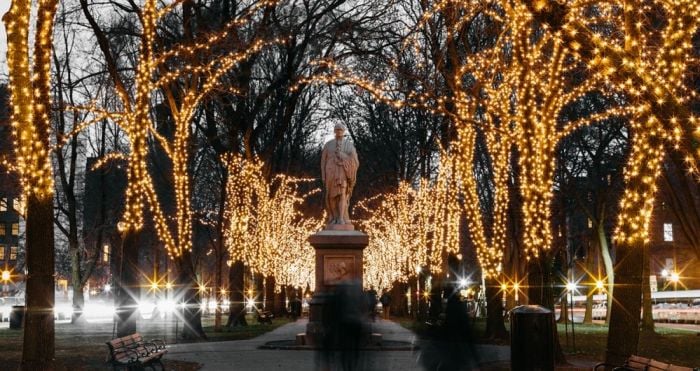 Things to Do in Boston in December 2020
Boston in December is amazing as preparations for the Holiday season begins. With countless things to do, glistening lights, concerts to attend, and events happening throughout the city, one thing is for sure – your trip won't be boring! Below we have summarized all of our favorite things to do in Boston in December.
Blink! Holiday Lights
Just steps away, Boston Blink! featuring the music of the Holiday Pops, is a 6-week state-of-the-art light and sound extravaganza that will illuminate every inch of Faneuil Hall Marketplace with over 350,000 LED lights. Blink! is a free, must-see holiday show, perfect for all ages.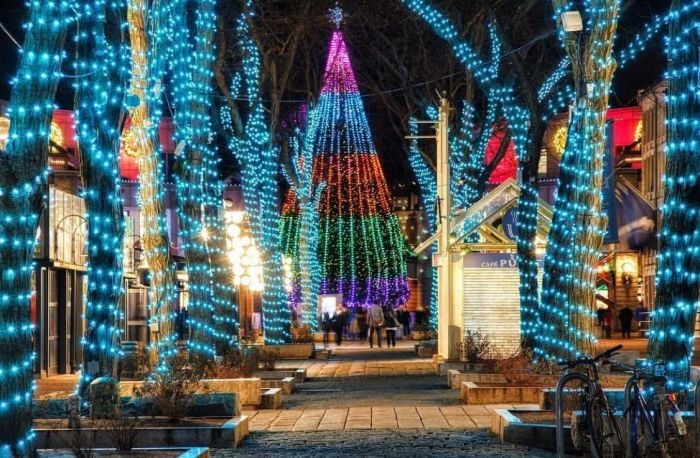 Photo courtesy of Faneuil Hall Marketplace
Faneuil Hall Tree Lighting
The unofficial kick off the holiday season takes place at Faneul Hall, where thousands of Bostonians come together for the lighting of the city's first holiday tree! Enjoy a day full of holiday entertainment, delicious food and shopping at the Faneuil Hall Tree Lighting. This event includes a special appearance by Santa and a countdown to the lighting of the enormous tree.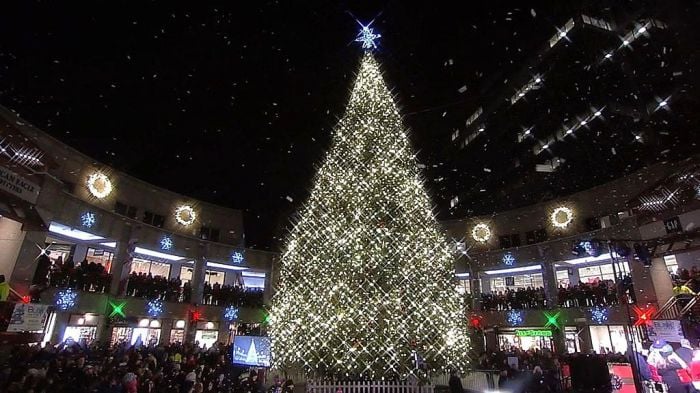 photo credit: Fanueil Hall Marketplace
Holiday Light Shows at the Greenway Carousel
Each winter in Boston, it's fun to experience holiday light shows at the Greenway Carousel with family and friends. Enjoy your favorite holiday songs as you watch bright, festive light shows that perform every 30 minutes from 4:45 pm to 7:00pm.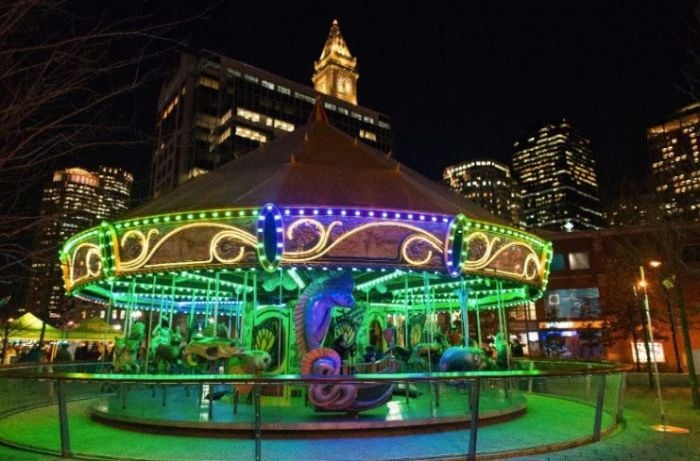 Photo courtesey of The Rose Kennedy Greenway
Boston Common Tree Lighting
The heart of the city becomes illuminated with seasonal cheer at Boston's Official Holiday Tree Lighting. Holiday lights throughout the Public Garden and Common will light up just before 8 p.m., and a fireworks display will close the festivities a the Boston Common Tree Lighting.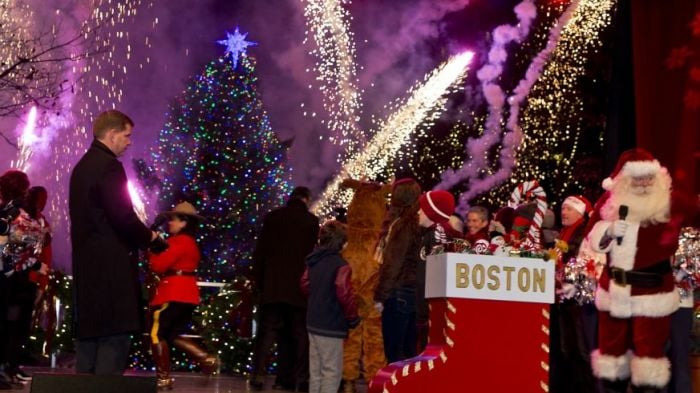 photo credit Boston.gov
Copley Square Tree Lighting
The Boston Parks and Recreation Department, and The Friends of Copley Square welcome the holidays with the annual Copley Square Tree Lighting at Copley Square. The Fairmont Copley Plaza will host a family reception immediately following for all in attendance. The reception will include cookie decorating, photos with Santa, and treats.
Mayor's Enchanted Trolley Tour
The annual Mayor's Enchanted Trolley Tour is a festive tradition of lighting holiday trees while bringing holiday spirit to children across Boston. The includes visits with Santa, holiday performances, tree lightings and more.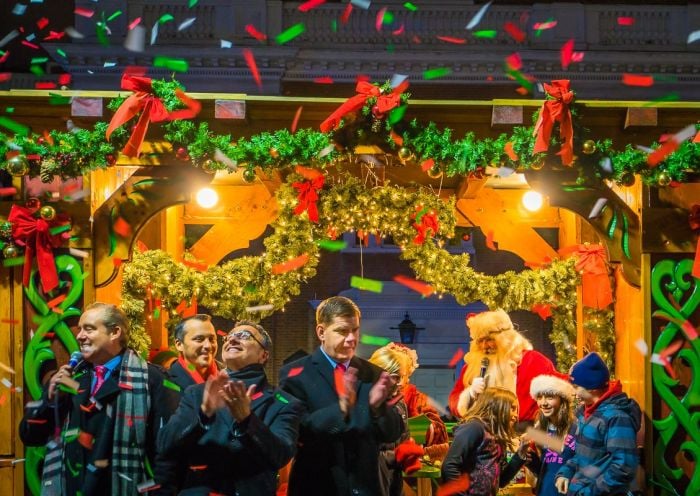 Photo courtesy of The City of Boston
Holiday Trellis Lighting at Christopher Columbus Park - Located at 110 Atlantic Avenue on Boston's historic waterfront, Christopher Columbus Park is transformed into a beautiful holiday display when the park's 260 feet of trellis are illuminated with 50,000 blue lights along with 14 decorated trees near Tia's, the Marriott Long Wharf Hotel, and throughout the park.
Illuminous Festival of Lights
Presented by Downtown Boston BID and LuminArtz, ILLUMINUS is a spectacular, free nighttime festival where local artists, designers, and performers turn an office-building-heavy section of downtown into an immersive art installation.
ILLUMINUS is the perfect post-work, pre-dinner experience, a special treat for families with eye-popping kid-friendly exhibits, and an enhancement to shopping, eating, and visiting the vibrant Downtown Boston area.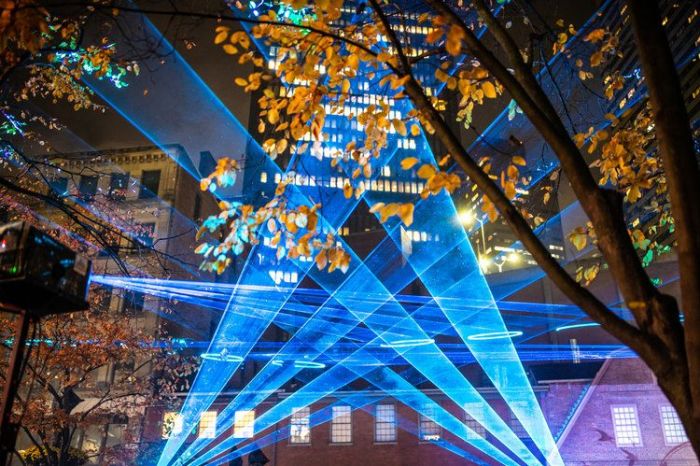 photo credit: Illuminous Boston
Find out about more holiday tree lightings and celebrations in Boston in our handy guide to winter fun.
Ice Skating
Frog Pond Ice Skating - A hopping spot for ice-skating is Frog Pond on the Boston Common. Frog Pond has its own ice-making system. It also offers skate rentals and hot cocoa at the Pond Cottage.
Just across the river in Cambridge, Kendall Square boast another terrific outdoor ice rink that is open to the community for skating. Don't miss the annual Kendal Square Holiday Ice Show - another annual favorite.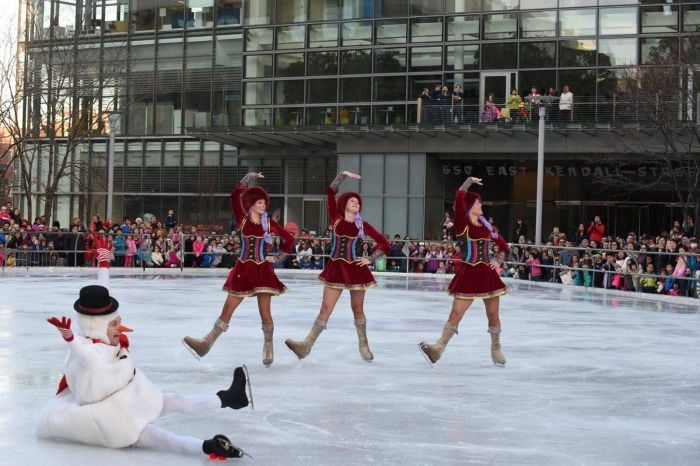 Photo courtesy of Kendall Square Community Ice Rink
Winter Skate at Patriot Place, offers day and evening public skating, is the perfect antidote to cabin fever this winter. A fun and affordable activity for parents with children, Winter Skate is also a romantic addition to a dinner date at Patriot Place. Ice Skating season generally starts in mid to late November and runs through February.
Looking for more places to go ice skating in Boston? Visit our handy guide to winter fun.
Enchanted Village
Enjoy Boston's historic Enchanted Village, now on view at Jordan's Furniture in Avon. Jordan's Furniture purchased the surviving pieces of the Enchanted Village at auction and restored the vintage collection to its former glory. The Village is open for all to enjoy during the holiday season.
Boston Pops - Holiday Pops
Take part in one of Boston's most beloved traditions - a Holiday Pops concert at historic Symphony Hall. Bring your family and friends for a matinee or evening concert and enjoy the glorious 2019 New England holiday season.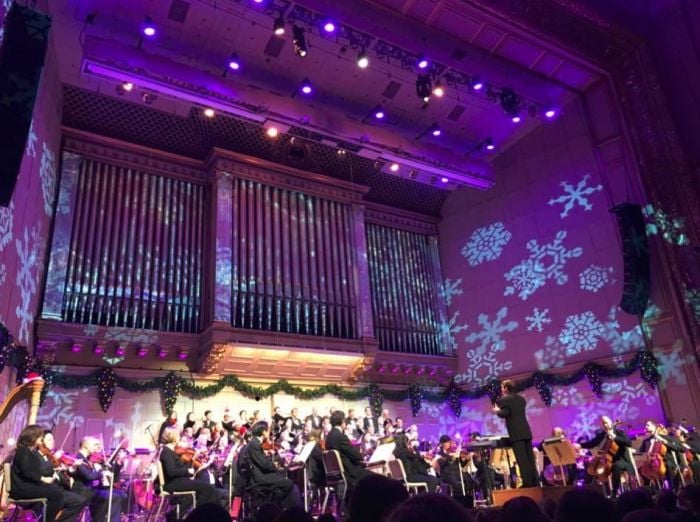 In addition, families can enjoy a series of holiday pops kids matinee performances. These special family concerts include a children's sing-along and photos with Santa. For those seated at the floor tables, there are special kid-friendly menu options along with holiday treats. This year, for the first time, the BSO will also be performing a sensory friendly holiday pops concert; a 60-minute version of the show includes lower volume and lighting levels, relaxed house rules, designated support spaces, and Autism therapist volunteers on site.
The Nutcracker
Performances of The Nutcracker abound this holiday season with local favorites like Jose Mateo, New England's longest running interpretation of The Nutcracker ballet, Boston Ballet and Commonwealth Ballet's Nutcracker show, renowned for its intimacy, humor, musicality and exciting dancing..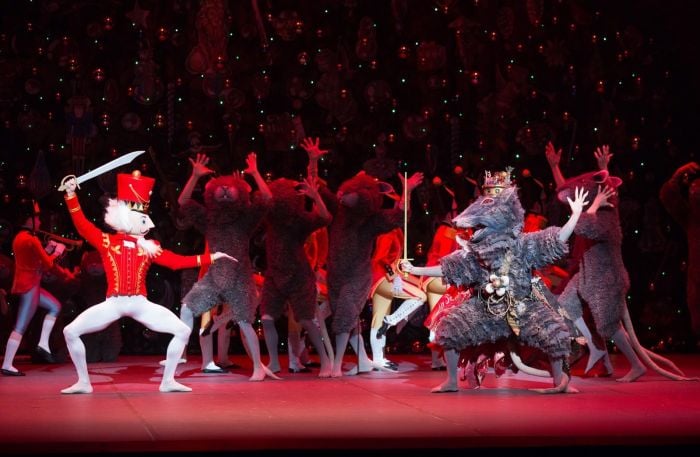 Photo courtesy of Boston Ballet
In each delightful version of The Nutcracker, a young heroine, Clara, journeys through a magical world of imagination filled with dazzling characters such as a Dancing Bear, an enchanting Snow Queen, and of course, the heroic Nutcracker Prince.
Urban Nutcracker
Anchored by classical ballet, the Urban Nutcracker performance also includes a broad range of dance forms such as tap, hip hop, flamenco, and jazz, accompanied throughout the performance by a small live orchestra.
Boston Tea Party Reenactment
The Annual Boston Tea Party Annual Reenactment is a chance for the public to join in on one of Boston's most iconic protests. Re-enactors from across New England come together to tell the story of the Boston Tea Party and dramatize the evening of December 16, 1773.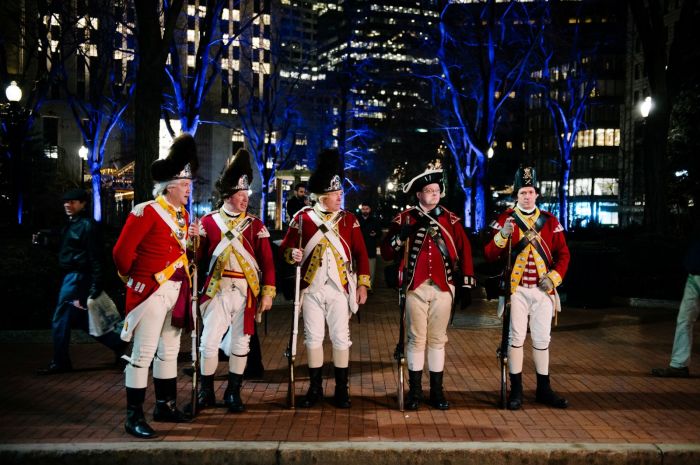 Photo courtesy of Boston Tea Party Museum
A Christmas Carol
The ghosts of Christmas past, present & future come to life in this intimate retelling of the Charles Dickens classic. Delight in puppetry, live music, dancing and the intimate storytelling in the tradition of A Christmas Carol. All the trappings – sights, sounds, and scents – of the holiday fill the theater with magic.
Visit with Santa
Santa will be visiting many area malls and towns for festive holiday tree lightings and parades. Some of our favorite Santa events include the annual Gloucester Santa Parade & Tree Lighting, Rockport's exciting holiday event where Santa arrives on a lobster boat at at Rockport's wharf and rides across Sandy Bay for the tree lighting.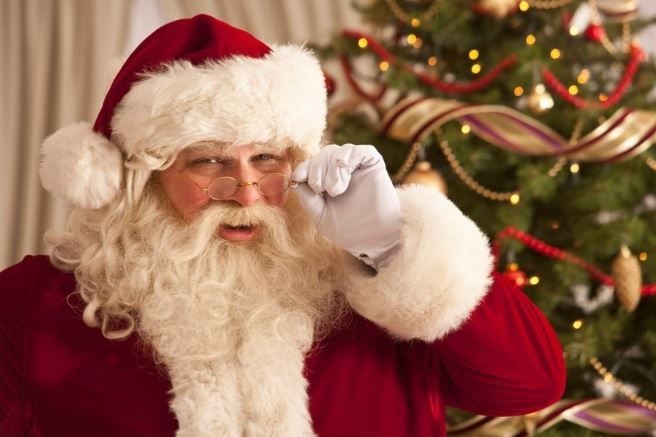 Black Nativity
Black Nativity is a celebration that tells the original story of the Nativity in scripture, verse, music, and dance. Based on the Gospel of St. Luke, combined with the poetry of Langston Hughes, this song-play touches a special chord in the hearts of all.
The Christmas Revels
A holiday tradition for nearly five decades, The Christmas Revels is a joyful theatrical celebration of the winter solstice that travels the world each year showcasing cultural traditions including music, dance, folktales and rituals.
Boston First Night 2020
First Night in Boston is a city-wide New Year's Eve celebration that is free and open to the public. For over 40 years, Boston's First Night has been a New Year's Eve celebration of artistic performances, ice sculptures, light shows, the wonders of the season and the beginning of a new year.
Highlights include the People's Procession at 6:00 PM, the Frog Pond Skating Spectacular, and the Family Fireworks Display at 7:00pm on Boston Common.
To ring in the New Year, stick around for until midnight for the signature Copley Countdown pyrotechnics and light show in Copley Square.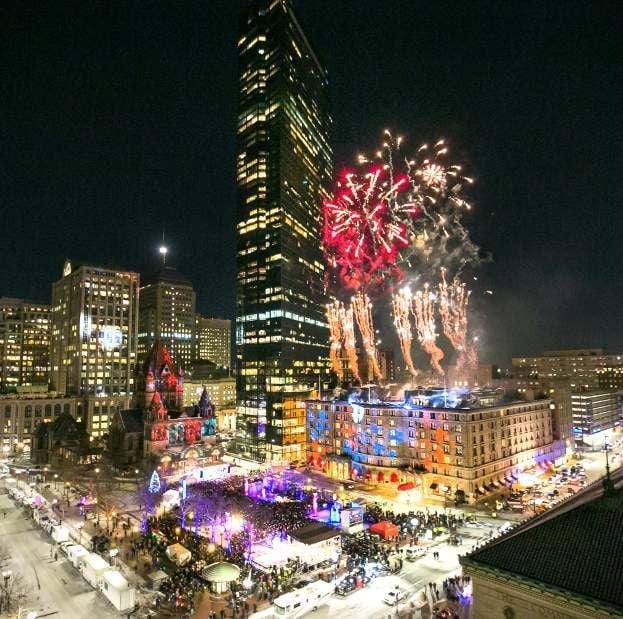 Photo credit: Boston USA
Entertainment and special attractions are generally found in the Copley Square and Back Bay areas.
Candy Land Playathon at Fanueil Hall
Families are invited participate in this colorful classic game together along with facepainting, holiday music & entertainment, snacks and more. All proceeds of the Candyland Playathon benefit Pitching In for Kids. The event takes place in the Upper Rotunda of Quincy Market, Faneuil Hall Marketplace, Boston
Beacon Hill Holiday Stroll
Families are invited to a festive evening of refreshments, shopping, Santa, horse and buggy rides, Victorian Carolers, a strolling brass quintet, the neighborhood tree lighting and Charles Street businesses open for good cheer. Charles street closes to traffic to allow for an old time holiday feel at the annual Beacon Hill Holiday Stroll.
Blue Man Group Holiday Shows
Blue Man Group Boston is getting festive this holiday season by offering an extended show schedule, seasonal selfie opportunities and spirited holiday content including holiday music using the group's unique musical instruments. Blue Man Group for the Holidays.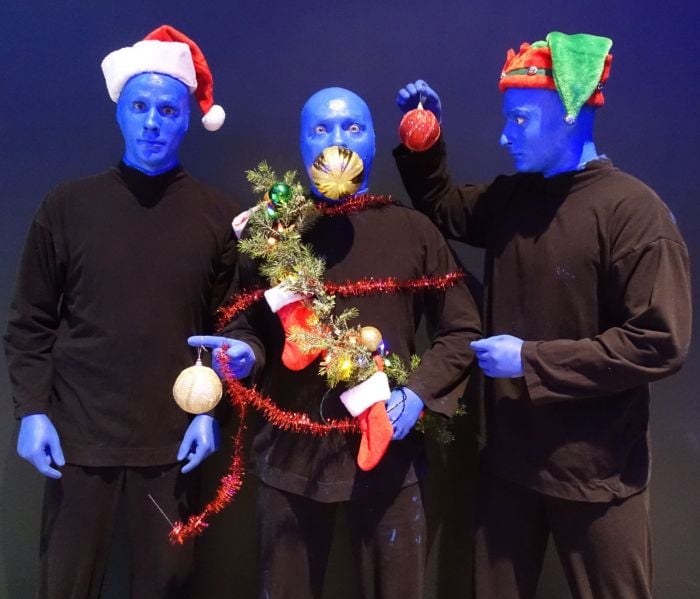 Photo credit: Blue Man Group Boston
Skiing Near Boston
December generally marks the beginning of ski season for many New England Ski Resorts. Skiing near Boston can be a close as a half an hour to just about 4 hours. We've put together a guide to all of the ski areas in New England to help you navigate ski season.
Winter Sports - New England Patriots
Cheer on the New England Patriots and see the 6 time Superbowl champions play at Gillette Stadium. Make a day of it and visit Patriot Place for food, shopping and drinks. Don't forget to stop by the pro shop for gear, or on non-game days, you can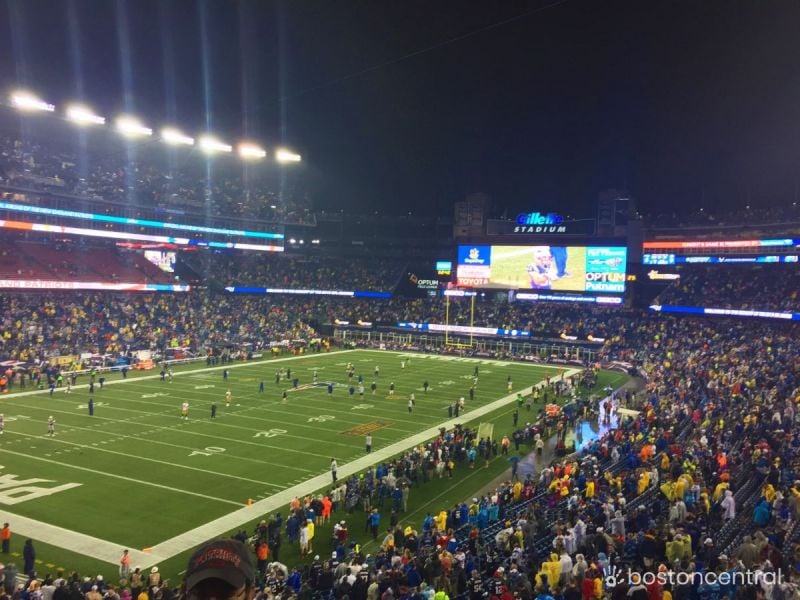 photo credit: Boston Central
Boston Celtics
Visit TD Garden to see the Boston Celtics play on home court.
Boston Bruins
Attend a Boston Bruins Hockey Game - Winter is a busy sports season in Boston. The Boston Bruins share arena time with the Celtics at the TD Garden - so when the Celts are out of town, enjoy an exciting hockey game and cheer on the Bruins.
Find more things to do next month in our January events in Boston guide. And check our Boston Events Calendar for fun things to do every day, as winter appraches. Winters may be long here - but there is no shortage of fun things to do in Boston all year long.