January Events in Boston
January Events Calendar for Boston, MA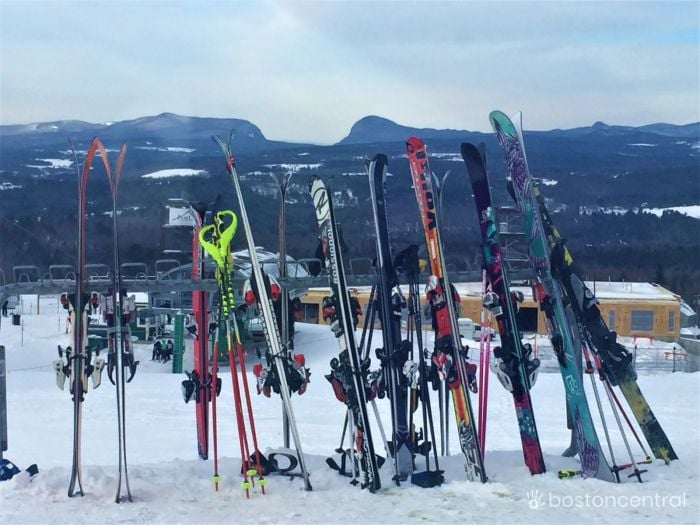 Things to Do in Boston in January 2024
Looking for interesting things to do in Boston in January? Boston hotels offer their cheapest rates this month, which makes for a great opportunity for locals to enjoy a staycation - plus the city is full of fun activities and events, to warm up that winter chill.
If you're planning what to do in Boston in January, here are some fun activities to consider. Be sure to also check our Boston Event Calendar for January.
Outdoor Fun
First Day Hikes
Ringing in the New Year with a brisk walk through a state park is a tradition that started right here in Massachusetts. First Day Hikes offer individuals and families an opportunity to begin the New Year with a rejuvenating outdoor experience by reconnecting with nature and fitting in a few hours of exercise.
Polar Plunge
Leap into the frigid waters of the new year with the L Street Brownies' Polar Plunge! Join the over a century year old America's oldest "polar bear" swim club, as they plunge into the bitterly cold water of Boston Harbor at 9 a.m. on the first of January. Head to the beach in South Boston at BCYF Curley Community Center and make a memorable splash or admire the hundreds of participants who brave the bitter temps each year!
Go Skiing!
Bundle up and hit the Ski Slopes. Several downhill and cross country ski areas are located near Boston, less than an hour outside of the city - perfect for a day or even a weekend. Cross country skiing, snowboarding and snow tubing are also available at some of these fantastic destinations.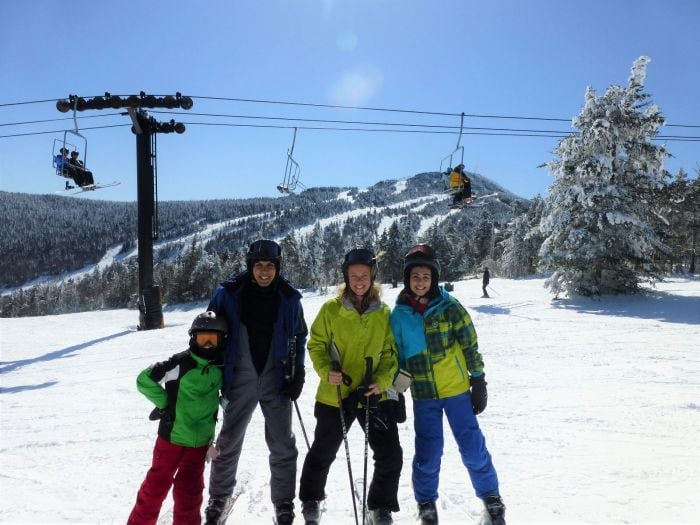 photo credit: BostonCentral
Find a Tubing or sledding Hill
Snow tubing and sledding is a rite of passage in New England, and a great sledding hill is a must for kids of all ages. Our readers have suggested many of their favorite sledding hills near Boston for you to enjoy.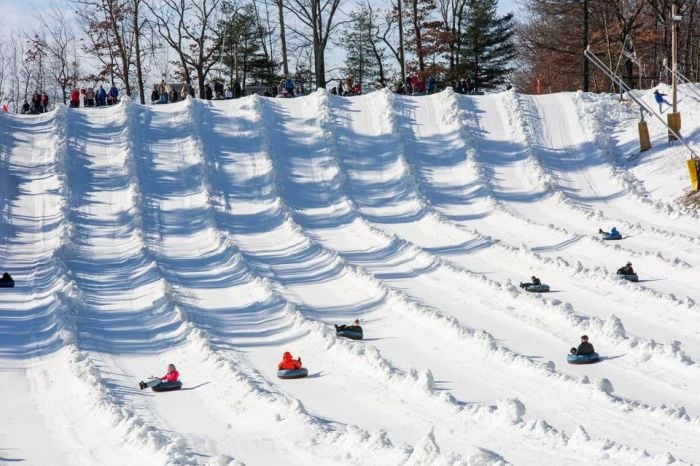 Photo Credit: Alex Cole | Nashoba Valley Ski Area
Consider making a weekend of it and head north to steeper more challenging slopes at ski areas and bigger resorts in New Hampshire, Maine, and Vermont. View our Guide to skiing near Boston to get some great ideas on where to ski this winter.
And if you are up in the New Hampshire area, be sure to schedule a visit to Ice Castles, NH - a simply magical palace made of ice. Weather-dependent, of course, this enormous ice scultpure is a must see.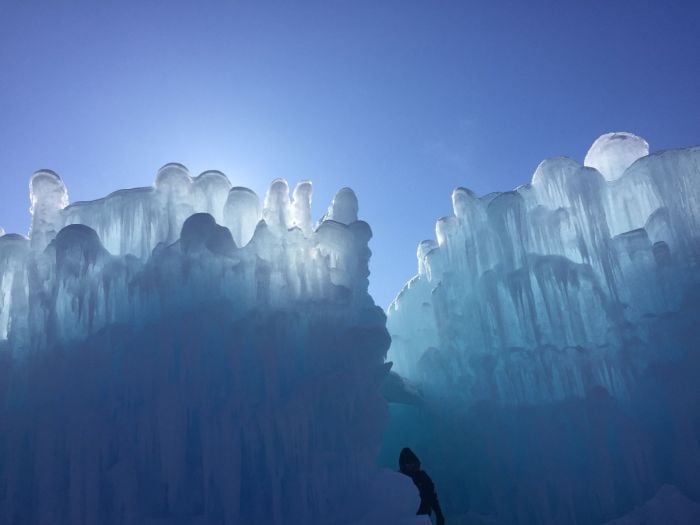 photo credit: BostonCentral
Visiting by day or night provides visitors with exciting experiences. Daytime gives you the full visual delight of seeing the walls of ice towering above you against a bright blue sky. Night visits feature cool back-lighting.
Ice Skating
Sharpen your ice skates, grab some friends and go Ice Skating! Nothing welcomes winter and the holiday season like an excursion at an outdoor ice skating rink! Boston has a few to offer throughout the winter with the Frog Pond on Boston Common Is a skating fan favorite.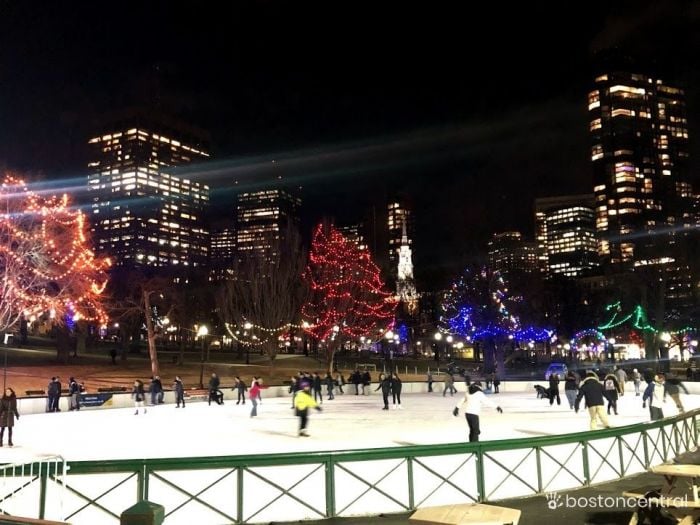 photo credit: Boston Central
Frog Pond Ice Skating - A hopping spot for ice-skating is Frog Pond on the Boston Common. Frog Pond has its own ice-making system. It also offers skate rentals and hot cocoa at the Pond Cottage.
Just across the river in Cambridge, Kendall Square boast another terrific outdoor ice rink that is open to the community for skating. Don't miss the annual Kendal Square Holiday Ice Show - another annual favorite.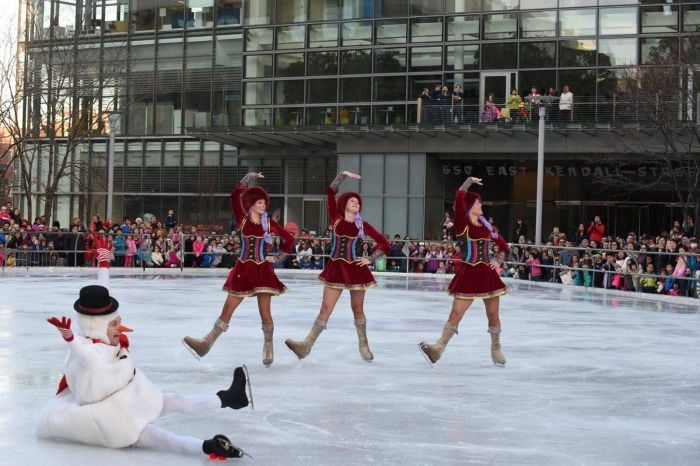 Photo courtesy of Kendall Square Community Ice Rink
Winter Skate at Patriot Place, offers day and evening public skating, is the perfect antidote to cabin fever this winter. A fun and affordable activity for parents with children, Winter Skate is also a romantic addition to a dinner date at Patriot Place. Ice Skating season generally starts in mid to late November and runs through February.
In addition, several new rinks have cropped up in Boston, including the popular Seaport Ice Skating Rink, that features a 3,000 square foot ice skating rink, iceless curling, themed skate nights, and warm beverages; and the Fenway's RInk at 401 Park - with amenities that include theme nights, live DJs, skating lessons, the Time Out Market and Trillium Brewing.
MLK Day Events
Celebrate the legacy of Martin Luther King in Boston with special MLK Day programming at annual events like the MLK Day Breakfast, Days of service, Free admission days at the MFA, ICA, and Isabella Gardener Museum, performances by the BYSO, and iconic choral concerts.
Celebrate Chinese New Year!
March on over to the larger than life Chinese New Year Parade! Gaze at the colorful dragon and lion Dances that march up up and down the bustling streets of Boston's China Town in celebration of the Chinese New Year.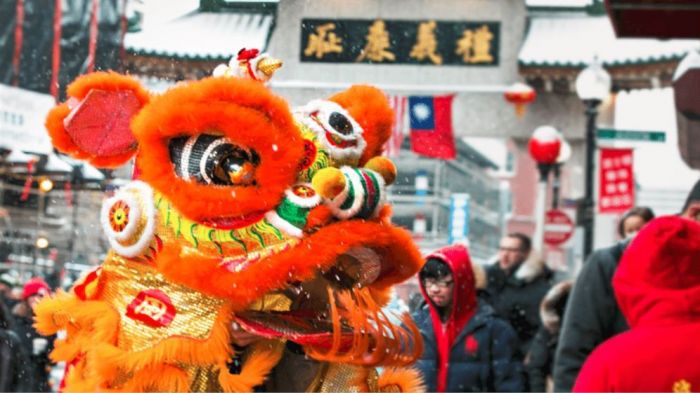 Try an Escape Room
Try your hand at an Escape Room! A fun group activity that is sure to cure the winter blues. Use your sleuthing skills and see if you can escape the room within the given time limit. There are lots of different themes to choose from, and no room is the same.
Put your game face on, solve puzzles, complete challenges and learn about local history when you embark on an Urban Adventure Quest . On January 20, 2020, turn Boston Harbor or the Freedom Trail into a giant game board with a fun scavenger hunt adventure.
Combine the excitement of the Amazing Race with a three-hour city tour. Guided from any smart phone, teams make their way among well known and overlooked gems of the city, solving clues and completing challenges while learning local history.'
Go Bowling!
Bowling is a great indoor pastime, especially during the long winter months in Boston. There are quite a few cool spots to go bowling near Boston, each with it's own character and charm.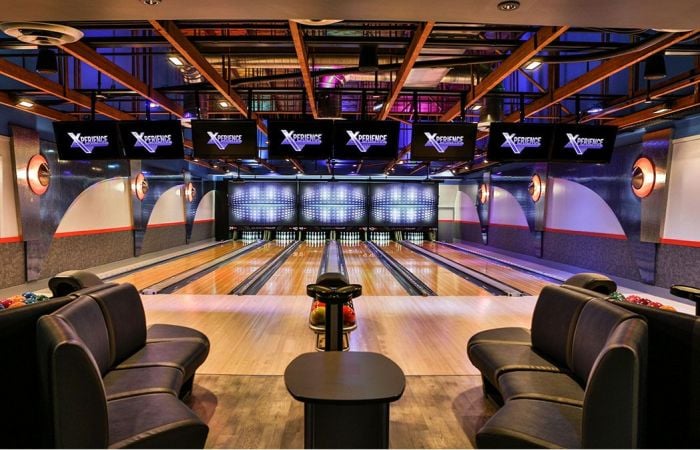 photo courtesy of Boston Bowl
Some bigger named bowling alleys include Kings Bowling, with locations in the city and the suburbs; Boston Bowl, and smaller neighborhood bowling alleys, like Southie Bowl, a community candlepin bowling alley that has been family run for over 20 years.
The Acton Bowlodrome features a 50's style retro restaurant, and includes bowling for every age and skill level, a large arcade and a pool table. With all of this, you have fun a fun activity for the whole family! Find more bowling alleys near Boston here in our handy guide!


Attend a Sporting Event
Winter is a busy sports season in Boston. Don't miss the electrifying opportunity to attend one of the professional sports teams that call Boston Home.
Wear your green and head to the TD Garden to watch the Boston Celtics play on their home court! Enjoy the roar of the crowd and the thrill of the game courtside as you cheer on the Celts!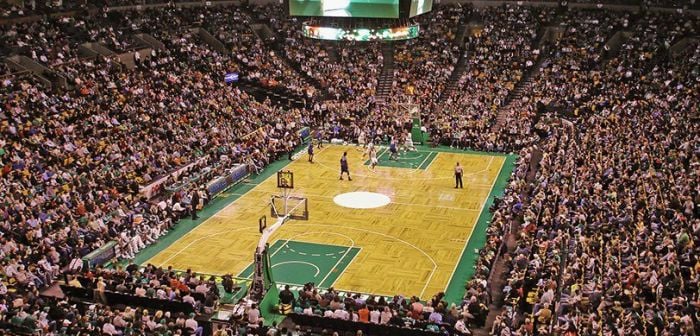 Switch things up when the Celtics are out of town, see how the TD Garden arena transforms into a professional hockey rink! Attend a Boston Bruins Hockey Game and enjoy the energy generated at a Boston Bruins hockey game!
Add to the roar of the crowd when you attend a New England Patriots and see the 6 time Superbowl champions play at Gillette Stadium. Make a day of it and visit Patriot Place for food, shopping and drinks.
Take A Guided Tour
Don't allow the chilly temps to deter you from exploring the great city of Boston in January. There are several tours that will make you forget about the thermostat. The tours on our list are sure to please your senses, gain some knowledge and in some cases even tantalize your tastebuds!
There is no need to be a couch potato this January! Take a day trip to the Cape Cod Potato Chip Factory! From a glass-enclosed corridor, watch chip makers at work turning potatoes into crunchy golden goodness.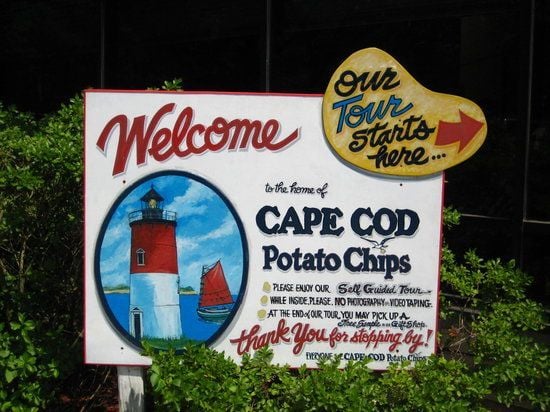 Step right up onto the field and explore behind the scenes on a Fenway Park Tour! Learn lots of fascinating facts about the Red Sox and their history and the stories from years past. Immerse yourself in everything Red Sox on this very popular Boston Tour which takes you up close and personal.
Bundle Up and take an unforgettable 90 minute walk through history as you follow the 2.5 miles of Boston's Freedom Trail via a walking tour. Follow the famous red brick path to 16 historic sites through Boston's most historically well known neighborhoods and dive into Boston's rich history and America's path toward liberty.
Explore the North End, Boston's oldest neighborhood settled in 1630 on the Boston Pizza Tour. Italian is still spoken in the quaint, cobblestone streets of this historic area. Enjoy three amazing slices of Boston's best pizza, and view five historical sites along Boston's Freedom Trail.
Get your dancing on at the Boston Celtic Music Festival! Enjoy the four day, all-ages festival that celebrates Celtic music and dancing in the Boston area. Watch performances, attend workshops and join in on singalongs and dancing and other fun on the schedule each day.
Take In a Show at Boston Theater
Experience the magic of a live stage performance at a Boston Area Theater and shake off that winter chill. From bigger broadway shows at the Boston Opera House and the Wang Theatre Boch Center to smaller stages like the North Shore Music Theatre, The Wheelock Family Theatre, and the Lyric Stage, you are sure to find a show you'll enjoy in Boston.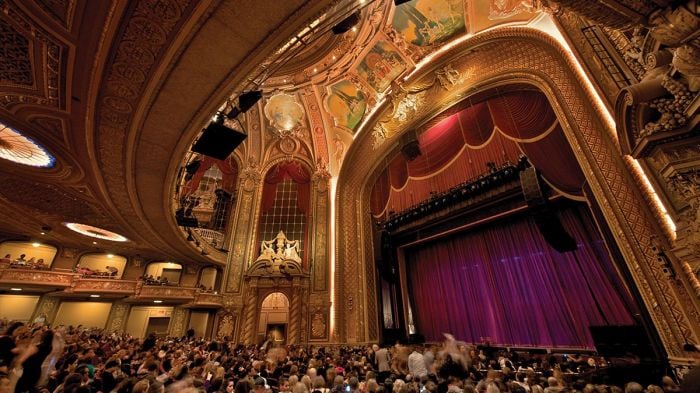 Let music warm your soul with a visit the Boston Symphony Hall. Lucky for Bostonians and its visitors, the Boston Symphony Orchestra has January performances and even open rehearsals that are sure to tantalize your senses.
Visit a Museum
Retreat into the warm and inviting halls of Art, History, or Science at one of Boston's many museums. Several offer free admission on Martin Luther King's Birthday which gives an extra incentive to visit this January!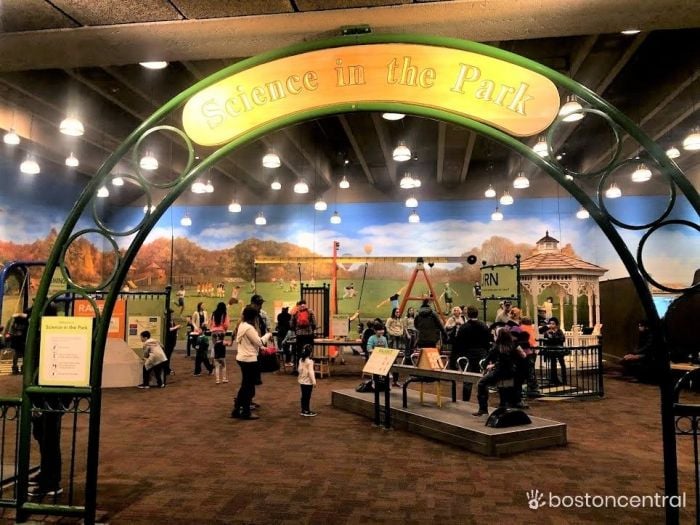 photo credit: BostonCentral
Explore the wonders of Science at Boston's Museum of Science, which offers over 700 interactive exhibits, live presentations, a planetarium, a domed IMAX theater, and a popular butterfly garden.
Hall at Patriot Place
The Hall at Patriot Place is a fun place to spend a few hours. The Patriots Hall of Fame offers a 30,000 square foot, interactive multi-media tribute to New England's favorite football team, designed to educate and entertain.
There are lots of cool photo ops, a replica of Patriots locker room area, interactive exhibits (can you kick a field goal?)., and of course - you can see all the championship rings!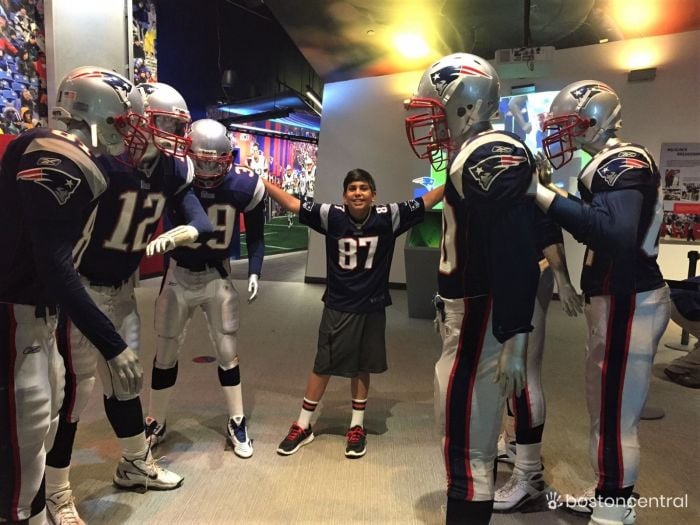 photo credit: BostonCentral
Visit the New England Aquarium
Dive into the underwater world at the New England Aquarium! It is home to hundreds of fascinating marine species in immense tanks and exhibits, including penguins, seals, electric eels, jellyfish, stingrays, sea lions, and turtles.
Franklin Park Zoo
During the winter, Franklin Park Zoo has the cure for cabin fever during long New England winters, so hold off on hibernating, because they've got plenty of amazing animals that don't! An especially inviting venue is the Tropical Rainforest and the Indoor Bird Exhibit.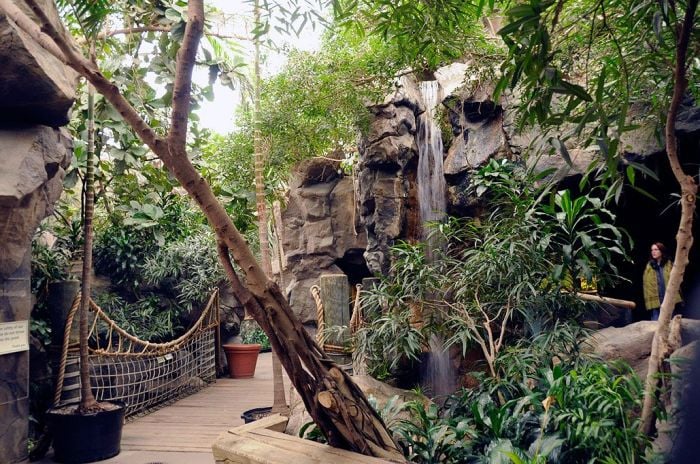 The Tropical Forest is an oasis in a New England winter, complete with water fountains, free-flight birds and 50+ species of exotic animals. Kept at a balmy 72 degrees, Franklin Park Zoo's Tropical Forest is a great place to escape the cold!
Many venue also host open houses on certain holidays, so you can always stay in-the-know about holiday happenings in Massachusetts in our helpful guide to family fun.
You can find more fun things to do in Boston on our daily Boston Events Calendar. Start planning ahead for February Vacation in our guide to February Events in Boston and our popular things to do this week newsletter.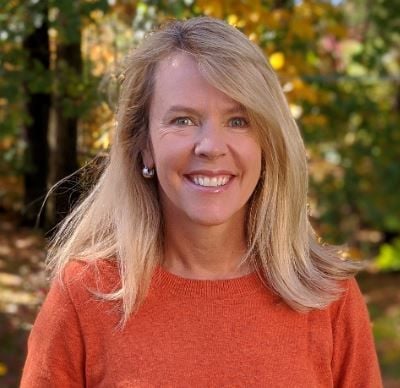 Stacey Sao has been the Managing Director of the family-friendly events and activities website, BostonCentral for over 20 years. She continues to enjoy discovering and exploring new places to visit in the Greater Boston area.