February Events in Boston
What to do in Boston in February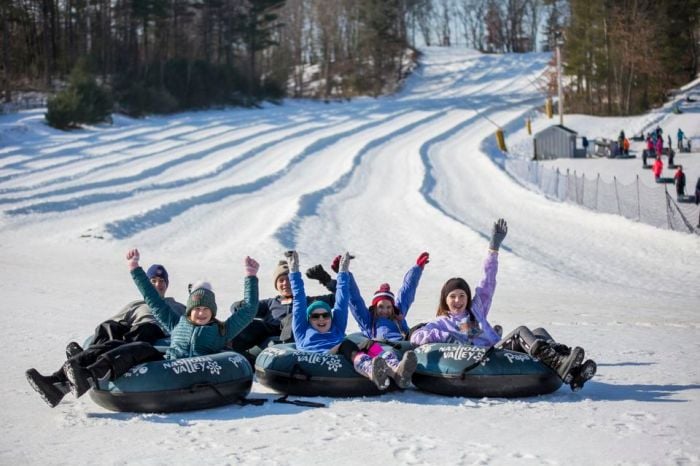 Things to Do in Boston in February 2024
February's month might be short, but there is no shortage of winter fun to be had both indoors and out in Boston. Boston's frigid winter temperatures provide unbeatable seasonal playground filled with unique, adventurous, and fun activities throughout the winter months.
When the Boston winters seem long, tap into some Winter Fun destinations to reignite the excitement. Outdoor activities in the month of February can include bundling up for some ice skating, skiing, sledding, snow tubing, bonfires, taking guided tours, sipping hot chocolate and more.
No matter who you are and what you love to do, you can find some great ways to enjoy the cold winter season . Here are some of our favorite ideas to get you inspired.
Hit the Ski Slopes
Bundle up and hit the Ski Slopes. Several downhill and cross country ski areas are located near Boston, less than an hour outside of the city - perfect for a day or even a weekend. Cross-country skiing, snowboarding and snow tubing are also available at some of these fantastic destinations.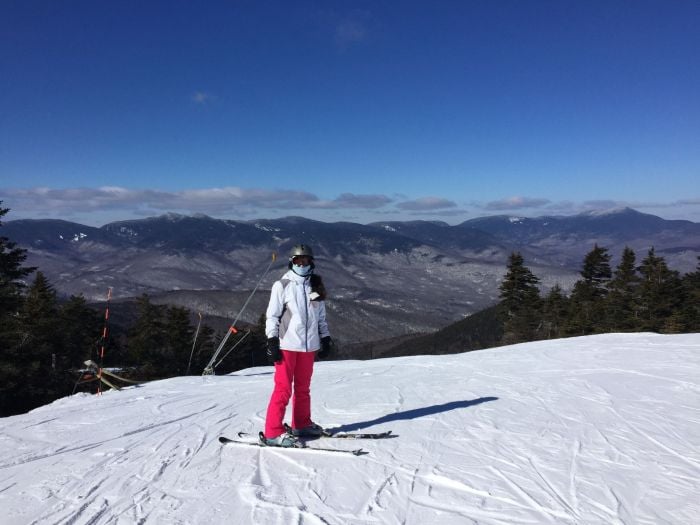 photo credit: BostonCentral
Consider making a weekend of it and head north to steeper more challenging slopes at ski areas and bigger resorts in New Hampshire, Maine, and Vermont. View our Guide to skiing near Boston to get some great ideas on where to ski this winter.
Find a tubing or sledding Hill
Snow tubing and sledding are rites of passage in New England, and a great sledding hill is a must for kids of all ages. Our readers have suggested many of their favorite sledding hills near Boston for you to enjoy.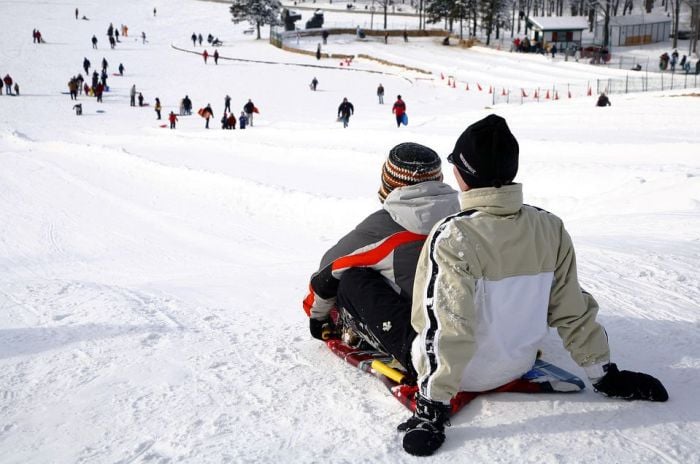 Celebrate Chinese New Year!
March on over to the larger than life Chinese New Year Parade! Gaze at the colorful dragon and lion Dances that march up up and down the bustling streets of Boston's China Town in celebration of the Chinese New Year.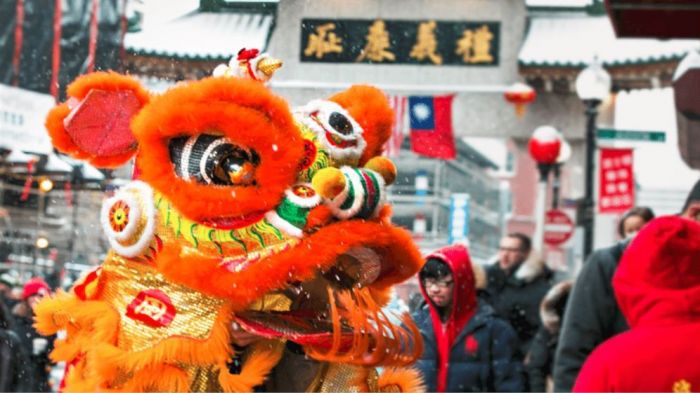 February School Vacation Week
February means February Vacation week in the Boston area! If you are planning a staycation right here in Boston, there are tons of fun things to do while the kids are on break from school.
From free movie nights at Faneuil Hall each weeknight to free museum admissions, and outdoor winter adventures, February Vacation Week in Massachusetts is packed with fun.
Enjoy a Winter Festival
Winter in Boston means it's cold outside - so why night make the most of it at a winter festival? Each year, DCR hosts a Children's Winter Festival on the Boston Common featuring a 45-foot-long Toboggan Tunnel mountainous adventure with twin roller lanes, the Snow Mazing maze, the Snowzilla Jr. inflatable winter-themed slide, and hands-on games including Giant Connect4, Inflatable Skee Ball, and much more.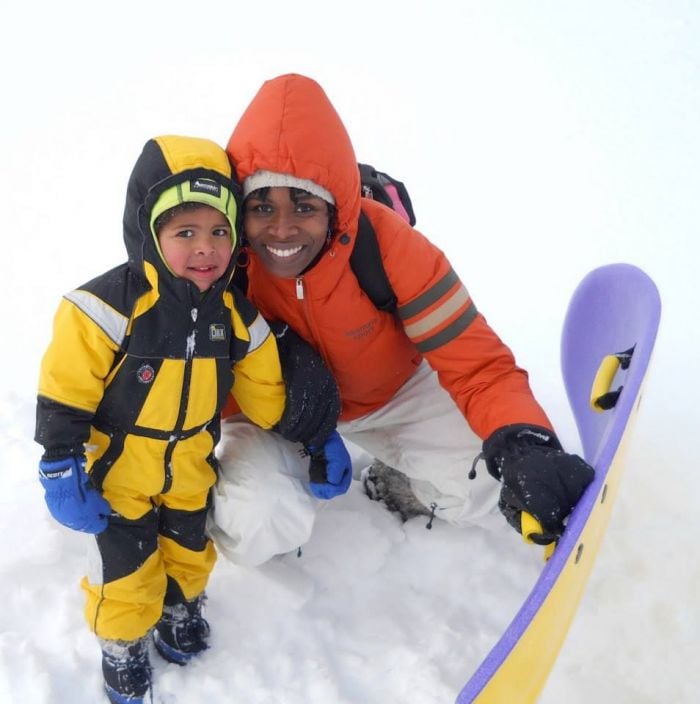 In addition, Franklin Park Coalition's annual Winter Festival invites families to enjoy a cozy day of games, crafts, nature walks, hot chocolate and more at the Franklin Park Clubhouse. This event is held snow, rain or shine. If snow is on the ground, be ready for sledding and snowman building!
Indulge in the best of Newton WinterFest! The City of Newton invites you to this fun filled outdoor winter activity. Enjoy live music, ice sculptures & live demos, costumed characters, guided winter walks, hot chocolate & more!
Go Ice Skating
Sharpen your ice skates and go Ice Skating! Nothing welcomes winter and the holiday season like an excursion at an outdoor ice skating rink! Boston has a few to offer throughout the winter with the Frog Pond on Boston Common Is a skating fan favorite.
photo credit: Franklin Park Coalition
In addition, several new rinks have cropped up in Boston, including the popular Seaport Snowport, that features a winter market, iceless curling, themed skate nights, and warm beverages; and the Fenway's RInk at 401 Park - with amenities that include live DJs, skating lessons, the Time Out Market and Trillium Brewing.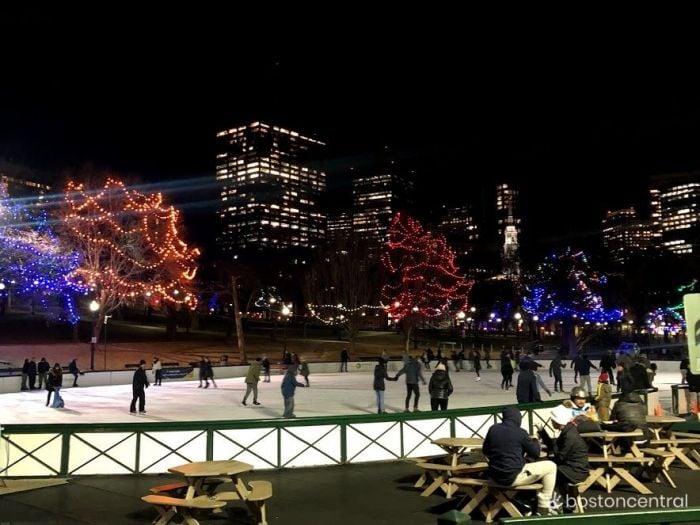 Take In a Show at Boston Theater
Experience the magic of a live stage performance at a Boston Area Theater and shake off that winter chill. From bigger Broadway shows at the Boston Opera House and the Citi Wang Theater to smaller stages like the North Shore Music Theatre, The Wheelock Family Theatre, and the Lyric Stage, you are sure to find a show you'll enjoy in Boston.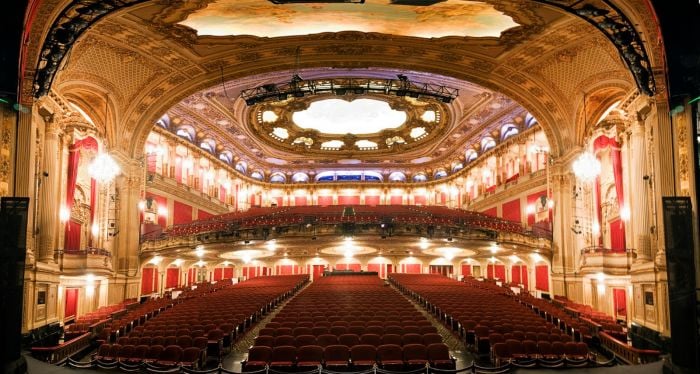 photo courtesy of Boston Opera House
Let music warm your soul with a visit the Boston Symphony Hall. Lucky for Bostonians and its visitors, the Boston Symphony Orchestra has January performances and even open rehearsals that are sure to tantalize your senses.
Celebrate Love on Valentine's Day
It doesn't get any sweeter than Valentine's Day in Boston. Love is in the air this Valentine's Day where you can take a romantic Valentine's Cruise with spectacular views of the harbor, enjoy a candlelight dinner, and share decadent desserts with the ones you love.
Dance to the music as you stroll through the tunnel of love at Christopher Columbus Park. Friends of Christopher Columbus Park decorate the waterfront trellis with a Valentine's Day theme and light it up beautifully every night. Take a selfie and use (#foccp) on instagram to post your love.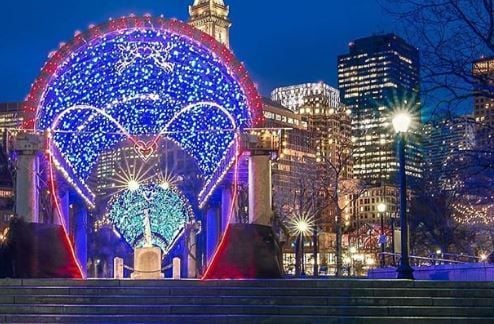 Or, you can climb aboard The Odyssey for a special romantic Valentine's Day dinner in a unique setting while on a Harbor Cruise.
Celebrate Black History Month
Join the
African American Patriots Tour
, on the Freedom Trail, where a guide dressed in 1800s attire will teach you of the bravery of black Bostonians. You'll learn about plenty of figures who defied the odds stacked against them as guides share stories of revolutionaries like Crispus Attucks, Phillis Wheatley, Prince Hall and Peter Salem.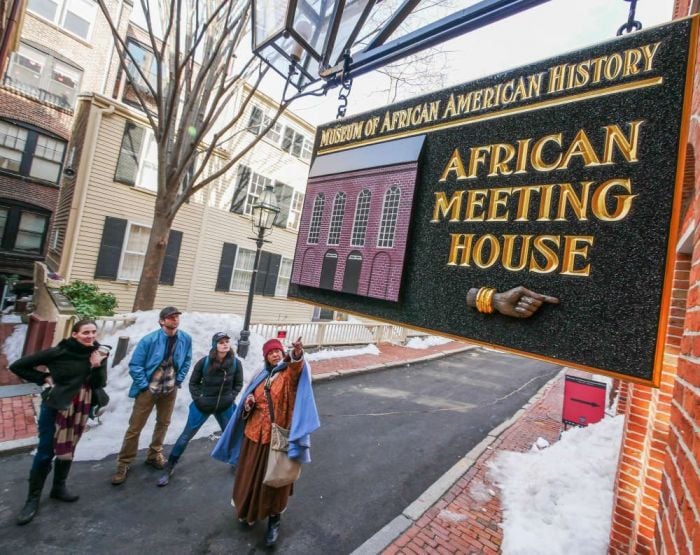 Photo Credit: Kyle Klein
Be sure to check out the new You, Me We exhibit (formerly Boston Black), at the Boston Children's Museum that celebrates identity culture in Boston.
You, Me, We is a shared exhibition experience for families to connect around questions of identity and bias in the world around us.
Through interactive experiences, self-reflection, and guided dialog, this exhibition addresses an urgent need in our society to disrupt hate, build empathy, and explore ways to strengthen our communities together.
Get out of the Cold and Visit a Museum
There is no shortage of fine Museums to visit in the great city of Boston. Spend the day Museum - hopping and experience the wide array of Art, Science and Culture that awaits you inside the museum halls.
Every February, the USS Constitution Museum hosts their annual Masters of Miniature Model Ship Show. Partake in family activities including a scavenger hunt, learn how to get a ship into a bottle, observe a model ship restoration every Wednesday, and more!
Take in the masterpieces that adorn the walls of the The Museum of Fine Arts and the Isabella Stewart Gardner Museum. You can actually see them both in one day, as they are only a hop skip and a jump away from each other, The MFA, open seven days a week, offers free admission on Wednesdays after 4 p.m.
One of our favorite Boston museums, we encourage a breathtaking visit through the The Isabella Gardner Museum. Lush foliage and stone benches line the interior courtyard, which combine with the Venetian architectural delight provides the perfect backdrop for exploring the extensive collection of European masterpieces.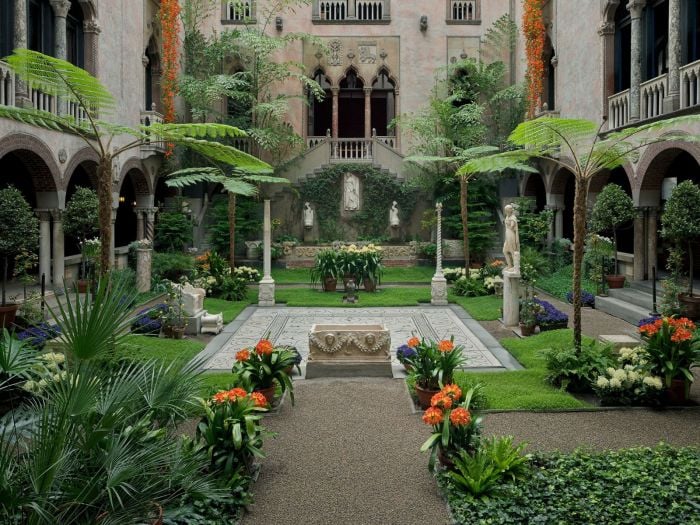 photo courtesy of the Isabella Stewart Gardner Museum
Dive into the underwater world at the New England Aquarium! It is home to hundreds of fascinating marine species in immense tanks and exhibits, including penguins, seals, electric eels, jellyfish, stingrays, sea lions, and turtles.
Explore the wonders of Science at Boston's Museum of Science, which offers over 700 interactive exhibits, live presentations, a planetarium, a domed IMAX theater, and a popular butterfly garden.
Travel back in time at the Harvard Museum of Natural History in Cambridge. Peruse the vast collection of exhibits dedicated to dinosaurs, prehistoric mammals, birds of the world, animal skeletons, and meteorites.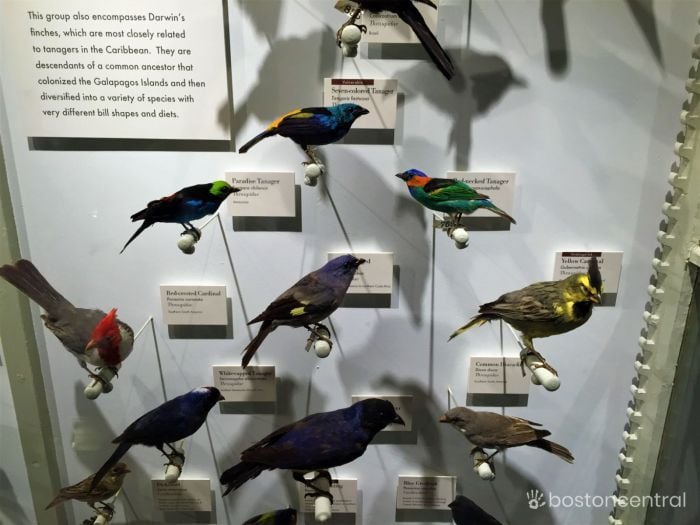 photo credit: BostonCentral
When the ground is frozen and the temps are frigid, pop on over to one of the Indoor Playspaces available in the Boston area. Unique playspaces abound in the Boston Metro area and are great spots for kids to explore, climb, play and make new friends while burning off lots of energy. Don't miss the new 0-3 playspace at the Boston Children's Museum!
Go Bowling!
Bowling is a great indoor pastime, especially during the long winter months in Boston. There are quite a few cool spots to go bowling near Boston, each with it's own character and charm.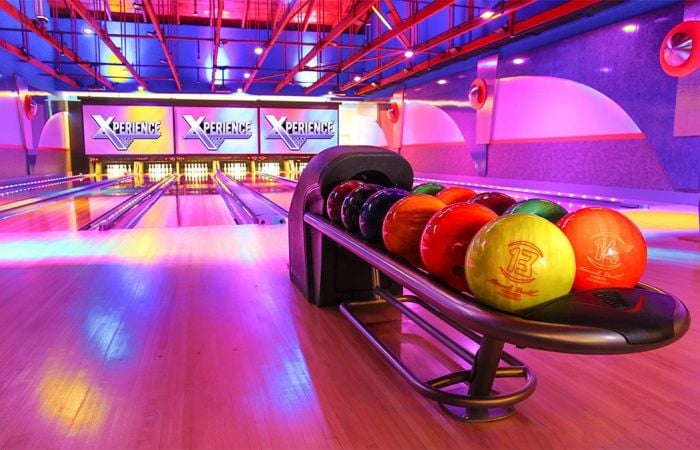 photo courtesy of Boston Bowl
Some bigger named Boston bowling alleys include Kings Bowling, with locations in the city and the suburbs; and Boston Bowl - as well as smaller neighborhood bowling alleys, like Southie Bowl, a community candlepin bowling alley that has been family run for over 20 years.
The Acton Bowlodrome features a 50's style retro restaurant, and includes bowling for every age and skill level, a large arcade and a pool table. With all of this, you have fun a fun activity for the whole family! Find more bowling alleys near Boston here in our bowling guide!
Attend A Sporting Event
Winter is a busy sports season in Boston. Don't miss the electrifying opportunity to attend one of the professional sports teams that call Boston Home.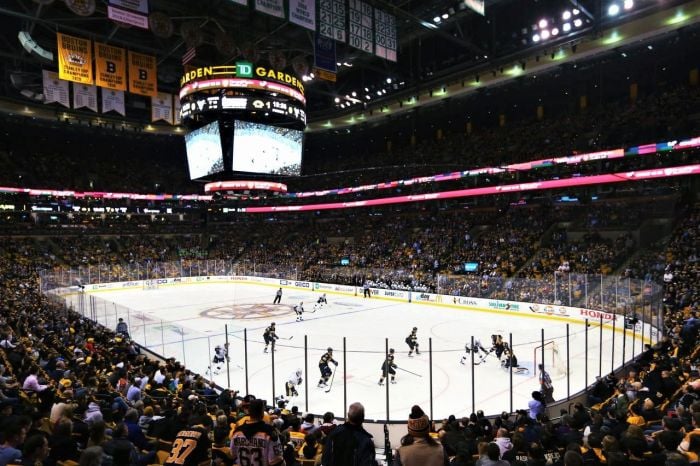 Wear your green and head to the TD Garden to watch the Boston Celtics play on their home court! Enjoy the roar of the crowd and the thrill of the game courtside as you cheer on the Celts!
Switch things up when the Celtics are out of town, see how the TD Garden arena transforms into a professional hockey rink! Attend a Boston Bruins Hockey Game and enjoy the energy generated at a Boston Bruins hockey game!
There a lots more things to do in Boston in February, despite the cold, so be sure to visit our Boston Events Calendar for February To find lots more fun things to do in winter in Boston.
You can find lots more family-friendly Boston events each week on the BostonCentral calendar and our popular things to do this week newsletter.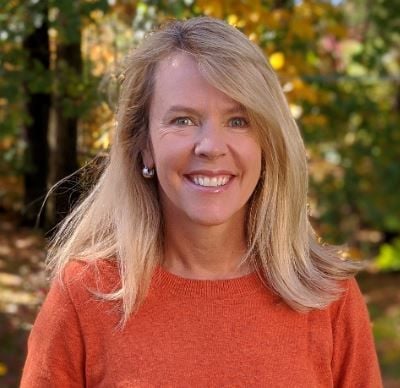 Stacey Sao has been the Managing Director of the family-friendly events and
activities website, BostonCentral for over 21 years. She continues to enjoy discovering and exploring new places to visit in the Greater Boston area.