Boston Holiday Events & Shows 2023
Live Theatre & Musical Performances are back for the Holiday Season!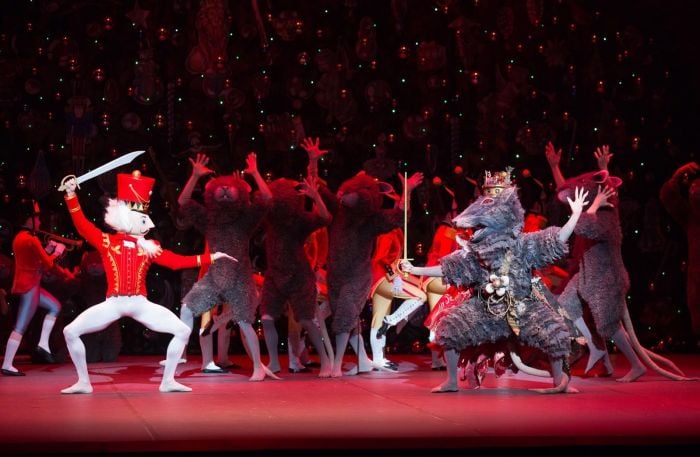 From the twinkling lights, festive concerts, shows, & celebrations taking place throughout the city, Boston really comes alive during the holidays. Here's a roundup of many Boston-area cherished holiday traditions and festivities.
Below is a growing list of holiday shows and events taking place. Welcome back, Boston!
And so much more!! Below we have highlighted many of our favorite things to do in Boston in December. We are so glad to see so many of them have returned.


Boston Pops - Holiday Pops!
Take part in one of Boston's most beloved traditions - a Holiday Pops concert performed at historic Symphony Hall. This year your family and friends can enjoy a matinee or evening concert , and enjoy the glorious holiday sounds of the BSO.
Families have also enjoyed a series of holiday pops kids matinee performances. These special family concerts include a children's sing-along and photos with Santa. For those seated at the floor tables, there are special kid-friendly menu options along with holiday treats. We hope to be able to get back to memorable experiences like this very soon.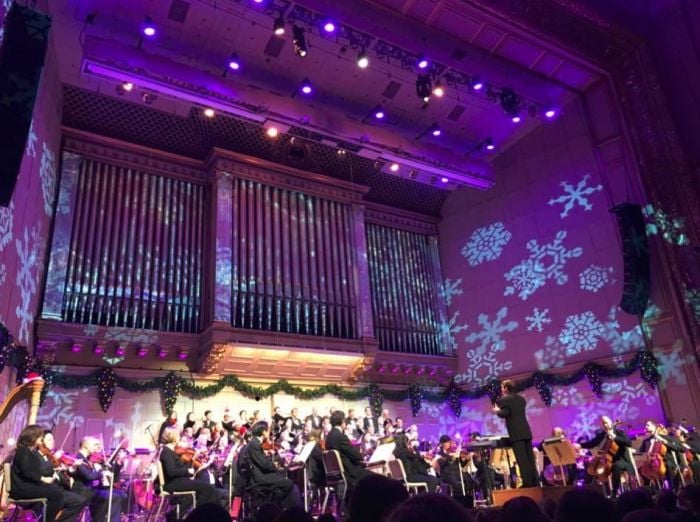 photo courtesy of BSO
Back by popular demand, the BSO also performs a sensory friendly holiday pops concert; a 60-minute version of the show includes lower volume and lighting levels, relaxed house rules, designated support spaces, and Autism therapist volunteers on site.


The Nutcracker - Boston
Performances of The Nutcracker abound this holiday season with local favorites like Jose Mateo, New England's longest running interpretation of The Nutcracker ballet, Boston Ballet and Commonwealth Ballet's Nutcracker show, renowned for its intimacy, humor, musicality and exciting dancing..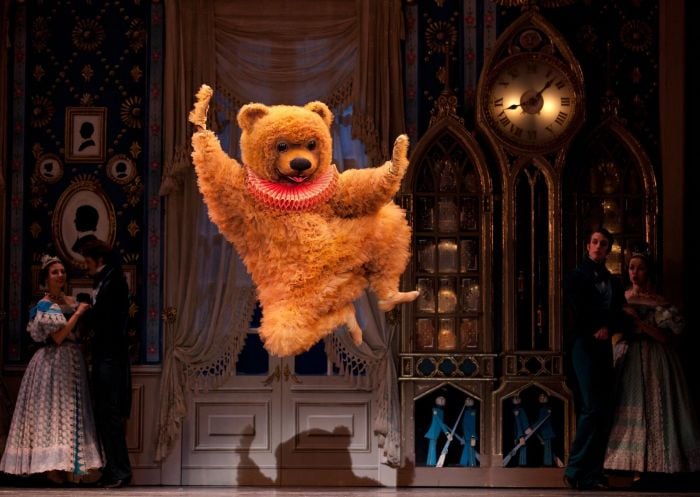 Photo courtesy of Boston Ballet
In each delightful version of The Nutcracker, a young heroine, Clara, journeys through a magical world of imagination filled with dazzling characters such as a Dancing Bear, an enchanting Snow Queen, and of course, the heroic Nutcracker Prince.


'Rudolph the Red-Nosed Reindeer: The Musical - Boston
The world's most famous reindeer and a holly jolly cast of iconic characters, including Hermey the Elf, Yukon Cornelius and the Abominable Snow Monster, will help Santa save Christmas.
Following five successful years of touring and more than 450 performances, the "most famous reindeer of all" from the longest running and highest rated holiday television special will fly into Boston with the critically acclaimed Rudolph the Red-Nosed Reindeer: The Musical.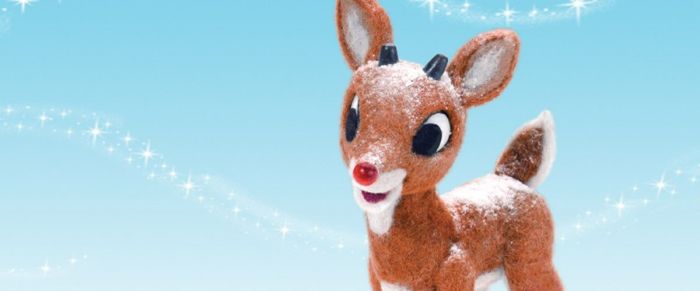 photo courtesy of Boch Center

Urban Nutcracker - Boston
Anchored by classical ballet, the Urban Nutcracker performance also includes a broad range of dance forms such as tap, hip hop, flamenco, and jazz, accompanied throughout the performance by a small live orchestra.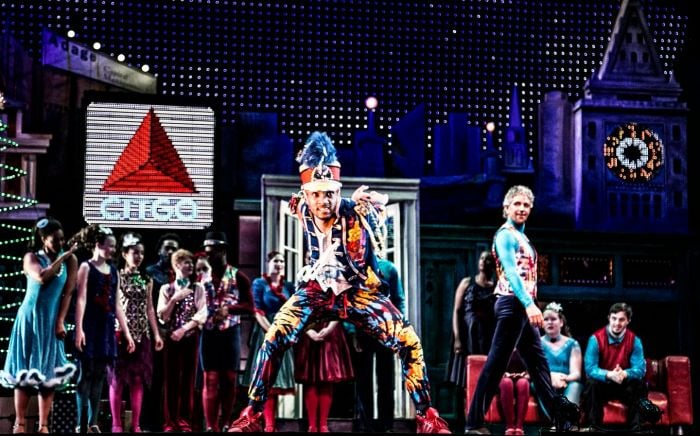 All is Calm: The Christmas Truce of 1914 - Stoneham
The Western Front, Christmas, 1914. Out of the violence a silence, then a song. A German soldier steps into No Man's Land singing "Stille Nacht." Thus begins an extraordinary night of camaraderie, music, peace.
All is Calm is a remarkable true story, told in the words & songs of the men who lived it.

image courtesy of Greater Boston Stage
A Christmas Carol
The ghosts of Christmas past, present & future come to life in this intimate retelling of the Charles Dickens classic. Delight in puppetry, live music, dancing and the intimate storytelling in the tradition of A Christmas Carol. All the trappings – sights, sounds, and scents – of the holiday fill the theater with magic at North Shore Music Theatre.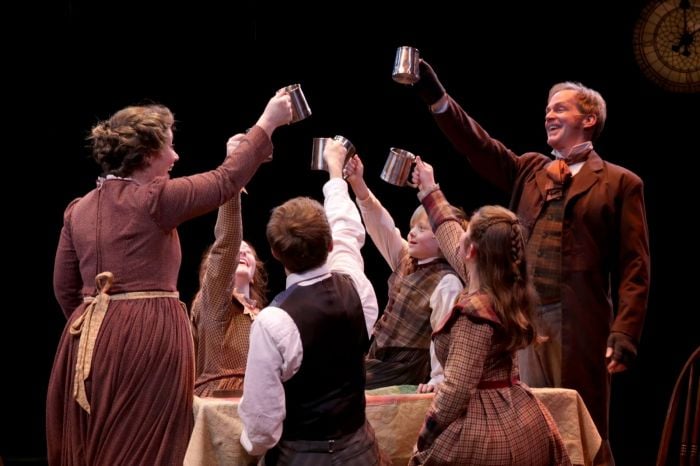 photo courtesy of North Shore Music Theatre


Black Nativity
Black Nativity is a celebration that tells the original story of the Nativity in scripture, verse, music, and dance. Based on the Gospel of St. Luke, combined with the poetry of Langston Hughes, this song-play touches a special chord in the hearts of all.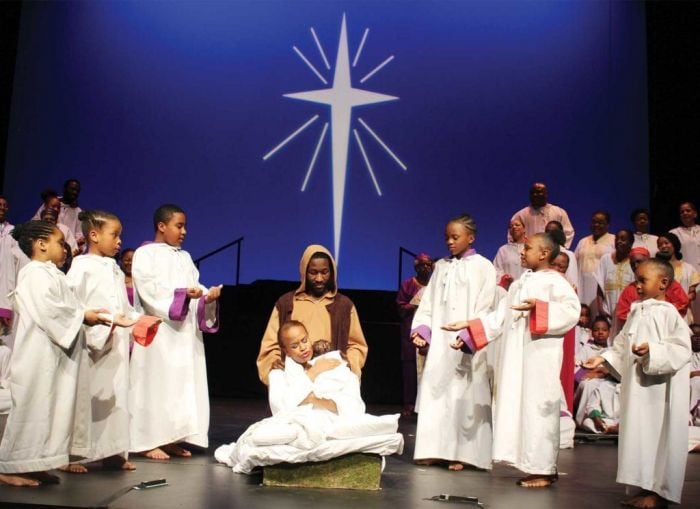 photo courtesy of Black Nativity
The Christmas Revels
A holiday tradition for nearly five decades, The Christmas Revels is a joyful theatrical celebration of the winter solstice that travels the world each year showcasing cultural traditions including music, dance, folktales and rituals.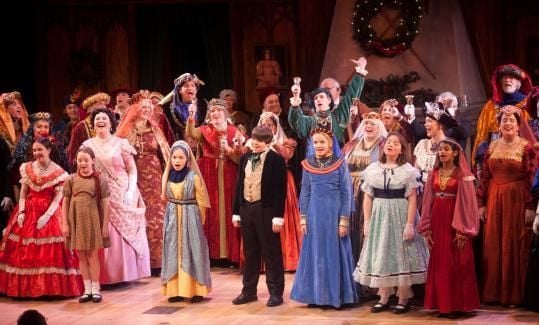 photo credit: Erik Jacobs for the Boston Globe
Sing-a-Long Sound of Music Movie - Arlington
Sing-a-long-a Sound of Music is your chance to test your vocal range with several hundred other assorted nuns, Von Trapp family members and Julie Andrews look-a-likes. Costumes are highly recommended.
Enjoy the Sing-a-Long Sound of Music movie on the Big Screen this season and sing a long accompanied by the Regent Theatre's well-recognized full-concert sound system.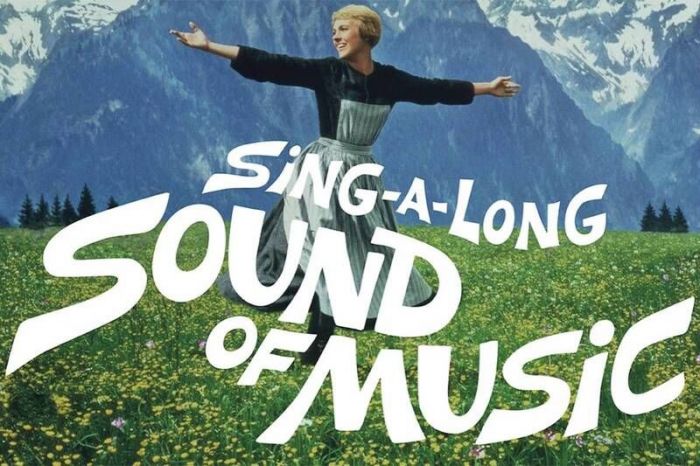 Boston Common Tree Lighting - Boston
The heart of the city becomes illuminated with seasonal cheer at Boston's Official Holiday Tree Lighting. Holiday lights throughout the Public Garden and Common will light up just before 8 p.m., and a fireworks display will close the festivities a the Boston Common Tree Lighting.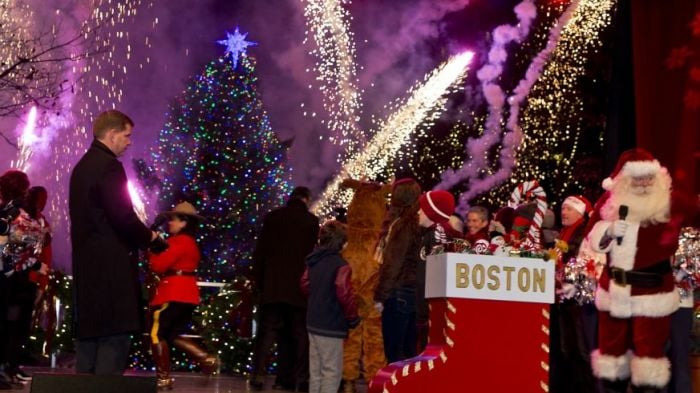 photo credit Boston.gov
Copley Square Tree Lighting - Boston
The Boston Parks and Recreation Department, and The Friends of Copley Square welcome the holidays with the annual Copley Square Tree Lighting at Copley Square. The Fairmont Copley Plaza will host a family reception immediately following for all in attendance. The reception will include cookie decorating, photos with Santa, and treats.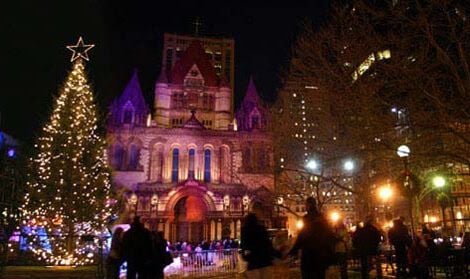 Now that in-person events are on their way back, you can find out about more holiday tree lightings and celebrations in Boston in our handy holiday guide to winter fun.


Boston's Enchanted Trolley Tour
The annual Mayor's Enchanted Trolley Tour is a festive tradition of lighting holiday trees while bringing holiday spirit to children across Boston. The includes visits with Santa, holiday performances, tree lightings and more.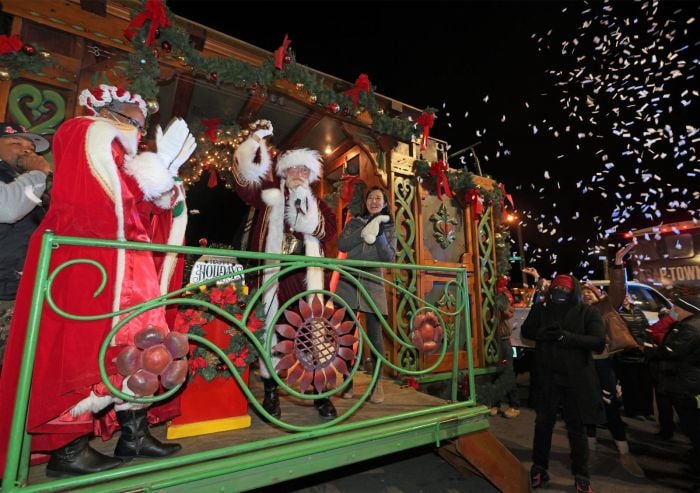 Photo courtesy of The City of Boston
Boston Christmas Tubas at Downtown Crossing
Get in the holiday spirit! Tuba Christmas is making a stop in Downtown Boston. Experience lots of local tuba players playing your favorite holiday tunes!
Downtown Crossing welcomes participants from around New England ranging in ages from 8 to 85. Every Christmas season, tuba and euphonium players of all ages, from specific geographic areas, gather to pay respect to Harvey G. Phillips and William J. Bell, and all the great artists/teachers who represent their heritage.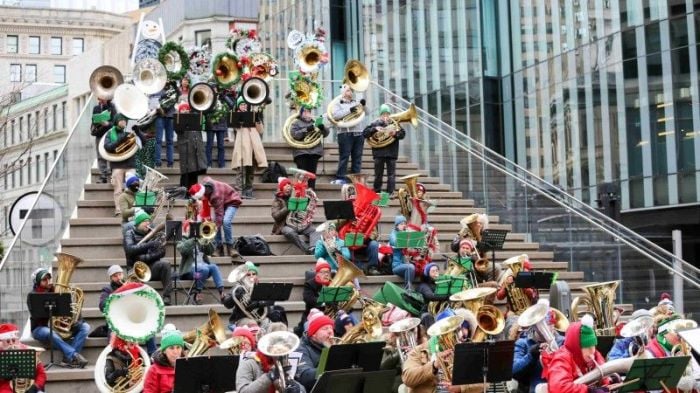 photo courtesy of BID
Zoolights at Stone Zoo - Stoneham
This year's Zoolights at Stone Zoo will take visitors on a one-way stroll through the Zoo, along tree-lined paths lit by twinkling lights. Spanning the 26 acres of Stone Zoo, visitors will walk through the beautifully lit Yukon Creek and see black bears, a bald eagle, Canada lynx, arctic foxes, and even reindeer!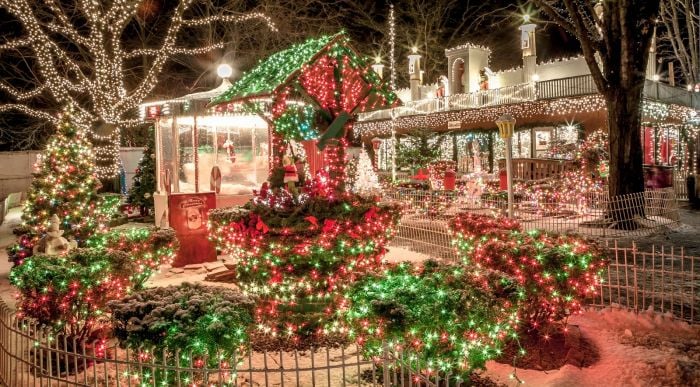 photo courtesy of Stone Zoo
Winter Wonderland at Southwick Zoo - Milford
Take a magical journey through Winter Wonderland at Southwick's Zoo with friends and family to view spectacular holiday lights and handcrafted displays.

This beloved festive tradition, perfect for family and friends, is set to shine brighter than ever before, featuring over 4 million illuminated lights and dazzling displays that will transform the Zoo into a winter wonderland.


Enchanted Village - Avon
Enjoy Boston's historic Enchanted Village, now on view at Jordan's Furniture in Avon. Jordan's Furniture purchased the surviving pieces of the Enchanted Village at auction and restored the vintage collection to its former glory. The Village is open for all to enjoy during the holiday season.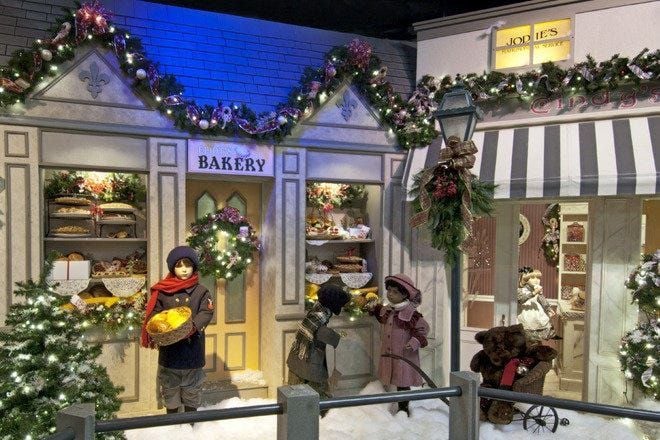 Visits with Santa
Santa will be visiting many area malls and towns for festive holiday tree lightings and parades. Some of our favorite Santa events include the annual Gloucester Santa Parade & Tree Lighting, Rockport's exciting holiday event where Santa arrives on a lobster boat at at Rockport's wharf and rides across Sandy Bay for the tree lighting.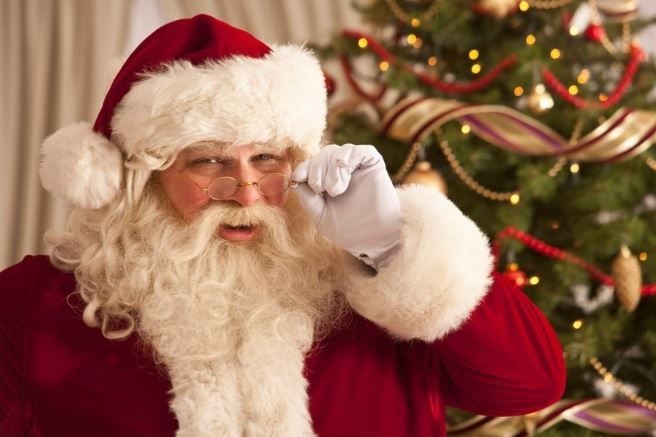 Boston First Night
December 31, 2023
First Night in Boston is a city-wide New Year's Eve celebration that is free and open to the public. For over 40 years, Boston's First Night has been a New Year's Eve celebration of artistic performances, ice sculptures, light shows, the wonders of the season and the beginning of a new year.
Highlights include the People's Procession at 6:00 PM, the Frog Pond Skating Spectacular, and the Family Fireworks Display at 7:00pm on Boston Common.
To ring in the New Year, stick around for until midnight for the signature Copley Countdown pyrotechnics and light show in Copley Square.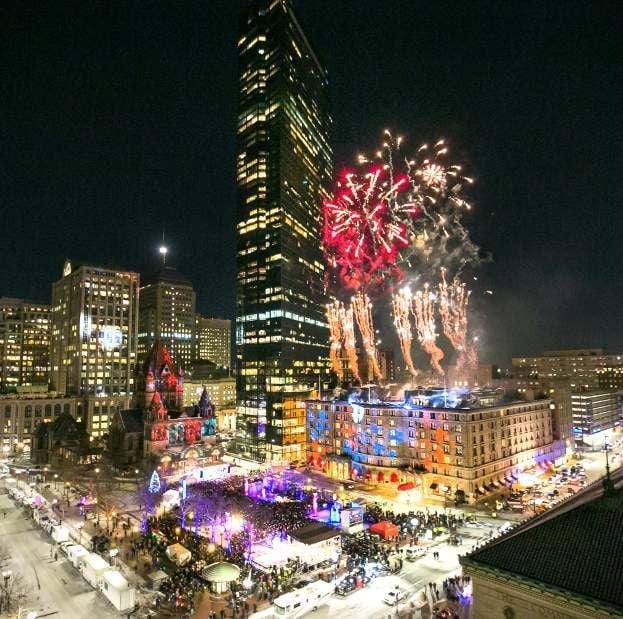 Photo credit: Boston USA
Ice Skating Rinks
Frog Pond Ice Skating - A hopping spot for ice-skating is Frog Pond on the Boston Common. Frog Pond has its own ice-making system. It also offers skate rentals and hot cocoa at the Pond Cottage.
Just across the river in Cambridge, Kendall Square boast another terrific outdoor ice rink that is open to the community for skating. Don't miss the annual Kendal Square Holiday Ice Show - another annual favorite.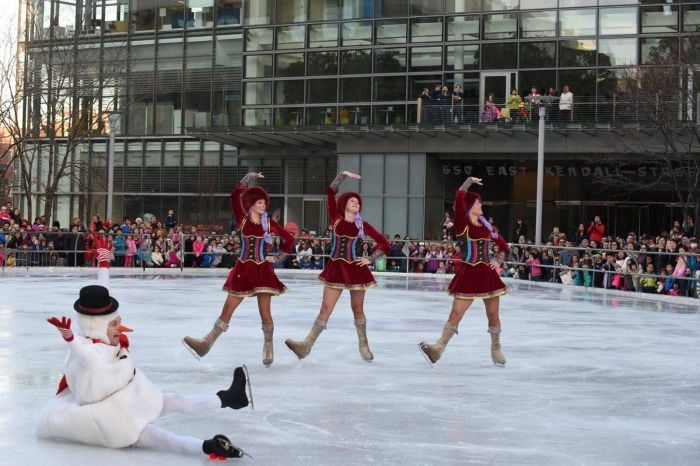 Photo courtesy of Kendall Square Community Ice Rink
NOTE:
Winter Skate at Patriot Place, (under renovation for 2023/2024). In the future it will once again offer a reimagined public skating experience for the perfect antidote to cabin fever this winter. A fun and affordable activity for parents with children, Winter Skate is also a romantic addition to a dinner date at Patriot Place. Ice Skating season generally starts in mid to late November and runs through February.
<i><b>*Given this ongoing construction and its extended footprint throughout our property, Winter Skate at Patriot Place will not operate this season (2023-2024.) We look forward to welcoming skaters back to Winter Skate in the future!</I></b>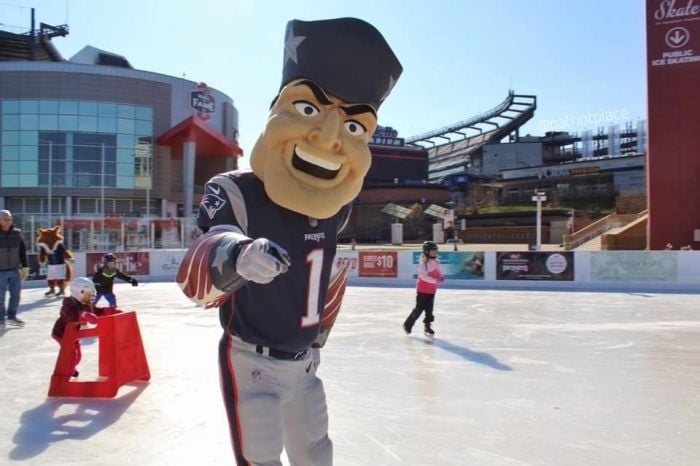 photo courtesy of Patriot Place


Snowport Holiday Wonderland & Outdoor Game Center - Boston
Seaport's highly popular interactive winter wonderland, SNOWPORT, returns. In its third year, SNOWPORT offers outdoor play for all ages: iceless curling, light-up Bocce, and large-scale versions of classic games such as Battleship, Jenga, KanJam, and more.
The North End Curling Club will also provide complimentary Learn to Curl classes on select Saturdays from 2pm – 4pm (Curling lane reservations can be booked in advance).
Seaport's vintage Silver Queen gondola cabin, which hails from Aspen, Colorado, will sit adjacent to a second Guest Services Gondola, staffed with SNOWPORT ambassadors who are on-hand to assist with activities.
A new European style open air holiday market opens November 19, featuring 60+ vendors, a 10,000 square foot dining area featuring a festive menu by Tuscan Kitchen and Breezy Hill Orchard, a Winter Wish Wall and more.
SNOWPORT will be open seven days a week, Monday-Thursday, 3pm – 8pm; Friday-Saturday, 11am – 8pm, and Sunday, 11am – 7pm.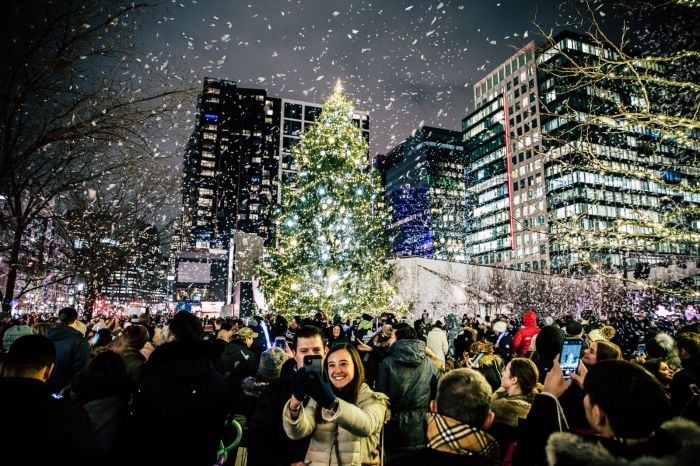 photo credit Lyndsay Ahern
Looking for more December events in Boston? Check out our handy guides to winter fun, holiday lights and holiday performances.
Traditional winter activities like Ice Skating and Skiing Near Boston are also popular for families. And for more ideas about fun things to do in Boston anytime of year, we have oodles of options for you to explore.
Don't forget to visit our Boston Events Calendar for more great ideas on fun things to do with kids in Greater Boston all year long.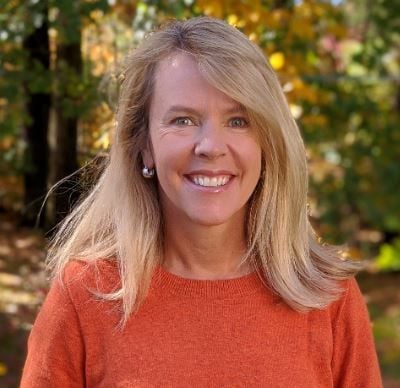 ~~
Stacey Sao has been the Managing Director of the family-friendly events and activities website, BostonCentral for almost 20 years. She continues to enjoy discovering and exploring new places to visit in the Greater Boston area.