Keene Pumpkin Festival (CANCELLED for 2022)
We have Not Yet Posted This Year's Information for This Event Yet
If new information for this event is already available for this year, please let us know
.
Dates:
Sunday, October 24, 2021
Hours:
noon - 8:30pm
In/Outdoor:
Outdoor
Cost:
Free
Category:
Fairs & Festivals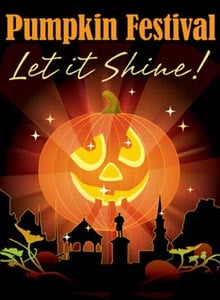 Founded in 1991, The Keene Pumpkin Festival has become one of the regionís most popular community events. And not just because we hold the world record for lit jack-o-lanterns.
Each autumn, The Keene Pumpkin Festival brings together thousands of people and families from near and far to share an unforgettable celebration of community.
At the heart of the festivalís popularity is its emphasis on participation. Thousands contribute to the spectacle by bringing their own hand-carved pumpkins. Everyone who carves a pumpkin with their own special face or design adds to the fun.
Download Event Schedule
Event Highlights
FRIDAY 19th at dusk PUMPKIN PYRAMID LIGHTING at the Bleachers near the centre of it all!
Anyone wishing to contribute a carved (or painted) pumpkin for display,
please drop it off at the bleachers by Friday at 2:00 p.m.
SATURDAY 20th
10:30 a.m. Parade participants to start arriving at North Shore Public School
11:00 a.m. Final registration for the FARMERSí OLYMPICS Join in the fun and sign up!
All kinds of wacky activities planned! Sign up for one or sign up for all! Visit our web site for the Registration Form.
11:30 a.m. FESTIVAL KICK-OFF WITH KIDS AND PETS COSTUME PARADE
beginning at North Shore School and finishing at the Arena
12:00 noon FARMERSí OLYMPICS GAMES BEGIN behind the township Municipal Offices
12:00 noon GIANT PUMPKIN WEIGH-OFF at the centre of it all!
(See web site for details)
1:00 p.m. BEST PUMPKIN PIE OF THE YEAR CONTEST! Prizes will be awarded! Judging will
take place at the Pumpkin Tent. Bring out your best pumpkin pie! Please
cover your pie and put your name on the bottom of the plate and deliver it
to the tent by 12:30.
In addition to the pure spectacle of seeing thousands of lit jack-o-lanterns all around you, there are endless activities all day. The Keene Pumpkin Festival is a non-stop sensory overload extravaganza from morning until night, when the fireworks explode high above all those pumpkins!
All Day Activities
ANTIQUE CAR & TRACTOR SHOW On Heritage Line and throughout the Village, too!
QUILT RAFFLE & 50/50
KIDíS ZONE ($2.00 per person admission fee) Bouncy Castle, Papier machÍ Pumpkins,
Face Painting, Pumpkin Playdough, Pumpkin Bowling and lots of other
surprises in store for everyone!
ďPUMPKIN PICĒ PHOTO OPPORTUNITIES for the kids with a huge pumpkin!
CORN MAZE at the
NELSON BERRY FARM 3392 County Road 2, RR#1 Keene
LIVE ENTERTAINMENT Join us at the Lionís Den for live entertainment all day long!
We have Rick and Gailee & Co. as our emcees for the day,
The Otonabee Valley Old Time Fiddlers & Square Dancing,
Celebrity Pumpkin Pie Auction, and lots more for everyone!
FARMERíS MARKET & CRAFT FAIR under the Big Top.
ROSEVALLEY MUSEUM Antique farm equipment collection will be on display.
PONY RIDES & PETTING ZOO At the Ball Diamond
PUMPKIN PYRAMID We are so pleased to showcase the efforts of our young local students!
Their handiwork will be featured front and centre of it all to welcome you!
BEER GARDEN Pause for a cold one with the other Pumpkin Bumpkins at the Lionís Den.
The Keene Pumpkin Festival has become famous for its status as the holder of the world record for most jack-o-lanterns lit at the same time in one place. But the Keene Pumpkin Festival isn't just about setting recordsÖitís about bringing people together in a spirit of community and participation.
Registering your Jack o Lantern
Help us create the magic by bringing your own jack-o-lanternsÖthe more, the merrier!
Please follow these easy instructions for registering your pumpkin
:
Bring a carved pumpkin and a 3-inch votive candle to Railroad Square in downtown Keene the day before the event (Friday) between 8:00 a.m. and 3:00 p.m. and log it in at the Log-in TentÖor bring your creation the day of the festival and log it in at one of the seven Official Log-in Tents located at every intersection on Main Street.
Find more
pumpkin festivals and jack-o-lantern displays near you
in our helpful guide to fall family fun.
---
---
Main Street, Keene, NH
map
---

Keene Pumpkin Fest Getting Dangerous
My family and I have attended the Keene Fest off and on over the past 15 years. Last night was the final straw. What used to be a nice outing has turned into a cheap party night for local college kids. The port-a-pottys were FULL by 7:00! We kept getting rammed by strollers( I left my children home at this age). Parking was a joke and the entire night was disappointing. I think the time has come to either do away with the festival or CHARGE ADMISSION!!!!! $5 per person seems fair and get more port-a-pottys!!!!!
---

Keene Pumpkinfest Getting Too Big
My family and I have been attending this event for years. We love it for the creativity of the jack-o-laterns...we have a blast looking at each creation. We went to Boston's Life is Good pumpkinfest last year due to poor weather in Keene, but it doesn't even compare... Unfortunately, this year, we were astonished at the crowds in Keene. It really detracted from the over all experience and was even a bit scary at times with small children. There were so many people it was hard to walk, never mind see the pumpkins. In addition, we never saw the information booth or a port-o-potty! I would no longer recommend this event unless they move it to a bigger location in the future.
---
Info changes frequently. We cannot warrant it. Verify with Keene Pumpkin Festival (CANCELLED for 2022) before making the trek. If you find an error, please report it...