Pumpkin Festivals and Jack-O-Lantern Displays Near Boston In 2023
New England Family-Friendly Pumpkin & Halloween Events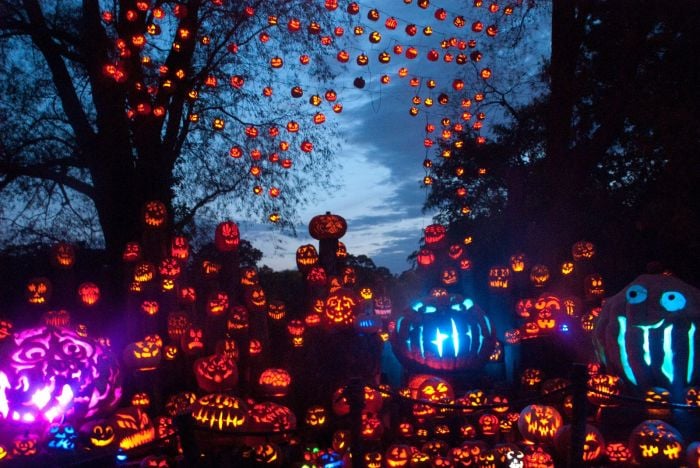 New England is chock full of fall festivals dedicated to pumpkins, jack-o-lanterns, scarecrows and spooky fun: the icons of fall and of course Halloween.
2023 Pumpkin Festivals and Halloween Fun in New England
Jack-o-Lantern Spectacular—Roger Williams Park Zoo, Providence RI
September 28 - October 31, 2023
The Jack-O-Lantern Spectacular celebrates 30 years of wowing guests with some 5,000 intricately carved pumpkins on Roger Williams Zoo grounds. Feast your senses on Rhode Island's biggest and greatest walk-through pumpkin spectacular!
This year, in 2022, guests will share in the nostalgia of their favorite tv shows, artistically carved on thousands of pumpkins. From Mr. Ed to The Walking Dead, this year's Spectacular has something for everyone.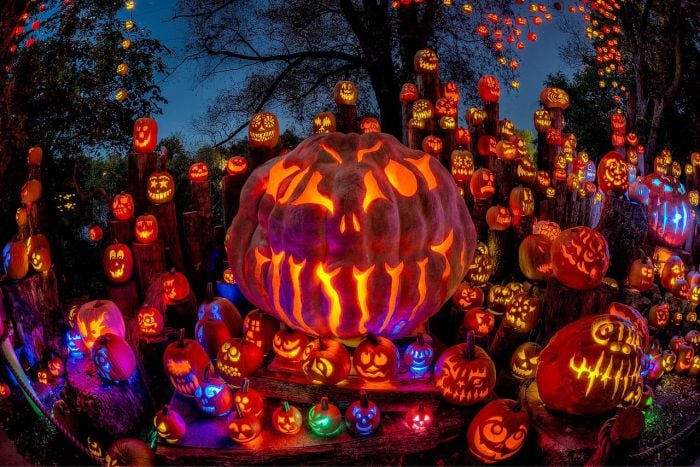 photo credit: Trig Photography
'Fall-o-Ween' Pumpkin Float Festival at Frog Pond - Boston
October 21, 2022
Fall Pumpkin Float will be held at the Boston Common Frog Pond usually held from 5 p.m. to 8 p.m. in late October. Visitors are encouraged to dress up and to bring a jack-o-lantern to launch into Frog Pond, where hundreds of illuminated jack-o'-lanterns will be floated on the water accompanied by spooky family activities.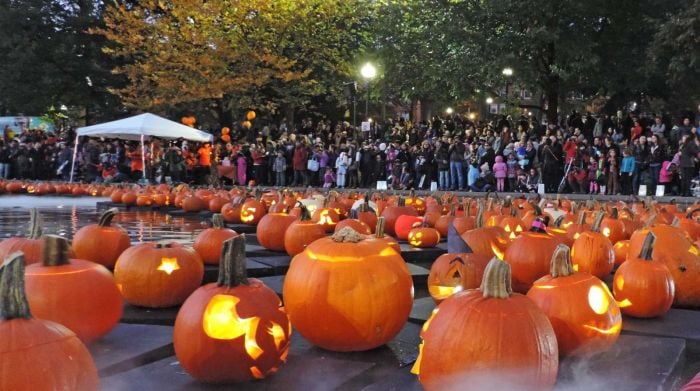 'Boo at the Zoo' and 'Baby Boo' at Buttonwood Park Zoo - New Bedford
October 14, 15, 21, 22, 28, 29, 2023
Dress the kids in their favorite costume and come explore all that BPZOO has to offer! We'll provide families with a socially-distanced walk through experience with some twists and turns along the way. Baby Boo is specifically tailored for children under 5.
The slightly spooky theme will include mazes, a scavenger hunt, plenty of trick-or-treat stations, endless photo opportunities including a photo costume contest, Halloween themed animal enrichment, and up-close meet and greets with the Zoo's Animal Ambassadors.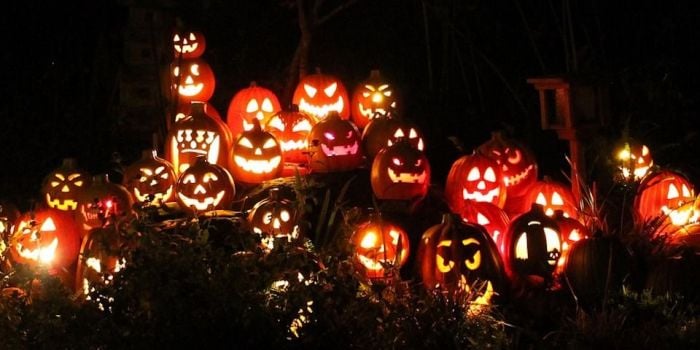 Zoo Howl at Franklin Park Zoo - Boston
October 28- 29, 2023
Children throughout New England are invited to trick-or-treat among the animals. Thrills, chills, and animals lurk around every corner on the Trick-or-Treat Trail. Other haunted happenings include crafts, games, costume contests and a haunted maze!
As you explore the Zoo, be sure to meet with Zoo educators to learn about creepy crawly critters, as well as about the importance of purchasing treats made with sustainable palm oil this Halloween.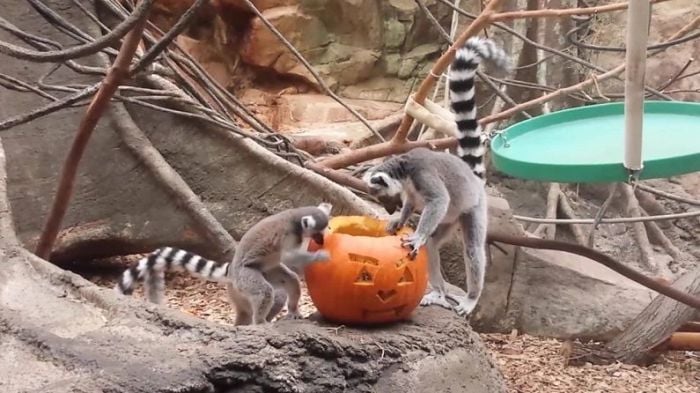 photo courtesy of Zoo New England


Celebrate Halloween in a safe and fun manner during Boston Children's Museum's Halloween SPOOKtacular. This fun celebration will include lots of fun, spooky activities to enjoy throughout the night including trick-or-treating!
Throughout the night, experience activities and programs for all ages, including a "Little's Pumpkin Patch" specifically for guests under the age of three, "Pumpkin Putt-Putt" perfect for the entire family, and "Potions!" for kids looking for a fun hands-on challenge.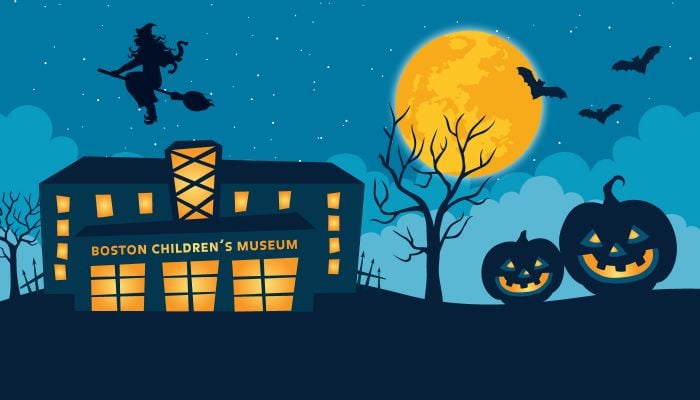 October 21 - 22, 2023
Get ready for all the thrills, chills and animals that await at Stone Zoo's annual Boo at the Zoo trick-or-treating extravaganza.

From 9 am – 2 pm throughout the weekend, guests are encouraged to come dressed in all their Halloween galore and partake in the costume contest, wander the Zoo to learn about all the mystery animal encounters, creepy crawly critters and more!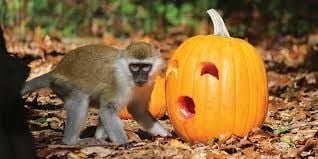 Haunted Happenings 2023 - Salem, MA
October 1 - 31, 2023
Salem's annual Halloween Festival happens every year during October in the bewitching seaport of Salem, Massachusetts. Generally, nobody celebrates Halloween quite like Salem, Massachusetts.
The businesses and organizations in Salem, Massachusetts are setting the stage for a return to pre-pandemic capacity and programming in October 2021 with the return of Salem Haunted Happenings.
Visitors to this bewitching seaport north of Boston will be delighted to find the street fairs, performances, expanded programming, special events, and seasonal flair are in the works for this fall. Get your best costumes ready! Happy Halloween!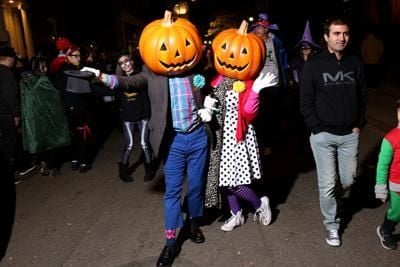 Haunted Happenings Grand Parade 2022 - Salem, MA
October 5, 2023
The Salem Chamber hosts the Haunted Happenings Parade on its traditional route with the theme, "Who's Your Hero?" Parade starts at Shetland Park, continues through downtown and ends at the Salem Common. Celebrate the season at this festive parade full of clever, spooky costumes.
Plan ahead for an abundance of road closures - **take advantage of the shuttle busses for transport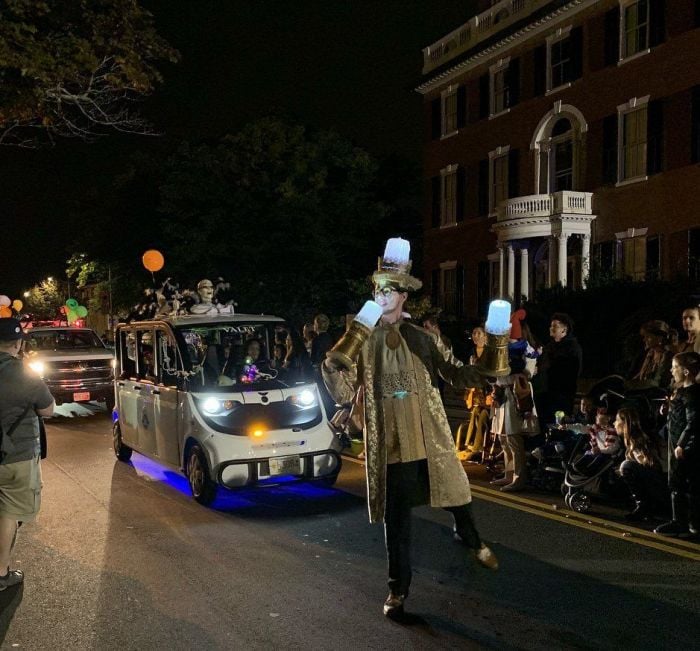 Hallowed Harvest: Wicked Labyrinth - Salem
September 22 - October 31, 2023
Experience the spooky family-fun of Halloween at the Hollowed Harvest!
The Wicked Labyrinth version of Hollowed Harvest brings to life more than 1,000 incredible Jack-O'-Lanterns creating stunning landscapes and larger-than-life displays designed to amaze audiences of all ages!
This new indoor event is provides a different experience that will only be offered in Salem, Massachusetts this year.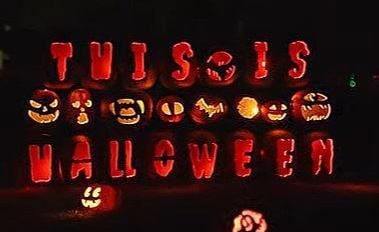 Halloween On the Hill 2023 - Beverly, MA
Fridays, September 29 - October 29, 2023
Come explore our beautiful property as we transform Long Hill into a celebration of autumn and the Halloween season.
Follow our seasonal-themed trail that will feature over 1,000 jack-o'-lanterns, hundreds of mums and pumpkins, elaborate Halloween sets, light displays, music, and more. This is the perfect Halloween event your family won't want to miss!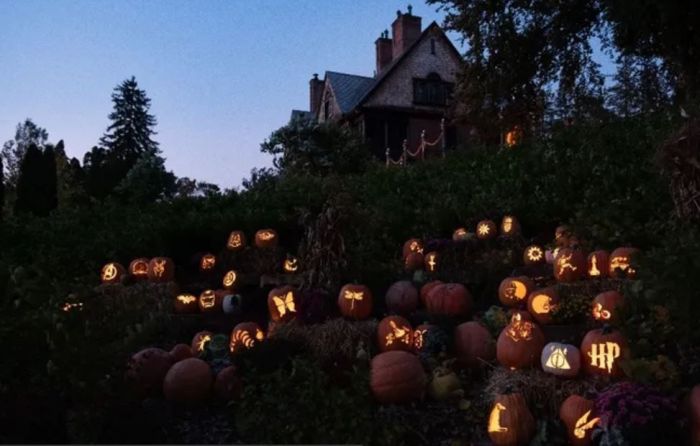 photo courtesy of Trustees of Reservations


Myths, Magic and Monsters at New England Botanic Garden - Boylston, MA
September 01 - October 31, 2023

During Fairies Aglow, our children's garden, the Ramble, becomes even more whimsical with dazzling light displays and lighted fairy houses.
This family-friendly event includes enchanted activities, ethereal music, and real-life fairy friends. Explore the wonders of the season in a whole new light and immerse yourself in the magic of nature.
Don't forget your wings and wands!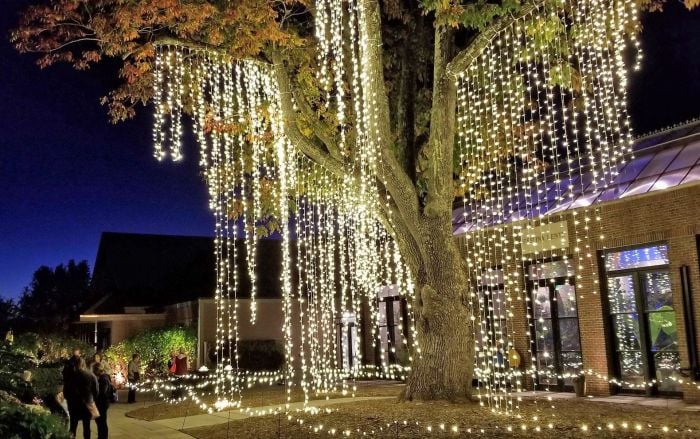 photo courtesy of Tower Hill Botanical Garden
Frightful Fridays: Scary Tales in the Mansion - Waltham
Friday evenings, October 13 - 27, 2023
Our popular Halloween season program Frightful Fridays returns in October! Enjoy spooky stories as you move through the beautiful 1806 Mansion, featuring spooky stories for kids ages 6 and up, but nothing too scary!
The 45-minute program, which features 4 spooky tales, starting at 6:30 p.m. and again at 7:45 p.m. Capacity is 13 people per session and advance registration is required.
The Incredible Naumkeag Pumpkin Show Early Hour, Stockbridge, MA
September 31 - October 31, 2023
Explore our famous gardens as we transform Naumkeag into a celebration of autumn with over 1,500 jack-o-lanterns, hundreds of mums, pumpkins and countless gourds – most of which were grown right here on the grounds!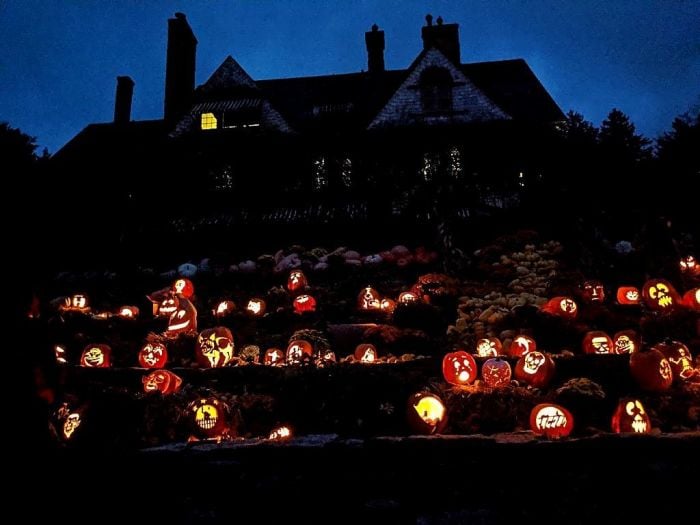 Pumpkintown USA - East Hampton, CT
September 23 - October 31, 2023
Enjoy a journey through the Pumpkintown Forest in the comfort and safety of your own personal vehicle. On this scenic 1-mile (20 minute) drive you'll see over 30 Pumpkinhead people and their animal companions at home in their woodland dwellings.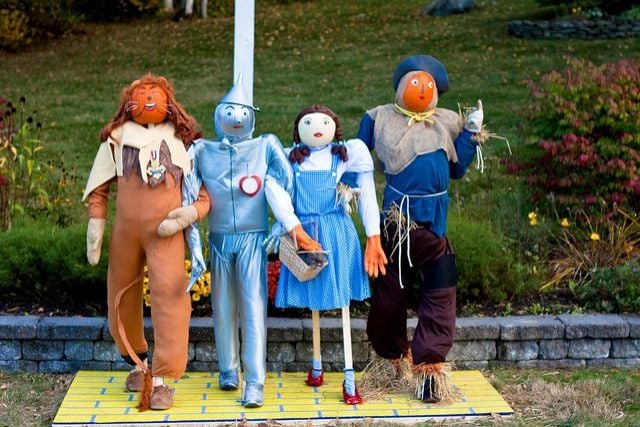 Fall Fun on Chestnut Hill Farm - Southborough
Sundays in late September - mid-November
Join us on Sundays from 12-6pm to enjoy live music, hayrides, a scavenger hunt, and a visit with our friendly goats. Food from alternating food trucks and craft beer will be available for purchase. We'll be offering timed ticketing to adhere to COVID guidelines of a maximum of 50 people on-site at a time. Advanced tickets are required.
September 28 , 2023 - October 31,, 2023
Step into a world of Spooky Fun for Everyone as we present "The Great Jack O Lantern Journey" – an extraordinary Halloween festival, exclusively at Southwick's Zoo!
This after-hours walkthrough event features intricately carved jack-o-lanterns and displays throughout the zoo that bring to life your favorite animals and beloved storybook characters.


Vermont Pumpkin Chuckin' Festival—Stowe, VT
October 01, 2023
This festive festival challenges kids and adults to build a better trebuchet: a modern version of the medieval catapult. Spectators get to watch those pumpkins soar and smash.
NOTE: This event will take place in an all-new location in 2022: Mayo Farm Event Fields at 120 Weeks Hill Road in Stowe, VT.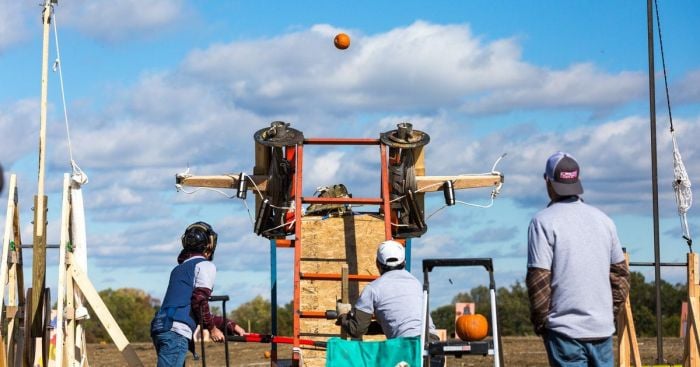 Pumpkin People in the Park—Chatham, MA
October 14-31, 2023
This annual tradition on the Cape brings together local businesses which craft clever, funny, or awe-inspiring displays of people and activities out of pumpkins.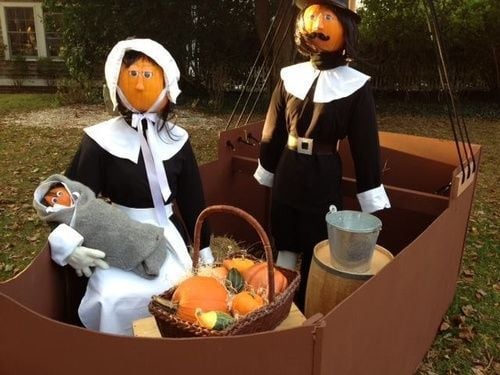 Return of the Pumpkin People - Jackson, NH
October 01 - October 31, 2023

This self-guided tour features more than 80 different locations hosting Pumpkin People displays. This is an event will amaze even the toughest of critics. You will see Pumpkin People doing all kinds of things from flying across yards to deep sea diving.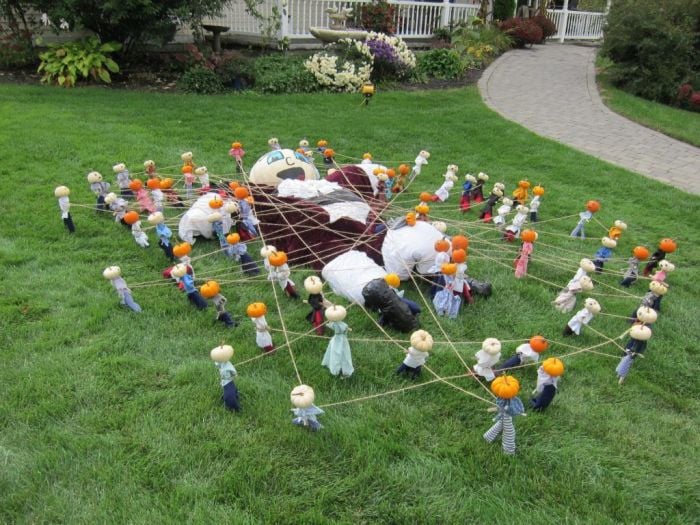 Keene Pumpkin Festival CANCELLED — Keene, NH
October 21, 2023
The Keene Pumpkin Festival has become one of the region's most popular community events. And not just because we hold the world record for lit jack-o-lanterns.
Each autumn, The Keene Pumpkin Festival brings together thousands of people and families from near and far to share an unforgettable celebration of community.
At the heart of the festival's popularity is its emphasis on participation. Thousands contribute to the spectacle by bringing their own hand-carved pumpkins. Everyone who carves a pumpkin with their own special face or design adds to the fun.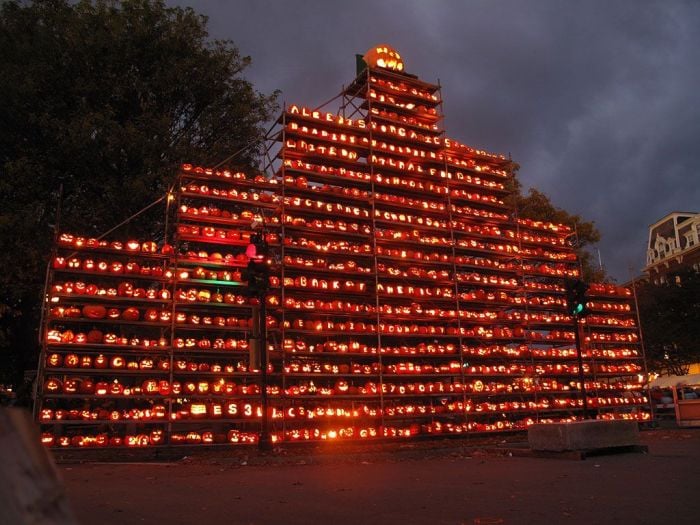 New Hampshire Pumpkin Festival—Laconia, NH
October 27 & 28, 2023
This annual festival features the Spectacular Pumpkin Tower, plus thousands of jack-o-lanterns lining the street.
You can find more things to do in September and October activities in our handy guides to fall family fun - and , you can always visit our Boston events calendar or this week's events newsletter for additional ideas.
Up for a challenge? Find your way through one of many local corn mazes near Boston! Or you can go a more tradition route and find great spots for apple picking or choosing your perfect pumpkin at a local pumpkin patch.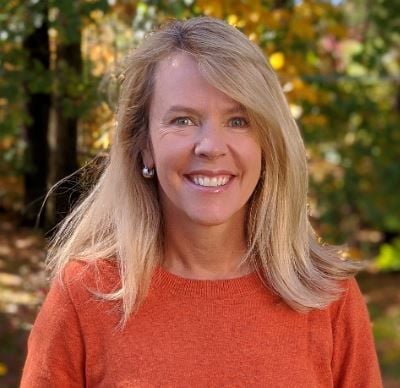 ~~
Stacey Sao has been the Managing Director of the family-friendly events and activities website, BostonCentral for over 20 years. She continues to enjoy discovering and exploring new places to visit in the Greater Boston area.
Don't see your favorite pumpkin festival listed here yet? Let us know!