Jack-O-Lantern Halloween Spectacular:Roger Williams Zoo 2019
We have Not Yet Posted This Year's Information for This Event Yet
If new information for this event is already available for this year, please let us know
.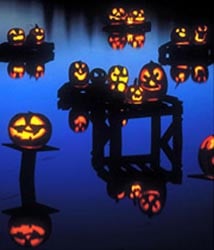 Travel through a seasonal wonderland! Celebrate the wonders of New England and all its glory and magic at the nationally acclaimed Jack-O-Lantern Spectacular presented by Citizens Bank at Roger Williams Park Zoo.
Feast your senses on autumn's beauty, winter's swirling snow, spring's first blossoms and summer's ocean breezes intricately carved on thousands of pumpkins displayed along the Zoo's beautiful Wetlands Trail. Follow the Jack-O-Lantern Spectacular
This year's show includes more than 5,000 intricately carved pumpkins featuring scenes of wizards, fairytales, and the luminaries of great myths and legends, alongside superheroes, and historical figures who changed our world.
Revel in the sights and sounds of the season, and celebrate this otherworldly experience.
Experience the
Soaring Eagle Zip Ride
during the Jack-O-Lantern Spectacular from 115 feet above the earth. Riders see out over Providence and into Narragansett Bay in comfortable side-by-side seats. The Soaring Eagle Zip Ride is open every night during the Jack-O-Lantern Spectacular - weather permitting. Restrictions apply.
Soaring Eagle Zip Ride Ticket Info
$15 per rider | $13 for current RWP Zoo members
Tickets are on a first come first served basis
No advanced reservations accepted.
Between 6 – 10:30 pm, only 40 tickets sold each hour for this exciting new ride. Soar over the Zoo with a beautiful nighttime view of the area!
Jack-O-Lantern Spectacular is open rain or shine. In the case of light to moderate rain, the show will be open.
Situated on the Zoo's picturesque wetlands trail, the event has won praise from across the nation for its amazing artistry and appeal as a unique, family-friendly autumn destination. Over 100,000 people have come in each of the past five years to enjoy the nighttime show, and last year's Spectacular saw the second highest attendance of over 125,000 visitors.
Show standards will return, such as childhood favorites and Halloween scenes, as will the show's dazzling grand finale, the Laughing Tree. There, hundreds of glowing jack-o-lanterns on the ground and high up in the trees surround carved giants (well over 1,000 pounds) arrayed in the forefront that are enhanced with spooky fog and the iconic musical theme punctuated by a catchy beat and laughter. Light and image projections also enhance the scenery along the trail.
2018 Jack-O-Lantern Spectacular details
:
The Show will run rain or shine, however, in cases of severe weather or weather-related technical difficulties we might close the event or end admission early. Please check our website, Facebook and Twitter pages for frequent updates.
The Spectacular is an important fundraiser for Roger Williams Park Zoo. Proceeds from the event will help to support the Zoo's animal care, environmental education and conservation efforts both locally and around the globe, as well as Zoo improvements.
---
Friday – Sunday nights now feature timed ticket entry starting at 5:30pm.
Open from 5:30pm - 11:00pm (last entry at 10:00pm)
On Saturdays, admission will be extended an hour, with the last admission at 11pm, and the trail closing at 12am.
---
Prime Nights (Friday, Saturday, Sunday): Available for purchase ONLINE ONLY and timed ticket entry requires pre-registration. Adult $18; child $15 (ages 2-12) | Current RWP Zoo members save $2 off adult and $1 off child tickets. 10 pm slot ONLY tickets: $15 adult and $12 child Friday, Saturday, and Sunday online and Zoo admissions. Trail open 6:00 – 11:00 pm. LAST TICKET SOLD AT 10:30 PM Children one and younger are always admitted free. Value Nights (Monday through Thursday): Sold online and at Zoo admissions. Adult $15, child $12 (ages 2-12) | Current RWP Zoo members save $2 off adult and $1 off child tickets. Trail open 6:00 - 10:30 pm. LAST TICKET SOLD AT 10:00 PM Children one and younger are always admitted free.
---
---
Elmwood Avenue, Providence, RI, 02907
map
Phone: (401) 785-3510
Roger Williams Park Zoo
1000 Elmwood Avenue
Providence, RI 02907
---

Jack o' Lantern Spectacular at Roger Williams Zoo
Just need one word to describe this Awesome! The talent is amazing.....This is a must see....
---

Long Lines No Staff - DO NOT GO ON THE WEEKEND
If you like lines upon lines starting with a 90 min car ride to go 600 yds just to park have fun. This was just the start: We pulled in on Sat. at 7:00pm and did not see a thing till 9:30-10:00. Then the trail was packed and many with small kids and parents having trouble keeping track of them. No staff to to let you know how long lines would take. Sooooo NOT worrh it!
---

beautiful but packed on the weekend
the drive from boston area is an hour at night (no traffic) and the saturday night line to enter was LONG....while waiting, one passes a lot of concession stands (food, snacks, trinkets, glow wands) that tempt the little kids and cost the parents! the pumpking were really really pretty and the music and other effects are superb. i assume that the weekdays have a shorter line and make it more worth it...also AAA members get a bit off from the steep price so bring your card!!
---

Jack O Lantern Spectacular
We made an afternoon of it this past Tuesday in Providence with our 3 yr old dtr -- children's museum followed by the spectacular. Decided to try their bbq option--was quite pricey, but frankly, well worth it as once we were finished with our meal, we were escorted directly to the front of the exhibit line. I'm not sure how our little one would have fared if we would have had to wait! We've found a new Halloween tradition!
---

Long Lines
We went on Saturday night and it was packed. We waited for over two hours in line before we saw the pumpkins - an hour once we were in the zoo and the rest to get into the zoo. Once we got to the pumpkins you can't just mill around because there are hundreds of other people around you pushing you through... That being said, some of the pumpkins were amazing but the majority were just your average carving that you would do with your child. It would have been much more enjoyable had we not waited in line as long - we waited because we drove down from Massachusetts to see it. If you plan on going, buy your tickets ahead of time so you can bypass the lines outside the zoo and only wait once you're inside the park.
---

Could Not Even Get In The Parking Lot
Tried to see this last Sunday night at 8 pm. So overcrowded, we could not even get in the parking lot and went home. Saw some people getting angry at the entrance because of gridlock. Good thing we came from the south, since the traffic jam from the north went on for over a mile, and people were stuck: boxed in with no outlet to turn around and exit and not one person or one sign was stationed near the road to help direct traffic or inform what the heck was going on.
---
Info changes frequently. We cannot warrant it. Verify with Jack-O-Lantern Halloween Spectacular:Roger Williams Zoo 2019 before making the trek. If you find an error, please report it...