Seasonal Fun Boston Events for Kids and Families
Calendar of seasonal family fun and kids events happening in Boston and nearby suburbs - lots of fun things to do.
---

Festival of Lights, Worcester
,
Worcester
, $
Fri, December 3, 2021 - Mon, February 28, 2022
Light sculptures and installations will be on view in Worcester's Downtown and Main South neighborhoods starting December 3. Displays will be illuminated after sundown each evening.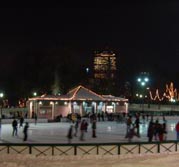 Ice Castles, NH (New Hampshire)
,
New Hampshire
, $$$
Fri, January 14, 2022 - Sat, March 12, 2022
Ice Castles, an acre of land filled with frozen ice walls, tunnels, towers, and archways illuminated by multicolored lights, is a literal winter wonderland.

Warm Up This Winter at Arsenal Yards' Fire Side
,
Watertown
, $
Tue, January 18, 2022 - Tue, March 1, 2022
Every Tuesday thru March 1st from 5:30–7:30pm, guests can register for a cozy fire pit on the City Works patio for after-work drinks with friends or family fun including themed trivia nights, game nights and extreme...
Killington Winterfest
,
VermontFri, February 11, 2022 - Sun, February 13, 2022
Come enjoy live music with Dawes, Subaru swag, the latest in adventure gear, free snacks and beverages, activities for your pup and amazing daily giveaways! Gather your crew and head to WinterFest!
Maple Tree Tap-a-Thon at Chestnut Hill Farm
,
Southborough
, $$
Sat, February 26, 2022
Ranger Tim will show us how to identify maple trees on the farm and share the history of tapping as we learn about how maple sap runs.

Lilac Sunday at Arnold Arboretum 2022
,
Jamaica Plain
, Free
Sun, May 8, 2022 - Sun, May 8, 2022
This beloved Boston tradition celebrates the lilacs as well as many other special collections at their peak at this lovely time of year. Come celebrate spring at the Arnold Arboretum.

Boston Fireworks 2022 (Where to Watch, Start Times, By Date)
,
Massachusetts
, Free
Thu, June 2, 2022 - Tue, August 23, 2022
Find out where they'll be shooting fireworks off nearest you in 2021 (by date). Different towns, different dates & times - you are sure to find a display to fit your schedule and your location. Happy fourth!

Massachusetts Free Fishing Weekend
,
Other Boston Area
, Free
Sat, June 4, 2022 - Sun, June 5, 2022
Take a friend or family member fishing -- you won't need a fishing license in freshwater for these two days! All other fishing regulations apply.


Brockton Fair 2022
,
Brockton
, $
Fri, June 24, 2022 - Mon, July 4, 2022
One of America's oldest and finest country fairs! Rides, Midway, Live Entertainment, Demolition Derby, Fireworks & more! There is something for everyone in the family to see and enjoy.
Walpole 3rd of July Parade & Fireworks - CANCELLED
,
Walpole
, Free
Sun, July 3, 2022 - Sun, July 3, 2022
On the Third of July, Walpole celebrates the independence of our Nation by holding it's popular parade and fireworks display. A staple in Walpole, this celebration has been going strong for over 50 years, and has grown into quit a spectacle.

Marshfield Fair 2022
,
Marshfield
, $
Fri, August 19, 2022 - Sun, August 28, 2022
This year's fair offers great family entertainment with hundreds of farm animals, daily free shows, free grandstand attractions, arts & crafts, 4 H & Agricultural exhibits, horticultural displays & much more.

The Big E 2022
,
Western Mass
, $$$
Fri, September 16, 2022 - Sun, October 2, 2022
The Big E is a New England autumn tradition and the ninth largest fair in North America. There's no better place to enjoy the sights, sounds and taste tempting aromas of the fall season than at The Big E.
New Hampshire Pumpkin Festival
,
New HampshireSat, October 15, 2022 - Sun, October 16, 2022
It's official: Coronavirus concerns have forced the cancellation of the 2021 NH Pumpkin Festival in Downtown Laconia. SAVE THE DATE FOR 2022 - October 15 & 16

Halloween Trick or Treat In Maynard & Hudson
,
2 Locations
, Free
Thu, October 27, 2022
Trick or Treat in downtown Hudson & Maynard from 4 to 6 pm. Streets will be closed and kids can get treats at local businesses. Look for the pumkins in the window for participants!

Boston Blink! Holiday Lights & Sound Extravaganza
,
Boston
, Free
Sat, December 3, 2022 - Sun, January 1, 2023
There will not be a holiday tree at Faneuil Hall this year or a Blink! program.
Blink! ususally features the music of the Holiday Pops, is a state-of-the-art light and sound extravaganza that transforms every...