Topsfield Fair 2023
We have Not Yet Posted This Year's Information for This Event Yet
If new information for this event is already available for this year, please let us know
.
Dates:
Friday, September 29, 2023 - Monday, October 9, 2023
Hours:
Hours Vary see below
Ages:
Infants, Toddlers, Kids, Teens, Adults
In/Outdoor:
Indoor, Outdoor
Cost:
$$ see below
Category:
Fairs & Festivals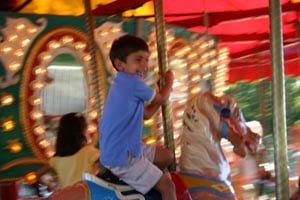 The Topsfield Fair, America's oldest and finest agricultural fair, has run every fall since 1818.
The fair features Fiesta Shows' carnival midway, The Grand Parade, demonstrations (ranging from beekeeping to miniature trains), a Grange Museum, pumpkin weigh-offs, many
musical acts and attractions
, the 4-H Agricultural/Arts and Crafts exhibits and so much more.'>
View this year's Performance Lineup
Beekeeping; Cattle; Farmyard; Goats; Green Pavilion; Midway; Parades; Pig Barn; Poultry; Rabbit and Cavy; Sheep; & Sand Sculpture.
Fiesta Shows Midway returns with all of the latest space age ride sensations plus great games and all of your favorite fair food. Visit
www.topsfieldfair.org
for tickets & schedule.
Find more
in our fall fun guide.


---
Sept. 30 - 1:00pm - 11:00pm
Oct. 1 - 10 - 11:00am - 11:00pm
---
$15 weekdays; $20 weekends/holiday View All Rates
---
---
Rt. 1, Topsfield, MA, 01983
map
Phone: 978-887-5000
From Points South: Take Route 95 North to Exit 50. (Rte 1) Follow Route 1 north to the Fairgrounds on right.
From Points North: Take Route 95 South to Exit 53. (Rte 97) Follow Route 97 south to Route1. Follow Route 1 south to Fairgrounds on left.
---
Find lots more Things to Do in Boston in our handy guide to family fun! Whether you are visiting or a local, we've got all sorts of great ideas and hidden gems.
---

Rip off
This place is the biggest rip off going. In no way shape or form is this place worth paying $15 per person to get in never mind the $10 parking fee to park in a field/swamp. I will never go here again.
---

Very Dissapointed
I have been going to this fair for over 30 years and have taken my son now 12 every year...The past few years have been very disappointing....Thank god my bff can get discounted tix....Because I would certainly not be paying full price....There are very few games like they used to have just the scam artists games who charge $5.00 a game for a game that's basically impossible to win at....Bring back the bet on your color or month for even $1.00 I'd rather take 5 chances on that than $5.00 for a scam game....We are not 'ride' people so the Midway has now become useless to us....It's more of a carnival now than a fair....Even some of my favorite food vendors are gone....I did read a sign from one of them last year that said due to changes in management we cannot afford to be here next year....what does that tell you....greed is what it says to me...The trade center....used to give away freebies....now it might as well be a mall!!! Do still enjoy the flower arrangements and pumpkins though!!!
---

Very disappointed and plan for traffic
We tried to take our twin boys and we went at 11:00am on a Saturday thinking people are just starting to go. But that was not the case. We waited in traffic on route1 for an hour and a half. And still had a mile and a half to go, so we never made it because our kids where not sitting any longer. Was a big waste of time. We will never try to go again.
---

Best Fall Festival In New England
I have been going to the Topsfield fair for 30 yrs. We have a 6 and a 9 yr. old who look forward to celebrating fall with a bang and this is the way to do it! We anticipate all summer long the weight of the largest prized pumkin. This year it was over 1,400 lbs. The Beekeeping area has sticks of honey for $1 and the kids can make a honeycome candle for $3. I let the kids try $5 worth of games and I reward them with $1 store halloween /school items because those games are not set up for the kids to win. $10 worth of games and $10 worth of things they like and need, not another stuffed animal! There is no question that the fair is spendy! I expect to pay $16-$50 per person. We hit every ride in the place this evening(10.10.08). Food is not a priority. We eat before and when we get home. I also bring bottled water in a backback. This year we splured on the elephant ride and on candy apples. It set us back an additional $20. Even in these economic times there is no where you can bring a family of 4 for 5hrs for less than $100 to celebrate nature, animals and to have so much fun! We can't wait for next yr!
---

Works best when you plan ahead
I've learned the hard way to plan ahead for the fair. Weekends are not best, but if you must go, arrive EARLY. Also, advance ride tickets are ONE THIRD the price of those at the fair. Also, stake out the cheapest food options, and take advantage of the many performances -- they're great, and free. Also, if you must get souvenirs, bargain with the sellers -- they'll discount to an extent.
---

Plan A Better Driving Route For The Weekends
We headed up to the fair with our 9 month old son for a day out in the fresh air and to introduce him to the animals. While the fair itself was great, lots of varieties of animals and as expected great food for the adults, we sat in 2 HOURS of traffic to get off the exit and up the road to the parking lot. It was ridiculous!!! With a small baby, time out is precious and we wasted a huge chunk of it trying to park the darn car. We ended up missing a nap and had an unbearably cranky baby that evening, but I suppose that was better than spending the $$ to get into the fair and only staying for an hour. We'll try a smaller fair next year.
---

Even in the rain
We especially enjoy the Fair in the rain. Performances are moved inside, no crowds, and we dash between buildings. Fun and cozy, and less money to ride guys.
---

It's Great
I've been there this past Sunday and loved it. I have a boy (5) and a girl (3) and they had so much fun. My husband also! Actually we needed to take the exit 51 and park on a school parking lot. Then the school bus took us to the festival. Lots of people! Very well organized!! Clean bathroom! Great food!! It's great! I can't wait for next year and another elephant ride.................
---

Be Prepared To Spend Some Money
We took our 4 year old here last weekend and do not plan on going back next year. It was packed, lines for everything. Very overpriced and everything costs extra. The games were the most costly $3 for one kids game. There were lots of choices for food and there were a few performances that are fun for little kids. My daughter got to go up with the performers and play the maraccas. Expect to do a lot of waiting and to spend at least $100 for a family of 3. If you don't mind spending the $ or waiting and like carnivals then there is plenty to keep you busy for hours.
---

Avoid weekends
The fair seems more crowded this year than ever. People are well-behaved, but by a weekend afternoon you can't even walk the paths. Try a weekday if possible. We always clutch out schedules to see events and concerts -- they're really fun, and get you away from the midway for half an hour.
---
Fun at the Fair, Grade 5 Student
We had a blast at the Topsfield Fair. The rides were fun, but the chocolate covered bacon was pretty bad.
---
Info changes frequently. We cannot warrant it. Verify with Topsfield Fair 2023 before making the trek. If you find an error, please report it...