Boston 4th of July Fireworks: Esplanade 2017
We have Not Yet Posted This Year's Information for This Event Yet
If new information for this event is already available for this year, please let us know
.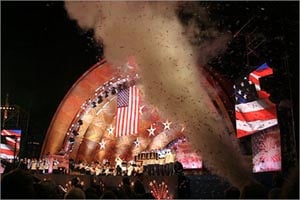 Maestro Keith Lockhart and the Boston Pops Esplanade Orchestra for Boston's annual Fourth of July celebration. The Boston Pops Fireworks Spectacular will be broadcast on Bloomberg Television; radio listeners in the greater Boston area can hear the concert through Bloomberg's flagship station in Boston on 1200 AM and on SiriusXM satellite subscription radio on Channel 119. For mobile listeners, the program can also be heard on the Bloomberg Radio app on either Apple or Android devices.
The 2017 featured musical guests include
:
ANDY GRAMMAR & MELISSA ETHERIDGE & LESLIE ODOM JR. from Hamilton
Andy Grammer and Melissa Etheridge will join Keith Lockhart and the Boston Pops for the July 3 and 4 concert presentations at the Massachusetts Department of Conservation and Recreation's (DCR) Hatch Memorial Shell located on the Charles River Esplanade.
The Boston Fireworks Spectacular will conclude on July 4 with a 21-minute pyrotechnic extravaganza from Grucci Fireworks.
This year's Spectacular keeps alive several of the Boston holiday traditions including the Pops' now classic Independence Day rendition of Tchaikovsky's "1812 Overture," which features real cannons and the live ringing of area church bells.
And, of course, The Boston Fireworks Spectacular will be capped off by a magnificent fireworks array that fills the skies above Boston with a stunning exhibition of color and breathtaking pageantry. It is best to arrive early (before noon) if you wish to find a good place to sit.
Find other Fireworks Displays in Massachusetts
.
Pack a lunch, water, sunscreen, blankets, and things to keep the kids occupied. Best to take public transportation as parking will be scarce.
What's Allowed
Allowed Items
All personal items must be carried in clear bags only
Pop up tents/canopies with no sides - maximum size 10x10 (no tents/canopies allowed on July 3)
Blankets or tarps no bigger than 10x10
Folding/beach chairs only
Coolers, must be carried in by shoulder strap or single handle (no wheels)
After inspection, small clutch bags/purses may be taken into the venue with the clear bag.
MBTA bus, T, & commuter rail fares will not be collected from 9:30pm to end of service on July 4.
MBTA July 4th Service Info
Parking & Transportation Info
Visit this helpful FAQ page
for any additional logistical questions.
July 3rd Dress Rehearsal Concert
Oval opens at 9:00am
8:30PM Concert begins
10:30PM Concert ends
THERE IS NO FIREWORKS DISPLAY ON JULY 3RD
Oval access is restricted to the Dartmouth Street-Storrow Drive.
Fiedler bridge closed to foot traffic.
-----------------------------------------
July 4th Schedule of Events
:
Oval opens at 9:00am
7:00pm WBZ News Radio AM 1030 broadcast begins
8:00pm Boston Pops Fireworks Spectacular broadcast begins
8:30pm Concert begins
10:30pm Fireworks begin
11:00pm Boston Pops Fireworks Spectacular ends
*All dates subject to change
Prohibited Items
No alcoholic beverages are allowed on any DCR property, which includes the Esplanade, Memorial Drive, Cambridge, or on waterways. Grills, hibachis or other fires are prohibited. No overnight camping. No Bicycles in the Oval. Spectators can stake their claim in the morning on July 4.
No coolers on wheels
No backpacks
No firearms, weapons, sharp objects or fireworks
No glass containers
No cans
No alcoholic beverages
No pre-mixed beverages
All liquids will be carried in sealed clear plastic containers not to exceed 2 liters in size
No grilling, propane tanks or open flames
No unattended bags
No bicycles will be allowed through the checkpoints into the Oval or Island/Lagoon areas. Bicycles are allowed throughout the rest of the venue, but most not be left unattended. Bicycles attached or locked to security fences, poles etc will be subject to removal.
Find more Fireworks Displays in MA
Find lots more ideas on
fun things to do with kids in Boston
.
---
Gates open at 9:00am
7:00 p.m. WBZ-AM 1030 broadcast begins
7:30 p.m. WBZ-TV's Countdown to the Fourth pre-show begins
8:00 p.m. WBZ-TV Boston Pops Fireworks Spectacular broadcast begins
8:30 p.m. Concert begins
9:00 p.m. CBS network broadcast begins
10:30 p.m. Fireworks begin
11:00 p.m. Boston Pops Fireworks Spectacular ends
---
Charles River Esplanade, Boston, MA
map
View MBTA Service Schedule
---
---

Pops Concert
We're in Birmingham Alabama and have no television coverage of the concert & fireworks. Plenty of displays in this area but it's not Boston! Sad day!

please televise this nationally!!
We're up here in Alaska. We so look forward to the Boston Pops 4th of July Celebration every year! Someone needs to put this on national television somehow! It's always the best celebration nationwide! Maybe PBS will pick it up and televise it later. They are already doing the Capitol 4th with Bary Manilo, not nearly as good a show!

4th of July Fireworks-Boston
This was a wonderful display. The music was superbly orchestrated with the brilliant bursts of color. My question is, ' who was the female vocalist singing the National Anthem at the end of the display or for the grand finale.' I have a hunch, but would like some verification.
| | |
| --- | --- |
| Related Links | Top |
---
We make best efforts to update information, but it changes frequently, so we cannot warrant it. Please call to check Boston 4th of July Fireworks: Esplanade 2017 schedules, fees, and directions before making the trek. We help you, please help us. Report an Error if you find one.