Fireworks in Boston and MA Guide (dates, times & locations)
Best places to Watch Fireworks near Boston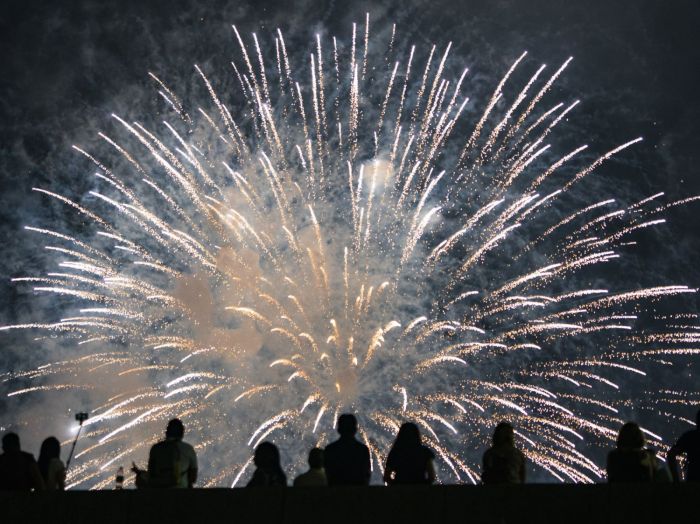 The Boston area is full of history and one of the best and most patriotic places to celebrate the 4th of July viewing fireworks.
Whether watching Fireworks in Boston at the Hatch Shell & along the Charles River Esplanade, or in one of the many historic towns nearby - you are sure to find a display to fit your schedule and your location. Happy fourth!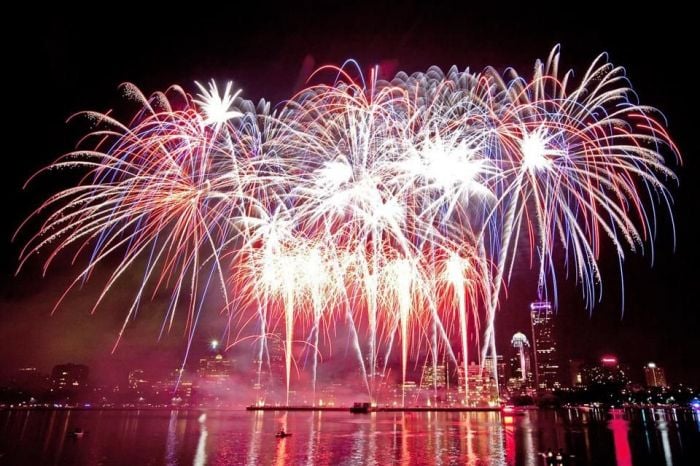 photo credit: Yoon S. Byun-Globe Staff
Where to Watch Fireworks both In and Near Boston
Find out where they'll be shooting fireworks off nearest you in the Boston area in 2020 - alphabetically by town. (If you know of a display that is not shown here - let us know!)
View Massachusetts Fireworks Displays by Town
View Massachusetts Fireworks Displays by date.
Of course, the big event takes place on July 4th itself at the Hatch Shell (which is also broadcast live). Here's the rundown on all you'll need to know about this year's Boston Fireworks Spectacular with The Boston Pops!
While we have made every effort to confirm that each of these listings is correct, plans do change - especially for weather. Please check with local authorities or your town website to confirm dates & times.
Happy Fourth of July 2020!
July 4, 2020 - Enjoy the Boston Pops Esplanade Orchestra and a spectacular display of fireworks over the Charles River. This year maestro Keith Lockhart and the Boston Pops Esplanade Orchestra are set to entertain at Boston's annual Fourth of July celebration.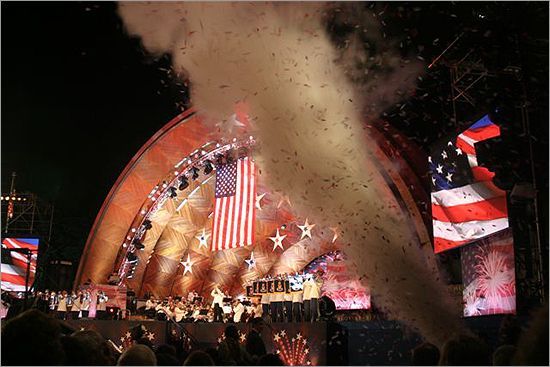 4th of July Fireworks Near Boston 2020
<A>
Acton, Nara Park, 25 Ledge Rock Way, 9:30 PM
Agawam, Picnic Grove - 1623 Main Street, 9:30 PM
Amesbury, Woodsom Farm, 223 Lions Mouth Road , 9:30 PM
Amherst, McGuirk Stadium at UMASS Amherst, 9:30 PM
<B>
Barnstable, Aselton Park, Bismore Park, and Veteran's Park Beach, 9:00 PM
Beverly, West Beach in Beverly Farms - 121 West Road, 9:00 PM (Raindate: 7/5/2020)
Boston, Hatch Shell on the Esplanade, 10:30 PM
Bridgewater, Legion Field - 200 South Street, 9:30 PM
Brockton, Brockton Fairgrounds, 10:30 PM
<C>
Canton, Irish Cultural Center, 9:15 PM (Raindate: 7/5/2020)
<E>
Edgartown, Edgartown Harbor, Oak Bluffs Ave., 9:15 PM
<F>
Fall River, Barge in the Taunton River - 1338 Davol Street, 9:30 PM
Falmouth, Falmouth Heights Beach - Gifford Street, 9:15 PM
<H>
Hampton Beach, NH, Hampton Beach, 9:30 PM
Hyannis, Lewis Beach (View along Hyannis Harbor & West Yarmouth beaches, 9:00 PM
<L>
Lincoln, Codman Field, Ballfield Road, 9:15 PM
Lowell , Pedestrian Walkway - Aiken Street, 9:00 PM (Raindate: 7/5/2020)
<M>
Marblehead, Marblehead Harbor (Illuminiation / Fireworks), 9:00 / 9:15PM
Mashpee, Golf Course, 20 Red Brook Road, 9:30 PM
Millbury, Lot behind True Value - Howe Avenue, 9:45 PM (Raindate: 7/5/2020)
<N>
Nahant, Bailey's Hill Park, Bass Point Road, 9:00 PM (Raindate: N/A)
New Bedford, Downtown New Bedford/State Pier, 9:00 PM
Newton, Albemarle Field / Halloran Sports Complex, 9:30 PM
North Adams, Joe Wolfe Field, 9:30 PM
<P>
Pittsfield, Pittsfield Cemetery Property, 203 Wahconah St., Post Game 9:00pm - 11:00PM (Raindate: 7/5/2020)
Plymouth, at Plymouth Waterfront, 9:15 PM
Provincetown, MacMillan Pier - 24 Macmillan Pier at Provincetown Harbor, 9:00 PM (Raindate: 7/5/2020)
<S>
Salem, Barge off Derby Wharf - Winter Island, 9:15 PM
Sandwich, Old Town Cemetary - Grove Street, 10:00 PM (Raindate: 7/5/2020)
Springfield, Track at Blunt Park, 9:30 PM (Raindate: 7/5/2020)
<W>
Wakefield, Lake Quannapowitt - End of Beacon Street, 9:15 PM
Waltham, Leary Field, 19 Athletic Field Road, 9:00 PM (Raindate: 7/5/2020)
Winthrop, Norcross Point, 9:00 PM (Raindate: 7/5/2020)
If you know of a display that is not shown here - let us know! Be safe! And enjoy the spectacular fireworks displays Massachusetts.
Find more Fireworks Displays in MA near you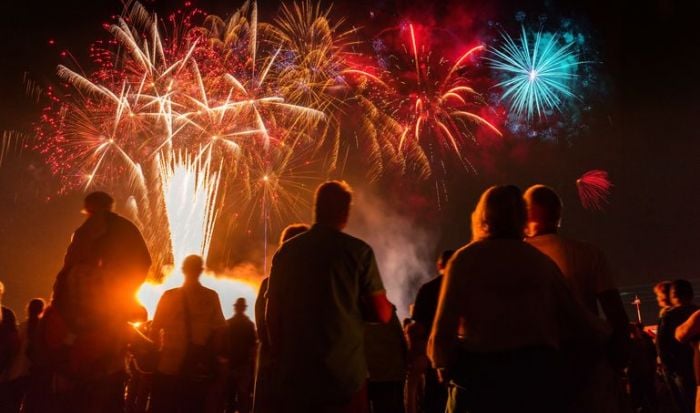 Boston Fireworks Insider Tips
On July 3, the Boston Pops plays a dress rehearsal concert (no fireworks - just music). This is a great way to avoid the big crowds and the late night on the 4th and still enjoy the excitement of the patriotic concert.
MBTA bus, T, & commuter rail fares will not be collected from 10:00pm to end of service on Mon. July 4.
No alcoholic beverages are allowed on any DCR property, which includes the Esplanade, Memorial Drive, Cambridge, or on waterways. Grills, hibachis or other fires are prohibited. No overnight camping. Spectators can stake their claim in the morning on July 4.


Specialty Viewing Options
There are many place to watch fireworks, including some special spots where you can pay for premium viewing.
Community Boating & Sailing 'Sailabration' - Enjoy the 4th of July on the docks of Community Boating this year. Avoid the commotion of the masses on the Esplanade, get unobstructed riverside views, bathrooms, refreshments, and a spirit of camaraderie with the sounds of the Boston POPS piped in.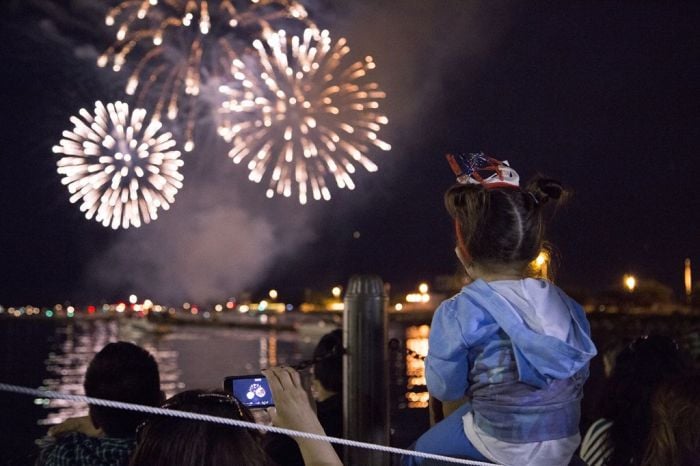 Boat Excursions - You can find a wide variety of boat cruises to book for July 4th viewing. This family-friendly fireworks cruise runs out of Plymouth and coincides with the annual Plymouth Fireworks display on the 4th.
Looking for more ideas on fun things to do with kids in Boston? We've put together some great guides for places to visit during the summer time in Boston, with specific highlights for June events, July events and August events.