22 Fun Things to do In Boston for Young Adults
Unique Boston Experiences to Share with Friends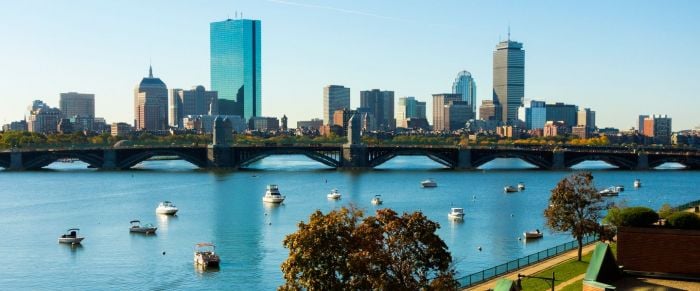 Fun things to do in Boston for young adults. Whether you are celebrating the end of a work week or the end of midterm exams, weekends are brimming with promise for Boston's 20-something crowd. All over the city there are outdoor bars and activities popular among young professionals to enjoy. Here's a list of some of our favorite spots.
22 Fun Things to do In Boston during the Summer
Seasons matter in Boston, and you can find super fun things to do outside during the summer months, because outdoor weather is fleeting. We've compiled some of our favorites for you here:
1. Mingle at Trillium Beer Garden
Outdoor beer gardens have taken the city by storm lately, and Trillium Beer Garden on the Rose Kennedy Greenway is a super cool place to mingle with other young professionals in the city. Happy hours here quite popular and people line up and are very willing to wait awhile to get inside the fences.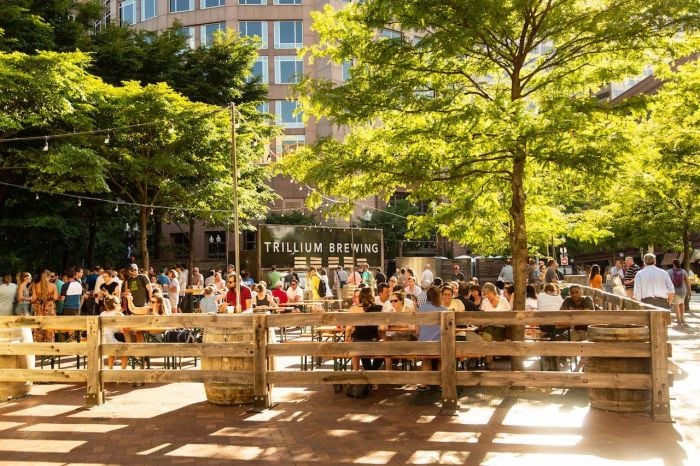 Food Trucks line up right nearby so you can grab a quick bite while you wait. Trillum actually has several locations - the Trillum Restaurant & Brewing Co. is a building tucked back one street off of Seaport Blvd. in Fort Point The venue features a large patio & deck setup, as well as indoor seating for the cooler months. Another year-round, indoor-outdoor Trillium taproom is located in the Fenway.
2. Explore a variety Boston-based Breweries with Boston Brew Tours
If your crew is interested in good beer paired with good eats, you may be up for one of these Boston Brew Tours. Experience the rich history of Boston in an entirely new way through local craft beer! City Brew Tours Boston, otherwise known as Boston Brew Tours, as we explore brings groups of 4 our more on behind-the- scenes tours of craft breweries while tasting local beer and deliciously paired food. You get to visit a variety of locations and the guides at City Brew Tours drive you around to each venue.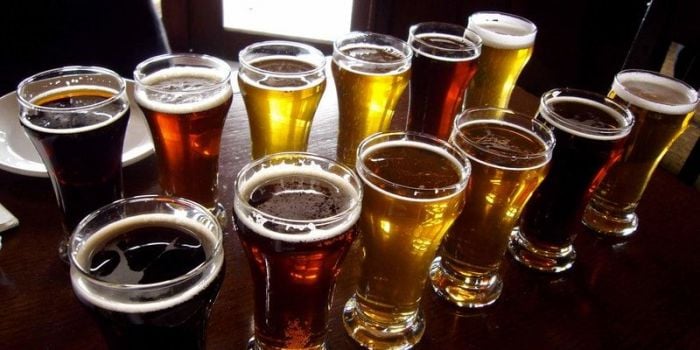 3. Enjoy a Beverage at a new Local Beer Garden
Outdoor beer gardens seem to be the thing lately, and Boston has no shortage of some terrific spots to meet up with friends for a brew.
The Owl's Nest (Charles River Esplanade)
Adjacent to the Charles River, the Esplanade location of Owls Nest Beer Garden is a perfect summer spot to hang after work, relax after a run, or catch up with friends. Seasonally open Wednesday - Sunday, visitors can enjoy got lots of tunes, events, and food trucks, as well as the breezes, and excellent views of the Charles River.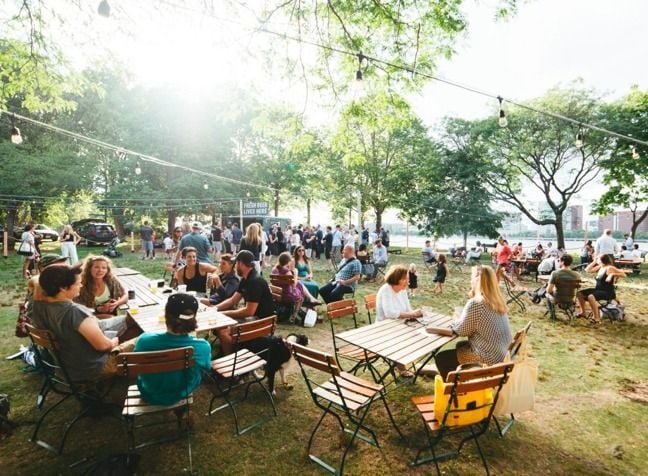 photo courtesy of Owl's Nest Beer Garden


Cisco Brewery Beer Garden (Seaport District)
Head over to the Seaport District and you can enjoy a round at the Cisco Brewery Beer Garden showcasing an extensive portfolio of beers including favorites like Whale's Tale Pale Ale, Grey Lady Wheat Ale, Wandering Haze Hazy IPA and its seasonal Summer Rays Golden Ale, as well as hard ciders, wines, frosé and coolers.
New this year is a menu by local restaurant Rexicana Surf Cantina which will offer Caribbean and Central American cuisine. Rexicana will serve up tacos, corn tortilla chips with freshly made dips, guacamole & salsas.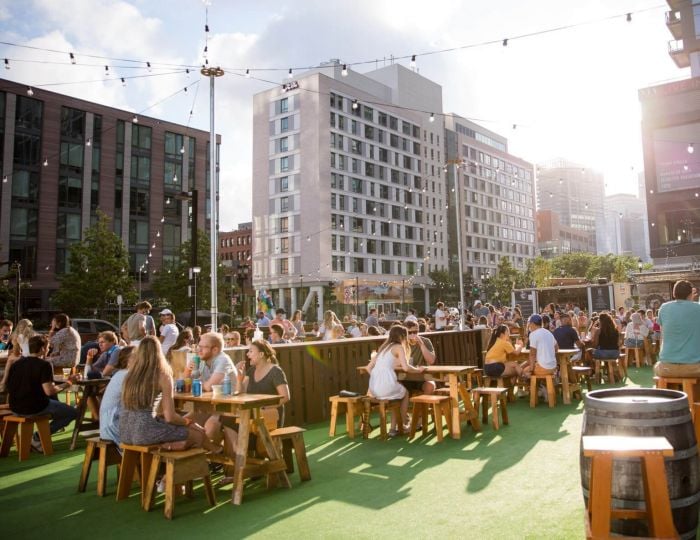 photo courtesy of Cisco Beer Garden
The Anchor (Charlestown)
Finally, you can enjoy some fun outdoor games, harbor views and brews at The Anchor, in Charlestown. The Anchor is an all-ages gathering space that is complemented by live music programming, public art, and backyard games.
Indulge in a finely curated collection of local and international brews, as well as a robust selection of wines, sangria and bubbly. Espresso, coffees, teas, freshly squeezed lemonades are also available for refreshment. Explore more Boston beer gardens here.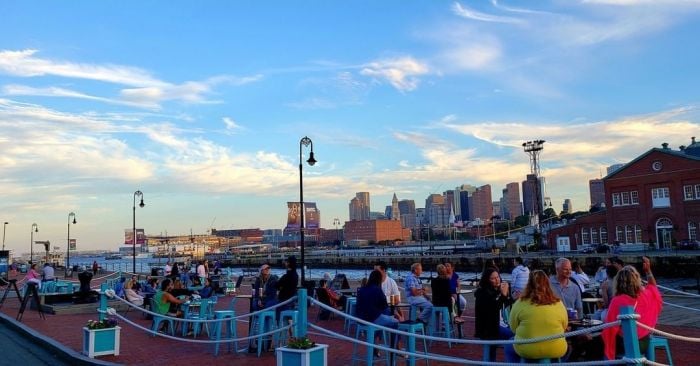 photo courtesy of The Anchor


4. Experience Codzilla: Boston's High Speed Boat Ride
Codzilla is Boston's first and only high-speed thrill boat ride featuring two turbo-charged diesel engines generating 2,800 horsepower and speeds of approximately 40 miles an hour. Get ready for some thrills, laughs and more speed than you ever imagined as you zip across the ocean at up to 40 miles per hour with the wind roaring and the music blaring through a state of the art sound system. (it's loud, and it's fun!)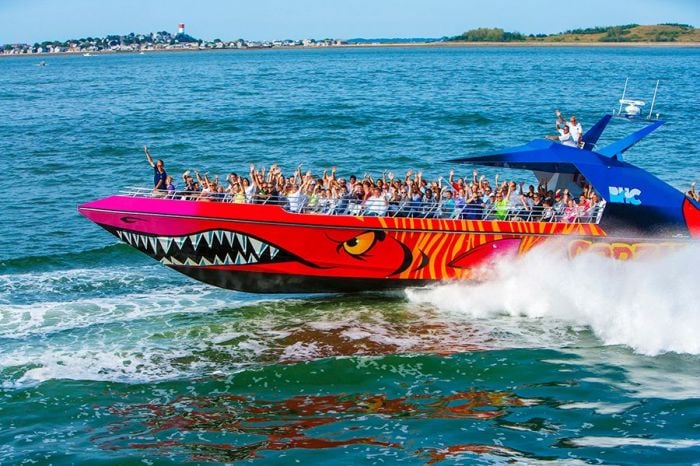 5. Dress for Success and Enjoy an Odyssey Cruise
Take a high-end cruise around Boston harbor with Odyssey Cruises. Enjoy upscale dining, live music entertainment and stunning skyline views. Cruising year-round from Rowes Wharf, Odyssey shows you the most breathtaking views of Downtown Boston and its famous waterfront. Great for dates nights or to get a group of friends together.
Lunch, Brunch, and Dinner Cruise options are all available and are offered throughout the week. Attire ranges from dressy casual to cocktail attire based on the cruise you select. Odyssey Cruises depart from Rowes Wharf near the Boston Harbor Hotel.


6. Take Boston Harbor Cruise and visit a Historic Fort
A great day trip might include taking a ferry ride out to visit one of the scenic Boston Harbor Islands. Ferries depart from Atlantic Wharf with destinations of Spectacle Island or Georges Island and Historic Fort Warren.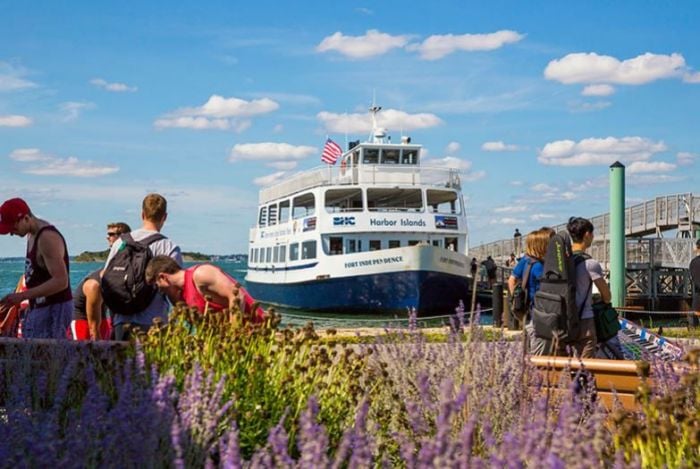 Visit a historic fort, (Fort Independenceat Castle Island) or Fort Warren on Georges Island. Castle Island is actually accessble by car, and features a beautiful walkway (a 2.16 mile loop), big grassy areas for running and playing, a playground, BBQ pits,lots of parking, and a small beach area. Carson Beach is just down the road offering more space to stretch out on.
Fort Warren is only accessble by boat, so you can take a Boston Harbor Ferry out for a visit. Ferry rides are about 50 minutes so it's a terrific day trip. During the summer, lots of fun family-friendly activities take place out here, inlcuding vintage Base Ball games, kite flys, live music and of course, tours of Fort Warren. If you are daring, you may opt to take the "Lady in Black" tour, and hear the tale of Fort Warren's infamous ghost!


7. Boston Harbor Hotel Summer Movies & Concerts
Speaking of the Boston Harbor Hotel, every summer, the hotel hosts a variety of entertainment along the water, including Classic Movies by Moonlight on Summer Fridays, and concerts featuring Summer Pop & Soul Tuesdays, and Rat Pack Wednesdays, and Blues on the Barge Thursdays. There is a large bar / restaurant there that provides ample seating and views. And for the dancing souls, the barge is open for people to get up and dance along to the music.


8. Take a Tour or Catch a Game at Fenway Park
No visit to Boston would be complete without a trip to Fenway Park! Catch a game, or take a tour the home of the Boston Red Sox, including the press box, dugout, field, and more. Tours run daily and leave from the Souvenir Store across Jersey (Yawkey) Way.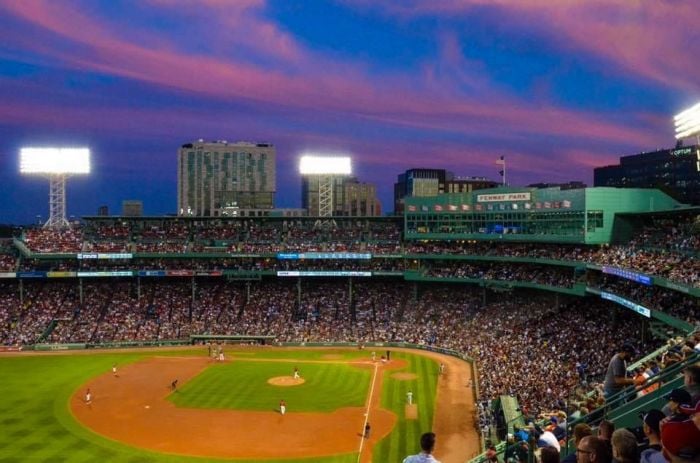 9. MFA Late Nights
MFA Late Nites are a seasonal series of after hours celebrations connecting visitors to art, culture, and community through art, music, performance, food and drink, and an unforgettable night at the Museum. Guests can explore the galleries and engage in art making. There's something for everyone, from dancing and DJs to pop-up performances, intriguing bites, and much more. Advanced tickets to these events are recommended.


10. Third Thursdays at the Isabella Gardner Museum
Soak up the enchanting atmosphere of the Isabella Stewart Gardner Museum at night at Third Thursday celebrations. These lively, social evenings features music, creative collaborators, a cash bar, playful gallery activities, and hands-on art making, not to mention just being in the museum at night, as if you were one of Isabella's guests from long ago. Hungry? Café G will be open for snacks, dinner, and drinks.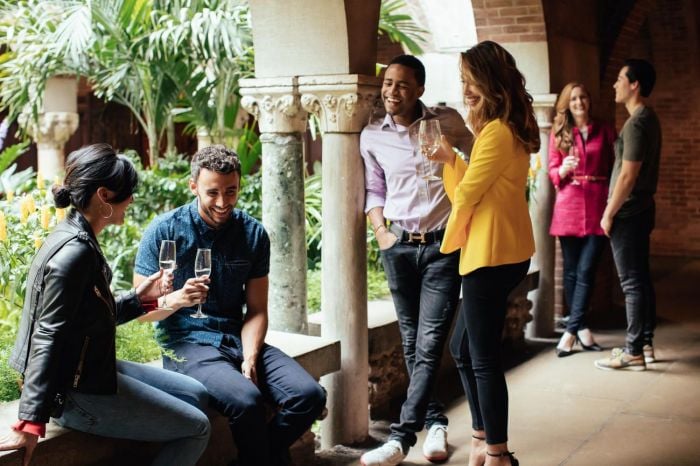 photo courtesy of Isabella Stewart Gardner Museum


11. Boston Summer Outdoor Movies
Grab a chair, a blanket and some snacks you are ready for a great night at the movies under the stars every summer in Boston. A multitude of venues host movies with a variety of movie styles. Check out our guide to outdoor summer movies in Boston for a full list of shows, venues and start times here.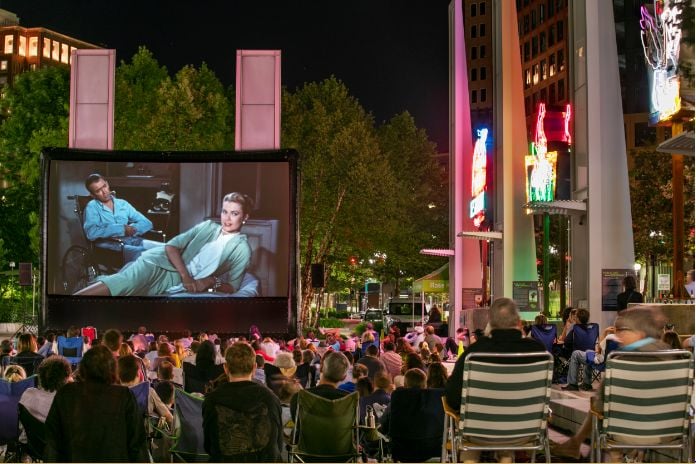 12. Kings Bowling
Kings Bowling first opened its doors in 2002 in the heart of Boston's Back Bay. Each Kings location features upscale, retro-inspired décor and executive-chef designed menus. You can now find Kings locations in the Seaport, and in several suburbs on Boston. With varied entertainment options, (skee-ball, arcade games, air hockey and more), themed nights, and state-of-the-art audio visual equipment, Kings sets itself apart as an unparalleled social scene for all occasions.


13. Open Newbury Street Days
Newbury Street is a fun way to spend an afternoon no matter what, however, over the course of 3 summer Sundays, Newbury Street becomes a pedestrian-only walkway, closing to vehicles allowing people the opportunity to use the full width of the street. During this time, Open Newbury Street become be pedestrian-only from Arlington Street to Mass Avenue. Enjoy shopping, and walking the streets perusing arts vendors along the sidewalks. Some restaurants even put tables outside and visitors can dine al fresco;


14. Climb the Bunker Hill Monument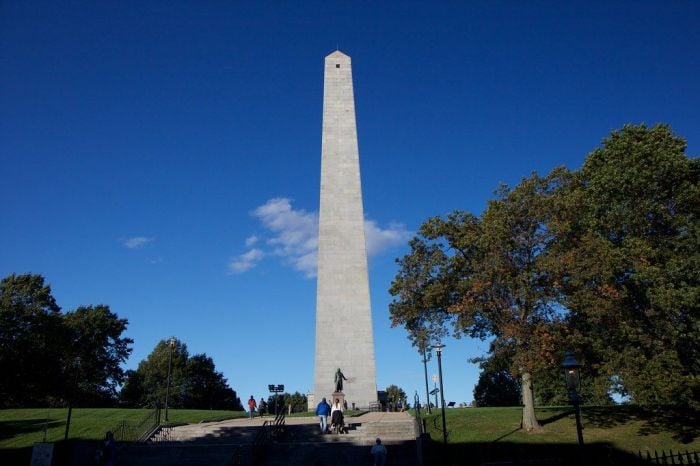 Photo Credit: Brandon Turner
Bunker Hill Monument is located over the Charlestown bridge (just about a mile from TD Garden, with a pretty walk over the bridge to Charlestown). Take the challenge and make the walk. Then, see if you can climb all 294 steps to the top.
The obelisk was built to commemorate the famous Battle of Bunker Hill, and there is only one way up and one way down. The views (and bragging rights) are worth the climb. Be prepared for a cardiovascular workout.
If you you do make it all the way to Bunker Hill Monument, reward yourself with a quick visit to see Old Ironsides. and then take a scenic ferry ride back downtown from Charlestown pier. It's about an 18 minute ride that affords splendid views of the skyline as well as a refreshing breeze. Check out our guide to visiting Charlestown from downtown Boston.


15. Recreation Sundays on Memorial Drive
Every Sunday, from the last Sunday of April to the second Sunday of November, Memorial Drive (Mem Drive to locals), is closed to traffic between Western Avenue and Mount Auburn Street., and open to recreation!
Recreation Sundays are open to all to bring your bikes, scooters, inline skates, running shoes, strollers or walking feet to take advantage of the unique access to this normally busy road with views of the Charles each summer Sunday. When you are done, go grab lunch in Harvard Square.


16. Community Boating & Sailing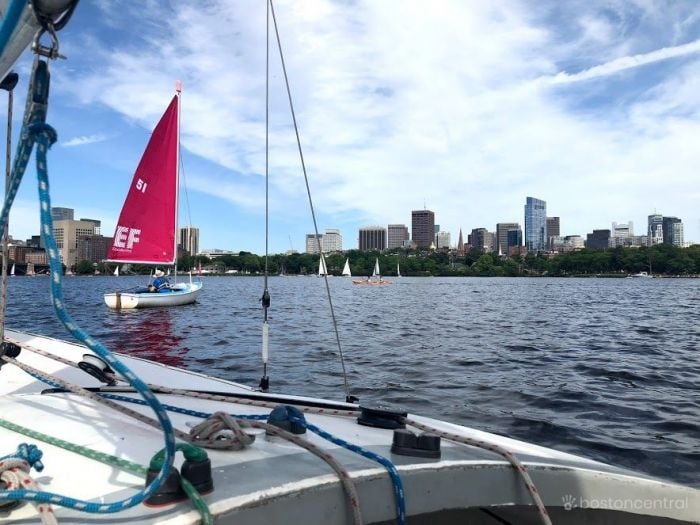 Community Boating and Sailing non-profit organization dedicated to providing sailing and boating opportunities to anyone interested in learning to sail. Visitors can also rent sea kayaks, stand-up paddleboards, and windsurfers for a daily fee. This is a terrific way to spend a summer afternoon on the Charles River.
Boasting a fleet of many types of saiboats, membership entitles one to unlimited use of the boats, free instruction at all levels from beginner to advanced, with guest privileges once a member has passed a skills test.


17. Explore The North End
Boston's 'Little Italy' is known as The North End. It's a neighborhood filled with character, charm and terrific restaurants. You can't go wrong finding a great place to eat here, just walk around and peruse the menus, or follow the delicious aromas, and you are sure to find a winning meal.
Hanover Street is the main artery, but you can find hidden gems on side streets, back alleys and on Ipswich Street. No visit to the North End would be complete with out stopping at either Mike's Pastry or Modern Pastry for a cannoli. Try them both to see which one is your favorite.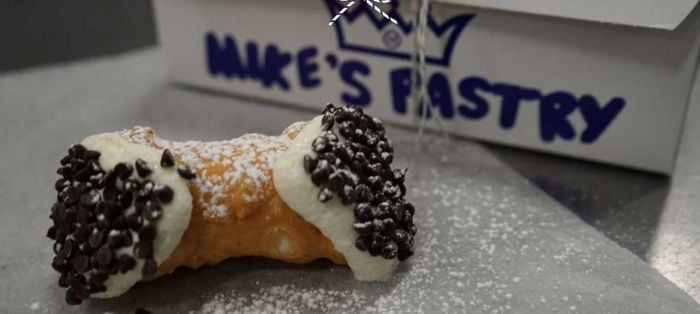 The North End abuts a beautiful park along the Rose Kennedy Greenway that features swinging benches, a wide open lawn & garden, and gentile spray fountains where kids can frolic. It's a popular place to stroll after dinner or to sit and enjoy your box of pastries.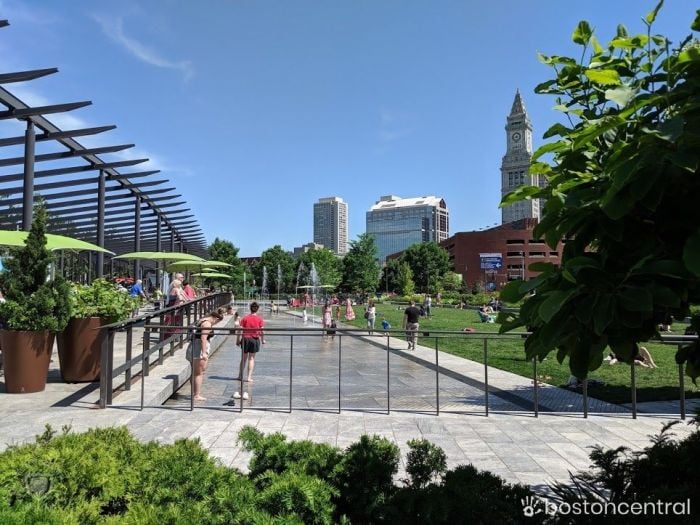 It's also a short walk to the Christopher Columbus Park, a beautiful waterfront venue with benches and restaurants as well as Faneuil Hall and Quincy Market. You could spend an entire day just walking along the Boston Harborwalk and the Greenway, discovering all sorts of fun things to do along the way.


19. Envoy Hotel Rooftop Bar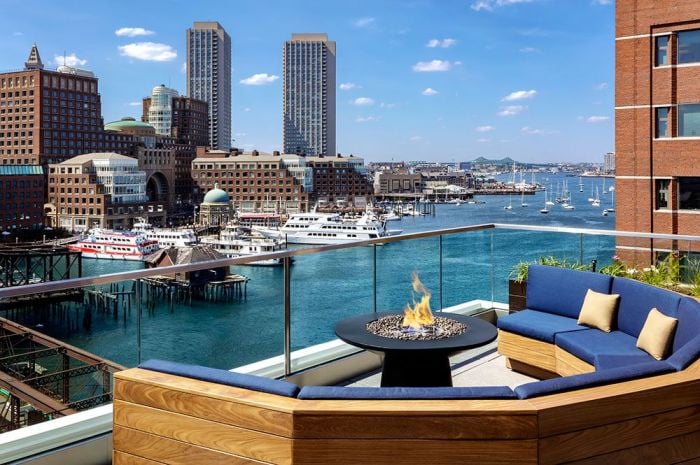 20. Visit the Observation Deck of the Marriott Customs House
The Marriott Boston Customs House (aka "The Boston Clock Tower") is actually one of the city's very first skyscrapers. It was the tallest building in Boston from 1915 to 1965. This iconic 492-foot structure has been a central part of the Boston skyline for over 100 years.
But did you know there is an observation deck at the top? The views are simply amazing! Here's what you need to know about how to get a birds eye view of Boston from the Customs House Observation Deck.
The top of the tower is open & accessible to the public during limited hours. A fenced-in area surrounds the deck allowing visitors a view of the city from all sides.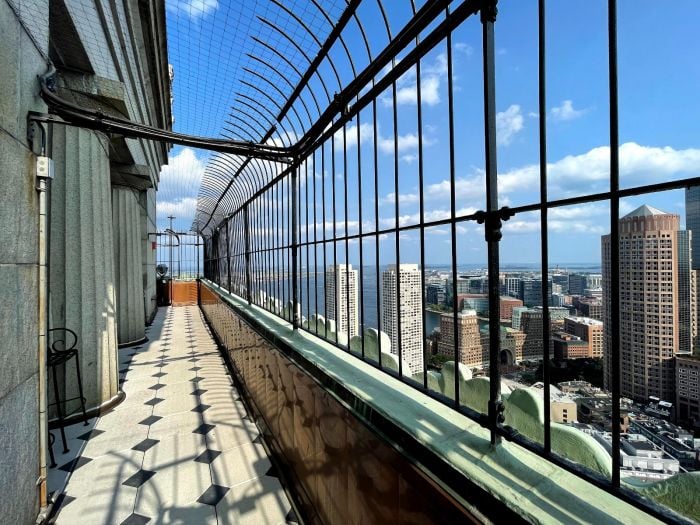 photo credit: BostonCentral
21. The Lawn on D (seasonal)
The Lawn on D is an open space in the Seaport District designed to encourage community engagement with arts, music, lawn games, LED swings, Pickleball, food & beverage, and other original programming throughout summer & fall.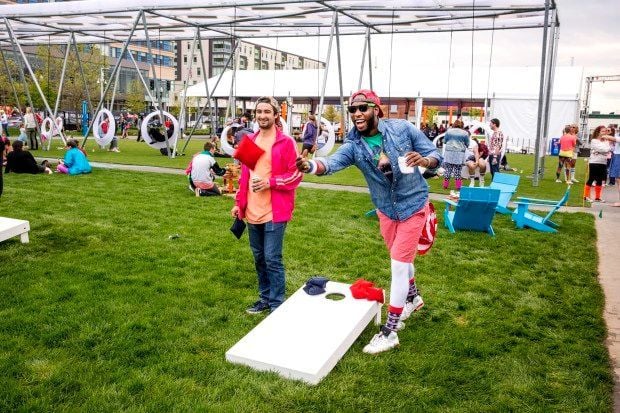 photo courtesy of Signature Boston
22. Summer Fun at Assembly Row - Somerville (seasonal)
Each summer, Assembly Row hosts a full roster of activities and events, including live music, cornhole, yoga along the Mystic, Bar Stars, Food Trucks, Riverfest, and Volo's sports leagues. It's a great way to meet new people along the banks of the Mystic River during the warm weather months.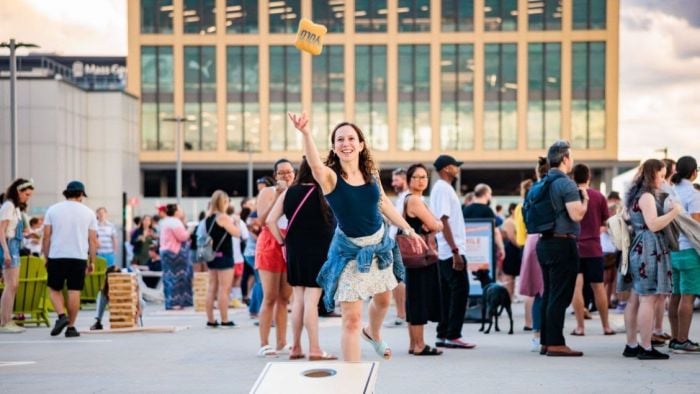 In short, Boston is a terrific walking city that features lots of things to do for all ages. Proximity to large waterfront affords entertainment both on and off shore; plus, the four seasons provide different environments for each activity.
During the winter, you can also find great skiing near Boston just an hour or two away by car or some fun tubing hills just a short drive away. Enjoy it all!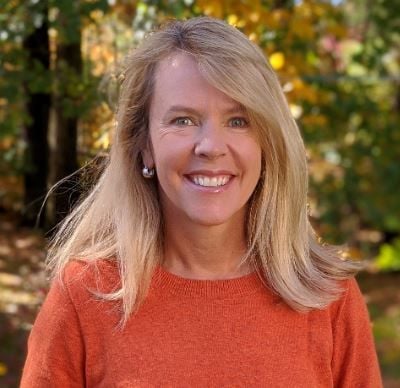 Stacey Sao has been the Managing Director of the family-friendly events and activities website, BostonCentral for over 20 years. She is the proud parent of a Tufts Jumbo, and she continues to enjoy discovering and exploring new places to visit in the Greater Boston area.