June Events in Boston 2024
Things to do in Boston in June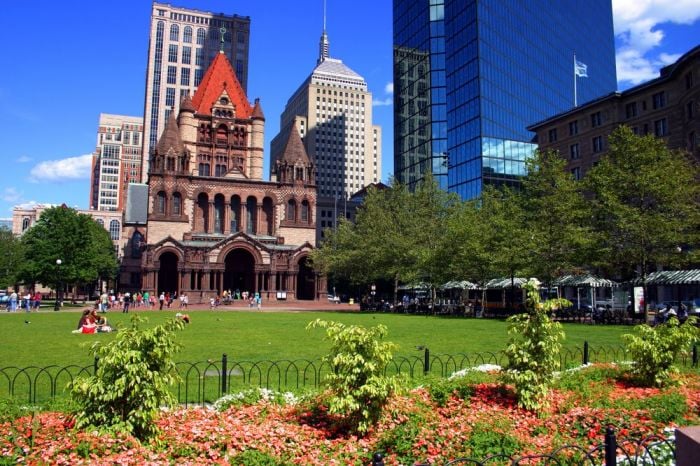 Things to Do in Boston in June 2024
Boston kicks off summer in the city with plenty of fun activities, annual events, exciting shows, and local favorites. Many Boston activities finally move outdoors during June; and Boston beaches are also open for the season. (The water is still cold, but beaches are generally open).
The annual Dragon Boat Festival on the Charles River, Garden Tours in the South End, and weekend artisan markets give you plenty of reasons to enjoy our beautiful summer weather.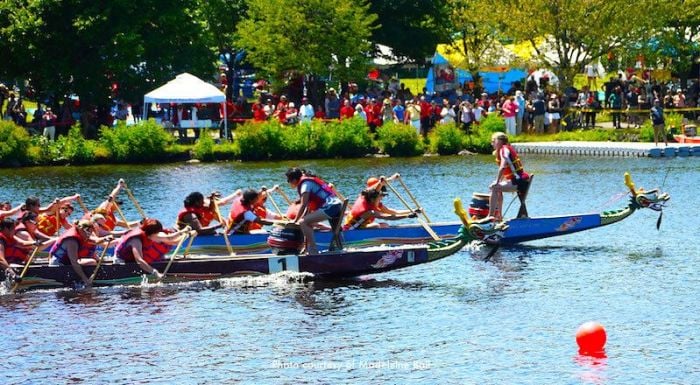 Photo Courtesy of Madeline Ball
Celebrate the sport, history and culture of Chinese Dragon Boat Racing at the Weeks Footbridge on Memorial Drive in Cambridge. Enjoy races on Saturday & a festival on Sunday with arts, crafts, food, martial arts demonstrations, and music.
Every Summer The Highland Street Foundation offers an opportunity to visit popular venues with their popular August Adventures Program (formerly Free Fun Fridays). What a great way to access many of the wonderful places in Greater Boston.
Bunker Hill Day & Parade
Bunker Hill Day is one of Boston's Official State Holidays and is observed annually on June 17. Bunker Hill Day marks the anniversary of the Battle of Bunker Hill, also known as the Battle of Breed's Hill. This battle, which occurred on June 17, 1775, was part of the Siege of Boston, which took place during the American Revolutionary War.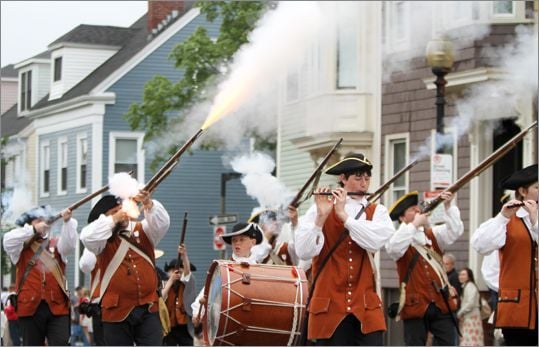 Bunker Hill Day Parade - A tradition since 1786, the Bunker Hill Day Parade commemorates the Battle of Bunker Hill which was fought on Breed's Hill on June 17, 1775 in Charlestown, Massachusetts. The Battle of Bunker Hill was the first major battle of the American Revolution.
Quicny Flag Day Celebration Parade & Fireworks
The annual Flag Day parade in Quincy. Marching bands, drum and bugle corps, military bands, color guards, fancy cars and antique vehicles - this parade's got it all! And let's not forget the flag - thousands of them, being waved by the marching youngsters.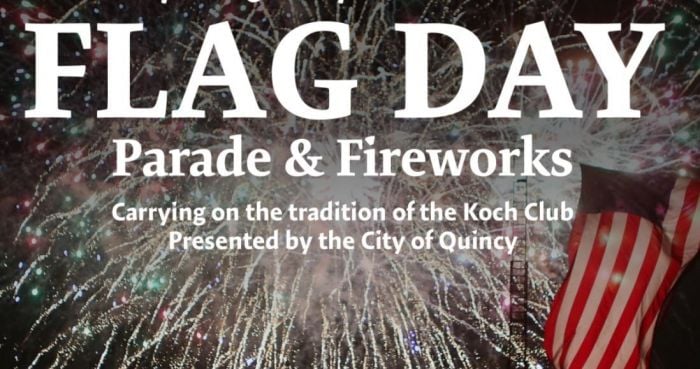 City of Cambridge Dance Party
Join thousands of Cambridge residents and visitors who will gather in front of Cambridge City Hall for this annual dance extravaganza. Celebrate summer with an evening of community and music.
The annual Cambridge Dance Party with DJ spun music is a special opportunity for the entire Cambridge community to celebrate summer.
After dark, colorful lights will be launched, adding to the magic of the evening.

Fenway Park
Take in a Red Sox game at one of America's most beloved ballparks. From the iconic Green Monster, pesky's pole, belting out Sweet Caroline in the 7th inning stretch, and the right field manual scoreboard, it's always a great day at Fenway.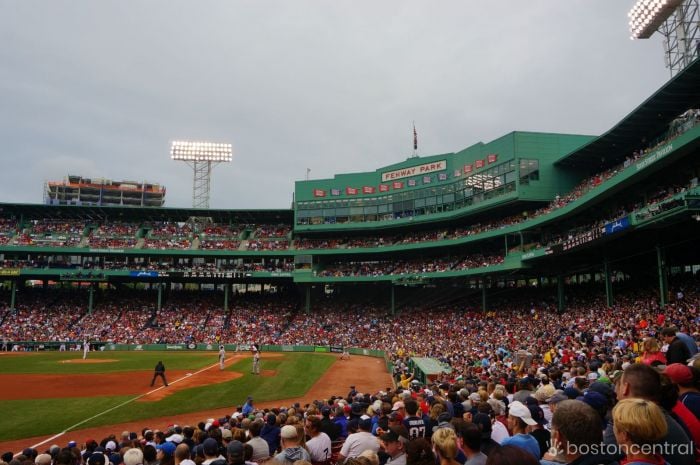 Boston Waterfront
Take advantage of Boston's waterfront location all summer long by relaxing at the Charles River Festival or cruising the Harbor on a water taxi or a Boston Harbor Cruise. A visit to the Boston Harbor Islands is a great way to kick off the summer months. Cruises leave from Atlantic Wharf with fun destinations like Georges and Spectacle Island daily.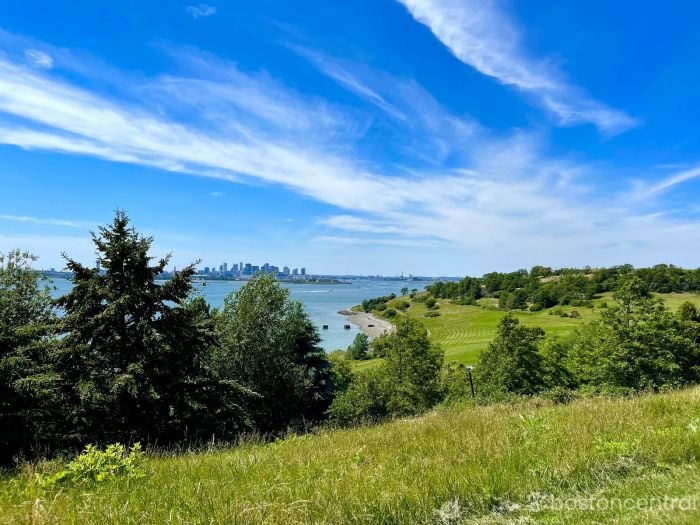 Summer in the City at The Boston Harbor Hotel
Enjoy live music, dancing, and movies by moonlight at the Boston Harbor Hotel. Each night includes a specific genre of music, and then once a week, a fun lineup of movies awaits visitors. The entertainment is free, and visitors can order food and drinks at the outdoor restaurant and bar at the hotel.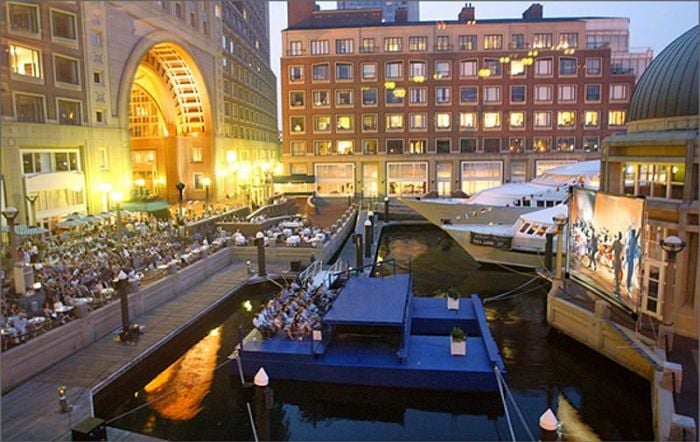 ParkArts Watercolor Workshops, Concerts and Summer Movies
Budding artists ages nine and up are invited to join the Boston Parks and Recreation Department for its popular summer series of ParkARTS Watercolor Painting Workshops during the month of June at five Boston parks. The series of free workshops is just one of the many offerings of the annual ParkARTS program sponsored by Holly Bruce.
In addition to the painting workshops, DCR also hosts a series of free summer movies under ths stars in Boston area parks, along with a slew of terrific summer concerts that are sure to get your toes a tappin' and put a smile on your face.
Piers Park, East Boston
East Boston's Piers Park features amazing views of the Boston waterfront from across the Harbor, a wide tree lined pier with walking paths, benches and a pavilion.
A large playground includes lots of blue structures to climb and play on, and there is plenty of open green space to play catch, spread out a blanket and enjoy the view. The breezes here are divine - a perfect spot to stroll, sit, read, and chat.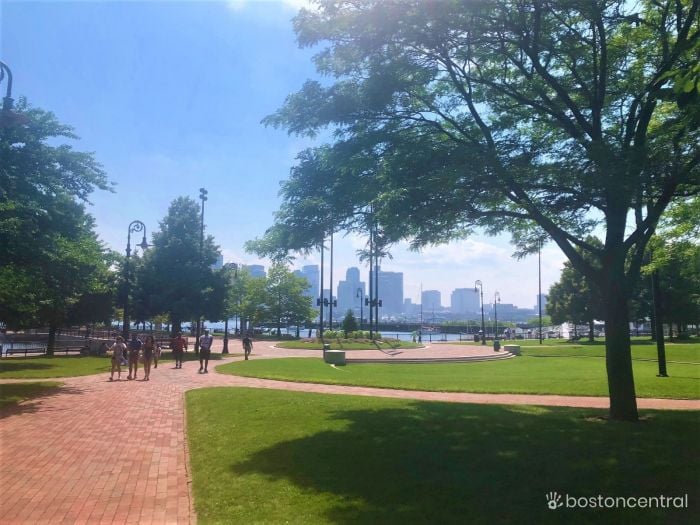 Boston Harbor Islands
From whale watching cruises, harbor sightseeing tours, and fast ferries to functions, private charters, and entertainment, you'll find it all aboard Boston Harbor Cruises. In fact, there are a number of cool ways that you can tour Boston from a unique perspective.
Tours can range from a short ferry ride across the harbor to Charlestown; a 1/2 hour ride to Spectacle Island, an hour ride out to George's Island, or a 3 hour whale watch tour.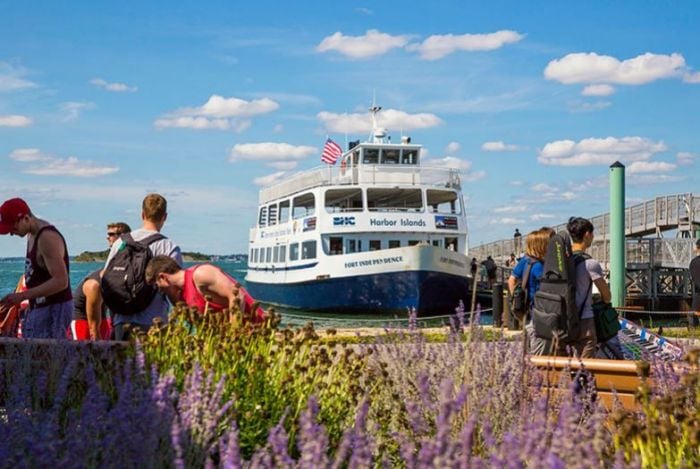 Photo Courtesy of Boston Harbor Cruises
June Day Parade
Each year in early June, the largest Military Parade on the East Coast takes place from the Boston Common. June Day Parade participants include National Guard, USS Constitution, US Navy, Ancient & Honorable Artillery, Washington Light Infantry, other historical organizations. An annual tradition since 1638.
Jimmy Fund Scooper Bowl
Jimmy Fund Scooper Bowl - Join the fun at the Scooper Bowl, the nation's largest all-you-can-eat ice cream festival and the unofficial kick-off of summer in Boston. Traditionally, this event always took place at City Hall Plaza, however, in 2022 the event will take place at Patriot Place. Many Boston Festivals take place in the summer months - as it's the very best time to be outdoors here.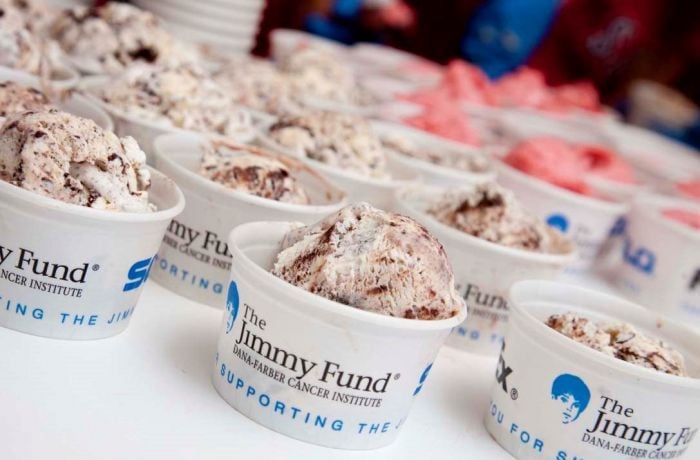 Photo courtesy of Jimmy Fun Scooper Bowl
Boston Fireworks
Find out where they'll be shooting fireworks off nearest you in MA for 2019 in our guide to Boston Fireworks by Date . Different Boston area towns, different dates & times - you are sure to find a display to fit your schedule and your location. Happy fourth!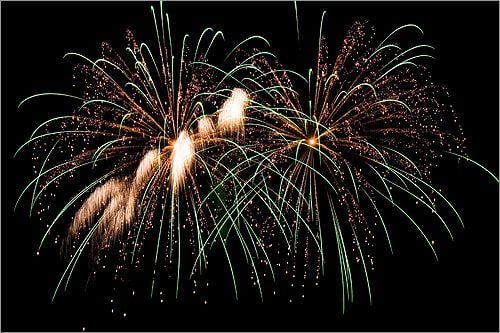 Find out where they'll be shooting fireworks near you by town in 2019 listed by town. Different Boston area towns, different dates & times - you are sure to find a display to fit your schedule and your location. Happy fourth!
Of course, the biggest event is the Boston 4th of July Spectacular at the Hatch Shell, which features the historic concert by the Boston Pops as well as a most amazing Fireworks Display over the Charles River. This display can be viewed from both Boston and Cambridge points along the river.
Beacon Hill Art Walk
Local fine artists exhibit original artwork in the private gardens and courtyards of Beacon Hill's North Slope at the Beacon Hill Art Walk. This annual event includes free entertainment from classical musicians throughout the day.
Summer Outdoor Movies
Catch a movie under the stars! Many cities and towns feature summer movie nights, including the city of Boston. Peruse our guide to Boston Outdoor Movies this Summer for a fun way to spend a hot summer evening with friends and family.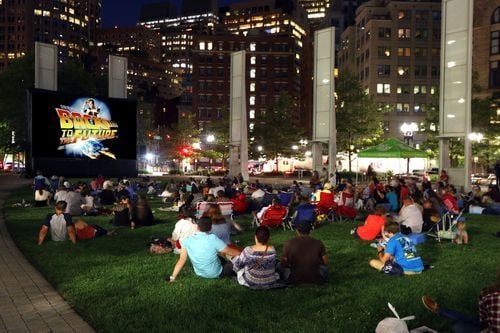 Most movies are family friendly, and we've got time, venue, movie and ratings information for you.
St. Peter's Fiesta
About 45 minutes north of Boston, St. Peter's Fiesta is a fun outing in the seaside town of Gloucester that takes place at the end of June. This time-honored festival honors the patron saint of the fisherman St. Peter. Visitors can enjoy concerts, parades, amusement rides, and of course, the famous 'Greasy Pole Contest'.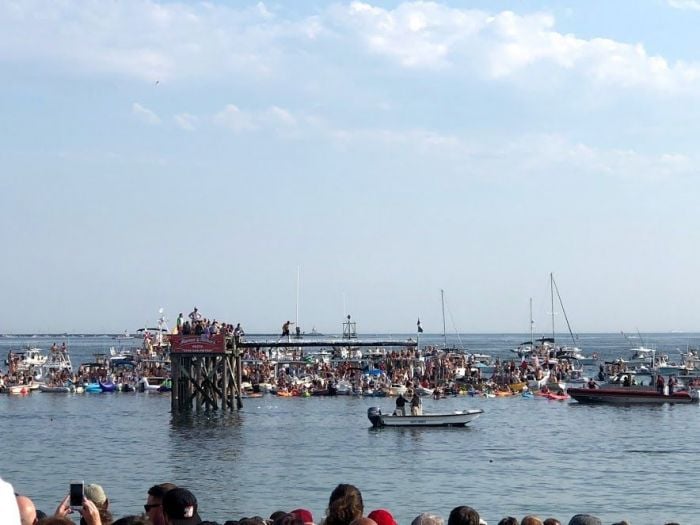 Find Fun Things to Do on our events calendar as Summer Begins in Boston. And of course, you can find all sorts of ideas for Boston Summer Camps in our camps guide as well.
Many venue also host open houses on certain holidays, so you can always stay in-the-know about holiday happenings in Massachusetts in our helpful guide to family fun.
Find more things to do in Boston and Beaches near Boston in our handy guides,. You can stay in-the-know about family-friendly events in Boston all year round by subscribing to our free weekly events newsletter!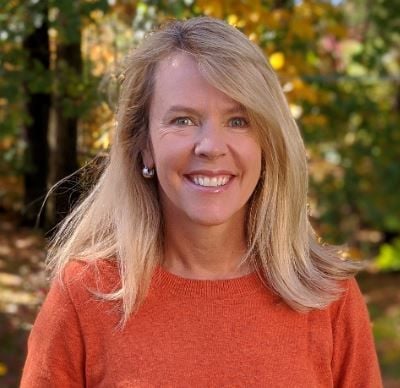 Stacey Sao has been the Managing Director of the family-friendly events and activities website, BostonCentral for over 20 years. She continues to enjoy discovering & exploring new places to visit in the Greater Boston area.