October Events in Boston
What to do in Boston in October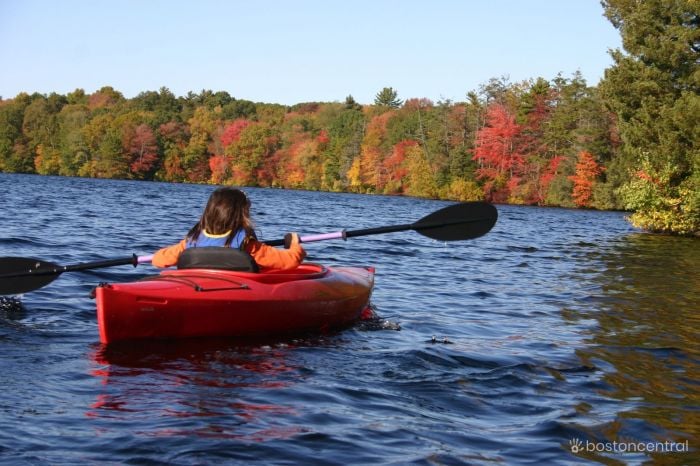 Things to Do in Boston in October 2019
Soak in the beautiful weather beneath the October skies of Boston. October means Halloween and with its many historic graveyards, ghost stories, not to mention of pumpkins from the surrounding New England farms & orchards, Boston is a great place for Halloween, with celebrations and special events going on all month.
Try the famous Ghosts and Gravestones tours, local Jack o' Lantern Spectaculars, Guided Tours, Farm Events and if you have time, a day trip to Salem by car or train to visit the witch capital of the world. Salem's Haunted Happenings include a month of exciting Halloween-inspired events. Here's a roundup of some our favorite activities taking place this month in and around Boston!
Enjoy the day at the Head of the Charles Regatta and experience one of the world's largest rowing events. Watch rowing teams compete from all over the country and take in the breathtaking sights of autumn along the banks of the Charles River in Cambridge. You'll find the best viewing areas for the event on Memorial Drive between JFK Street and BU Boathouse.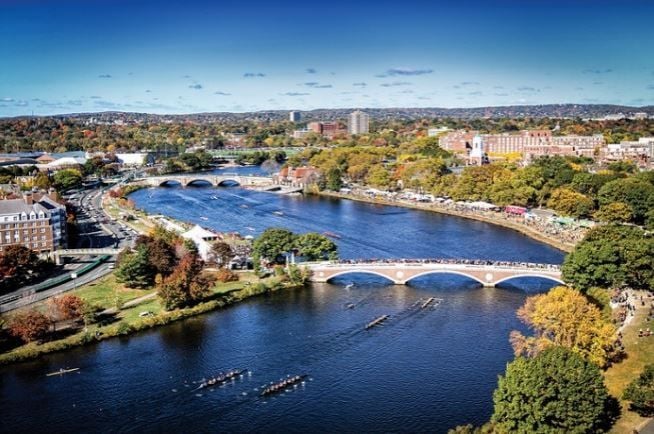 Enjoy the festivities at Illuminus, the free nighttime festival where Boston's performers, artists and designers come together to show off their brilliant works.
March on over to Boston's spectacular Boston Columbus Day Parade! The iconic parade features an eclectic mix of marching brass bands, military units and Colonial militias, Italian-Boston organizations, Duck Boat floats, politicians, other entertainers, and even vintage cars!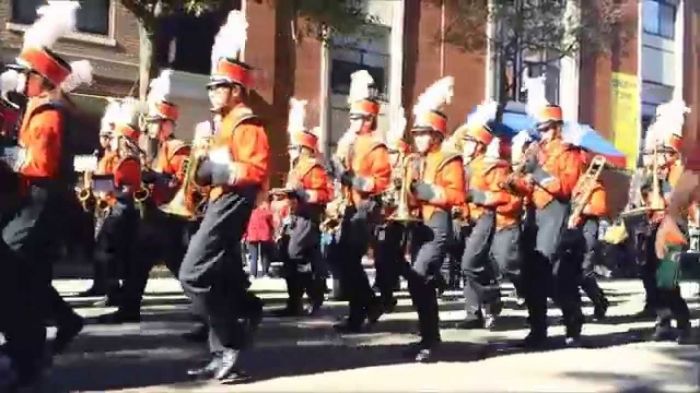 Take in a game at one of America's most beloved ballparks, Fenway Park and cheer the Red Sox on to victory! From the quintessential Green Monster, pesky's pole, belting out Sweet Caroline in the 7th inning stretch, to the right field manual scoreboard, it is always a great day at Fenway.
Grab a foam finger and cheer on the New England Patriots at Gillette Stadium!
As the leaves start to transform into the picturesque hues of gold and crimson, New England truly puts its best foot forward. Check out some of our favorite Great Spots to View Fall Foliage and discover the splendor of the trees. Be sure to bring your camera along, as the breathtaking Fall foliage provides an unmatched backdrop for photographs.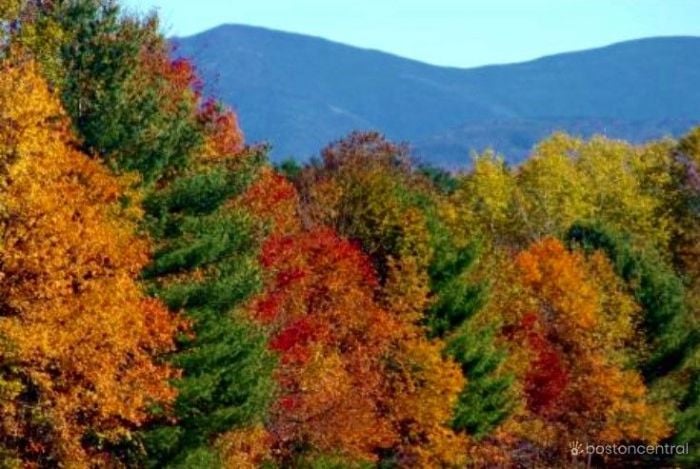 Apple Picking, Hay Rides and Pick Your Own Farms
Head to local farm for pick-your-own variety of fun and deliciousness. Apples raspberries, peaches, pears and more, whatever happens to be in season. Visit their on site farm markets for specialty items and baked goods to satisfy your farm fresh cravings.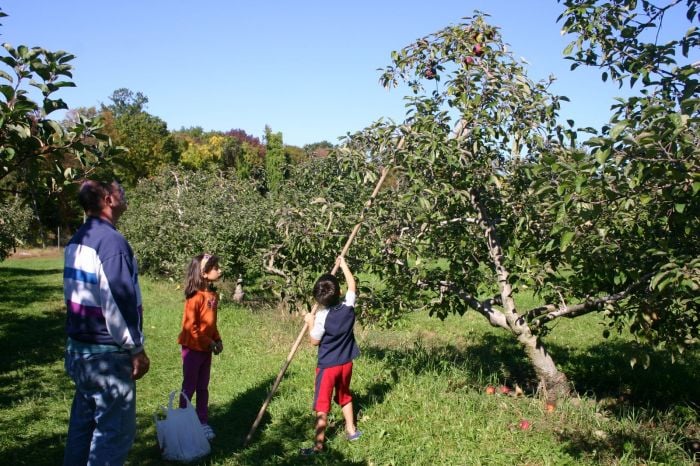 Introducing your family to gardening through pick-you-own farm locations is a great way to get everyone in touch with nature and to value our locally grown foods. Check out some of these great local farms which also feature playgrounds and this list of must-visit corn mazes for continued family fun.
Nothing says Fall like pumpkin picking with the family! Whether you want to carve, paint, display or even eat pumpkins this Fall, there is no shortage of patches to pick from and more picturesque New England landscapes than in the Boston area.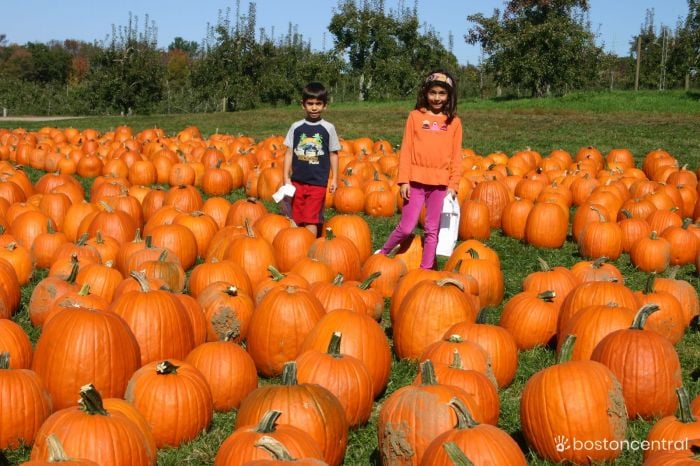 Get your spooky on with the Ghosts & Gravestones Tour. You'll be guided by a ghoulish band of the undead and a roguish gravedigger as you ride the Trolley of Terror that travels back in time as you relive grisly murders, heinous torcherings and cold-blooded executions like the ones that took place on the Boston Common.
Don't miss the Jack o' Lantern Spectacular at Roger Williams Zoo this October! Filled with "gourdly" grandeur the zoo is illuminated with thousands of festive pumpkins that are carved with impressive artistry and creativity for viewers to marvel at.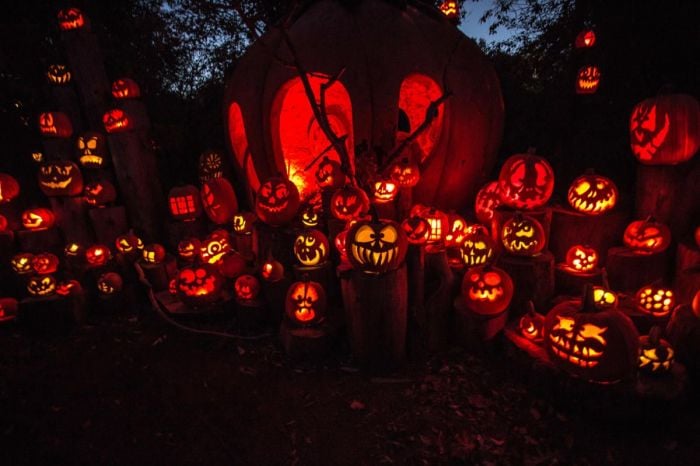 Photo courtesy of Providence Warwick Convention & Visitors Bureau
Carve out some time to visit the Franklin Park Zoo for this year's Jack o' Lantern Journey. As a visitor, you'll be enamored with displays more than 5,000 hand-carved glowing jack o' lanterns over the span of a half mile trail at this seasonal attraction. The family friendly event features live pumpkin carving demonstrations, a pumpkin patch, fall food and beverages, and other fun interactive experiences for the whole family to enjoy!
Celebrate Halloween at The Great Pumpkin Fest at the Ecotarium! This family-friendly event gives you the opportunity to wander the EcoTarium grounds to see striking pumpkin displays of dinosaurs, safari animals and more.
Head to the bewitching seaport of Salem, Massachusetts and get your spirits humming at Haunted Happenings, America's Halloween Festival. Nobody celebrates Halloween quite like Salem in the month of October. It's a fantastic place to see some amazing costumes, parades, and enjoy special events.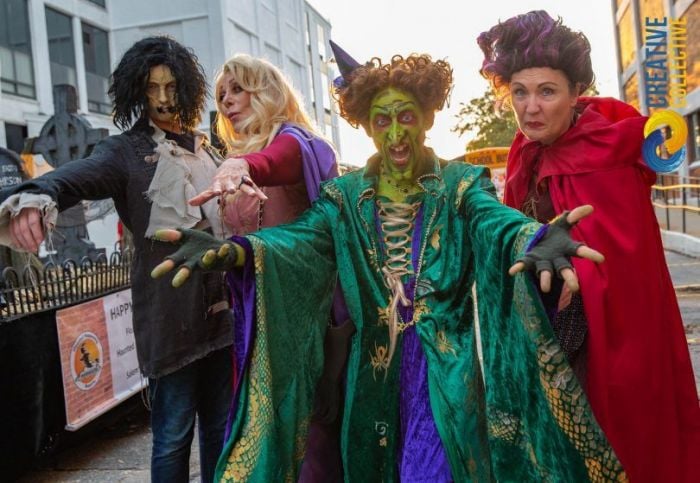 Take a Guided Tour
With the crisp and clear days of October ahead of you, it's the perfect time to take full advantage of the outdoors and historic Boston with a guided tour. The tours on our list are sure to please your senses, gain some knowledge and in some cases even tantalize your tastebuds!
You won't find a sweeter way to spend the day in Boston than on a Boston Chocolate Tour. A chocolate tour means exactly that with the addition sweet treat of chocolate samples along the way! The only thing that sweetens the deal even more is that there are several tours to choose from in a variety of neighborhoods!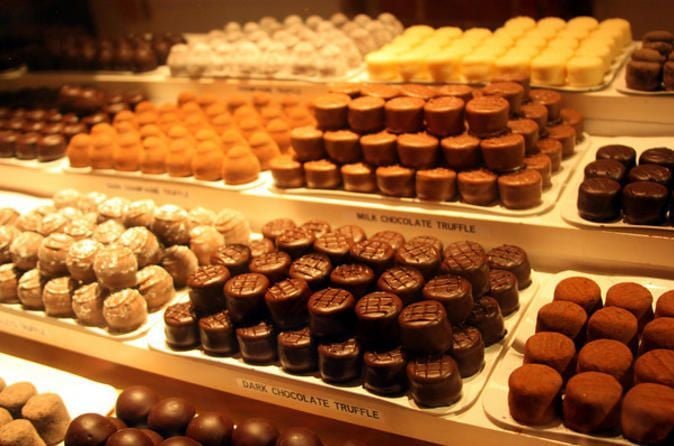 Join in on a Boston Segway Tour, Boston's most sought-out attractions in touring the city, leading the way with a premier service that shows guests the city of Boston in a way like never before. See the city in a short amount of time - while learning Boston's history, creating fun memories, and best of all... while riding your own personal Segway PT!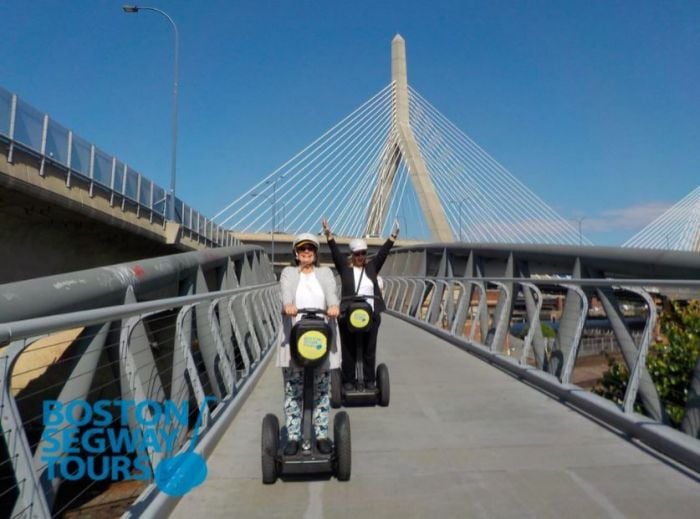 Photo courtesy of Boston Segway Tours
Step right up onto the field and explore behind the scenes on a Fenway Park Tour! Learn lots of fascinating facts about the Red Sox and their history and the stories from years past. Experience everything Red Sox on this very popular Boston Tour.
Take an unforgettable 90 minute walk through history as you follow the 2.5 miles of Boston's Freedom Trail via a walking tour. Follow the famous red brick path to 16 historic sites through Boston's most historically well known neighborhoods and dive into Boston's rich history and America's path toward liberty.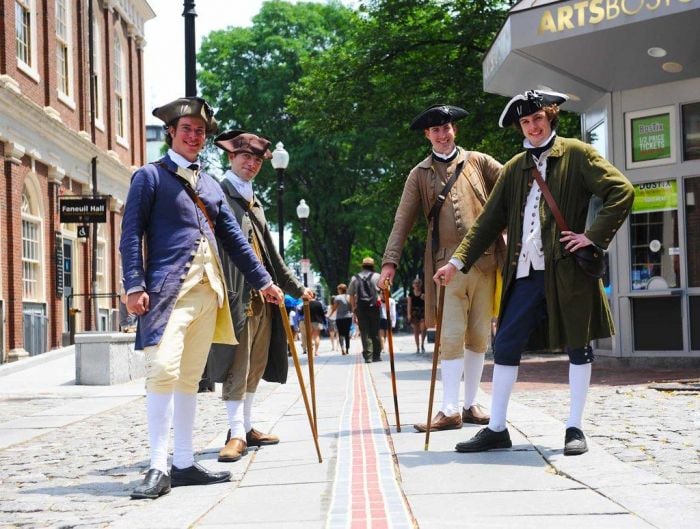 Finally, you should explore the North End, Boston's oldest neighborhood settled in 1630 on the Boston Pizza Tour. Italian is still spoken in the quaint, cobblestone streets of this historic area. Enjoy three amazing slices of Boston's best pizza, and view five historical sites along Boston's Freedom Trail.
Find more things to do next month in our November events in Boston guide. And for a daily view of what's going on in Boston - visit our Boston Events Calendar any time of the year.