November Events in Boston
What to do in Boston in November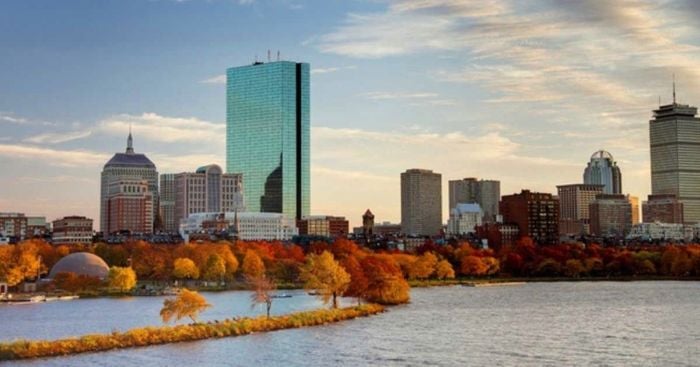 November Events in Boston 2023
November in Boston is filled with a wide variety of activities and events as the Autumn season transitions to the holiday season.
From fairs to tree lightings to outdoor sporting adventures and more, there is plenty to keep your spirits warm in Boston during the chilly month of November! Check out our robust list of things to do in Boston that are sure to stomp out those winter blues!
Wave your flags and wear your red white and blue at the Boston Veterans Day Parade! Celebrate the holiday that marks the anniversary of the historic November 11, 1918 signing of the Armistice Agreement to end the fighting during World War I.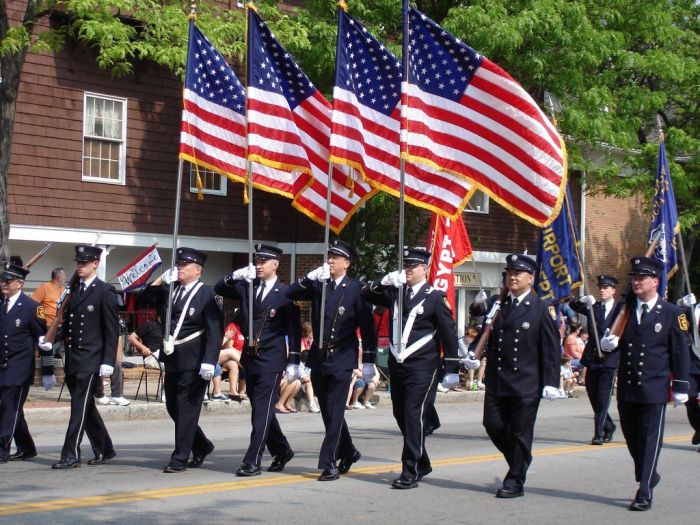 Open a book at the Boston International Antiquarian Book Fair, one of the largest rare book fairs in the country! The Book Fair hosts more than 120 dealers from around the world that rendezvous every fall at the Hynes Convention Center in Boston's Back Bay to display their latest acquisitions to collectors.
Celebrate Thanksgiving in style at the annual America's Hometown Thanksgiving Parade Celebration. This fun weekend of festivities has become a beloved holiday traditions well as an important link to our nation's history and heritage.
For over 20 years, hundreds of thousands of people from all walks of life have traveled to the historic Plymouth Harbor and Waterfront to experience a bounty of authentic Americana.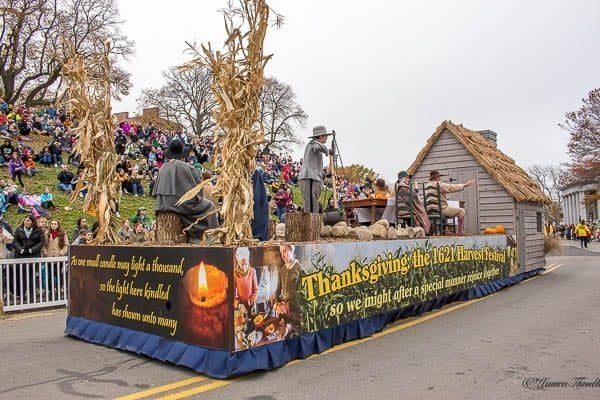 Photo Courtesy of America's Hometown Thanksgiving
The parade is ranked the #1 Thanksgiving parade in the nation by AOL. It features beautifully decorated floats, nationally recognized Drum and Bugle Corps, re-enactment units from every period of American history and military marching units.
The National Historic Landmark Fenway Studios building opens its doors to the public and hosts an exhibition which showcases where more than 20 artists display and discuss their works. Check back on their website for more details of their Fall Open Studios Event!
Sharpen your ice skates and go Ice Skating! Nothing welcomes winter and the holiday season like an excursion at an outdoor ice skating rink! Boston has a few to offer throughout the winter with the Frog Pond on Boston Common Is a skating fan favorite.
Take home a masterpiece of your very own at the big Annual Art Sale at The School of the Museum of Fine Arts at Tufts. Art collectors and those who simply love art are sure to discover incredibly appealing works of art available for purchase! Visit often throughout the week, as the displayed art will be rotated with new art as pieces are sold.
November is a great month to attend professional sporting events in Boston! Veteran fans or first timers at professional games are sure to feel the thrill of a Boston Celtics or a Boston Bruins game. Grab your favorite jersey and foam finger and get ready for a fun night the whole family can enjoy!
Gear up for your Thanksgiving Feast and get your fitness on at one of the many Turkey Trot Fun Runs hosted in the Boston area! Many of these fun races are family friendly and a great way to start a healthy tradition before the big feast.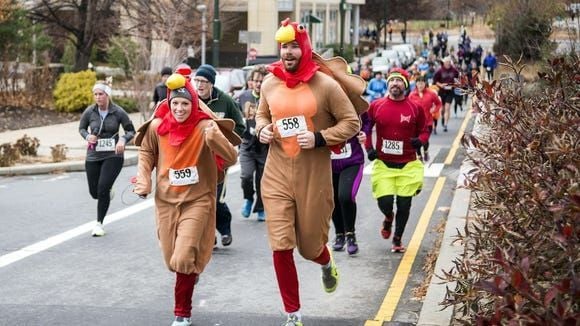 Discover new and emerging artists from around the country at the Renegade Craft Fair. Browse the numerous booths and view the works of some of the best independent and contemporary makers and designers at the Cyclorama at Boston Center for the Arts.
Diwali Lights at Tower Hill - Boyleston
Join us in celebrating Diwali, the 'Festival of Lights.' Enjoy a wonderful evening of Indian cultural programs, a talk on Ayurveda, delicious Indian food, shopping at the Bazaar, henna, and more.
Wander through the beautiful New England Botanic Gardens at Towel Hill and soak in the festive atmosphere beautifully lit up with twinkling lights! In collaboration with the India Society of Worcester. This venue also hosts an outstanding winter holiday lights festival in December. Check out our list of Holiday Light Shows near Boston for some great ideas.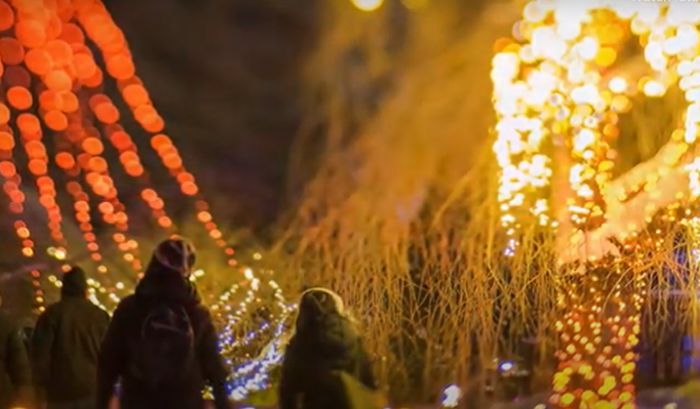 Boston Christmas Tubas
Another lively event that's sure to get you in the holiday spirit is the annual Boston Christmas Tubas concert at Downtown Crossing! Enjoy the sweet sound of over lots of tuba players as they serenade Boston with a selection of holiday classics on the steps.
Bring on the brass at the annual Boston Tuba Christmas Concert.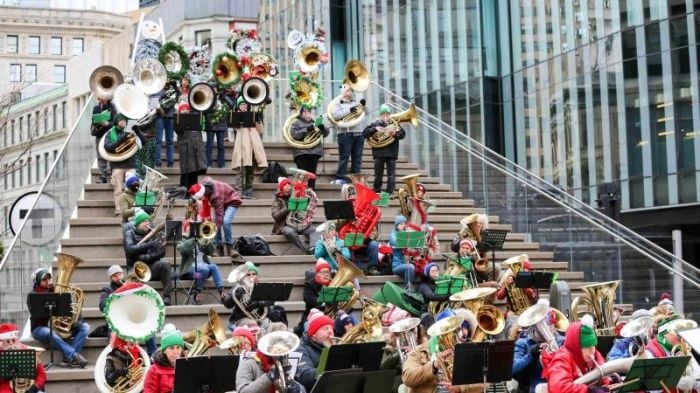 photo courtesy of Boston BID


Christopher Columbus Park Trellis Lighting - Boston, MA
November 21, 2022
Located at 110 Atlantic Avenue on Boston's historic waterfront, Christopher Columbus Park will be transformed into a beautiful holiday display when the park's 260 feet of trellis are illuminated with 50,000 blue lights along with 14 decorated trees at the Christopher Columbus Park Trellis Lighting.
The event takes place near Tia's, the Marriott Long Wharf Hotel, and throughout the park - and you can enjoy the lights all winter.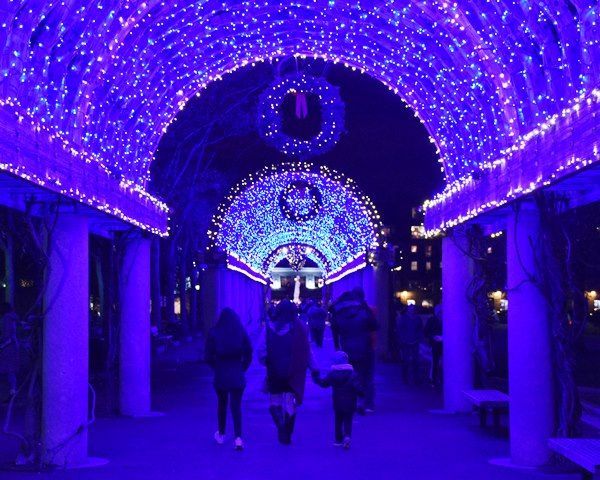 photo credit: not known
Get in the holiday spirit as you sit back and enjoy the talent of the Boston Ballet as they gracefully perform 'The Nutcracker'. The season generally runs from November 29th through December 29th.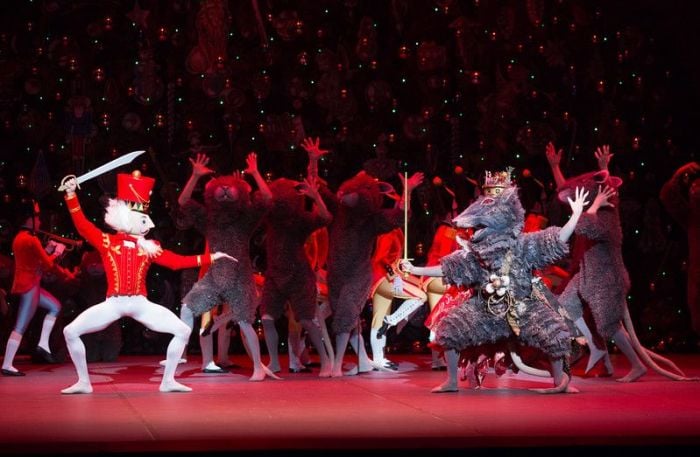 Photo courtesy of Boston Ballet


Holiday Lights Displays Near Boston
While the past year (plus) has been a challenging year for events and festivities, you can still find lots of joyful holiday light displays near Boston. Our guide highlights some new, and sparkling holiday traditions that have been re-imagined for safety this year.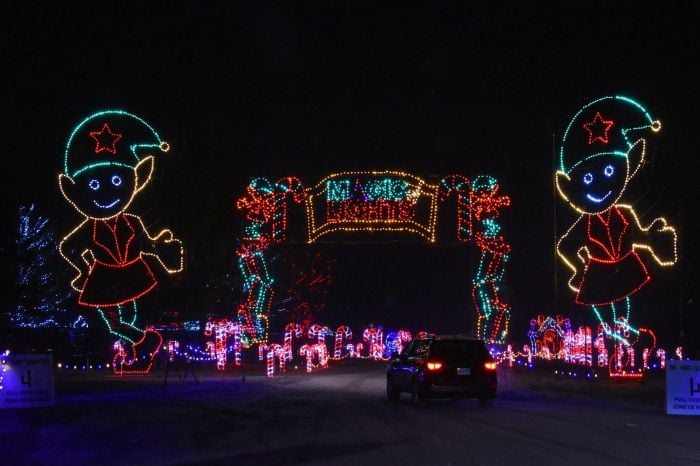 photo courtesy of Magic of Lights


Tree Lightings
As temperatures plummet and the the daylight wanes, nothing quite takes the chill out of the air better than displays of twinkling of holiday lights! Thankfully, Boston is aglow with lots of opportunities to light up the night and warm your soul.
Numerous public Christmas trees and displays will be lit throughout the last week in November in Boston, ringing in the holiday season! Check out this exciting list of Christmas Tree Lightings so that you can bask in the joy of every illumination!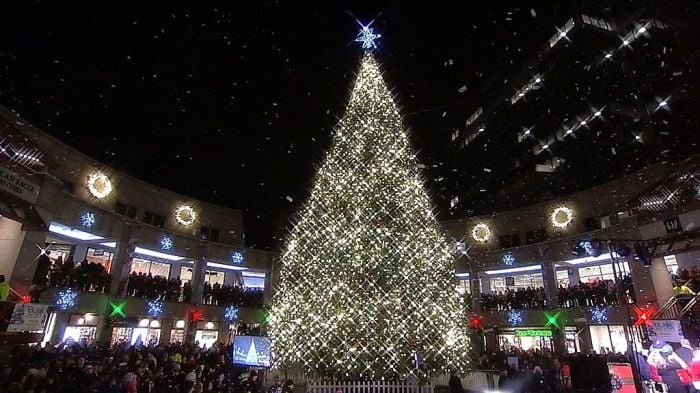 Photo Courtesy of WCVB Boston
Traditionally, tree lighting dates and times are finalized in the Fall, so be sure to check for times and dates as the holiday season approaches.
Join Santa, Rudolph, and Frosty as Copley Square comes to life with lights! Enjoy the festive feel of wreaths with big red bows that adorn the Square, and prepare get goosebumps as the Old South Church bell tolls when the lights on the Copley Square tree illuminate the city.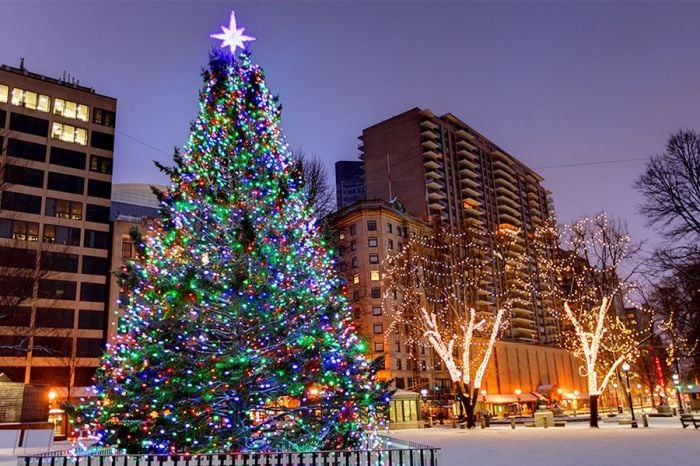 View the lighting of the massive tree in Faneuil Hall Marketplace! (CANCELLED for 2021) By tradition this tree is the tallest decorated tree in the Northeast and features over 30,000 brilliant lights! The spectacular tree lights are illuminated during a ceremony complete with live musical performances!.
To add to the fun, the Marketplace begins its annual Blink! music and light spectacular which will add to that festive spirit daily on the half-hour from 4:30pm-10pm through January 1.
Kick off the holiday season with Santa and his elves at Macy's Downtown Boston Annual Christmas Tree Lighting. Join in on family fun activities such as face painting, balloon artists and take a pic with the spirit of the holidays himself, Santa Claus. After some musical entertainment outside, Macy's will unveil their dazzling holiday windows and light up the sky with a Christmas tree.
A giant Christmas tree in the Rotunda of the Boston Harbor Hotel lights up in the annual tree lighting event ceremony at the official kick-off of the holiday season!
Head to Christopher Columbus Park for a light extravaganza provided by Mayor Martin J. Walsh, the Friends of Christopher Columbus Park, and the Boston Parks and Recreation Department. The celebration is the 16th annual lighting of the park's signature trellis on Monday, November 18, beginning at 5 p.m.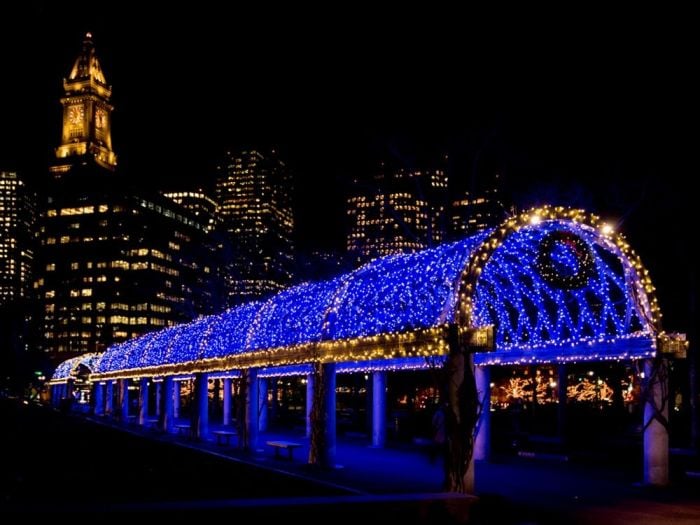 Located at 110 Atlantic Avenue on Boston's historic waterfront, Christopher Columbus Park is transformed into a beautiful holiday display when the park's 260 feet of trellis are illuminated with 50,000 blue lights along with 14 decorated trees near Tia's.
Experience the magic of the season as Macy's lights up Boston's Downtown Crossing this year on Black Friday! Enjoy the vibrant lights of the festive evergreen trees on the Summer Street side of the store and view the unveiling of the store's famous holiday window displays.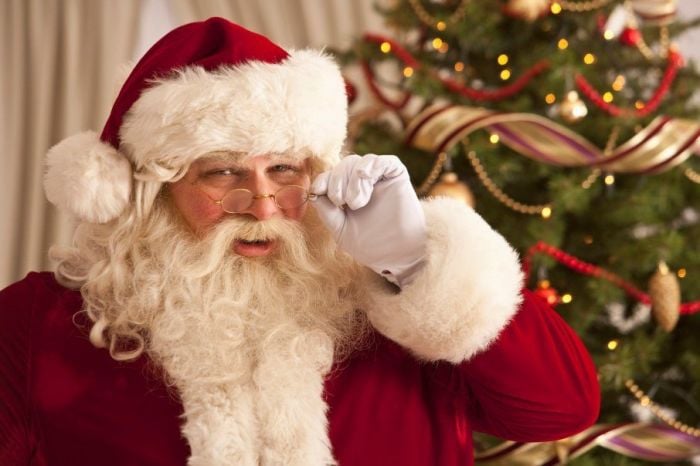 Keep and eye out for Santa and his Elves, as well as entertainment from the Boston Children's Choir and other local performers.
Santa arrives in Quincy by parachute, (or helicopter) with his elves in Quincy event year to kick off the holiday season in aerodynamic style.
Ice Skating
Frog Pond Ice Skating - A hopping spot for ice-skating is Frog Pond on the Boston Common. Frog Pond has its own ice-making system. It also offers skate rentals and hot cocoa at the Pond Cottage.
Just across the river in Cambridge, Kendall Square boast another terrific outdoor ice rink that is open to the community for skating. Don't miss the annual Kendal Square Holiday Ice Show - another annual favorite.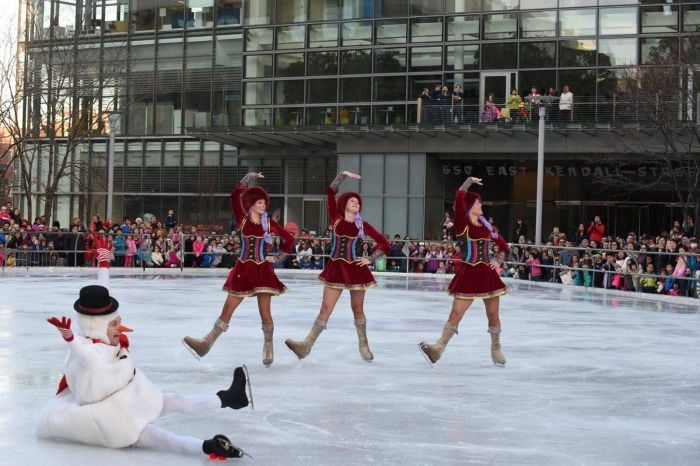 Photo courtesy of Kendall Square Community Ice Rink
Winter Skate at Patriot Place, offers day and evening public skating, is the perfect antidote to cabin fever this winter. A fun and affordable activity for parents with children, Winter Skate is also a romantic addition to a dinner date at Patriot Place.
Find more things to do next month in our December events in Boston guide. And for a daily view of what's going on in Boston - visit our Boston Events Calendar any time of the year, as well as our popular guide about all the free things to do in Boston.
Looking for more ideas for VIRTUAL family fun? Visit our guide to social distancing activities for families, with ideas for both indoors and outdoors!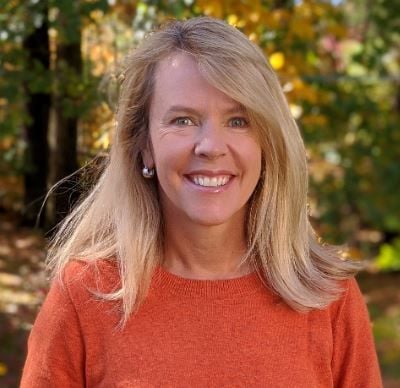 Stacey Sao has been the Managing Director of the family-friendly events and activities website, BostonCentral for over 20 years. She continues to enjoy discovering and exploring new places to visit in the Greater Boston area.