Head of The Charles Regatta 2018
Official Website:
Head of The Charles Regatta 2018
Location:
Banks of the Charles River, Cambridge, MA
Phone:
617-864-8415
Dates:
Saturday, October 20, 2018 - Sunday, October 21, 2018
Hours:
8:00am - 4:30pm
In/Outdoor:
Outdoor
Cost:
Free
Category:
Fairs & Festivals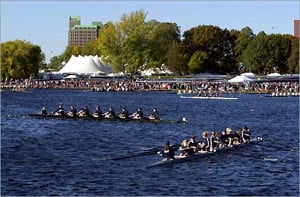 The Head of the Charles Regatta is one of the world's largest rowing events. Watch rowing teams compete from all over the country and take the sights of autumn along the banks of the Charles River in Cambridge.
Fans and spectators flock to the riverbanks every year to watch male and female rowers compete in 61 nail-biting events.
Along the three-mile course, spectators can celebrate at the Regatta's rowing and fitness expo, take in all the action at the boisterous Reunion Village and indulge in some of New England's best fare from local chefs and restaurants.
Regatta includes races for youths, veterans and lightweights. Similar in tradition to races held in England, 'Head' races, a class of regattas, are generally three miles long. Boats race against each other and the clock, starting sequentially approximately fifteen seconds apart.
Winners of each race receive the honorary title of 'Head of the River' or, in this case, 'Head Of The Charles.' Each year, the Head Of The Charles Regatta attracts over 300,000 spectators.
View the full schedule of race & events
, interactive maps, complete Regatta history & more.
Best Viewing Areas
:
Best Viewing areas Memorial Drive between JFK Street and BU Boathouse.
Regatta History
The Head of the Charles, the world's largest two-day rowing event, was first held on October 16, 1965. Over the years, the Regatta has grown tremendously. Today athletes from around the world compete in 19 different race events.
---
Banks of the Charles River, Cambridge, MA
map
Take the T to Harvard Square and walk towards the river.
---

Head Of The Charles
My husband, daughter and myself went last year. It was a blast. There is a lot to do with children, things to look at, sights and sounds. The food was conveniently located - our best veiw, near our favorite Artesani Park across from the Days Inn.

Congratulations, Rowers!
Living Root Dragon Boat congratulates the success of all the competitors at the 2007 Head of the Charles. We invite athletic men and women for dragon boat racing in 2008! Training is already underway on the Charles River and at our indoor pool training facility! Opportunities available to race in Boston, Montreal, New York City, Pawtucket, Hartford and San Francisco! No prior experience necessary. Athleticism, good overall fitness, and/or prior triathlon, swimming, basketball, cycling, marathon, volleyball, rugby, field hockey, lacrosse, football, soccer, running, crew, rowing, sculling, paddling, canoeing, white water rafting, outrigger, kayaking, water polo, or yoga experience a plus. Schedule a free trial practice today! Contact Bob Lee at Bob.Lee@livingroot.org or 617-413-8360.

Handle-able crowds
I went with my six-year-old to see friends row, and we had a nice morining. I remember it being more crowded, but everyone was well behaved. There was carnival food for sale, but also a lot of marketing give-aways -- ice cream, cereal bars, Starbucks coffee! We found parking at 9am, but probably got the last space within half a mile of Harvard Square. It helps to be a rowing fan.
| | |
| --- | --- |
| Related Links | Top |
---
We make best efforts to update information, but it changes frequently, so we cannot warrant it. Please call to check Head of The Charles Regatta 2018 schedules, fees, and directions before making the trek. We help you, please help us. Report an Error if you find one.