Boston Festivals and Fairs 2023
Popular Fairs & Festivals near Boston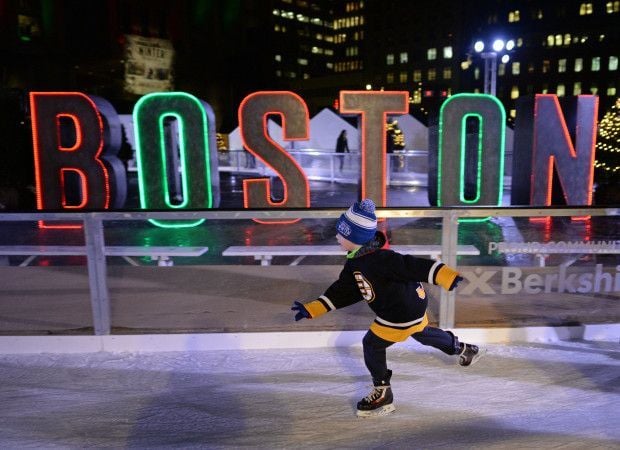 Boston Festivals & Fairs 2023
Boston festivals are not only celebrations of art, culture and music, but also the local food, drink and charm that make this city so exciting. Whether it's favorite regional delicacies, authentic ethnic foods or local craft brews, there is a festival in Boston that is certain to please any palate, during any season.
Check out our robust List of renowned Boston Festivals that are fun for the whole family! Join in a neighborhood block party, listen and dance to Boston bands, celebrate the season, or experience live street performances and meeting of the minds.
From pizza, pickles, strawberries, and spicy jerk to unity, town pride, music and more; there is always something worth celebrating in Boston!
Popular Boston Festivals


Head of the Charles Regatta
Take in the sounds and sights of autumn at the Head of The Charles Regatta in Cambridge! Watch intently as the rowing teams compete from all over the country in Boston's most picturesque setting. Admire and cheer on the more than 11 thousand elite athletes compete inthe world's biggest 2-day rowing event right here in Boston!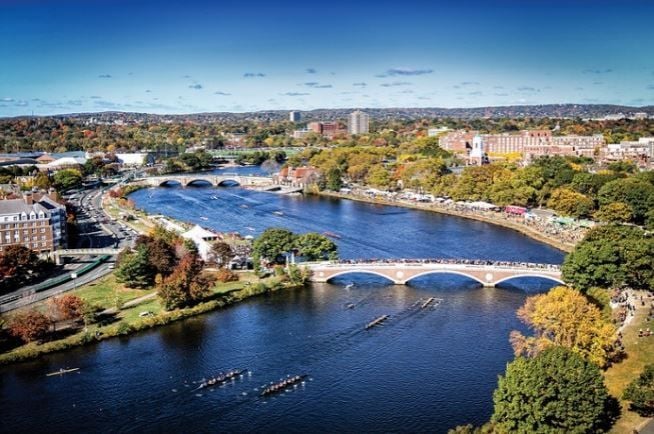 Boston Calling Music Festival
Boston Calling Music Festival is a three-day, two-stage festival featuring some of the biggest and best acts in live music! The musical celebration takes place at the Harvard Sports Complex, with easy access to stages, food, services and more. VIP tickets are available as well as 3-day and 1-day options.
This concert event generally takes places over Memorial Day Weekend, the unofficial kickoff to the Boston's summer concert season.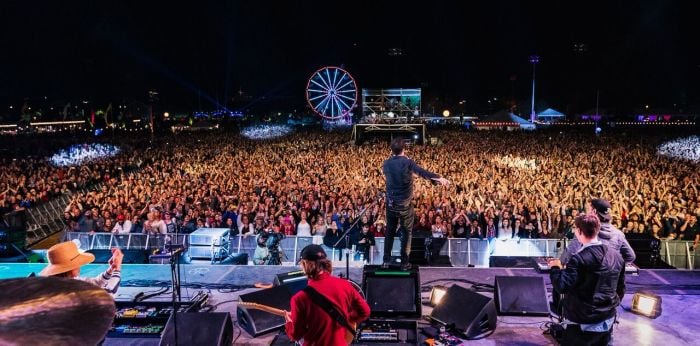 Photo Courtesy of Boston Calling


Boston ähts (Arts) Festival
The Boston Arts Festival features more than three dozen juried visual artists showing and selling original paintings, sculpture, pottery, woodwork, jewelry, glasswork, photography, and mixed media works at Christopher Columbus Waterfront Park.
Free art and music festival featuring more than 70 juried local visual artists, craftspeople, and local musicians performing on the Waterfront Stage throughout the day. including painting, photography, ceramics, jewelry and sculpture, and much more.


Chinatown August Moon Festival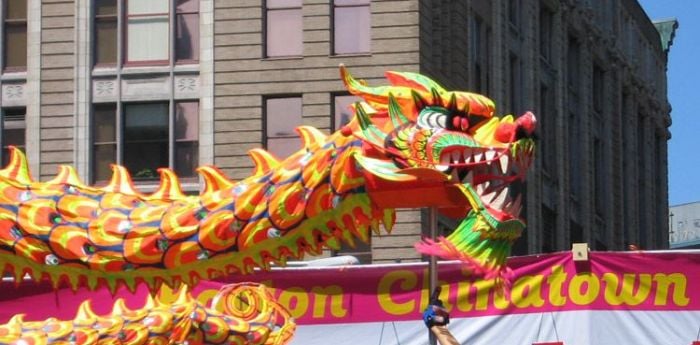 Chinatown's August Moon Festival is a day-long event filled with cultural performances as well as Chinese calligraphy, arts and crafts, and various vendors of Chinese food and merchandise.
The Festival not only celebrates an important Chinese holiday, but also serves to attract people of all backgrounds to Boston's Chinatown, to highlight what the CCBA and Chinatown's offerings, and to educate people on Chinese culture, such as lion dancing, Chinese opera, music and folk dance, and martial arts.
Be sure to enjoy a Mooncake! These round Chinese desserts typically filled with lotus bean paste and an egg yolk (representing the moon), are a symbol of familial unity, are shared between family and friends as part of the celebration.


Boston Kite & Bike Festival
When the weather starts to get warmer it's time to celebrate by bking and flying kites at the Boston Kite & Bike Festivalat Franklin Park! Kites are for sale, starting at just a few dollars. Bring a picnic or enjoy fare from Boston food trucks.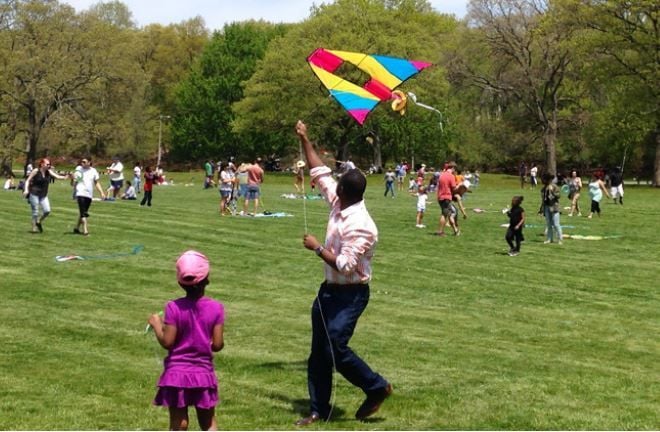 Photo courtesy of Franklin Park Coalition
Boston Dragon Boat Festival
Celebrate the sport, history and culture of the Boston's Dragon Boat Festival.Gather at the Weeks Footbridge on Memorial Drive in Cambridge and enjoy the races on Saturday and a vibrant free festival on Sunday with arts, crafts, food, martial arts and more.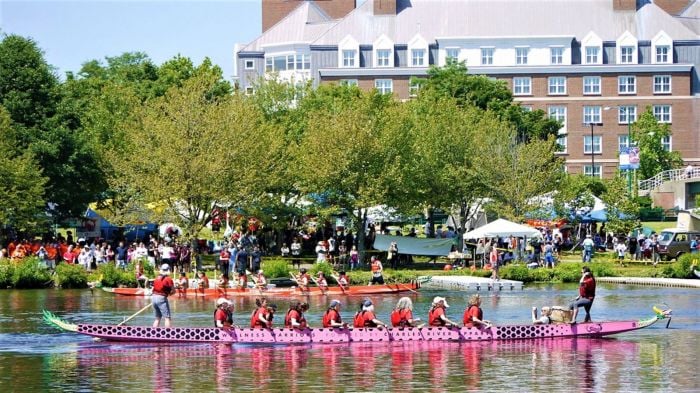 Boston Seafood Festival
Enjoy a day of sensational seafood, clambakes and chef demos, educational events, and family fun. The Boston Seafood Festival is a seasonal favorite and takes place along the Boston Fish Pier.



Boston Local Food Festival
Boston Local Food Festival is a deliciously free outdoor event on the Greenway that connects Massachusetts and New England eaters of all backgrounds with the abundance of fresh, nutritious local food choices available close to home.
This fun outdoor festival showcases farmers, local restaurants, food trucks, specialty food producers, fisher folks, and orgs focusing on healthy food and fitness from New England.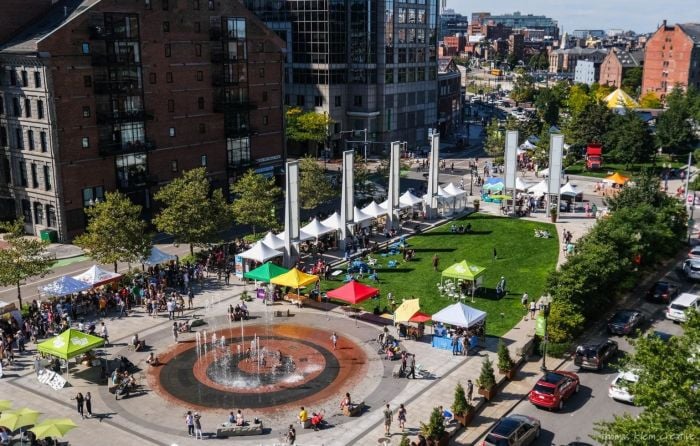 Cambridge Dance Party
Celebrate summer with an evening of community and music! Join thousands of Cambridge residents and visitors at the end of June as they gather in front of Cambridge City Hall for the annual Cambridge dance party extravaganza.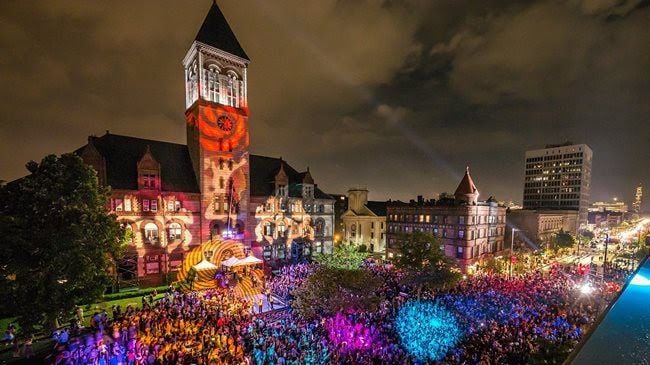 Photo Credit: Kyle Klein
After dark, colorful lights will be launched, adding to the magic of the evening. Attendees are strongly encouraged to utilize the MBTA for transportation to the event.
Harvard Square Mayfair
The Annual Mayfair in Harvard Square features music, dancing, food, crafts, street art, beer gardens, Theatre, Artisans, Food, Vendors, Crafts, and Patios!
This annual celebration of Spring will present four stages of live music featuring an eclectic array of genres including Reggae, Indie, Pop, Americana, R&B, Jazz, Rock, Soul, Folk, Hip Hop and more. The festival is delighted to welcome reggae-rock stars, Roots of Creation to the MayFair Main Stage.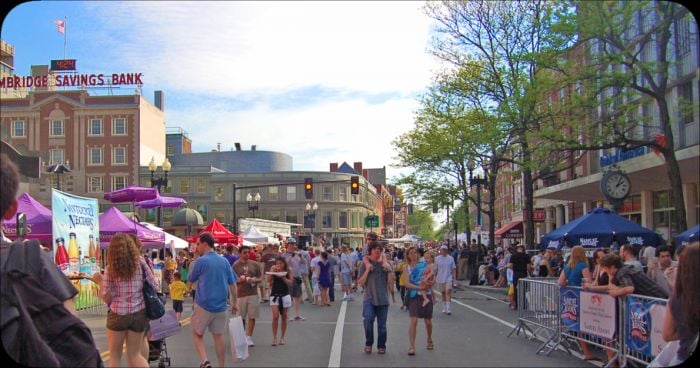 photo credit: snowpea&bokchoi on flickr // CC 2.0
The Big E
Join the best of New England at The Big E! Bring your appetite and prepare to graze the unique and spectacular foods at the ninth largest fair in North America! There's no better place to enjoy the sights, sounds and taste tempting aromas of the fall season than at The Easter States Exposition (The Big E).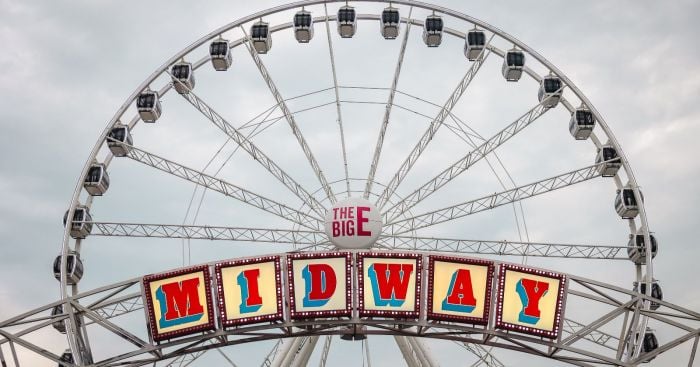 photo courtesy of The Big E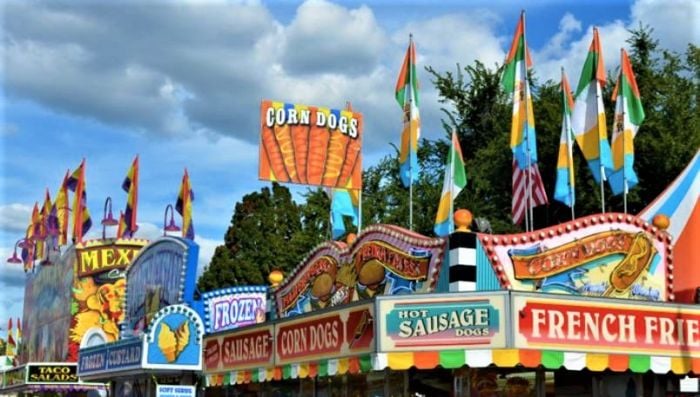 The Boston Pride Festival and Parade
Celebrate unity at the Boston Pride Festival & Parade in Boston. Enjoy the free family-friendly event that welcomes everyone and features activities that promote inclusivity! Spend the day with family and friends and take in the live entertainment, activities in the family fun zone, great food, and shop the wide array of vendors.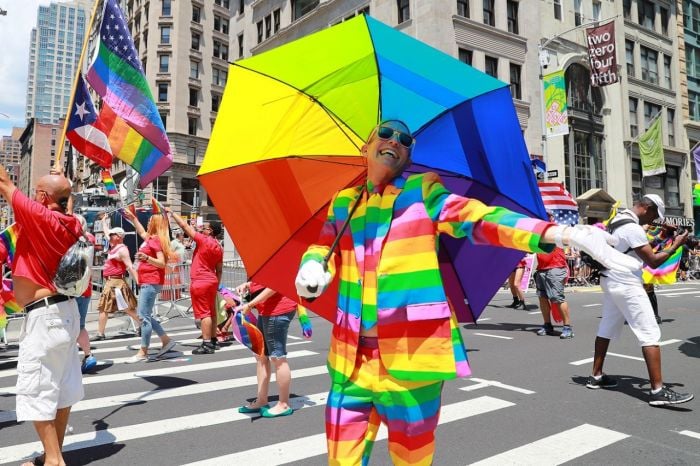 Illuminate the Harbor - Labor Day Fireworks (TBD)
Each year, Boston Harbor Now sponsors a fireworks display over Boston Harbor to celebrate Labor Day Weekend and the beginning of fall. Fireworks are launched from barges anchored off the North End and Seaport engaging in a fireworks "battle" that will light up the sky in the annual Illuminate the Harbor - Battle of the Barges .
Best places to view: Christopher Columbus Park, North End |Piers Park, East Boston |Fan Pier, Seaport District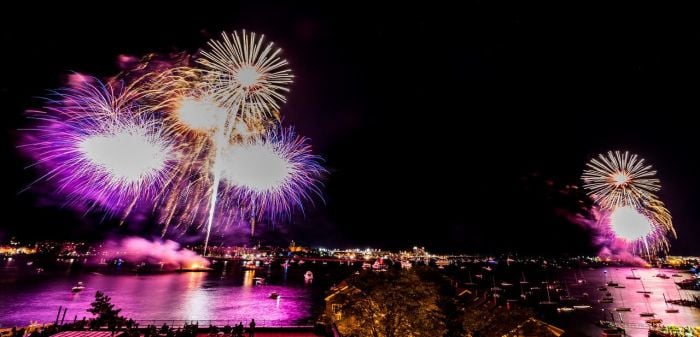 Photo Credit: Matt Conti
Harvard Square Oktoberfest & HONK! Parade
The Annual Oktoberfest and Honk Festival features six stages of live entertainment, over 40 restaurant vendors, outdoor beer-gardens, street vendors, sidewalk sales, and HONK bands from around the country!
Come be a part of this unique, irreverent, family-friendly annual tradition where musicians and spectators "reclaim the streets for horns, bikes and feet"!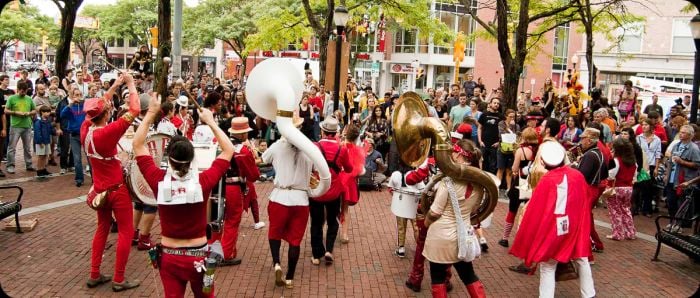 photo credit: BostonCentral
Boston Pizza Festival
Bring your appetite to the Boston Pizza Festival and discover for yourself who is 'best in pie' in Boston! Bring along your family and friends and relish in a 2-day outdoor festival featuring live music, fantastic food and giveaways. What could be better than an event that brings the best pizza makers together for a celebration of pizza!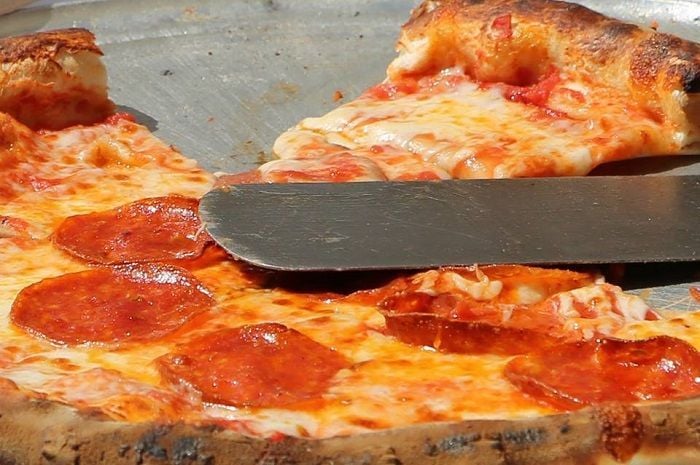 Boston Jerkfest
Immerse yourself in Caribbean culture at the Annual Boston JerkFest in Roxbury! Delight in a family-friendly Caribbean style food festival that features Jamaican jerk spiced food and all things spicy and jerk hot! Enjoy two days of spicy good fun for the whole family as the sounds of live reggae music fills the air and Jamaican jerk tantalizes your taste buds!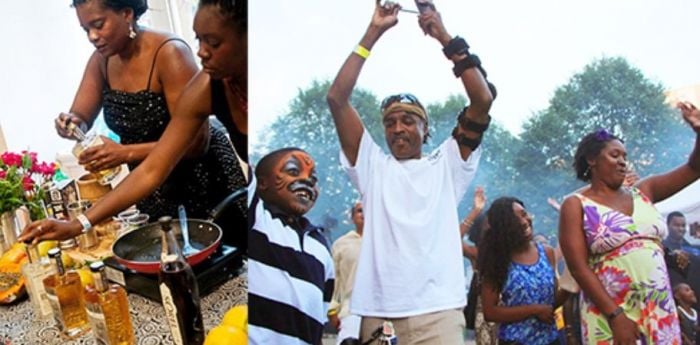 photos courtesy of Boston Jerkfest


The Jimmy Fund Scooper Bowl
Join the fun at the Jimmy Fund Scooper Bowl, the nation's largest all-you-can-eat ice cream festival and the unofficial kick-off of summer in Boston. Historically, this event has taken place at City Hall Plaza. Be a part of the Jimmy Fund fundraising mission in the sweetest way possible.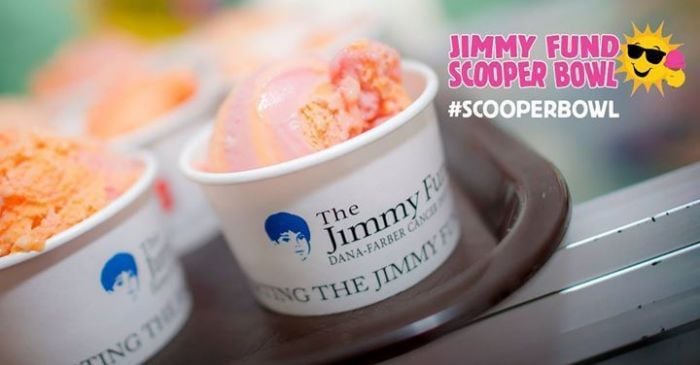 The Bolton Fair
The quintessential New England Fair with fun for the whole family. Great entertainment, animals, midway, live music, craft village, tractor pull, demo derby and monster trucks. The Bolton Fair will be open three full, fun-filled days - Friday, Saturday and Sunday - with a Midway preview on Thursday night.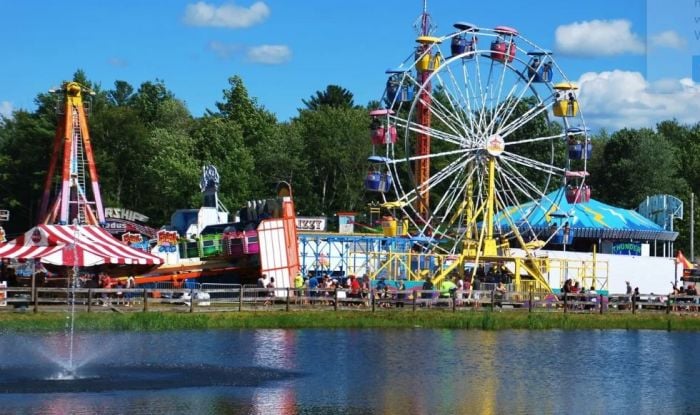 North End Boston Festivals
August is the season for North End Festivals that are filled with pomp and circumstance as well as delicious food. Stroll through the decorated streets of Saint Anthony's Feast, sampling the best Italian street foods from sausage peppers & onion, quahog clams, calamari, lots of pizza, to pasta specialties.
Enjoy musical performances throughout the day on a multitude of neighborhood stages. Finish off the day with a sweet treat of zeppole, cannolis and gelato or why not a sampling of all of them!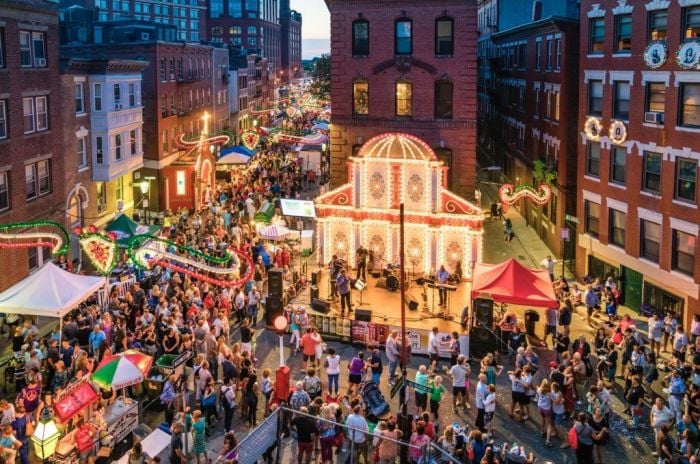 photo credit: Matt Conte
Throughout August, you can enjoy a festival each week, including the Fisherman's Feast, and more. Don't forget to browse the wide selection of souvenirs and mementos which are sure to please.


South Boston Street Festival
The Annual South Boston Street Festival features two stages with live musical acts, over 100 neighborhood merchants, restaurants, artists and more. A fun filled day for the entire family
Live performances will take place on two stages providing festival goers with live entertainment throughout the day. Children's activities include face painters, balloon twisters, and street performers.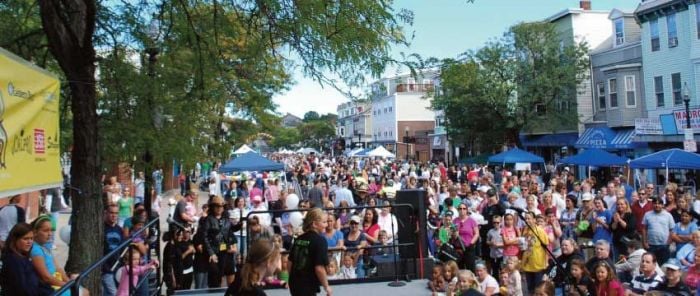 photo courtesy of South Boston Street Fest
Over the years, the festival has grown significantly and has become South Boston's most highly anticipated events, that attracts over 10,000 residents and visitors.


Revere Beach Sand Sculpting Festival
The annual Revere Beach Sand Sculpting Festival is a feast for the eyes. Stroll along the beach viewing astounding sculptures crafted from sand, enjoy live entertainment, watch a fireworks display, and chow down on food from local vendors.
Come on down to America's first public beach and enjoy the magnificent sand castle competition, delicious Food Trucks, & lots of amusements and fun for the whole family!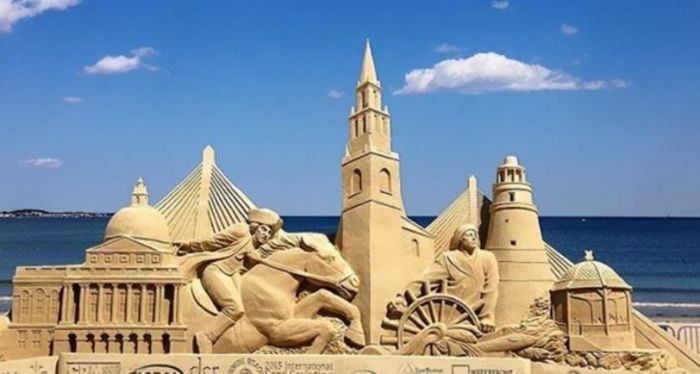 photo credit: BostonCentral


CranFest - Plymouth

Cranfest is a two-day festive celebration of the cranberry, its enduring history in the Commonwealth and role in the culture, livelihood, and culinary traditions of the region. Come enjoy all the fun seasonal activities that will take place on the grounds of Plimoth Patuxet Museums. Live music sets a festive mood all weekend long and each day has a different theme!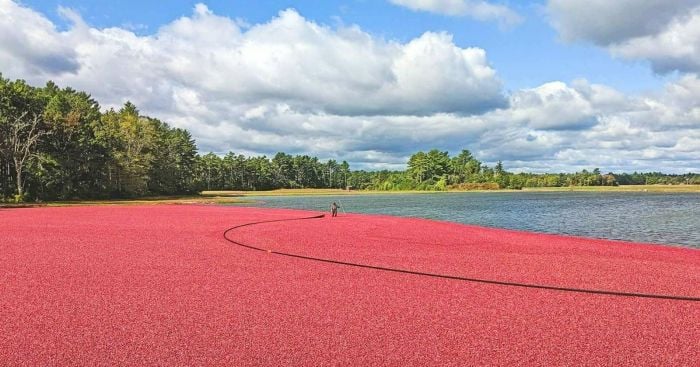 photo courtesy of Plimoth Patuxet Museums
Eurekafest!
Celebrate Entrepreneurship and Invention at EurekaFest!Get inspired by high school and collegiate inventors and innovators from across the country who showcase their inventions at the Massachusetts Institute of Technology! Talk to inventors and observe how they met an everyday challenge with innovative ideas and critical thinking skills through invention.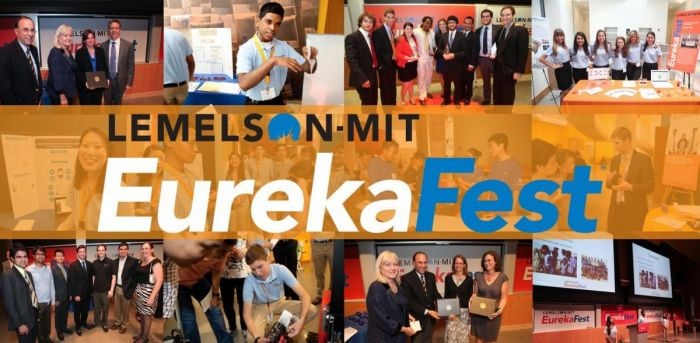 Cambridge Science Festival - Cambridge
Be Curious! Join scientists, engineers and more at the Cambridge Science Festival. The week-long celebration combines all the magic and mayhem of modern science in an action-packed program of events, demonstrations, workshops and performances.
Every October, this electrifying pop-up festival lights up the Open Space, in the heart of Kendall Square and across the city of Cambridge.
The Festival makes science accessible, interactive, and fun, highlighting the impact of STEAM in all our lives.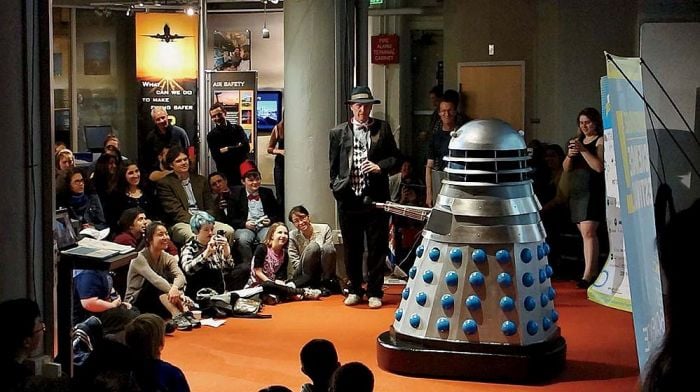 photo courtesy of the Cambridge Science Festival


Newton Festival of the Arts
Celebrate Newton's talented musicians, singers, bands, poets, story tellers & more! Free and open to all at multiple locations around town.
This sprawling Linda Plaut Newton Festival of the Arts takes place across four villages in the town of Newton, showcasing more than 20 musical performances by local and national musicians. In addition to music you can also catch dance performances, slam poetry, classical guitar, opera, jazz, and Baroque instrument demonstrations.
The Festival has been a showcase of Newton's talent and Newton Cultural Council grant recipients for many arts organizations and artists since 2015.

Belmont World Family Film Festival - Belmont, Arlington & Cambridge
This fun annual film festival, "Where Stories Come Alive," provides the opportunity to see some of the world's best current films for children age 2-12 and to participate in animation workshops. Events take place at the Regent Theatre (7 Medford Street, Arlington), Studio Cinema (376 Trapelo Road, Belmont), Brattle Theatre (40 Brattle Street, Cambridge), and Belmont Media Center (9 Lexington Street).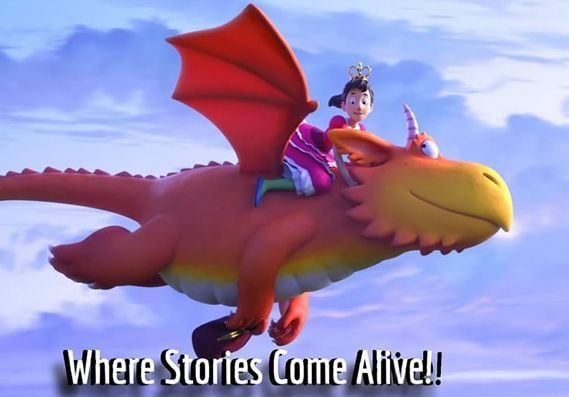 photo courtesy of Belmont World Film Festival


Strawberry Festivals
There is nothing more refreshing and satisfying than fresh picked strawberries. Luckily, there is no shortage of opportunities to enjoy the juicy red sweetness in the Boston area. Celebrate the succulent strawberry at one of our favorite local Strawberry Festivals this June!
Bite into strawberry season at Wilson Farm's Annual Strawberry Festival!Held at the height of strawberry season, you'll find kids activities, a chocolate covered strawberry dipping station, a strawberry shortcake. Enjoy lots of New England farm fun for the whole family!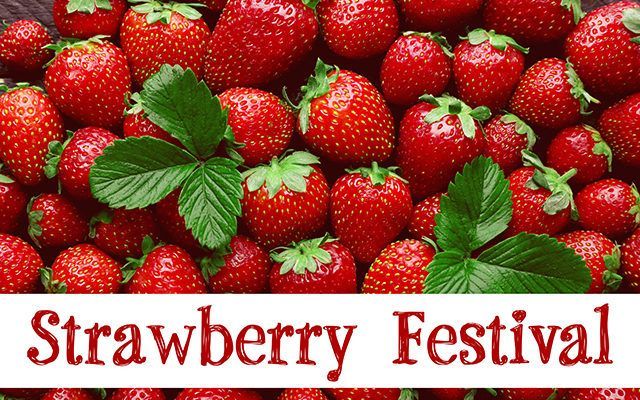 Head over to the Topsfield Annual Strawberry Festival sponsored by the Topsfield Historical Society. Enjoy crafts, games, music, food rides, 4-H, and even a demonstration of stone wall building and a juried craft show and tours of 17th century Parson Capen House.
Pick strawberries, visit the farm animals, frolick on a hayride and indulge in strawberry shortcake with a visit to the Marini Farm Strawberry Festival in Ipswich. Experience the joy at this great free family event filled with hours of activities to keep everyone in the family engaged and smiling.
Honor the local strawberry crop at peak season with pick your own in fields at Strawberry Festival & Dessert Fest at Verrill Farm in Concord. Enjoy strawberry shortcake and a wide array of family activities and entertainment. There is even aStrawberry Dessert contest for adults and kids which adds to the perfect day!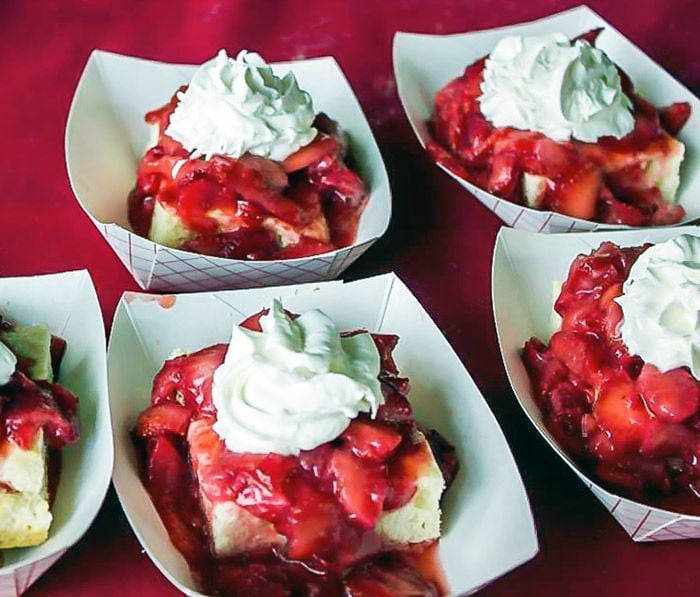 Gather strawberries and bask in some fun at the farm at the annual Strawberry Festival: Connors FarminDanvers. Experience the best of strawberry picking and indulge in decadent fresh Strawberry Shortcake, Chocolate Covered Strawberries, BBQ delicasies and much more.
Visit the barnyard animals and hop in the Hayrides, Cow Train, Grain Train, Jumping and Pillow for loads of fun for all ages. Spend the day at the Strawberry Festival at Russell Orchards in Ipswich! Fill your baskets with fresh strawberries. Enjoy hayrides, music and good old fashioned farm fun!
Topsfield Fair - Topsfield
Enjoy a day at the Topsfield Fair - America's oldest and finest agricultural fair w/ New England's largest carnival midway, cool demos, (ranging from beekeeping to miniature trains), a Grange Museum, pumpkin weigh-offs, live entertainment and the 4-H Agricultural/Arts and crafts exhibits.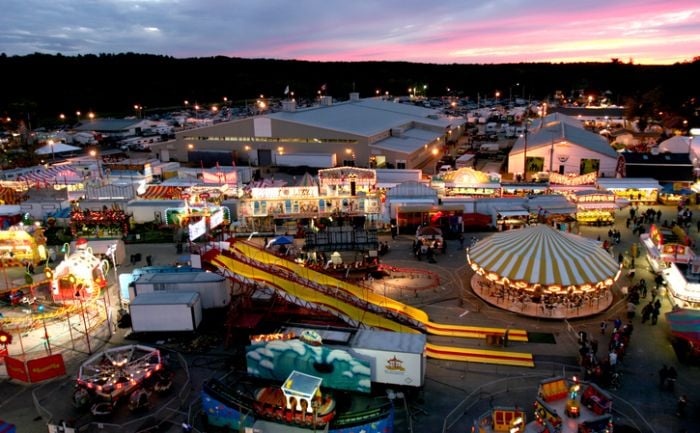 photo courtesy of the Topsfield Fair
26. Festival by the Lake - Wakefield
Be sure to check out the Festival By the Lake for a day of fun for the whole family in Wakefield! Peruse the annual Craft Festival on the Wakefield Commons while gazing out at the shoreline of picturesque Lake Quannapowitt. The youngest visitors can take part in games, bouncy houses and pony rides.


Boston Puerto Rican Festival
The Puerto Rican Festival of Massachusetts is one of the largest in the country.
This vibrant celebration features a parade of cultural organizations and art institutions in the city, dance to live music, and snack on pasteles and tostones from local restaurants.
This multi day event is held at the Playstead Park honors the history, values, traditional music, typical Puerto Rican food, and local arts and crafts for the entire family.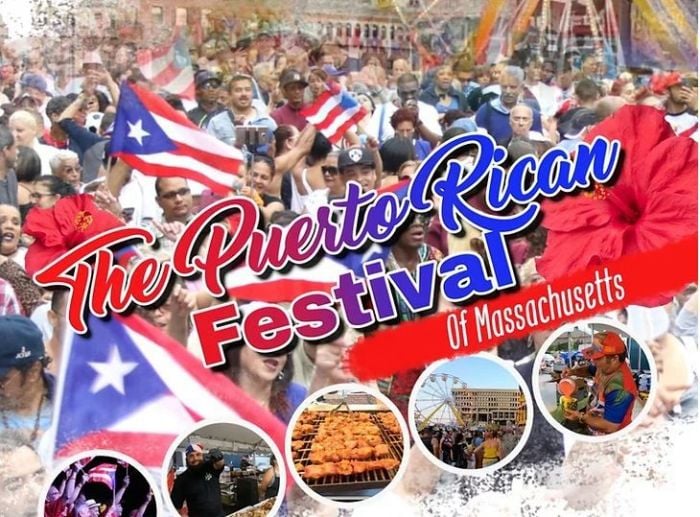 Boston Christmas Festival
Over 300 of America's Finest Artists, and Craftsmen offering great Holiday Shopping!! Gourmet Foods to sample and buy. A popular Boston Christmas Festival highlight will be the Gingerbread House Competition, where Top Chefs create gingerbread masterpieces to be judged by a celebrity panel.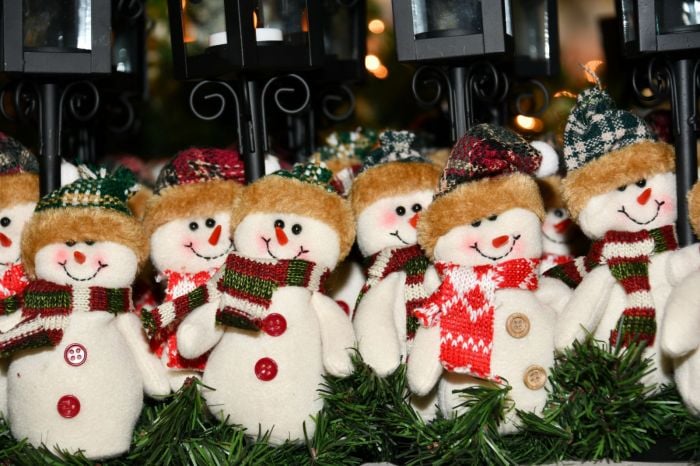 Boston First Night First Day
Since 1975, Boston's First Night has been a New Year's Eve celebration of artistic performances, the wonders of the December events season, and the beginning of a new year. In keeping with this fantastic Boston tradition, the First Night celebration continues to be free and open to all.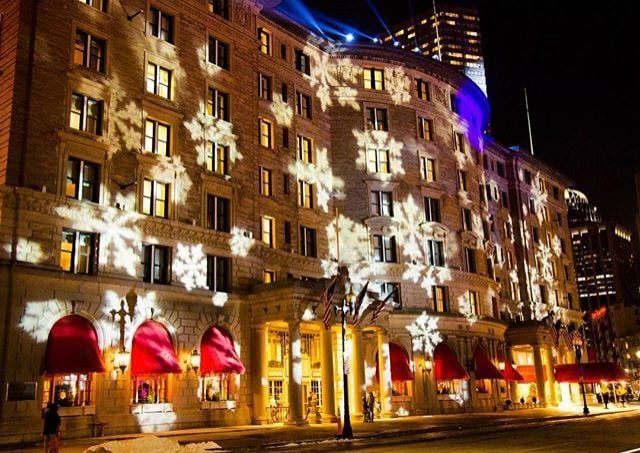 Photo courtesy of First Night Boston
Entertainment and special attractions will be focused in Copley Square and Back Bay, and generally feature ice scultpures, fireworks, light displays against the Boston Public Library and lots more. For more exciting festivals and fun visit our handy List of Festivals and Celebrations for the whole family to enjoy.
World Oceans Day
Head over to Central Wharf and help the New England Aquarium celebrate World Oceans Day! Participate in hands-on activities for kids, informative presentations, and interactive opportunities to learn more about one of the ocean's most pressing issues. Celebrate our oceans with lots of fun activities to help you learn about our blue planet!

*This event has been on hiatus since 2019, but we hope to see its return in coming years.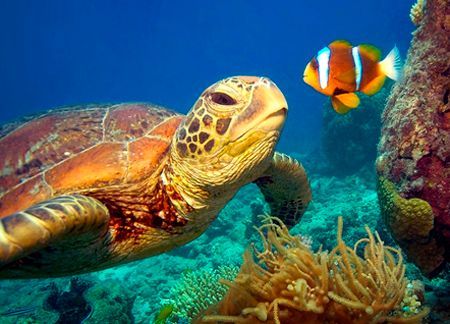 photo courtesy of New England Aquarium
For more ideas for seasonal festivals in the Boston area, check out our guide to Boston Pumpkin Festivals in the fall; or our guide to Holiday lights displays in Boston during the winter.
You can find lots more family-friendly Boston events each week on the BostonCentral calendar and our popular things to do this week newsletter.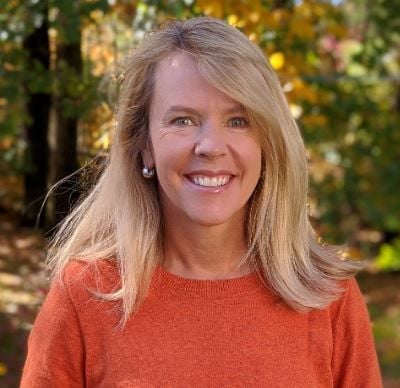 Stacey Sao has been the Managing Director of the family-friendly events and activities website, BostonCentral for over 20 years. She continues to enjoy discovering and exploring new places to visit in the Greater Boston area.