Pumpkin Patches Near Boston
Where to pick pumpkins with kids near Boston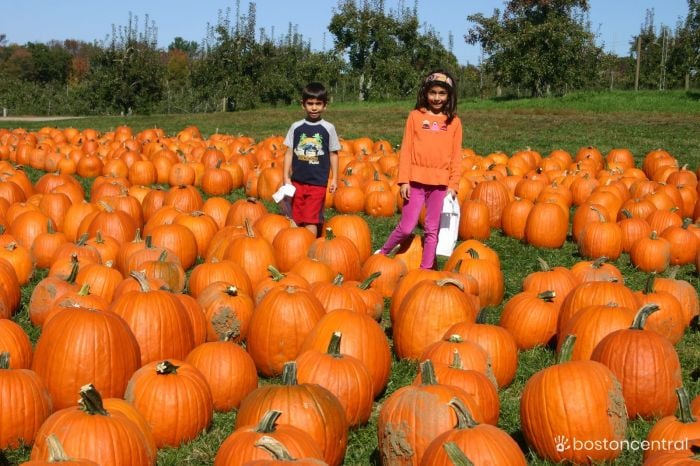 Nothing says Fall like pumpkin picking with the family! Whether you want to carve, paint, display or even eat pumpkins this Fall, there is no shortage of patches to pick from and more picturesque New England landscapes than in the Boston area.
So, when it's time for you to pick out your perfect pumpkin, check out this list below for some of the best destinations for picking your own pumpkins.
Boston Hill Farm - North Andover
It doesn't get any better than Boston Hill Farm for Fall fun and every family's pumpkin picking adventure. On weekends, families can ride the wagon hay ride out to the field strewn with pumpkins. Be sure to visit the bakery, the ice cream stand and the family friendly petting zoo to round off your perfect New England day at the farm.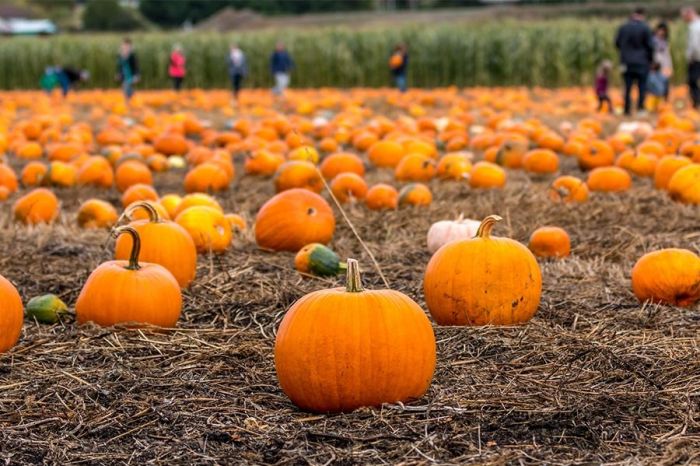 Cider Hill Farm - Amesbury
Cider Hill just love to grow pumpkins, so you will be sure to find every size , shape and color pumpkin possible when you visit. Cider Hill Farm produces between 50 and 100 tons of glorious pumpkins ripe for the picking so you're sure to find just the right one or more to suit your family this Fall.
Carver Hill Orchard - Stow
Pick your special family pumpkins straight from the vine at Carver Hill Orchard. There is nothing like meandering through a pumpkin patch and finding "the one" right on the vine where it grows. It adds some authenticity and adventure to the pumpkin picking treasure hunt. Be sure to stop into the Farm Store for a wide array of farm fresh goodies and Fall favorites.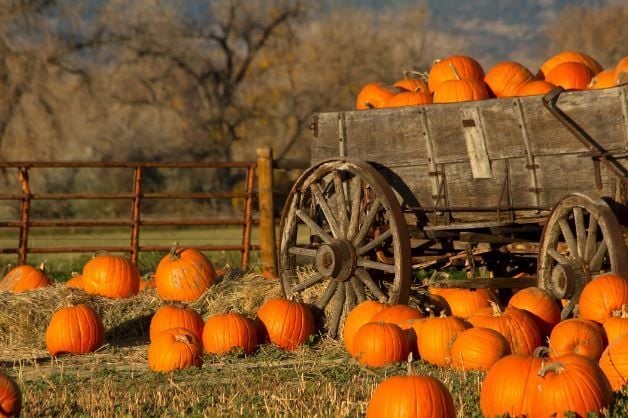 Connors Farm - Danvers
Double your pleasure with a trip to Connors Farm where not only pumpkin picking awaits you, but also a stellar corn maze to lose yourself in. Enjoy everyday picking from early September through mid-Fall.
Crescent Farm - Bradford
Enjoy the 400 acres of breathtaking scenic views on aboard a wagon which transports visitors to the fields for picking. With plenty of pumpkin varieties to suit everyone's taste, Crescent Farm also boasts ice cream, hay rides, and a kid friendly corn maze to keep the little ones engaged.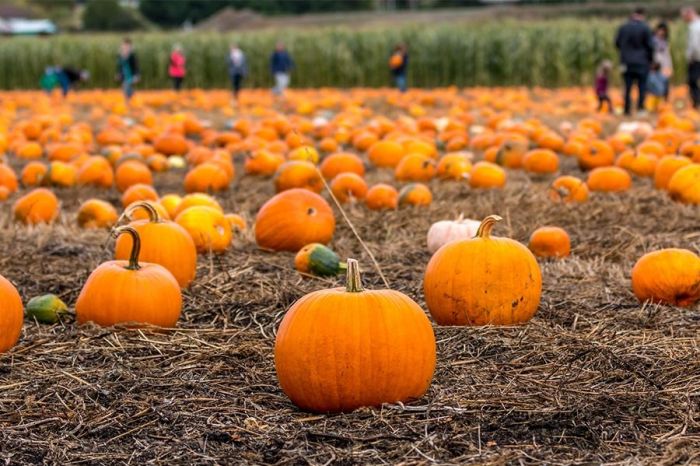 Hanson's Farm - Framingham
You are sure to find the perfect fat pumpkin at Hanson's Farm. While limited in U-Pick opportunities, the farm cannot be beat for its quality of pumpkins for picking. The farm plays host to a haunted hayride on weekend evenings and features a quaint corn maze for daytime family fun.
Lookout Farm - Natick
Make a whole day out of your pumpkin picking experience with a day out at Lookout Farm in Natick. With the thousands of pumpkins harvested at the farm each year, guests will undoubtedly have plenty to beauties to choose from.
While at the farm, enjoy some Fall fun with a caterpillar ride around the farm, playtime at the structured play area, and wear the kiddos out in the bounce house. Lookout Farm is loaded with Fall fun for the whole family.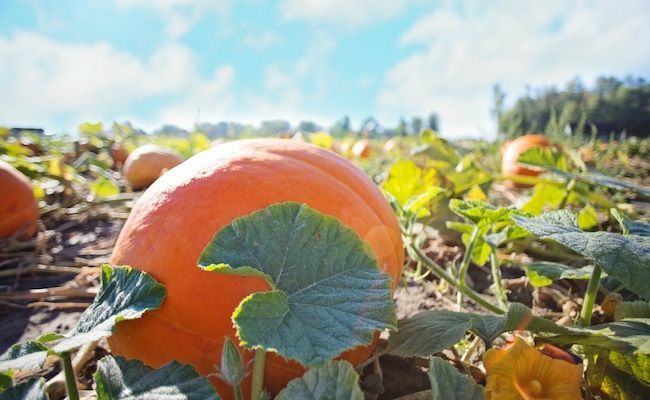 Shelburne Farm - Stow
Seek to find your perfect family pumpkin this year at Shelburne Farm in Stow. Additionally, visitors can enjoy treats like caramel apples, delicious cider donuts, hot mulled cider, cold cider, coffee cake, fresh baked pies & more in the country store.
Burn some energy off in the bouncy house or on the play area with mini ride on John Deere Tractors which now connect and haul mini pumpkins and mini hay bales around the ride area. Also, enjoy hayrides and pony rides to round out your visit.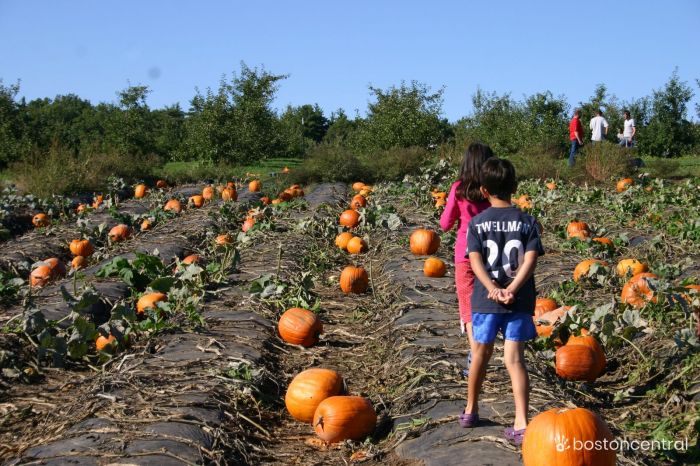 Smolak Farms - North Andover
Enjoy a multitude of farm related activities as you set off on your pumpkin picking adventure. Located on 160 acres of beautiful farmland, Smolak Farms is worth the trip this Fall.
Visitors can pick fruit from the orchards and shop at the farm's bakery and farm stand, which feature delectable pies, muffins, amazing apple cider donuts, breads and more. Choose the right pumpkin and settle in for a whole host of activities that will make the kids squeal with delight
In addition to pumpkin picking, traditions of a New England fall also include finding an orchard to do your own Apple Picking as well as testing your directional skills in a Corn Maze near you.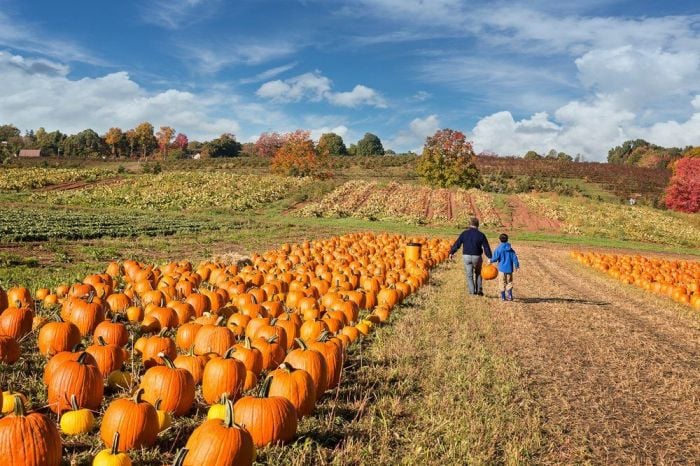 Verrill Farm - Concord
Visit the
Verrill Farm Pumpkin Patch
on fall weekends from 10AM – 4PM for the perfect pick your own pumpkin experience! If you can't make it on the weekend, you can visit the farm stand any time during the week and choose from a large variety decorating pumpkins with a broad selection of different colors, styles and sizes!
Once you have picked out the perfect pumpkin, be sure to stop in the
farm stand
and enjoy some fall foods or to pick up one of our famous pumpkin pies!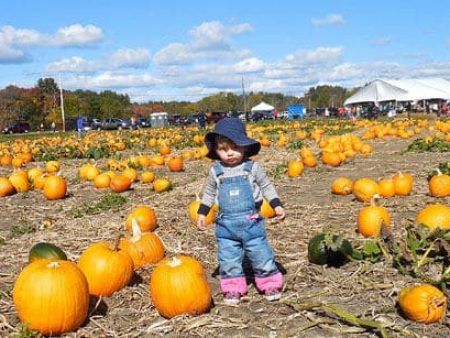 There is certainly so much more to explore - so be sure to check out our guide to Free things to Do in Boston here, or our Rainy Day in Boston guide.
We also have a number of popular guides ranging from Boston Outdoor Activities, and best places to go apple picking near Boston, to specific venue reviews like Worlds End, the Halibut Point State Park, and The American Heritage Museum to name a few.
You can find lots more ideas for fall family fun in our September & October activities guide, a robust list of Pumpkin Festivals near Boston, as well as our handy guides to activities like Apple Picking, Hayrides, and the best Corn Mazes in MA. Enjoy the fall!
In addition, you can find family-friendly events near Boston each week on the BostonCentral calendar, and in our our popular things to do this week newsletter.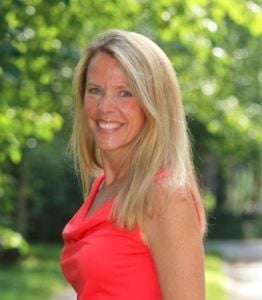 Stacey Sao has been the Managing Director of the family-friendly events and activities website, BostonCentral for over 20 years. She continues to enjoy discovering and exploring new places to visit in the Greater Boston area.