King Richard's Faire: THE New England Renaissance Festival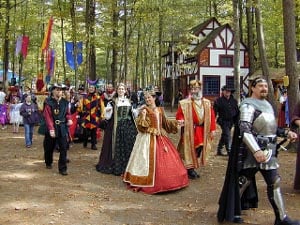 Come Escape YOUR Reality....at the 42nd season of King Richard's Faire, THE New England Renaissance Festival.
The Faire runs weekends September 2-October 22, 2023 including Labor Day and Columbus Day/Indigenous Peoples Day Monday holidays. Open wide the gates!
Located on an enchanting 80-acre wooded site off Rt. 58 in Carver, Mass., the Faire's shady tree-lined paths lead visitors through a magical village ruled by King Richard, Queen Anne, and their royal court.
The Renaissance-themed festival welcomes visitors to spend the day amongst colorful acrobats, aerialists, jugglers, fire-eaters, musicians, dancers, and puppeteers throughout the realm.
Visit any of eight vibrant stages, tournament field or Mud Pit Stage and be enthralled by acrobats, aerialists, jugglers, heart pounding music, comedy acts, fire eaters, and puppeteers!
You'll gasp as the King's mounted knights battle on horseback, and laugh as bawdy beggars compete in mud. Strolling performers will engage you all day long as you frolic in our forest and try your skill at our Gaming Glen.
Epicurean pleasures will tantalize your taste buds with the Faire's unbelievable choices of truly scrumptious treats.
Satiate your palate with spit-roasted giant turkey legs, giant ears of corn, boules of chowder and stew, ringlets of fryes, specialty cocktails, champagne, mead, wine, and brew!
Discover over 100 talented artisans who journey from all over the country to display and hawk their magnificent wares.
You will be delighted and intrigued by the fantastic forges and weapons makers, paintings, hand-spun pottery, sword making, fabulous jewelry, leather and armor, period clothing, moccasins, perfumes and scented oils, face painting, and psychic readings.
FREE Parking! Please arrive early for best parking options.
Children 3 and under are FREE!
Please leave all pets at home. Please call ahead for service animal approval.
There are no refunds or outside food and beverage allowed. There is no re-admittance, so please bring all necessary clothing in with you.
We do not accept credit cards at the box office gate! Credit cards are only accepted for tickets purchased online. There are ATMs outside our front gate, as well as inside the Faire.
CASH IS KING! Food and beverage are sold with tickets that must be purchased at the Faire. These tickets can not be purchased with a credit card.
Please visit our website
www.kingrichardsfaire.net
for more information!
Buy your King Richard's Faire tickets today!
King Richard's Faire
235 Main Street, Rt. 58
Carver, MA 02330
Find more fun things to do in Boston
!
And if you are a fan of
fall fairs & festivals near Boston
, be sure to visit our handy guide for lots more great ideas.
---
WEEKENDS SEPTEMBER 2nd – OCTOBER 22nd, 2023
Including: Monday, September 4th Labor Day & October 9th Columbus Day
Gates open 10:30am & close at 6:00pm
---
$39-$43 adult (12+); $20-$24 for children ages 4-11, and free for children 3 years of age and younger.
---
---
235 Main Street, Carver, MA, 02330
map
Phone: 508-866-5391
From Boston:
3 South to 44 West to 58 South & follow signs to our gates or:
93 South to 24 south to I-495 South, exit 2 at Route 58 & follow signs to our gates.
From Providence:
195 East to I-495 North to Route 58 & follow signs to our gates.
---
- Guests are encouraged to skip the box office line and pre-purchase tickets online at kingrichardsfaire.net, and may choose the date of their visit (NEW this year).


- Pet animals are not allowed unless they are legally identified service animals, and no outside


food or beverages are allowed into the Fairgrounds.


- All rides and amusements are an additional fee but are unlike any other you'll find elsewhere. (i.e. Axe throwing, man-powered motion rides, giant swan swings and a castle maze, and many more unique games).


- Food & Drink are available for purchase, however you must purchase tickets to redeem at booths.


- Every Saturday at 4pm on the King's Stage, the Faire offers free contests and ceremonies, including a Vow Renewal Ceremony and a new Game of Thrones trivia/costume contest.


- The rides & games at King Richard's Faire are carnival like - and are an additional cost.


- There is NO parking fee.


- Outside food and drink is not permitted.


- The Jousting, Tiger Show, and Juggling show are all very good. All rides and activities will cost you $4-$5 a pop. They do have some interesting "Renaissaincey" kids rides & stuff.


- Check the website for the show schedule so you can plan your day around that.
---

Still a good value
It upsets me to see negative reviews due to price. What do people pay for the circus, or to get into the carnival or see a movie these days. Then they complain about the price of the food, which is real food cooked on the premises. Not some lousy hot dog or a bag of popcorn you pay $7 for. I had the Shepards Pie for $10 and I couldn't finish it. Where can you get a hot lunch for $10 that is not fast food. You cannot beat King Richard's Faire's 7 hours of continuous entertainment. Every year you see more and more people dress up to come and that is entertainmen in itself. Where can you go and see someone in the crowd be brought on stage to be part of the show? Children are made into knights and dames on stage by the King. Lot's of ribald inuendos will keep you laughing. The location is perfect with plenty of shade and places to sit if needed. I say keep up the great entertainment!
---

Prices are RIDICULOUS
King Richard's prices just go up and up and up. Even though I've gone pretty every year for almost the past 10 years, it really is a total ripoff these days especially compared to other faires. For example, it is not $29 to get in. It seems to go up a dollar or 2 every year. But what is more crazy is the food tickets. They used to be $0.50 each. This year the prices are $1.00 a piece! That means $10 for a small cup of beer, $7 for a small square of pizza. $5 for a small soda, $9 for a sausage and pepper sandwich, $10 for 5 tiny hot wings and some fries. These are fenway prices, not family outing prices. I spent $40 on food for myself alone! So you are now at roughly $70 just to get in, and that is with buying nothing, playing no games (usually $3-4 a pop) and forget about tipping any of the performers. If you go for the day, eat lunch and have a couple drinks, buy a souvenir or two, and play some games or rides and tip your performers, expect to spend $150 or more.
---

Love this Faire - Wish it were EVERY DAY
King Richard's Faire is a feast for the body, mind and spirit. Transport yourself back to a time when things were simple, bodies were celebrated (in all sizes and shapes) and laughter was the best medicine! Yes, there were other things going on, more harsh, but not at this Faire. I love every minute I've spent and thus far, this year, I've gone twice. And I'm planning to go again next weekend. It calls my heart back. For those of you that think it's expensive, please consider a Groupon. They're easy to find! And for $29 (adult fee), you get everything (except your meals which are totally reasonable - two of us ate for $20 yesterday) = shows, jousting matches, concerts, plays and more! And the rides, all hand-propelled without electricity, cost a mere $2-$3. And they are so much fun even for adults! I highly recommend a visit or two. And don't forget to check out Michael's Wax Works just to the left as you walk in the gate. Incredible wax figures - wizards, and dragons and so much more. You can watch him make them right there. Enjoy! And gratitude to all who put effort towards creating this fabulous event every year!
---

Family Time
This Faire is a Place Our Family Has to Save for, but, we look forward to it. For Our Family of 5, we spent just over $200 for entrance fee, food and rides. The children have a great time and the shows are really good. The josting is a great show for them and they get involved Most Faire's in New England cost us far more than this one. Great Time for the Money! Not to Mention you make it what it is!
---

Family Fun Year after Year
Our family started going a few years back when my son was 4 and in love with knights and dragons... we thought we would go, see what it was about, and maybe go back in 10 years, lol. 3 years later, we have gone every year and already look forward to next year's return of the Faire. It isn't the cheapest day, but its a day full of theatre and amusement of which you and your kids are part. LOTS of people dressed up and playing parts (only some of which are paid actors), rides driven my manpower instead of diesel machines, jousts and fights among knights, shows by fire breathers and jugglers, etc. Food is plentiful and not outrageously priced (averaging 10 $.50 tickets each) and you can go and spend almost all day there for the one entry fee. Go. Have fun!
---

not worth it - avoid this place
KING richard ,,,well the WORD is king we are the peasent and as the peasent you pay a high fee to the king,,,not worth it avoid this place
---

And a good time was had by all
We really enjoy the King Richard's Faire. Yes, it is more expensive than the CT Ren. Fair, but the venue is much better. We saved money one year by going to CT. It was fun, but it was in the middle of fairgrounds that were in a field -- no shade at all and it was a hot day. King Richard's is under beautiful trees and gloriously shady. We just got back and I'd have to say that the higher cost was worth it as we were all able to wear our costumes on a sunny 80 degree day without passing out or wilting in the sun. We went with our eyes open, knowing that 6 people (two adults, three teens and a 7 year old) were going to cost, but heck, going to the movies with a crowd this big will cost over $60 for tix alone, and lasts only two or three hours. We would spend at least as much (or maybe a bit more) to go to the Boston Science Museum for the day, but have to pay for parking. We arrived at 10:30 am and stayed until 5:30, so our $142 (we had four $2 coupons) for tix was covering 7 hours of entertainment. We spent $80 on food, which actually averages only $13 each, so really not so bad (and the some of food we had was freshly prepared - mmm a belgium waffle with strawberries and whipped cream, large enough to share for 12 tickets aka $6). We also bought souveniers, had some face painting done, contributed to the performers that impressed us, and had a blast. The Faire is filled with character actors dressed well who interact with you and your children, to make it feel more authentic. It isn't an outing to attend on a whim or on the cheap, but if you plan for it, you get your money's worth.
---

100 positive experiences
this is going to be my 3rd year going. its something i look forward to all year. though i never thought that id end up putting together an elaborate costume i enjoy my time there so much that i have done that very thing. the faire delivers exactly what it advertises on its website. it saddens me to see people badmouth the faire because they feel like they should be let in for less. if you are into this kind of thing it is worth every penny. i wouldnt want to be responsible for bringing a child or pushing a stroller around all day, but otherwise an excellent experience. love king richards faire.
---

to much money
king richard's fair is way way way OVER PRICED for a family it's cheaper to go to 6 FLAGS
---

The King Richard's Renaissance Faire is a Treat
The King Richard's Faire has begun to be an annual excursion for me and my family. The prospect of entering a time period I find attractive and joining the costume clad visitors and actors to join in the role playing fun keeps bringing me back. If you are not a renaissance enthusiast you most likely will view the gate fee and food prices skeptically. However, as long as you eat beforehand or smuggle food in, the entrance fee is tolerable if you don't go on a spending spree inside. The experience is worth the entrance fee of 27 dollars as many of the shows and performances are well done and genuinely entertaining. It is easy for me to enjoy looking through the wares and crafts without taking out my wallet. The King Richard's Faire is my favorite place to 'window shop.' There is much visual and aural stimulation outside the performances and shops. The Faire is the greatest place for people-watching (trust me, you'll find some interesting fanatics). Also, 'street performers' play their pipes, lutes and drums around every corner. The actor/shopkeepers have been trained in the art of speaking in appropriate accents and are usually willing to converse with passers by. For someone who doesn't feel the need to spend money on every game and ride, this faire is quite rewarding. I prefer watching strangers and friends attempt the knife throwing and mug sliding games rather than join in (it saves my money while I still enjoy the essence of the activity). All in all, the King Richard's Faire provides a magical day for those willing to creatively avoid the high costs. (And don't forget to find a good seat for the joust to the death.)
---
Info changes frequently. We cannot warrant it. Verify with King Richard's Faire: THE New England Renaissance Festival before making the trek. If you find an error, please report it...