Hammond Castle Museum
The Coastal Gloucester Castle of Eccentric Inventor John Hammond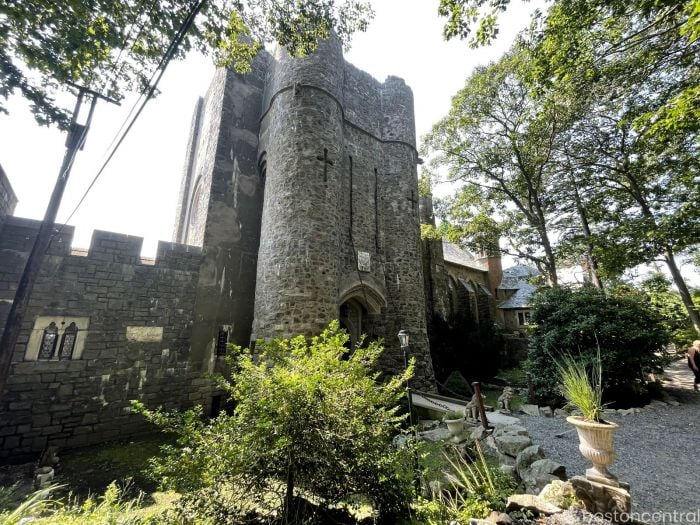 Hammond Castle Museum was constructed in the late 1920s by John Hammond. John Hays Hammond, Jr. (1888 – 1965) enjoyed a prolific career as an inventor, including being known as the "Father of Radio Control" for his pioneering work in that field.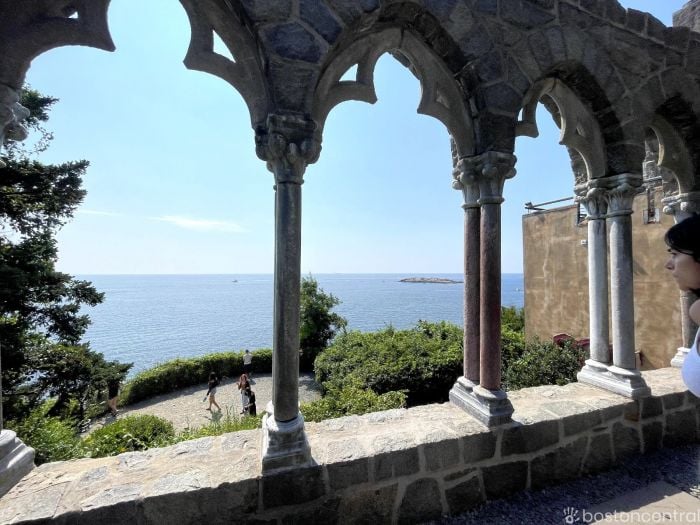 Over a three year period ending in 1929, he oversaw the construction of his medieval-style seaside residence near that of his parents in Gloucester.
The Museum's architectural style is mixture of a medieval castle, a Gothic cathedral, and a Renaissance-era French village set amongst Roman ruins.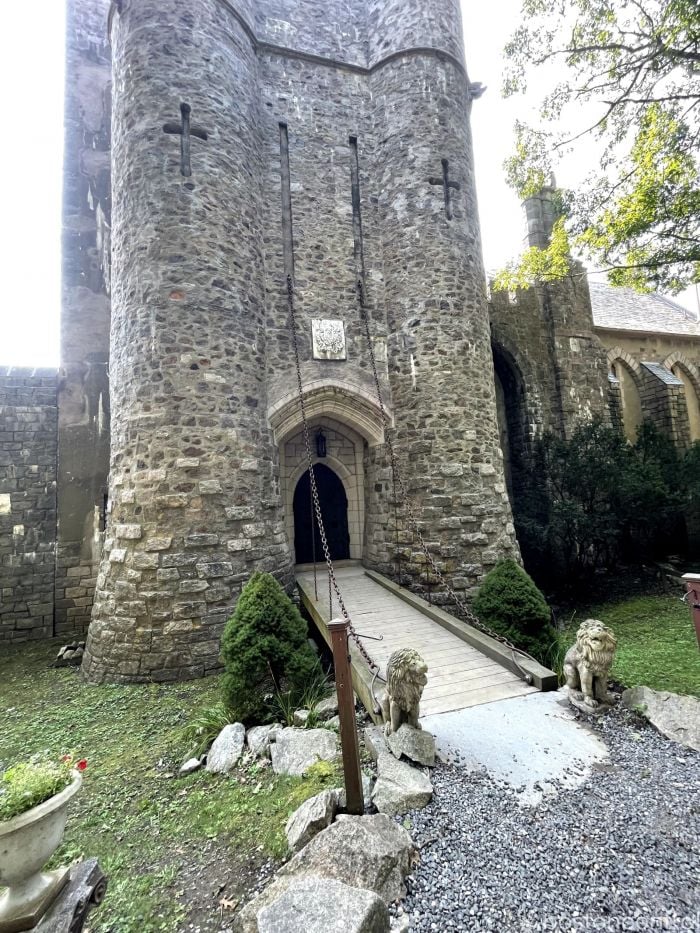 The castle was built as his home and laboratory and designed to accommodate his private collection of artifacts from ancient Rome through the Renaissance.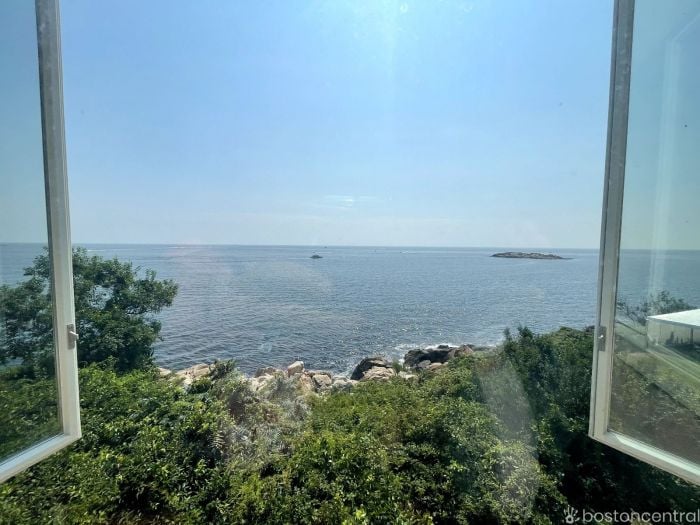 Visitors who book a guided tour can explore the many rooms of the museum, as well as enjoy the picturesque grounds and view of the Atlantic shore line.
If you prefer to take a self-guided tour, you may explore the museum and grounds at your own pace and enjoy the same access to the various exhibit rooms as guided-tour guests. *Self-Guided Tour tickets are only available for purchase on-site in the Museum Shop.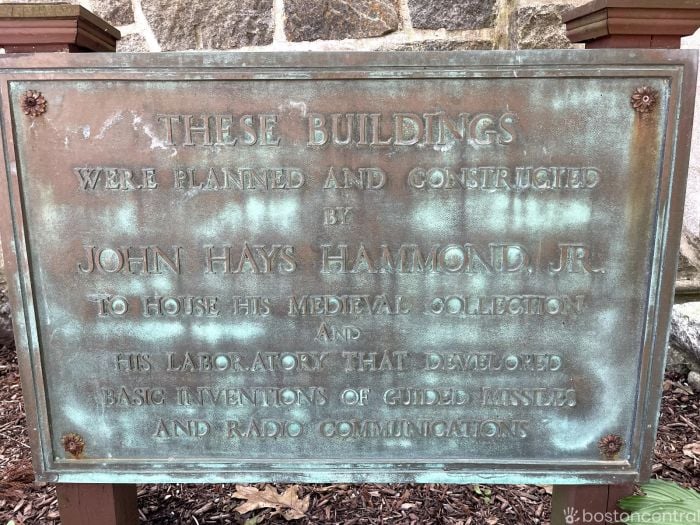 You can purchase tickets online or in the gift shop located just inside the main entrance of the castle museum. It's best to arrive 15 minutes prior to your timed admission to allow enough time for parking and the check-in process.
We suggest visitors plan for at least 60 minutes to explore the Museum and the surrounding grounds.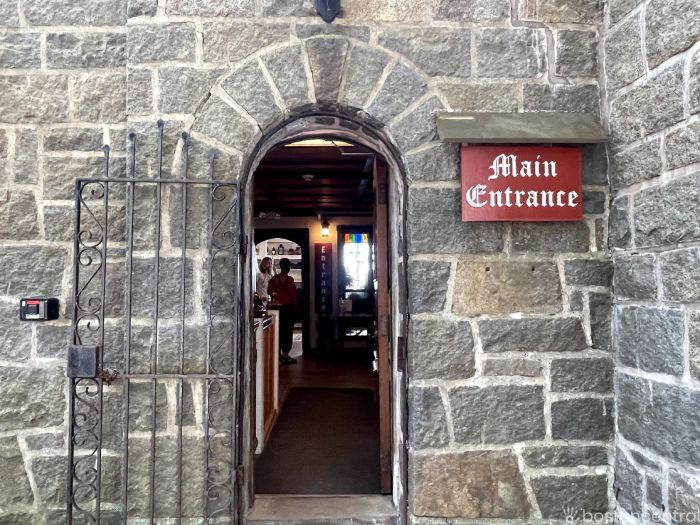 Docents will alert your party about 10 minutes prior to your tour. You will be asked to assemble in the shaded garden are in front of the drawbridge.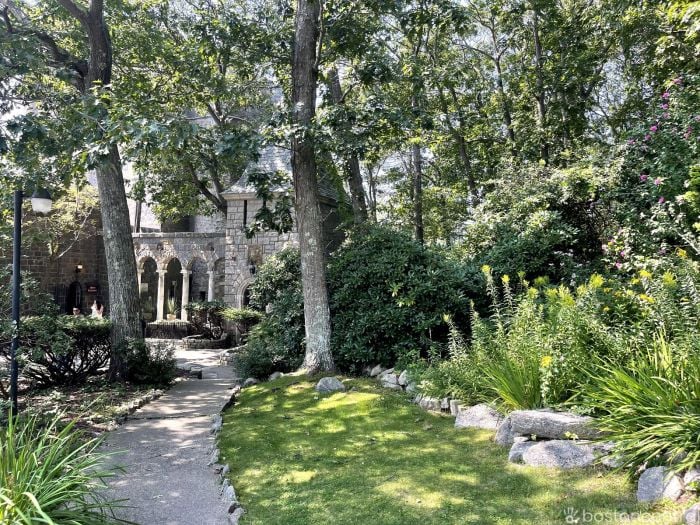 Here are a few views of the exterior of the castle & former home of John Hammond. Inside you'll get to see some very 'castle-like' halls and spaces, as well as very domestic, home-like rooms (like a library, a sitting room or a bedroom).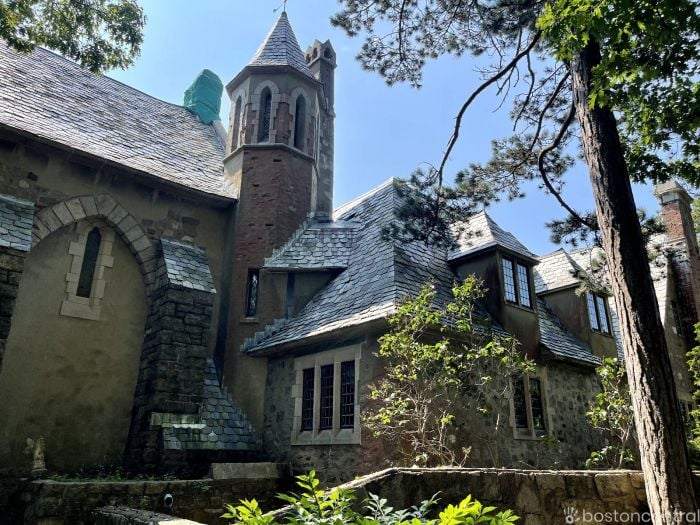 Tours begin promptly at the start time and visitors will get a brief history of the castle and John Hammond in the garden prior to crossing the moat via drawbridge to get inside.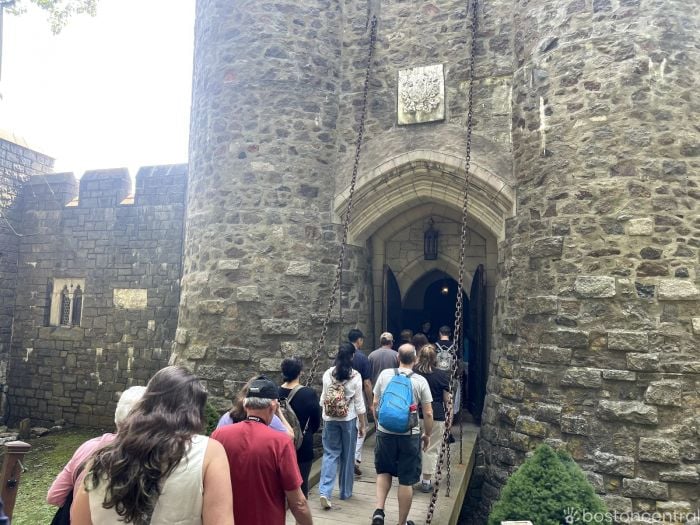 The interior is pretty impressive and includes a giant pipe organ, works of art, fireplaces, arches, and soaring arched ceilings.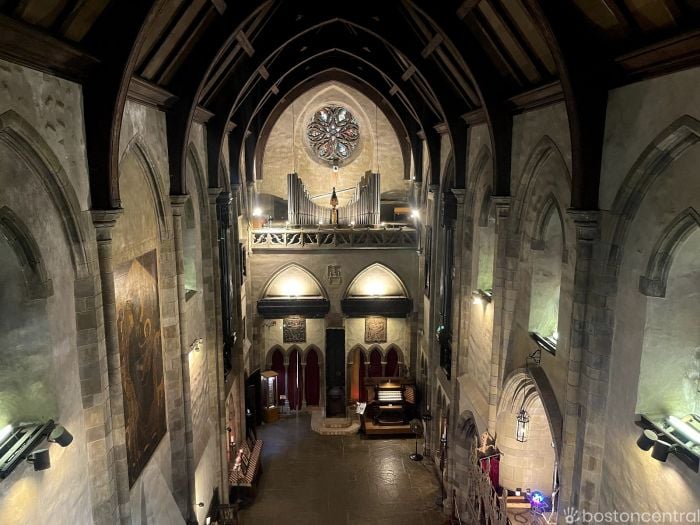 The tour continues here for a bit with more background on the eccentric inventor. Visitors are free to roam about the rooms and nooks during the tour.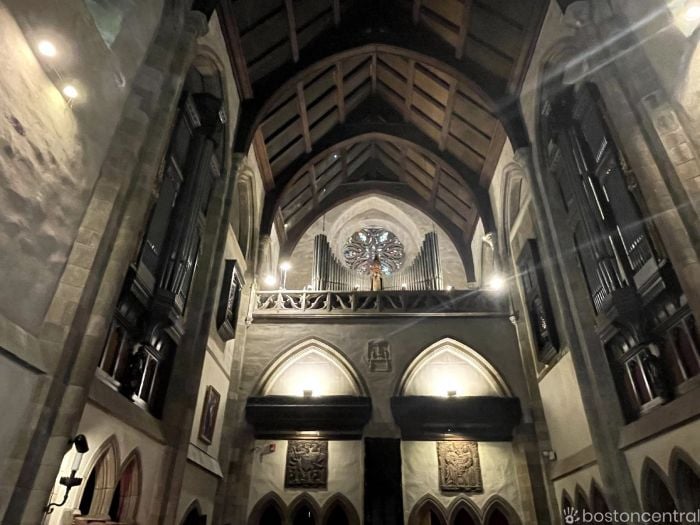 Don't forget to look up! You'll get to enjoy the beautiful stained glass windows, ornate balconies, and unique art pieces from around the world.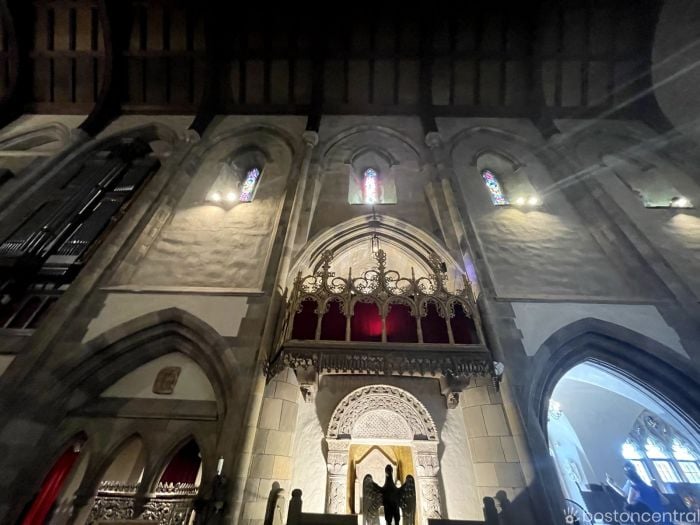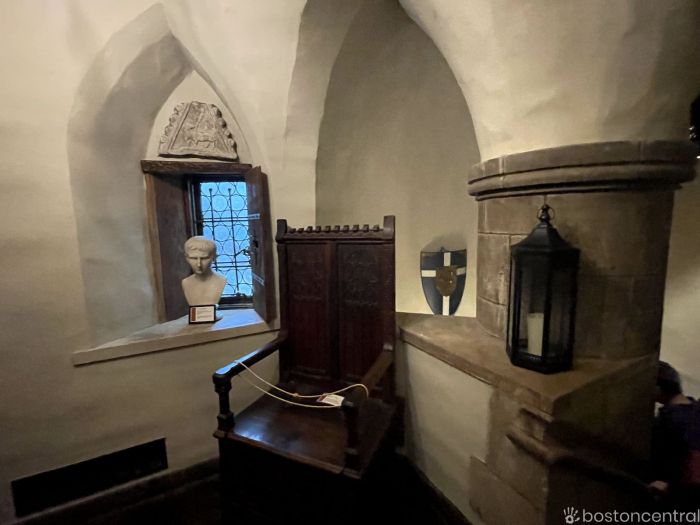 Hammond was widely traveled and appreciated the eras spanning ancient times, through the medieval period, and into the Renaissance. He purchased a broad collection of artifacts for display, and created his residence around large stone archways, windows, wooden facades, and other architectural elements from the Old World.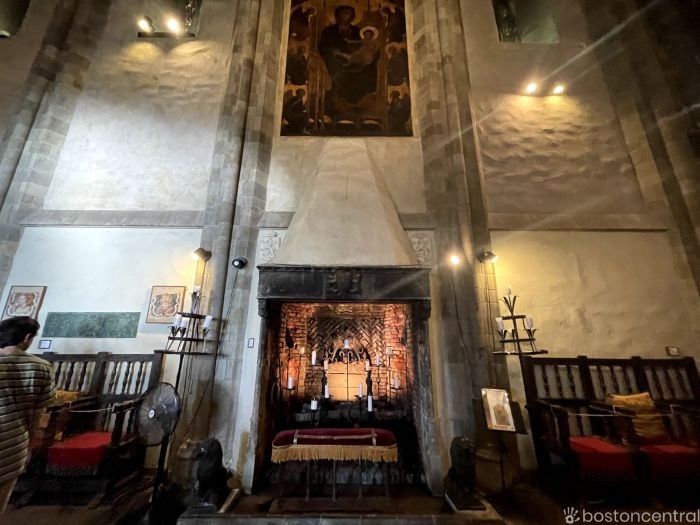 We most enjoyed exploring all of the little nooks. Below you can see a faint view of the waterfront out the left and center windows. This castle sits on some amazing real estate!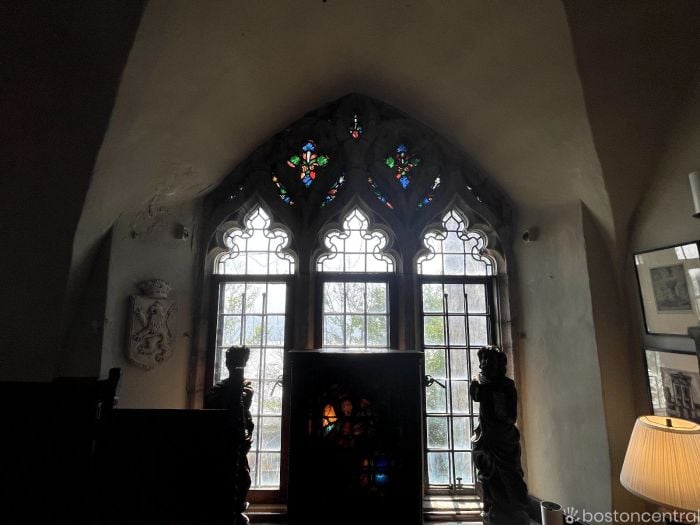 Perhaps the greatest item in Hammond's residence is the gigantic pipe organ, an instrument designed and built by a collection of world-famous organ builders over a period of ten years.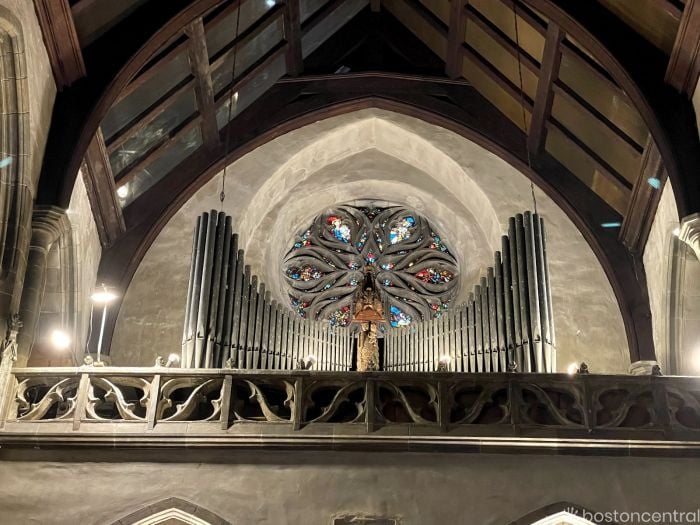 Consisting of 8,400 pipes it was among the largest pipe organs in the world and incorporated many of the features of Hammond's 19 patents for pipe organ technology.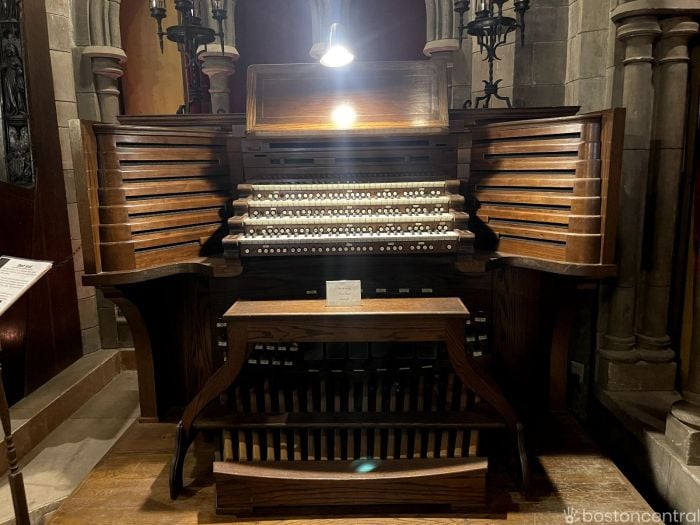 As you wind your way through the castle, you'll find yourself in the "house" area with rooms that were used by Hammond and his wife for everyday living. Below is the dinging room.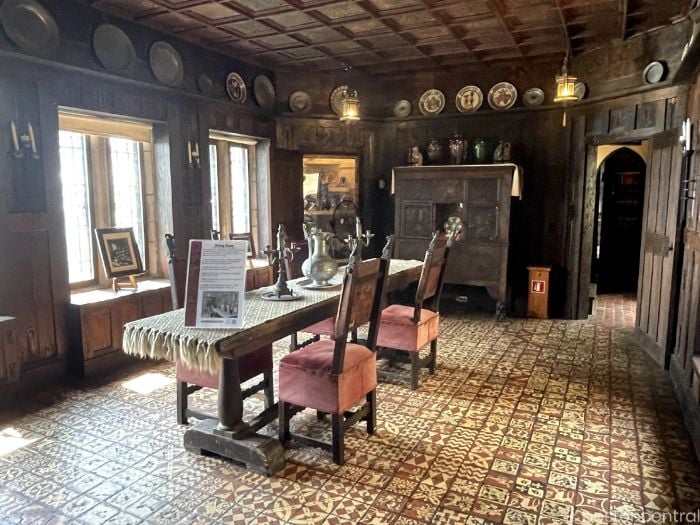 Next you'll discover a rounded study/library. These rooms give you that turreted feel with the rounded edges of each room.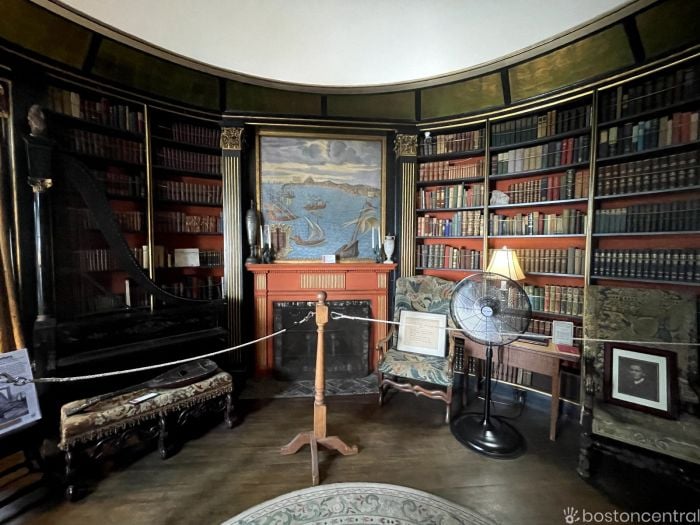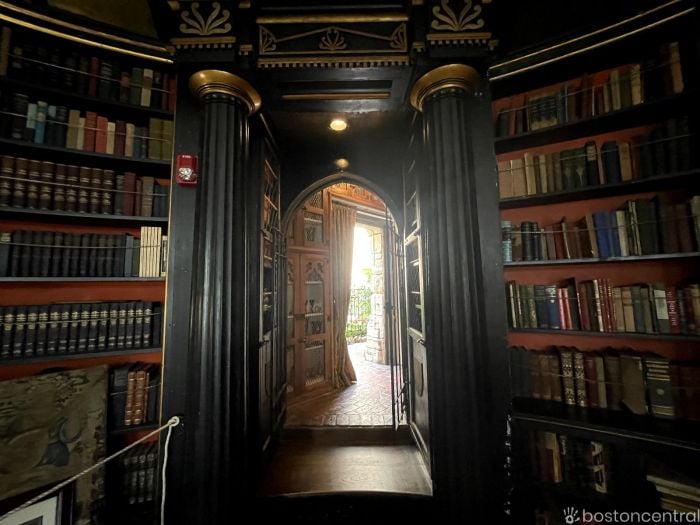 The dark interiors are flanked with windows that overlook the Atlantic ocean and a peaceful backyard filled with flowering bushes and trees.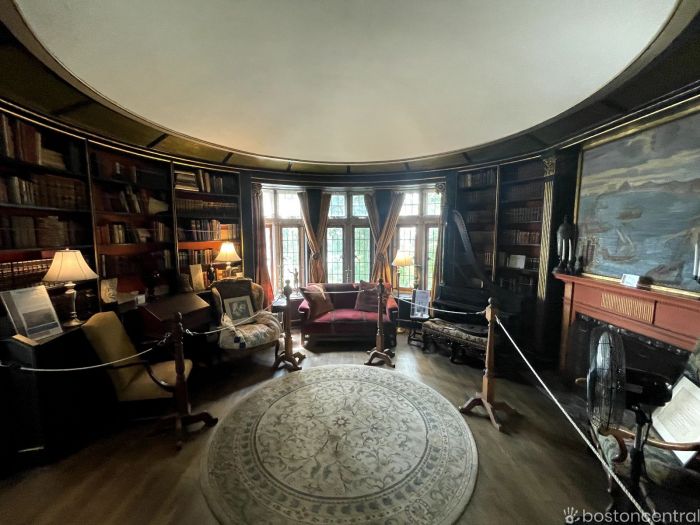 A few close up photos that show the detail of some of the many stained glass windows.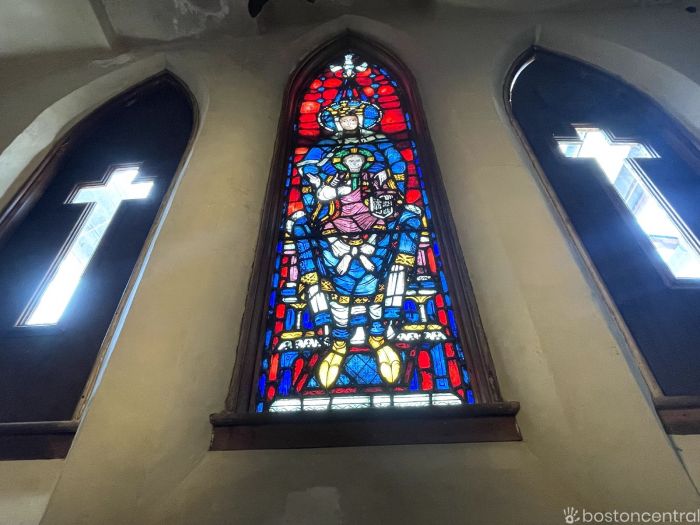 Again - exploring the maze like interior leads to all sorts of cool rooms and alcoves. Definitely do some wandering to see what you discover.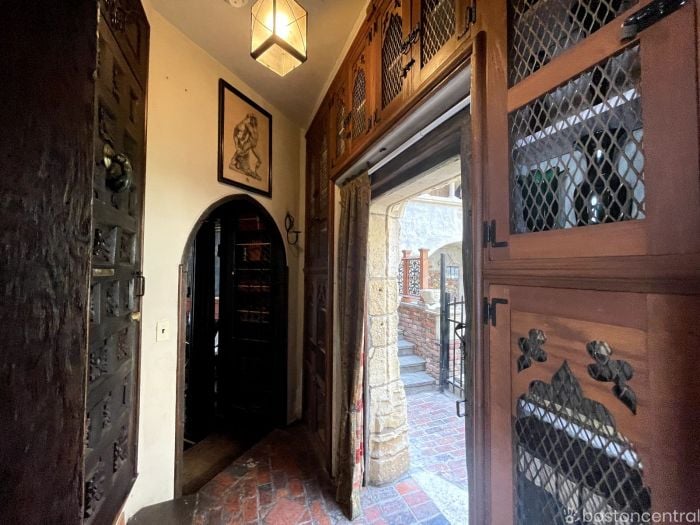 Here's another view of the dining room. Even the ceilings have a great deal of detail.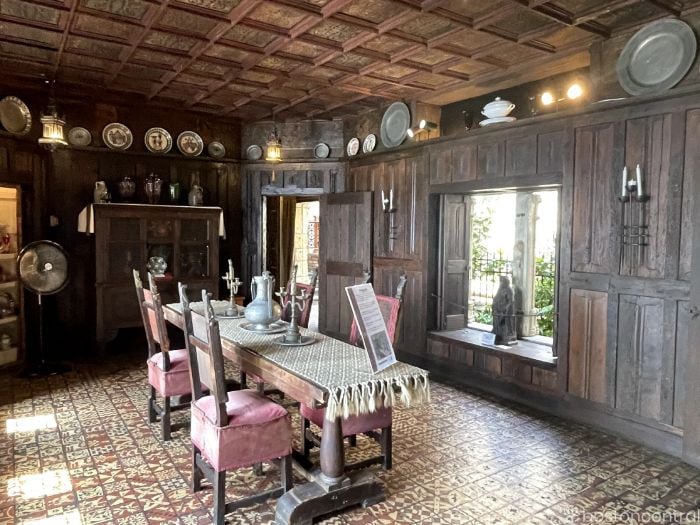 Close up on the dining room ceiling - painted wood frames.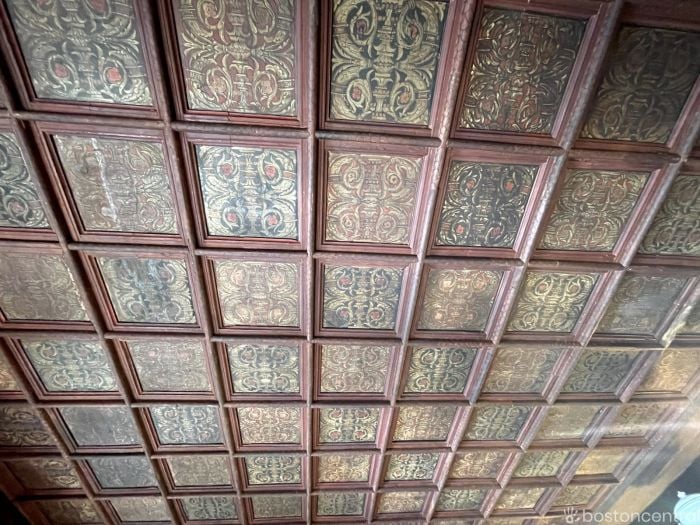 Eventually you'll arrive in a soaring courtyard with a glass ceiling evoking a greenhouse effect. Inside you'll find a small pond and a garden, along with more interesting architectural finds along the walls.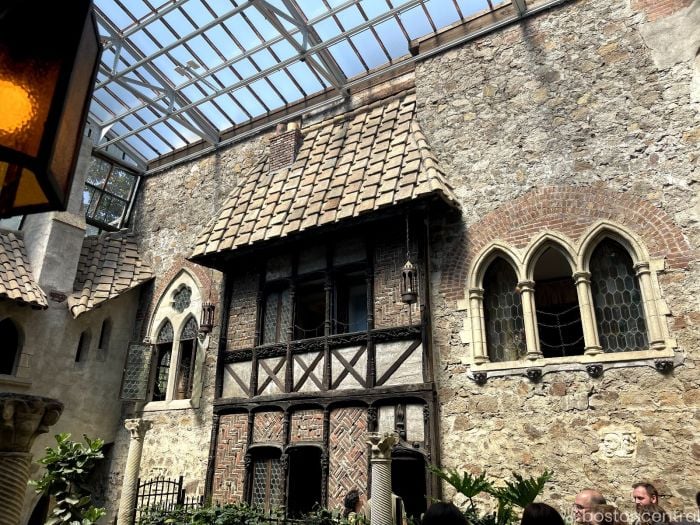 It's like a patchwork of architecture in here, with many different textures and materials put together to create the walls. Lots to take in, and it's quite beautiful.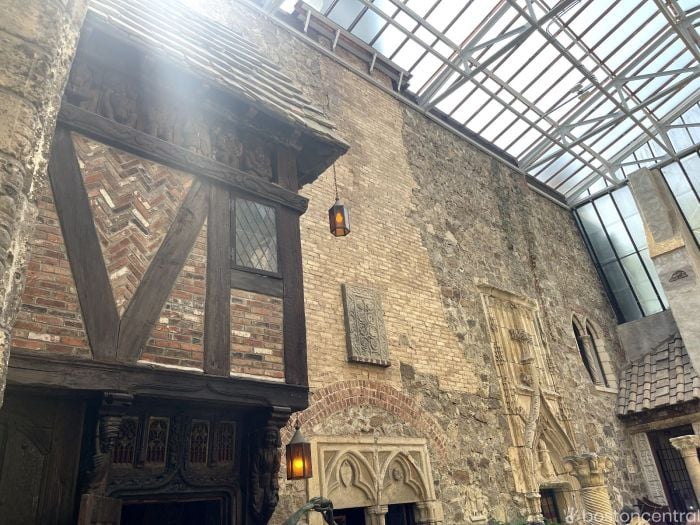 As mentioned, there are so many little details to unearth, so spend time to really look around to find them.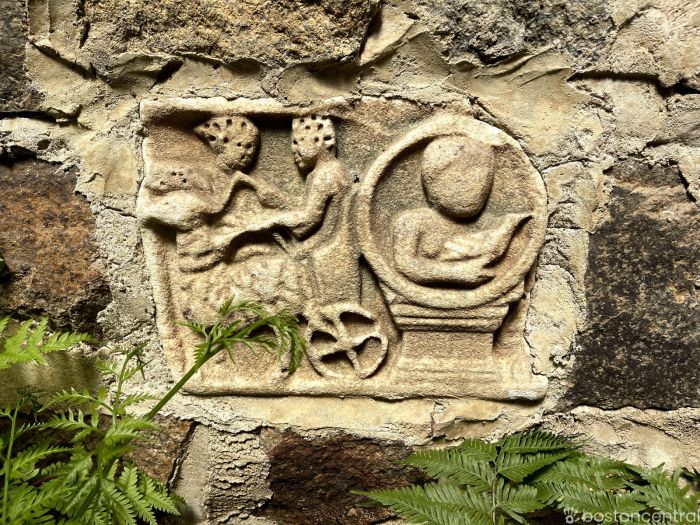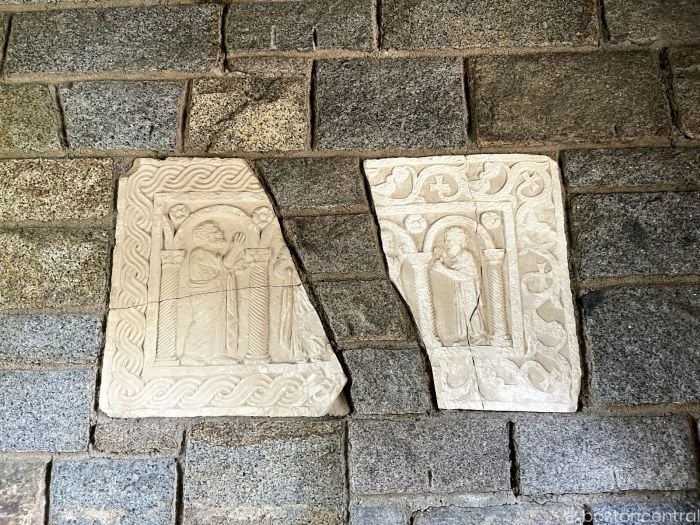 What we didn't know about John Hammond is, that over the course of his professional career, he was awarded over 400 patents. Many began in radio control before extending to electronics, naval weapons, national defense, as well as various consumer products. Who knew!?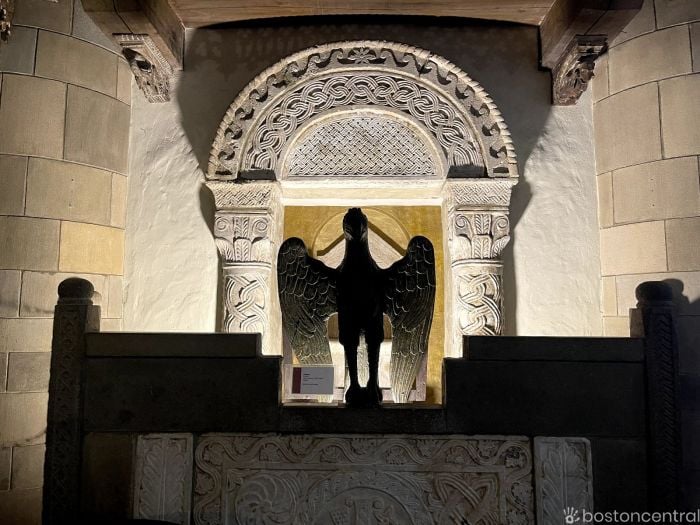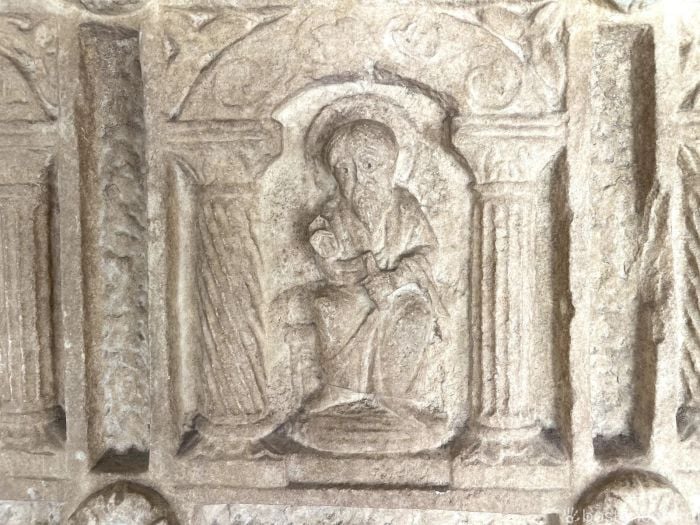 The wall to the left of the arch below contains the broken pieces of old gravestones. We found this to be both interesting and creepy.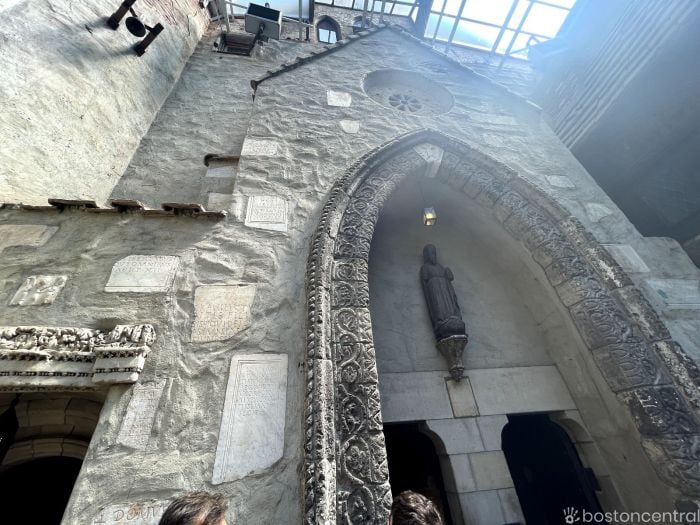 Recently, Hammond Castle Museum has undergone an incredible transformation from a quiet museum and wedding venue to a rejuvenated and vibrant member of the Cape Ann community with freshly created exhibits, popular children's programs and events to engage the greater community.
Find more ideas for great Daytrips from Boston in our handy Boston Daytrips guide. Some other fun summer adventures might include a visit to Stage Fort Park in Gloucester, a daytrip to Halibut Point State Park in Rockport, summer fun at Spectacle Island in Boston Harbor, Castle Island in South Boston, Boston area Beaches, or World's End in Hingham.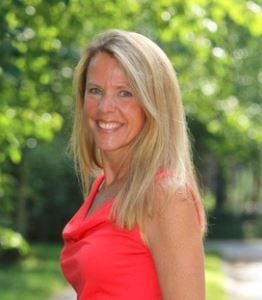 Stacey Sao has been the Managing Director of the family-friendly events and activities website, BostonCentral for over 20 years. She continues to enjoy discovering and exploring new places to visit in Greater Boston.
Ami Sao is a senior at Tufts University and deftly manages our social media accounts as well as contributing to site content. Keeping with the Boston theme, Jay Sao is a sophomore at Boston University, expanding our 'feet on the ground' in Boston. Each offers a new and exciting perspective on finding fun things to do in Boston.