Breezy Picnic Waterslides
Other Ideas:
Wingaersheek Beach
;
Duck Boats Boston Tours
;
Crane Beach
;
Beaver Brook Reservation Spray Deck & Playground
;
Rings Fountain on the Greenway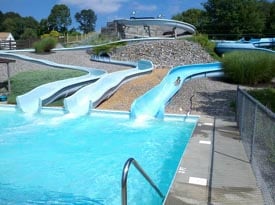 Enjoy a full day of old-time family fun at Breezy. There is lots of open grassy space to spread out on, as well as picnic tables. Pack a lunch for a picnic ... or visit the snack bar.
Everyone will enjoy swimming in the crystal-clear Whitins Reservoir, riding the Alpine waterslides … including the Tunnel Twister Slide (rides are unlimited throughout the day) and relaxing on their clean, well-groomed grounds.
Features and Attractions
:
Two 300' Alpine waterslides (unlimited rides!)

Giant Tunnel Twister Slide (unlimited rides!)

Spacious, immaculately maintained picnic grounds

Large tables by the water and throughout the grounds

Lake swimming with 500 ft. beach & sandy areas for kids

Snack bar Game rooms

Certified lifeguards at the beach and slides

Clean restrooms and changing facilities

Ample free parking

Birthday party and group outing packages
No alcohol is allowed on the premesis.
---
Open Weekend of June 2 & 3
Open Daily June 9 and thereafter through Labor Day
Park Hours:9:00AM - 6:30PM
Beach Hours: 9:00AM - 6:00PM
Waterslide Hours: 10:00AM - 6:00PM
---
View Admission Prices
---
---
520 Northwest Main Street, Douglas, MA
map
Phone: (508) 476-2060
From the North
: Take I-495 South to I-290 West to I-395 South. Take Exit 4A (Sutton Ave., Sutton) off I-395. Follow Sutton Ave. for 2 1/2 miles, then take a right onto Douglas Road. Watch for waterslide signs. Follow Douglas Road for 7/10 mile to stop sign. Turn right and go 2 1/2 miles to a small intersection. Go straight through intersection. Breezy is just ahead. Parking is on the left.
From the South (Rhode Island)
: Follow Rte. 146 North to the Rte. 16 Exit (Douglas / Uxbridge.) Follow Rte. 16 West for 3 1/2 miles to Douglas Center. Go 1/4 mile to a fork in the road. Bear right onto West Street. Watch for waterslide signs. Continue on West Street for 3 miles to Breezy. Parking is on the right.
From the South (Connecticut)
: Take I-395 North to Exit 2 (Rte. 16 - Douglas / Webster.) Bear right off ramp to Douglas. Follow Rte. 16 East for 5 miles. Take a left onto Cedar Street. Follow the blue and white waterslide signs to Breezy.
From the East (Boston and surrounding areas)
: Take the Mass. Pike (I-90) West to Exit 10 (Auburn), to I-395 South. Follow I-395 South to Exit 4A (Sutton Ave., Sutton.) Continue directions shown "From the North" (above) to Breezy.
From the West (Springfield, Sturbridge)
: Take the Mass. Pike (I-90) East to Exit 10 (Auburn) and I-395 South. Follow I-395 South to Exit 4A (Sutton Ave., Sutton.) Continue directions shown "From the North" (above) to Breezy.
---

Nice secluded picnic and water slide spot
Went there on July 26 2016, after 3pm to get the discounted price. It was too hot anyways before that time. The place was a drive, surrounded by woods in a remote area near Whitinsville. Parking was fine. No parking fees. Beach umbrellas are not needed. There are some shady spots from trees. There were plenty of people around but not so many that you cannot find a spot to relax. There were plenty of tables available. Some in the sun, some in the shade. The slides were the main attraction for the kids. There are three slides so the lines move fast. But remember this aint a high level amusement park that offers all the luxuries. It is a family owned place and it is simple. The lake water was surprisingly warm. Not cold like the ocean waters. The snack bar offers ice creams and all sorts of finger foods. They do offer some healthier items like salads, hummus and corn chips etc. Overall had a great experience. There were no issues of overflowing trash or stinking toilet rooms (of course no one expects restrooms to look like a four star hotel restroom). There was no excessive bbq smoking. No screaming and running kids. Everything was just normal. Great place to visit with kids of all ages.
---

had soo much fun
I live in Marlborough and had to drive for a little to get to Douglas, but it was worth it because my family and I had so much fun in there. I thought that the price was a little bit too much but still we had a good time, the good thing is that you can bring food and beverage to the park.
---

Had a great time
We went here recently with our 4 year old. It's Nice , clean facility. Shady and Breezy. The Water slides are not for the waterslide expert.They are pretty tame. Our 4 year old could go down with an adult which was great. this is the only place I know that allows this . You can bring your grill or a picnic , and can use floaties in the lake!!! I recommend it for families with children. It was a little pricey, but it was worth it.
---

A Day At Breezy Bend
...is like a day from hell. $17 for everyone over 5 years of age if you want to stand in line for a half an hour to ride down the one waterslide that they have. Picnic tables are jammed together in order to accomodate as many people as they can possibly squeeze into this small space, three-quarters of which is on a steep slope, making for treacherous footing for the little ones and for anyone who isn't nimble of foot and good at balancing. Most of the tables are in the sun, which gets pretty relentless as the day wears on, and oh - no grills there, either. You either bring your own (which a lot of people did, and set them up in some unsafe positions in their little bit of space on the side of the hill - we actually saw one tumble over full of burning coals, and come very close to hitting a baby lying in a little carrier chair below) or eat cold sandwiches. There apparently aren't any regulations about how many people you can crowd into a swimming area, because this place was just wall-to-wall people, and they continued to let more in - many of whom spread blankets quite literally six inches from each other. Walking down to the water required real skill to avoid stepping on people's blankets and belongings. Horrible place...highly recommend that you don't bother.
---
Info changes frequently. We cannot warrant it. Verify with Breezy Picnic Waterslides before making the trek. If you find an error, please report it...