Great Wolf Lodge MA (Formerly CoCo Key Water Park)
Other Ideas:
Frog Pond Spray Pool & Fountain
;
Beaver Brook Reservation Spray Deck & Playground
;
Salisbury Beach State Reservation
;
Crane Beach
;
Duck Boats Boston Tours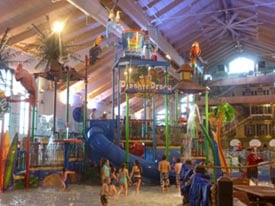 Near Boston, the Great Wolf Lodge resort in New England offers
indoor water park rides, slides & splashy fun
as well as dry-land adventures for the entire family.
Your
overnight stay
includes access to the water park, kept warm at a shiver-free 84-degrees year-round.
There's something for everyone such as kid-friendly activities, a range of dining options, an adult-friendly wine down service, and more all under one roof.
As mentioned above, in addition to the water park, you'll find lots of fun 'dry activities' as well, (each with an additional fee including:
Rustic Ridge Climbing Wall
- Your whole pack can take on this climbing wall, suitable for every age and skill level.
Oliver's Mining Co.
- When it's time to dry off from the water park, embark on a new adventure to hit paydirt!
Howlers Peak Ropes Course
- Face new challenges on our ropes course from the safety of a climbing harness!
Howly Wood XD Theater
- Immerse your Wolf Pack in a movie of 3-D Sights, Sounds, Motion, Thrills, and Fun!
Lazer Frenzy
-Your fun mission: navigate the maze while avoiding the beams of light and earn the highest score.
Ten Paw Bowling Alley
- Real bowling fun - only smaller! Shorter lanes and bigger fun perfect for the whole family.
Build-A-Bear Workshop
- Give your pups a chance to create and keep their very own Great Wolf Kids character.
Howl at the Moon Mini Golf
- A family-friendly game of interactive miniature golf that can be played any time!
Please visit our listing for more information about the brand new
Great Wolf Lodge
.
If it's a rainy day you are looking to escape from, here are more ideas for
things to do on a rainy day near Boston
in our handy guide.
---
Purchase a Day Pass, or
Book an Overnight Stay
---
www.greatwolf.com/newengland/waterpark
---
150 Royal Plaza Drive, Fitchburg, MA, 01420
map
Phone: (978) 342-7100
Minutes off Route 2 West
---

My Local Dump is Cleaner
I tend to not ever write a review about anything but after going here I just had to so I could warn people about this place. It was by far the most disgusting place I have ever been to. If you had any open cut or something I would be terrified of what virus or bacteria I was getting. Over crowded to point i felt like cattle at a slaughter house. The clientel were also nasty. Obesity is the rule, covered with stretched out tattoos. It truly was a slum. Half the people here clearly were here on my tab, as in, they paid with welfare checks. Keep an eye on your stuff as it will get stolen and keep an eye on your kids near bar area and creepy llooking pedofiles. The menu was right up the alley for those who love fried fattening food. I actually heard an overweight girl tell her mom that she was getting her veggies,'French Fries'.
---

too many people in the water park
you had too many people in the park last weekend. If you were to have a fire or something i don't know what would happen, you should only be limited to so many people - it was a zoo.
---

Awful
This place is a disaster. The water park was extremely over-crowded to the point where we questioned the legality of having so many people in the pools (elbow to elbow), the food is poor quality and overpriced, the staff is rude with zero customer service skill and the pool closed early without any advanced notice or explanation. Unless you can go on a week day and your expectations are extremely low, don't even bother!
---

Fitchburg location - no thanks
This place is a hole...overcrowded and rapidly gaining an awful reputation as dangerous...You wouldn't like the crowd there at all. The staff is okay but the management seemed rude and bothered during our birthday party...It's too expensive for what you get, there is hardly any variety of food and drinks and the prices for the food is on par with Disney and there is zero class for a Marriott Hotel! The music is too loud for the amount of people they cram in there and it is extremely small for what you get. There are holes in the walls were TV's used to be and the palm trees were covered in grime, my feet were black after walking around the concrete. Just not a good time we saw two guys fighting over something that their kids got into and the police came, we left never going back please please save your money!!! (Go to Danvers instead)
---

Great Staff
I read horrible things about CoCo Keys but my kids really wanted to go. I was very pleasantly surprised. It wasn't overcrowded and the water was clean. The lifeguards were super vigilant and I give special praise to one of the lifeguards and the First Aid staff. . My son cut his toe and these staff were professional and reassuring to my son. Thank you Coco Key for a really fun day for my two sons.
---

Better than expected Will return
I booked a one night stay for this coco key location never expecting to hear such awful reviews i booked before reading more about the location, once i did i even contimplated canceling, However im glad I didnt. The location is not as big as you would expect, however a great size to provide fun from the youngest to the oldest. Its great for one day of fun it isnt big enough to spend another straight day there. , the areas are clean the life guards are great, was not packed at all. The location is in the middle of nowhere which i think is perfect, but popular shopping stores and restaurants are a short ride away. the hotel room was clean and spacious, The staff of the hotel were courteous and helpful the restaurants located within the hotel are reasonably priced and tasty. I will return again, My child is three was a litte overwhelmed with the place but after a while he had a blast, is def a wonderful place to take a weekend out and be a kid.
---

co co keys are a bunch of crooks
I had some previously purchased tickets for the park and when i showed up with my daughter at 10 am i was told that there sold out??and cant go in my daughter started balling her eyes out. She had been looking forward to going all week it was her birthday.I asked to speak to a manager he would not even come out of his office all sold out to internet pre sale they do not even hold any spots for walk in's or someone like me with previously purchased tickets. Giving them a 1 rating is to high there should be a 0 for these clowns I live less than 10 minutes away and will never go back!!!ps every thing is way over priced there too as far as food goes
---

CoCo Keys Fitchburg
THIS PLACE IS ABSOLUTELY DISGUSTING!!! DO NOT GO!!! I can only assume CoCo Keys planted the positive reviews as there is no way anyone goes here and enjoys it. I went March 5th for my son's birthday and it was just as horrible as the March 6 reviews, way overcrowded and a CESSPOOL. I think swimming in the Ganges is cleaner, no lie. I cannot express how awful this place is. TOWN OF FITCHBURG BOARD OF HEALTH, ARE YOU BEING PAID OFF? THAT'S THE ONLY EXCUSE HERE!!!
---

Horrendous
I completely agree with the March 6, 2011 writer below. My wife and I took our kids on the same day as that writer...I have to assume it was the same day anyway, because the hotel pool (separate from the water park) was closed 'due to an accident' on the morning of the 6th for several hours. I was taking my kids to THAT pool to (hopefully) give them a snowball's chance of being able to SWIM. The water park, all weekend long, from open to close, was WAY overcrowded. As the other writer noted, it was unenjoyable and unsafe. Couldn't move in the water or out...and the locker/changing rooms are a joke...a BAD joke. Again, picking up on the other writer's point, my son narrowly missed being smacked in the face by the randomly popping open lockers. What absurd technology. As for the hotel, it's falling apart...apparently with no repairs on the horizon. Check-in was at 4pm...and 99% of hotels will get you into a room if you show up 1, 2, or even 3 hours early...but not here...not a minute before 4pm...and the line for check-in at that time (given the overbooking) was 40-minutes long...real nice start to a 'getaway' weekend. Won't make that mistake again. I only wish, like the other writer, I would have demanded a refund too! Good for him...but even in that case, I would still be irritated at the waste of time!
---

Dont waste your time or money
My families experience was so horrendous at Coco Key in Fitchburg, that I find it necessary to warn as many people as possible to not waste their money and possibly avoid bodily injury that may result from overcrowding. This is first time I have ever posted something about a negative experience on the web. I feel so strongly about this that I am taking the time to do it. We check in with no problems, as we are making our way to the main facility a group of people are exiting the hotel pool verbally expressing that someone had defecated in the pool. When we enter the Coco Key facility we find that it is so crowded that we cannot move without bumping into other people. Picture a crowded rock concert. I went to change in the menís room which was without incident. My wife and 3 year old daughter was another story. It took them a half hour. The room was crowded and it took forever to use the locker. Apparently the lockers are stacked three or four high so if you have a locker two people cannot use their lockers at the same time. The person on the bottom has to wait for the person on top to finish. When my wife came out I needed my wallet to go in the locker, which took another 20 minutes. So thatís almost an hour just to get started. In addition the locker pops open when you scan your band. You have no idea which locker itís going to be because it is whatever locker is available. A middle locker could smack a young child in the face. Once inside there was no place to sit or put our stuff. We managed to put our stuff on top of cubby hole station. The place smells like feet. The water was cold and the air temperature is not 85. It is warm but for some reason a cold blast goes though every five minutes which stinks after you have become wet. There were so many children that daughter was knocked down several times, the last one resulting in a bloody lip. I will get to that later. The life guards were not manning any of the waterslides so the children were fighting to go down and then would run into each other at the bottom. The lazy river was tiny and cold with only a few tubes available. The pool was cold and there were so many people that you could only bob in place. No swimming. At this point I said to my wife I feel cheated and went to management to demand a refund and to complain about the conditions. I did get a refund and the manager admitted that crowding was issue. While getting our refund my daughter was knocked down the final time which resulted in a bloody lip. Picture this, a screaming, crying child with a bloody lip and the staff did nothing. Not even to ask how she was. This place is lawsuit waiting to happen. Someone is going to get seriously hurt. The capacity is 1000 people. Way too much. Please do not waste your money and put your family, especially children in danger. There are many stories like mine on the web but I thought I would give Coco Key the benefit of the doubt because there are always people who complain about everything. This place was that bad and I will never go again. Please for the sake of yourself and other people do not go or recommend this place. Their advertising is very deceiving.
---
Info changes frequently. We cannot warrant it. Verify with Great Wolf Lodge MA (Formerly CoCo Key Water Park) before making the trek. If you find an error, please report it...