Canobie Lake Park
Other Ideas:
Lake Compounce
;
Boston Common Carousel
;
Bromley Family Fun Mountain
;
Water Wizz
;
Paragon Carousel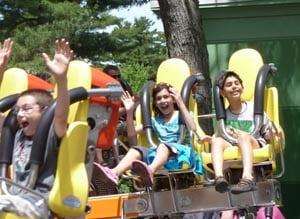 Canobie Lake Park is a 107-year old amusement park offering fun rides and entertainment children of all ages. Adults and children alike will enjoy the main park, kiddie park, arcades and beautiful lake cruises.
The park is clean and well kept. There are rides suitable for most age groups, including a kiddie land with rides for wee folks under 32' and wild coasters and spin rides for the more daring and adventurous.
Flying helicopters, carousels, mini bumper cars, and lots more await.
View a list of Kiddie Rides
View a list of Family Rides
View a list of Water Rides
View a list of Thrill Rides
Ride highlights include the 81+ year old
Yankee Cannonball
coaster. This wooden coaster will have you laughing and smiling with just the right amount of thrill. They don't make em' like this anymore. You'll be glad you rode it.
Also the
Boston Tea Party
flume ride - not only does it soak the passengers - onlookers can also be refreshed by the giant splash that the ride makes. The oohs and ahhs and laughter in this area make it a fun one to check out. (Best to wear a bathing suit or to have another shirt handy for this one).
New this summer (2011) is a super coaster called
Untamed
. With a 90 degree ascent and a 97 degree drop - plus a giant loop and corkscrews, this is one jaw dropping thrill ride.
Da Vinci's Dream
is a swing ride ride on the lake for beautiful views as you fly around. The
Extreme Frisbee
is a much more intense spin ride that swings back and forth and spins around.
Got questions? Visit their helpful
FAQ
for lots more information.
---
Weekends mid-April through May
Daily Memorial Day through Labor Day

Spring hours noon to 6:00 p.m.
summer hours 11:00am to 10:00pm
---
View Admission Rates.
Parking is free
---
---
85 North Policy Street, Salem, NH, 03079
map
Phone: 603-893-3506
From Boston: Take I-93 North to Exit 2 in Salem, NH. Bear right off exit, left at lights onto North Policy St.1 mile to Canobie Lake Park.
---
**Wait times for rides can be long on weekends. Average can be 20-30 minutes. **


Visit our Listing on FamilyZip for photos, insider tips and more information.
---
My day at Canobie Lake Park, Grade 3 Student
Every year I go to Canobie Lake Park with my family, it's so much fun. This year my cousins from California came with us. We went on so many rides, and we were there all day through late night. My favorite ride that I went on was The Yankee Canon ball, it's a wooden roller coaster and it's really old. Other rides that I went on and enjoyed were, the Corkscrew roller coaster, Untamed roller coaster, the Pirate Ship, and the Log ride. I also had a lot of fun going on the Boston Tea party with two of my older cousins, we got so wet. I also won a really cute yellow whale on the fishing pond game. It was such a great day, I was exhausted by the time I got home. I can't wait until next year.
---
My day at Canobie Lkae Park, Grade 3 Student
Every year my family and I go to Canobie Lake Park. I love it there, we've been going since I was a baby. My mom says this tradition started when she was a little girl. I went on lots of rides some of them were wipeout, tilt a whirl, the roosters, the log ride, the pirate ship, the haunted mine, over the rainbow, the psychodrome, and my two favorites; Untamed & The Yankee Cannonball. It was really cool, I was in line for the cannonball with my mom and my uncle and this kid started talking to me and we made friends. It was cool because my mom told me we were in line for 1hour and I had so much fun with my new friend that it went really fast. I got to sit next to my friend on the roller coaster instead of with my uncle or my mom, they sat behind us I felt like I was all grown up. On the log ride, I got so wet. This was the first time on the pirate ship and it was AWESOME! On wipeout, I felt so cool because my older sister's friend came on with me and she was nervous, but I wasn't because I've already been on it. I loved watching my mom and uncle shoot up really fast on Starblaster. I'm not ready for that one yet but maybe next year. We stayed until the park closed and I had so much fun. Two thumbs up for Canobie Lake.
---
Info changes frequently. We cannot warrant it. Verify with Canobie Lake Park before making the trek. If you find an error, please report it...