Water Country
Other Ideas:
Wingaersheek Beach
;
Goldfish Swim School
;
Crane Beach
;
Frog Pond Spray Pool & Fountain
;
Duck Boats Boston Tours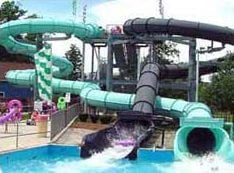 Water Country has something for everyone! Thrill seekers are challenged by the breaking waves and speed slides. Others can relax in the sanctuary of Adventure River, swimming pools, and shady lounge areas.
Make a family memory on our five person raft rides and slide together on four other speed slides. Get dumped on together at the Tahiti Tree house.
Finally, all kids will enjoy four areas especially for the youngsters insure that our under four footers get to slide and splash too!
Main Attractions
:
Adventure River
Go through waterfalls, fountains and caves on our ¼ mile long river ride.
Black Hole and Warp 8
Take a voyage down these high intensity looping inner tube rides, guaranteed to give you all the thrills of a roller coaster!
Double Dive Boggan
Grab a mat as you go down head first over the abyss. Race against your friends!
Double Geronimo
Experience the thrill as you zip down the 58-foot high twin speed slide!
Giant Wave Pool
Ride New England's largest wave pool containing 700,000 gallons of water. Catch the monstrous waves and have fun! Also, splash around bubble bay on the left side of the wave pool!
Kiddie Cove
Designed for young splashers, this shallow pool is in an enclosed and secluded area. There is also a dry sand area with slides and a miniature village to play in.
Ollie Octopus
Children love climbing up and sliding down the arms of Ollie. The slides are fast, so watch out!!!
Pirates Lagoon
Play in the 40-foot long pirate ship with lots of slides and places to hide. Check out the cannons, volcanoes and a lounging area for the entire family to enjoy!
Racing Rapids and The Plunge
The plunge is 396 feet long and racing rapids is 422 feet long. Don't hold your breath!
Shoot and Screamer
Enjoy the thrills of a double tube ride. Slide with a friend or by yourself. Shoot rider must be four feet tall to participate.
Tahiti Tree House
Our newest attraction – Get drenched under the giant tipping bucket. You'll find lots of slides and other water attractions to play with!
Thunder Falls and Wild Canyon
A white water rafting adventure for the entire family, these tubes can carry up to 5 people and wind through curves and tunnels. You will get wet!
Triple Giant Slides
Capture the thrill of a bobsled ride on three of the most exciting rides in the park. Bank around the curves and accelerate on the dips before you splash into the pool below.
Whirlpool
Relax around and around and around this pool as the current moves you. Watch out – it might lead you under the falls! Infants are not allowed in this pool.
You can find more exciting
outdoor waterparks near Boston
in our handy guide.
---
June 1 - 15 - 10:00 am - 5:00 pm
June 16 - 30 - 10:00am - 6:00pm
July 1 - August 15 - 9:30 am - 7:00 pm
August 16 - 31, - 10:00 am - 6:00 pm
September 2 - 7 - 10:00 am - 5:00 pm
---
See Water Country rates/buy tickets online.
---
---
2300 Lafayette Road, Portsmouth, NH, 03801
map
Phone: (603) 427-1111
From the Boston and Portland, Maine areas
:
Take Interstate 95 towards New Hampshire. Take Exit 5 and continue towards the "Portsmouth Traffic Circle"
Take Route 1 South for approximately 3 miles. We are across the street from Burger King.
From the West, Manchester, Concord and Nashua:
Take Route 101 East towards the Seacoast. Merge onto Interstate 95 North. (Have 2 quarters for the toll!)
Take Exit 5 and continue towards the "Portsmouth Traffic Circle".
Take Route 1 South for approximately 3 miles. We are across the street from Burger King.
---
What to bring:


Towels, sunscreen, aqua socks or sandals, extra $, proper swimwear and your smile!


What not to bring:


Jewelry, non-waterproof watches, radios, flotation devices (free life vests available), masks or goggles, and pets.


*Make a plan and agree on a meeting place and time throughout your day. This will be extremely helpful if someone gets lost, since we don't provide personal paging.


*Try to plan your meals before 11:30 or after 1:30 p.m. That is the busiest time for the snack bars.


*Water Country does not allow bathing attire with: Belts, buckles, rivets, grommets, or metal of any kind. Family appropriate swimwear is required in the park.


*You may bring food into the park, but alcohol, glass containers or BBQ equipment are not permitted. Persons under the influence of or possessing drugs or alcohol will be ejected without a refund. Bags will be checked upon entering the park.


No refunds or rain checks for inclement weather.


An adult must accompany children under the age of 12.


To maximize your day's enjoyment arrive early and slide early, especially on sunny days during July or August.


Children who wear diapers are required to wear a swim diaper for the health and safety of all our guests. Swim diapers may be purchased in our gift shop.
---

NOT SUCH A NICE PLACE
I read a several reviews of water country that were not good and having visited yesterday I see that they are true. The biggest problem Water Country has is the staff. Simply put-they don't care and they don't want to help you in any way ie if you need to ask a simple question. The attitude is clearly don't bother me, I don't want to talk to you and I don't care about you. It's sad to see this attitude in a place that has so many children. I was sorely disappointed and would not go back. Maybe it is the way management treats it's staff - I don't know-but it's give us your money and then go fly a kite.
---
Info changes frequently. We cannot warrant it. Verify with Water Country before making the trek. If you find an error, please report it...