Crane Beach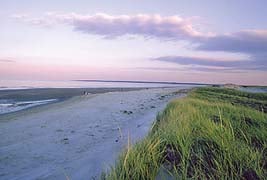 The white sands of Crane Beach stretch for miles along both sides of Castle Neck, forming one of the most picturesque swimming beaches in all of New England.
Crane Beach also provides important habitat for myriad wildlife and is an important natural barrier that protects the Essex River Estuary and its inland communities.
Voted 'Best Beach' of Boston three years running with four miles of white sand and gentle surf. Amenities Include bathhouses, lifeguards, and concession stand onsite.
Advance parking passes are currently required daily.
Reserve Beach Passes
Advance-passes are required daily starting on May 15.  Reserve 2023 Crane Beach Passes.   
Pass release schedule
Noon on Monday: passes for Tuesday, Wednesday and Thursday
Noon on Thursday: passes for Friday, Saturday & Sunday
Visit these helpful FAQ links for more information about
Parking at Crane Beach
 for both
permit holders
and
NON-permit holders
 this year.
Parking Permit Changes for 2023
Over the next year we will phase them out in favor of admissions discounts based on Membership level. Current permits will be honored through their expiration date.
Members whose permits expire before Labor Day may renew by 4/30/23 and enjoy Permit privileges all summer. We will stop selling Permits on May 1, 2023.
Beach Parking Pricing After May 1, 2023
Non-members: $40 weekdays; $45 weekends & holidays
Individual, Family, & Contributing Members: 50% discount off non-member price
Supporting-level Members: $10, weekdays, weekends, & holidays
All Members who arrive by bike/on foot will be free, & non-members will be $5. Any Member arriving via the CATA shuttle can access Crane Beach free of charge and non-Members will be $5.
Crane Beach FAQs
When to Visit:
Open year-round, daily, 8:00am to sunset. Allow a minimum of 2 hours, 6.5 hours if also visiting Castle Hill (including Great House or landscape tour) and the Crane Wildlife Refuge.
Check current admission fees & permits
Greenhead Season
Green-eyed horse flies, known as greenheads' appearing annually from about mid-July to the first week in August. They pack a nasty bite, are are extremely annoying. Crane Beach is notorious for these pests during mid to late July. You can check the Crane Beach Twitter account for daily updates.
Tips for Greenheads
:
- Wear light-colored clothing, they are attracted to dark colors.
- Wear long sleeves and pants when possible, they can not bite through clothing.
- Apply Skin-so-soft (available at the Crane Beach store)
- Plan beach visits on windy days, they have a harder time flying in windy conditions.
- Avoid the beach altogether during this time
- Greenheads are attracted to sweet and salty scents so dry off after coming out of the ocean and avoid perfumes.
Parking
Designated parking area surfaced for year-round use. 1,400 cars. The Town of Ipswich manages - for Ipswich residents only - a 350-car parking area located next to The Trustees' parking area. Ipswich residents are required to have current beach stickers to park in this area. From October 1 to March 31, horse trailer parking is located in The Trustees' main parking area.
Crane Beach parking Pass
A
Trustees of Reservations membership
includes a seasonal parking pass to Crane Beach. While the pass doesn't guarantee entrance on busy days, (you still have to get there early to ensure a spot)... it's a pretty good deal if you visit Crane beach a lot. In addition to the parking pass, you get free access to all of the Trustees Properties, including the Crane Estate, right up the hill from the beach.
Crane Beach Parking Lot Status Updates
Follow @CraneBeachMass on Twitter for really useful parking status updates. When you are traveling some distance to get to the beach, know the odds of getting a parking space before you get there.
About Crane Beach Conservation
:
More than 1,200 acres of beachfront, dunes, and maritime forest are managed for both recreation and conservation. Elevated boardwalks, vegetation management programs, and fencing protect the dunes.
More than five miles of designated trails traverse an extensive dune complex featuring swales that support amphibians and invertebrates. Cranberries and insect-eating carnivorous plants, such as sundews, also grow in these interdunal swales. Castle Neck is the site of the North Shore's largest maritime pitch pine forest.
Looking for more of the
best beaches near Boston
? We've compiled some of our favorite beaches that are all within an hour's drive of Boston, or less!
---
Open year-round, daily, 8am to sunset. Allow a minimum of 2 hours, 6.5 hours if also visiting Castle Hill (including Great House or landscape tour) and the Crane Wildlife Refuge.
---
View Parking Rates
---
thetrustees.org/place/crane-beach-on-the-crane-estate/
---
290 Argilla Road, Ipswich, MA, 01938
map
Phone: 978-356-4354
From Route 128 north (towards Gloucester), take exit 20A (Route 1A north) and follow for 8 miles to Ipswich. Turn right onto Route 133 east and follow for 1.5 miles. Turn left onto Northgate Road and follow for .5 mi. Turn right onto Argilla Road and follow for 2.5 miles to Crane Beach gatehouse at end of paved road.
---

Biting greenhead flies
We spent a day there last weekend. Beautiful beach, great for kids but we were bitten by green head flies, we applied bug spay but was not helpful. They are relentless and we have welts from them, they are still itchy even with some treatment. Don't know exactly how long their season is. We won't be returning soon.
---

Munch Munch Munch
Green Heads will get you here from about June through August. They've been known to make grown men run for their lives. Make note of this before bringing your young children. Beautiful, unspoiled beauty best seen before or after the green heads show up.
---

By Far A Beautiful Beach
I have been going to Crane's for years. The bathrooms are always clean, the concession stand is a bit pricey, but great if you are dying for a quick bite, and the showers are nice. The water is great to swim in and there are many sandbars to walk out to. Every now and then some of the sea critters will come in to see what is going on. I have seen a few small rays and there are always clams along the shore. I have a great collection of sand dollars that I found during low tide between the sand bars and shore. The greenhead flies are awful, though. They bite and can even draw blood. Make sure to bring baby oil as a repellent for them. I have noticed that there has been a huge increase in the amount of visitors. As long as crowds don't bother you, it is definitely a great beach to bring the family to.
---

Not Crazy About It
I paid $22 to park in a giant, muddy puddle. I had 3 small kids with me that I had to unload so I asked if I could pull up out of the puddle and was told no. I stepped out of my car into 4 inches of warm, dirty water. It was very, very crowded and just not worth it. I'm going back to Wingaersheek.
---
Info changes frequently. We cannot warrant it. Verify with Crane Beach before making the trek. If you find an error, please report it...