Northfield Mountain Recreation & Environmental Center
Other Ideas:
Burke Mountain
;
Weston Ski Track - Cross Country
;
Crotched Mountain Ski Area
;
Yawgoo Valley Ski & Sports Park
;
Cranmore Ski Resort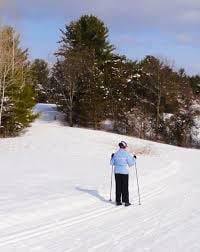 About Northfield Mountain
Northfield Mountain is a four-season recreation destination with a wide variety of environmental and recreation programs. Public access to the land was mandated as a part the building of the resident hydroelectric facility.
Enjoy cross country skiing, hiking, and mountain biking on 26 miles of trails; camping, canoeing, and kayaking at the Barton Cove Recreation Area; interpretive river cruises and charters on the 44 seat Heritage; public environmental and recreation programs at the Visitor Center; and school environmental and recreational programs on-site.
Other offerings include public picnic areas and a 70-seat, rentable pavilion area at Riverview, camping for boaters at Munn's Ferry, and fishways for free spring viewing of thousands of migrating fish.
Some access is free. See the website for pricing on services, skiing, camping, etc..
Hands-On Public Events
Northfield Mountain Recreation and Environmental Center's programs offer unique opportunities for hands-on environmental education and recreation.
Check the calendar for upcoming events.
Canoeing & Kayaking
From Memorial Day to Labor Day, Barton Cove Campground offers canoe rentals and a weekend canoe shuttle service. Reservations are highly recommended. Special arrangements for weekday departures are possible, subject to scheduling. These are great outings for groups.
Learn more about canoeing & kayaking .
or call Barton Cove Campground for information and shuttles at: (413) 863-9300.
Cross Country Skiing
Northfield Mountain has an extensive trail system which magically turns into Northfield Mountain Cross Country Ski Area in winter. There are over 25 miles of trails designed specifically for cross country skiing and groomed for both classical and free-style skiing. Trails vary from beginner trails to the demanding 800-foot vertical climb of Tenth Mountain Trail.
During the winter season, the trail system is open Wednesday through Sunday from 9:00 am - 4:30 pm.
Check the website for details and more information on skiing.
Snow Phone
Always call ahead first to our 24-hour Snow Phone for the most current conditions: (800) 859-2960. (Conditions will also be up-dated on our Trails Report, though there may be a time-lag.)
Turners Falls Fishway
Spring on the Connecticut River offers an unrivaled opportunity to witness the migration of shad, sea lamprey and other anadromous fish. These fish migrate from the ocean and head upriver to spawn in the rivers of their birth.
A visit to the Turners Falls Fishway provides an opportunity to learn about these amazing journeys. Admission is free. The Turners Falls Fishway will open Saturday, May 15 and close Sunday, June 20. The facility is open Wednesday through Sunday from 9 a.m. to 5 p.m. The Fishway is located on First Street, off Avenue A. For information please visit our website or call: (800) 859-2960.
---
Visitor Center Schedule
April - Monday thru Friday
May - Administrative office open Monday thru Friday, bathrooms open most Satur-days and Sundays.
June - August - Wednesday through Sunday
Center Holidays — Closed:
Memorial Day — May 31 Independence Day — July 4 Labor Day — Sept. 6

Trails
Trails are open seven days a week for hiking after the snow has melted and the trails begin to dry. Horses and mountain bikes are wel-come only after the trails have completely dried out from mud season, typically in late April.
---
www.firstlightpower.com/northfield/default.asp
---
99 Millers Falls Road (Route 63), Northfield, MA, 01360
map
Phone: (800) 859-2960
Northfield Mountain is located on Route 63, two miles north of Route 2, in Northfield, Massachusetts.
TRAVELING NORTH ON I-91:
1. Travel Route 91 North to Exit 27.
2. Travel Route 2 East for eight miles.
3. Turn left onto Route 63 North. Travel two miles. Northfield Mountain is on the right.
TRAVELING SOUTH ON I-91:
1. Travel Route 91 South to Exit 28.
2. Turn left onto Route 10 North for five miles (heading toward Northfield).
3. Turn right onto Route 63 South for five miles. Northfield Mountain is on the left.
TRAVELING FROM THE EAST:
1. Take Route 2 West. Approximately 6.5 miles after the Erving Paper Mill, take a right onto Route 63 North.
2. Follow Route 63 for 2 miles. The Center is on the right.
TRAVELING FROM THE WEST:
1. Take Route 2 East to Greenfield. Travel on Route 2 East/Route 91 north, getting off at Exit 27. Continue on Route 2 East for approximately 8 miles to Route 63 North.
2. Turn left onto Route 63 North, the Center is 2 miles up on the right.
---
Info changes frequently. We cannot warrant it. Verify with Northfield Mountain Recreation & Environmental Center before making the trek. If you find an error, please report it...