Haymarket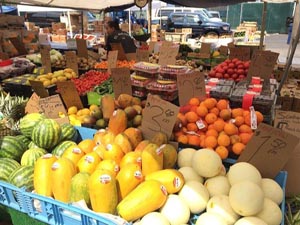 Haymarket is Boston's great outdoor market, where you can buy everything from fruits and vegetable to sugar cane to fish just off the boat. It is everything your average supermarket isn't: cheap and loud and in your face. And it's terrific.
Squashed between the elegant Bostonian Boston Hotel and some of Boston's most historic pubs and restaurants, Haymarket is the perfect place to get a taste of 'old' Boston plus the biggest produce bargains in town.
Peruse our
Haymarket Photo Guide
to get an idea of what to expect when you visit.
Haymarket is also loud, and bustle-y. The vendors shout their wares. And you just don't see prices like this in the supermarket. And just as you're congratulating yourself on getting eight ears of corn for a dollar, you walk a few feet and see, if only you'd waited, you could have gotten ten.
Bring your own bags if you want to look like a local, and to be environmentally responsible.
Find more of
Boston's Best Farmer's Markets
in our handy guide to produce shopping.
---
Haymarket is open all year long, Fridays and Saturdays from dawn to dusk. (Check website for some Saturday closings.)
---
Free. Prices get even more reduced as the end of the day nears.
---
www.facebook.com/pages/Haymarket-Boston/344202381179
---
Congress Street at New Sudbury Street, Boston, MA
map
Haymarket is right around the corner from Quincy Market. On the subway, get off at the Haymarket stop on the Green and Orange lines or the Government Center stop on the Blue and Green lines.
---

Haymarket
I am so sorry to hear that people are so anti Haymarket, this icon of Boston has been a catalyst of Boston from the beginning of Boston's history and is one of the places of Americas history. Perhaps we should look at the superstores that cannot compete with the Haymarket experience as far as prices are concerned. I raised three children as a single parent and could not afford to buy the essentials such as fresh fish unless I went to Haymarket. I am still gratefull thirty years later.
---

Haymaket is not great
Please don't refer to Haymarket as great. It is not great. It isn't even good. It is leftover food that the supermarkets didn't buy earlier in the week. The food is generally a week old. So, don't expect any of the food to last more than a day. I live nearby, and I frequently walk by Haymarket, and the smell of rotten produce is putrefying.
---

Haymarket
I moved from Boston to DC in '07. Nothing compares to Haymarket, the large market in DC is smelly, overpriced. Perhaps I will revisit. Haymarket saved my wallet for 3 years. Bought most of my produce there including cheese, lavash, and fish $20 or < / week. Can't do that in DC. It reminded me of the markets in Benin & China. I could talk to the vendors, find out information on the produce - cooking/storage/recipes. If you have never been to an international outdoor market, you've gotta see this one! You won't leave empty-handed either. 3lbs bannas - $1, end of the day price of cheese 2/$4. Just like others mentioned before, it's loud, ruckuss, maybe a little foody smelly. Sense of humor on a Friday or Saturday goes a long way. But what an awesome location. I wonder if the prices have gone up since. I appreciate food because generations of my family have worked in agriculture. Food is the center of life.
---

Haymarket
One may knock the quality of the produce at Haymarket, but one must remember the source of the goods. Haymarket is the outlet for food warehouses to bargain price their produce at weeks end. It's the leftovers which the grocery stores didn't purchase during the week. The quality may not be perfect, but, considering cost, many feel it well worth their visit. My husband and I go regularly, and we expect to sort and clean the produce soon after arriving home, it's part of the process of those bargain shoppers who love the market!
---

I Love Haymarket
I love Haymarket and feel like I'm walking into a time warp there. I love anything that has been around for along time, and I have gotten a lot of great food here over the years. It's also great for people watching because there are loads of people from other countries going around. I think it's unique and wonderful.
---

Haymarket
It might not be what it use to be as I haven't been there in many years.. but when I was a kid we went there every week and we had the best time with our family of 9 kids, the bargains were great, everything was there, I can remember going down this little side street to a candy store we were all in heaven, plenty of fresh veggies and fish of all kinds, we couldnt wait to get home to cook up all the crabs.. Boston is great!! a good place to grow up in, so much to do and see, but yes things are changing but its not the peddlers fault, but you do know who's fault it is :)
---

Haymarket Is Not What It Claims To Be
This market is farcical. The prices are not reasonable as is claimed, the quality of the goods is often substandard, and there's nothing local or sustainable about it. It's just a gag market, or the extension of a fad for buying food outdoors in the cold. Clearly a bad idea given credence because nobody knows any better, and can't judge quality.
---
Info changes frequently. We cannot warrant it. Verify with Haymarket before making the trek. If you find an error, please report it...