Enchanted Village: Jordan's Furniture Avon
We have Not Yet Posted This Year's Information for This Event Yet
If new information for this event is already available for this year, please let us know
.
Dates:
Friday, November 11, 2022 - Sunday, January 1, 2023
Hours:
Hours Vary see below
Ages:
Infants, Toddlers, Kids, Teens
In/Outdoor:
Indoor
Cost:
$ see below
Category:
Seasonal Fun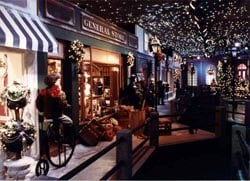 Enjoy Boston's historic Enchanted Village, now on view at Jordan's Furniture in Avon. Jordan's Furniture purchased the surviving pieces of the Enchanted Village at auction and restored the vintage collection to its former glory. The Village is open for all to enjoy during the holiday season.
Once, called the Enchanted Village of St. Nicholas, the holiday display was originally created in 1958. At that time, Jordan Marsh Company commissioned a Bavarian toy maker to create 28 fully decorated holiday scenes with 250 "magically" animated figures.
The Tube Indoor Slide is Fun for Everyone
Enjoy a thrilling ride in a colorful inner tube down a smooth slide – it's like a water slide without the water, or a backyard hill without the snow! This new Enchanted Village attraction is a beautiful wooden structure that's about 72 feet long by 16.5 feet wide for a quick gliding ride.
It's an easy climb back uphill, so you can slide down at least a few more times. It's a fun experience for the whole family!
The Tube is great for all ages. There is a minimum height requirement of 40'.
The Spirit of Boston's Holidays
Throughout the 1960s and into the 1970s, Jordan Marsh displayed the Enchanted Village in its Downtown Crossing store. The heart-warming display quickly became an integral part of New England's seasonal celebrations. Until 1972, when Jordan Marsh closed the display, a trip to The Village was a traditional event.
A Tradition in Jeopardy
The Enchanted Village remained closed from 1972 until its rebirth in 1990. Then, in 1998, when Macy's purchased Jordan Marsh, the Village was sold to the City of Boston for a City Hall Plaza display. In 2003, a lack of funding forced the Village to move to the Hynes Convention Center. By 2006, Boston stopped displaying The Village altogether. In 2009, the Village was put up for auction.
A Local Custom Continues
Jordan's Furniture purchased the surviving pieces of the Enchanted Village at auction in May of 2009 and restored the vintage collection to its former glory. The surviving collection includes 59 mechanical figurines and 18 vignettes. The Village is on permanent display in Avon, and is open for all to enjoy during the holiday season.
Note: The Enchanted Village Visitor's line will close when we reach maximum capacity.
Find more fun things to do with the kids over the holidays in our roundup of
Boston December Events
.
Visit our
Boston Events Calendar
for more great ideas on fun things to do with kids in Greater Boston all year long.
---
Monday - Thursday
11 a.m. - 7 p.m.

Friday
11 a.m. - 8 p.m.

Saturday
10 a.m. - 8 p.m.

Sunday
11 a.m. - 5 p.m.

Christmas Eve 11 am – 4 pm
New Year's Eve 11 am – 4 pm
New Year's Day 12 pm – 5 pm
---
Free to enter; (photos packages, refreshments and such are all extra) | Purchase Add-Ons
---
www.jordans.com/about-us/attractions#enchanted-village
---
100 Stockwell Dr, Avon, MA
map
---
Visit early in the season or on weekdays to avoid the crowds. Bring something to do in line to amuse little ones on weekends as lines can be long. There are options to purchase photos with Santa, refreshments, and the famous Jordan Marsh blueberry muffins - so that'll cost ya.
---

No Easy Way Out
At first glance this seems like the benevolent and generous resuscitation of a cherished tradition, but it's really just a prime merchandising opportunity, one Jordan's takes full advantage of. After viewing the exhibit, you're routed up the stairs (or elevator) and forced to walk the entire second floor—which is BIG—before you can escape. Making it so difficult to leave is a fire hazard as well as a pretty crummy way to treat visitors—though a great way to leave a negative impression.
---

Enjoy It For What It Is Time With Your Family
I remember going to the Enchanted Village as a child and now I'm taking my kids and they love it! You just don't see this anywhere else. I take my children every year now. I don't feel inclined to by anything I didn't want to buy on my way in/out (food and furniture included). You have to understand they have overhead for hosting the Enchanted Village, plus you're not paying anything to get in. They're a business and at the end of the day, they will be a business with a bottom line. For all those complaining about long lines and the Enchanted Village not being 'Christmas-y'... You knew in advance that you would be waiting in long lines and having to purchase expensive pictures and food while you wait, if you so choose. If you don't like it, don't spoil it for the rest of us with your sour attitude. Stay home. Do you complain about the long lines at Six Flags? I bet not. And you pay an entrance fee to get in. Your attitude is what's not in the Christmas spirit. Enjoy it for what it is... a time to spend with your children.
---

Enchanted Village worth the trip
I'm tired of the whiners and grateful that still exists at all! Jordans Furniture isn't doing anything that Jordan Marsh didn't do. For those who don't remember, you had to walk through a LOT of the Jordan's store in Boston to get to the display. It was free then too. And guess where you came out of the exhibit. RIGHT INTO THE TOY STORE!!! How much fun was that for parents??? I remember that there was more to it in Boston, 28 displays from what I have found online. But they have saved what they could. In talking to some of the folks that work there, Jordan's spent a lot to buy it to preserve it, and a lot to restore it. Is Jordan's Furniture not entitled to try and make some money off this? Do you all think Jordan Marsh didn't hope to generate sales? So Ebenezer, if you don't like having to walk through the store to get out, stay home!
---

Love the Enchanted Village
I am an annual visitor of the Enchanted Village in Avon and love it. I was taken aback by some of the negative comments i saw posted. I understand everyone has their own expectations and tolerance levels, but I take my grandchildren every year and they love it. Yes there are lines during busy times, and yes you have to walk through the store and yes you pay for food and pictures. There isn't anywhere you go that you don't have to pay for those things and ALSO pay an outragous entrance fee. They do not stop you from bringing your own food and drinks. Other places do not allow that. If you don't want to buy the pictures, don't. This is the most 'enchanting'place to bring your children. The Santa is great.. you do need to check the hours that Santa is 'on duty' but remember, even Santa has natural needs so you may have to wait for his return. They have a wonderful ice skating rink for anyone who would like to try without being in a freezing cold rink. The blueberry muffins.. again a option if you would like. Especially if you remember the Jordan Marsh muffins. I am sure those complaining about spending $2.50 for a muffin are the same people that would pay $3.00 for a muffin and $5.00 for a cup of Starbucks This trip is so worth see my grandchildren's faces while walking through the 'village' and when the snow sporadically falls - they just love it
---

Enchanted Village - 'free'
We went today with our nephew, a very disenchanting experience. The owner of the company took every advantage to bring large crowd of people to advertise his business. You couldn't enter the village without having a photo taken. When you finally get thru the village, everything had a price. They were selling a small box of popcorn for $3.25, selling a photo for $26 or the the package for $32 for the 5x7 and 4 small photos), and a blueberry muffin for 2.25 (6 for $11.00 even) dollars and nowhere to sit to eat or drink your purchases. To add insult to injury people with small children were forced to walk thru the entire furniture store to exit at least a 10-15 minute walk...there may have been a few elevators but the exits were not clearly defined. Small children crying and/or wanting to sit on sofas and furniture to eat...they don't understand why they can't just sit down and some of the kids just wanted to lie down on the beds! Please do not advertise this activity on Boston central as FREE and reflecting the spirit of Christmas past!!! It reflects commercialism at its worst!!!!!!
---

Enchanted Village
While I enjoyed taking my gradchildren so that they can experience the same excitement that I did as a child when it was at Jordan Marsh, I did not like that you had to do the photo opps, and once you get to the end if you would like to purchase photos, they are expensive, so a FREE family outing really is NOT free!!!
---

Enchanted Village at Jordan's Furniture Avon MA
So thankful that this wonderful Boston tradition has survived! We took my nine month old grandson and he was amazed. He loved the simulated snow. His favorite scene seemed to be the children trimming the tree, but he enjoyed them all!! He was also excited seeing the scene of the children who looked as if they were throwing snowballs!! It was a wonderful experience for my daughter-in-law, my grandson and me to share. I was saddened when I read that many of the characters and scenes have not survived over the years, but so thankful for the ones that have continued to spread their charm and holiday cheer! If there are archival photographs of all of the missing original scenes first created in 1958, it would be wonderful to have them posted on the website. Again, so thankful that even part of the displays have survived long enough for my Bostonian grandson to enjoy!!
---

Wonderful opportunity to see the Jordan Marsh window displays
So thankful that Jordan's furniture purchased this Village and restored it to it's beauty. The display is FREE and it actually snows while you are there. We went early in the season, just after Thanksgiving, and during the week so there was practically no one there. We took our time going through and savoring the wonderful scenes from days gone by. Polar Express was only $6 per person and what a great ride. My granddaughter who is 4 thoroughly enjoyed the whole experience. You can take as many pictures as you want so you don't have to purchase their professional ones. I highly recommend going to see it next year. Just go early in the season to avoid the long lines. You do have to walk through their furniture store on the way out, but it's a great way to get decorating ideas. Even my granddaughter liked seeing all the displays there, too.
---

Enchanted Village Disappointment
I doubt that this will get published as my review is negative. My husband and I took our two grandchildren. Ages 4 and 2. We stood in line for close to three hours. The kids did not want to leave because they wanted to see Santa. Of course they got hungry and thirsty. It cost my husband a fortune to purchase popcorn and drinks (the popcorn stand was right there for all the children to see). Before we even got in line, they have you walk thru all of the furniture showrooms to get to it. A nice ploy to get you interested in buying furniture. Same thing as with the Mom Show. They let so many people in at once that it was so crowded and the kids could barely see the displays. You are walked thru in such a hurry to let the others enter. And to top it off. SANTA WAS NOT THERE. We were there at an hour that he was suppose to be there. We were told that he was taking a short break. But, it was time for us to leave so that others could go in. Needless to say, we had two crying children on the ride home. Thank you Jordan's Furniture.
---

Enchanted Village
I took my grandchildren to the Enchanted Village and was thrilled to be able to share the same experiences that I did as a child growing up in Boston. Thank you Jordan's Furniture for this wonderful tradition.
---
Info changes frequently. We cannot warrant it. Verify with Enchanted Village: Jordan's Furniture Avon before making the trek. If you find an error, please report it...