CLOSED: Bonkers Funhouse Pizza
Other Ideas:
LegoLand Discovery Center Boston
;
The Anchor, Boston
;
Brickapalooza
;
One Stop Fun
;
Willy's Play World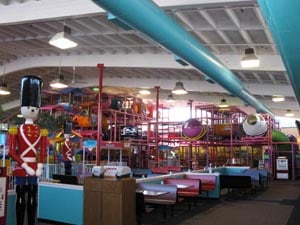 THIS VENUE HAS PERMANENTLY CLOSED
A fun, indoor entertainment destination for children, featuring a giant maze with tubes and a 10-foot wide slide, a mini ferris wheel, a frog hopper, a carousel, and many arcade games. A separate gated area for infants and toddlers has a smaller climbing structure and other age-appropriate activities.
Use of the toddler area is FREE. Children under 3 years old must be accompanied on the maze with a paying adult. Tokens are available for arcade games, and winning tickets may be redeemed for prizes.
Pizza, salads, sandwiches and snacks are always available.
Birthday Parties
Bonkers is a great place for a birthday party, but there are no separate party rooms. Children under four may be hard to keep track of during busy times like weekend afternoons. Check the Bonkers website for party prices and options.
---
Sunday to Thursday: 10am to 8:30pm
Friday & Saturday: 10am to 9:30pm

Rides and Maze Hours
Sunday to Thursday
open until 8:30pm
---
Unlimited all day Rides & Maze Pass only $15 per child
Monday thru Wednesday Rides/Maze Pass only $12 per child
CASH ONLY
---
---
535 Lowell Street, Peabody, MA, 01960
map
Phone: (978) 535-8355
Take Route 1 North from Boston until you see Lowell Street exit. At the bottom of the ramp take a right towards Lowell Street, and you'll see a parking lot to your left.
---
Large pizzas are half-price on Monday - Wednesday.
---

Dirty Unsafe
The area for the younger children to play was absolutely filthy. There was gum stuck all over the place and dirty straws on the floor. Also, it seems like the restroom is just used by the public and anyone can just walk in and go right into the restroom from the street, without having come in with a child. Very old and outdated.
---

Rip Off
Yesterday I paid $65 for 2 hours of Hell at this place. They only accept CASH - which is very inconvenient for anyone today. They will send you to the ATM machine before you can purchase ANYTHING. You will stand in line at that ATM machine all day if you don't have handfulls of cash on you. It costs $15 per kid to walk in the door. And if your child is small...you need to pay another $15 to go in the maze and rescue them after they get trampled on by bigger kids. Are they serious?? They have a new 'swipe card' system that's too complicated for kids, unless your kids are older, but then, older kids don't want anything to do with this place, so, your younger one will be sure to get confused and frustrated trying to figure out how to swipe and where their tickets are. And don't be surprised if, at the end of the day there you go up to the desk and get a dum-dum pop for the 'reward' -- the prizes for the kids are a joke. I think we walked out with a Hershey Kiss last time. My kids have no interest in going back to this place and I'm so glad.
---

New Pricing At Bonkers
Bonkers has new two-tiered pricing system. It now costs $15 for unlimited maze use and rides (carousel, frogg hopper and ferris wheel). For $10, you can still use the maze but you only get six rides.
---

An Outing To Bonkers
What parent doesn't feel a frisson of fear at the uttering of the word 'Bonkers?' The aptly-named indoor playground can save your sanity on a rainy Tuesday morning, or drive you bananas on a Sunday afternoon when up to twenty birthday parties might be raging at once. To get the most out of Bonkers, steer clear on weekends; you'll even get a large pizza half price Monday - Wednesday [except vacation weeks.] As for age range, many parents don't realize that their very little ones can enjoy the gated toddler area for free, a real boon in winter or broiling summer. Kids three and up (though it's a little scary til age four) will enjoy the enclosed giant maze and slide. But since Bonkers offers no way of making sure your child stays safely on premises, grab a table right at the entrance of the maze so you'll know if your child is still 'safely' inside.
---

Family Fun
What a great place to take your kids. Clean beyond anywhere else I've been to in Massachusetts. Friendly staff, great food, reasonable prices and good parking. I love it and so does my 3 year old daughter. Highly recommend to anyone with kids if you're looking for a fun and safe place to hang out.
---
Info changes frequently. We cannot warrant it. Verify with CLOSED: Bonkers Funhouse Pizza before making the trek. If you find an error, please report it...