Southwick's Zoo
Other Ideas:
Butterfly Garden at Museum of Science
;
Mystic Aquarium
;
Magic Wings Butterfly Conservatory
;
New England Aquarium: Boston
;
The Butterfly Place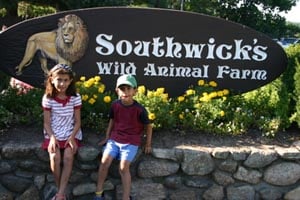 Privately owned and maintained, Southwicks has the largest collection of endangered species (White Rhinoceros, African elephants) and some not-so-endangered animals in the region. This is one of the nicest zoos in the area.
The zoo offers animal shows, a petting zoo and a 35-acre walk through a deer forest where you come in direct contact with the animals. Your toddler can ride a pony ($5), or try the more exotic camel ride ($5).
View Ride Ticket Information
. They also offer wagon & stroller rentals for your convenience. Concessions and a gift shop are also available.
Mechanical rides (available at extra cost) include the Carousel, Rodeo, Rocket, Cars, Frog Hopper, Bear Affair), Woodland Express (Tire Train) and the SkyFari Sky Ride.
Children's Play Park
:
The Children's Play Park at Southwick's is an example of Recycled Materials at Work. The Play structure is made from the equivalent of 2424 plastic containers, 27608 aluminum cans, 14994 Soda Cans, and 10 car tires! Southwick thanks you for recycling!
*All children must be accompanied by an adult.
History
:
Southwick's began as a dairy farm on a homestead that dates back to 1803. In 1952, Justin Southwick's keen interest in the conservation and preservation of animals, particulary migratory waterfowl, led to the sale of his dairy herd. The dairy herd was replaced with a collection of exotic birds and migratory waterfowl. After several years of the public coming to visit his birds, in 1963, he was encouraged to put out a donation box.
With the money collected, he purchased a bear and a fox.
Since that time the park has grown extensively. Southwick's is now home to hundreds of animals representing a wide variety of species, some of which are endangered.
Southwick's Zoo is privately owned. It does not receive state, local, or federal funding of any kind. All admission proceeds go directly towards caring for the animals and upkeep of the zoo. This includes animal housing, appropriate diets, veterinary care, new exhibit design, and all maintenance to zoo facilities.
If animals are your thing ,be sure to check out our guide to
Boston Zoos and Aquariums
, or for a more up close & personal option, peruse some
Farms with Animals near Boston
. You can find many options both in Boston and within a short drive.
---
10:00am to 5:00pm
7 Days a week, Including Holidays from mid-April thru October
(with slightly reduced hours 10:00am - 4:00pm in October)

RIDES
Spring & Fall Weekday Hours 11:00 AM – 4:00 PM
Weekend & Holiday Hours 11:00 AM – 5:00 PM
Summer (July & August) (daily) 11:00 AM – 5:00 PM
---
View Admission Rates

Adult: $29
Child (ages 3 – 12 years): $25
Senior (62 years+): $22
Children 2 Years and Under = free general ticket.

Combo Ticket (with rides)*
Individual (3rys +) $38.00 per person
---
---
2 Southwick Street, Mendon, MA, 01756
map
Phone: (508) 883-9182
---

Southwick Zoo
I just went to this zoo for the first time today so it is fresh in my mind. I have been to alot of zoos, but this one is really special for a number of reasons. It is nicely shaded with lots of trees, great in the summer. It has a wide variety of animals, many that you don't see at other zoos. Giant tortoises! It is unique in that you can get really close to the animals, great for kids and toddlers. It has a petting zoo that you can actually enter, not have the kids look at or touch the animals through a fence. When do you ever get to see deer up close? Deer are normally nocturnal, but here they are out and about in a special area not being shy at coming up to people to be fed corn. You can walk into wooded areas where the deer are! They have nice shows. We saw the elephant show and dog show today. Unless you're in Disney World, you won't get shows at places like Roger Williams Park Zoo. Now, the downside is that it is very expensive. At $18.75 for an adult (age 13 and up) and $12.75 for children ages 3-12, (under 2 are free) you will be shelling out alot of coin. We got $2 off per person with the AAA discount or if you print the coupon on the zoo website. If you get the Entertainment book, you will get (only) one child free with one paying adult. So, going more than once a year is out of the question unless you buy the Family Fun pass that comes as 10 and 16 visits averaging $10 per person. It is also a bit out of the way. The upside to the high cost and non-urban location is that it keeps the riff raff out. Bring your lunch, snacks, drinks. It would be way too expensive to buy lunch there due to the high admission fee. They have clean picnic tables that are right near the animals. The zoo has your standard stuff, bad pizza, crinkle cut fries, hot dogs,hamburgers, chicken strips, pretzels, mozzarella sticks, popcorn, soft serve ice cream,ice cream truck snacks, cotton candy, fried dough, cookies, wraps, sandwiches, soups, salads, overpriced soda, machines selling drinks. You can also end up spending even more if you pay for the pony, elephant and camel rides (Yes, elephant and camel rides!) moonbounce, merry-go-round, trainride, etc......and of course, last but not least, the gift shop on your way out. There is a mist station for the kids to cool off, and a water fountain. If you want to feed the animals, they sell corn for 50 cents (you get just a handful). You can get away with just stopping at a feed store and buying feed corn Just don't tell anybody or make it obvious, keep it in your backpack and then put some in your pocket gradually. The deer and goats eat the corn. Enjoy, it's totally worth it.
---

Southwick's Zoo
I've been visiting Southwick's Zoo for over fifteen years. It is one of the most wonderful zoos out there. While slightly more expensive than other zoos in the area, it is worth the price of admission. You also can't pet as many animals as you used to be able to, but they're still all fairly close and viewable. It is a wonderful place to take the grandchildren.
---

A Great Time At The Zoo
I visited the zoo on Saturday, June 28, 2008. All of the animals were very cute. I saw the gentlemen with the dog act and was very impressed with him. He did such a wonderful job with the dogs. I would recommend the zoo to a friend.
---

The Zoo
I found Southwick zoo, a very wonderful place to take my grandson to see animals. It is educational and fun. I found the aniamls in good health and their habittats clean and the animails had plenty of water and seem to be well fed. There should be more zoo's like this one.
---

The Best Zoo In Mass
this is an annual event for my family. lots of great animals to see. The cost is a bit steep for adults, compared to other zoos. the highlights: lots of monkeys, the deer woods, the baby giraffe. I have pictures every year over the last five or so of my girlfriend feeding the deers. It is a great activity. Also, ask when the giraffe are going to be fed. The giraffe come right up to the edge of their area to eat. Great close up views. the lowlights: the tiger and lions are sleeping and hard to see. the chimpanzees are so far away that they are hard to see. the bathrooms are nasty.
---

Southwick's Zoo
I have visited Southwick's Zoo for many years. It is absolutely the best zoo in the New England area!! The zoo is spacious enough to visit each animal without having to worry about crowds. All the animals seem very well taken care of and in beautiful condition. The park is very clean and you can spend a day enjoying the quiet, relaxed atmosphere. The deer forest is amazing, you can even picnic amongst the deer! (there has never been charge for petting zoo or deer forest..prior reviewer must have had mis information). The shows are fantastic and the new Purple Peacock gift store has an amazing collection! I loved the new train ride and I hear they are building a new train station! They had a great Haunted Ghost Train during Halloween time in October! Myself and Kids loved it!! All in all, Southwick's is my favorite place to visit and I love being able to get up close and personal with so many exotic and beautiful animals while learning to respect them. EARTH ltd., does a great job with educational programs also! Make sure it is on your list to do this summer!
---

Fantastic place
This past summer I took my 1.5 yr old to the Southwick Zoo. It is the best place I've been with him so far! The entire zoo is fabulous, but the deer forest was amazing. I stood teary eyed as I watched my little boy feeding the deer. He made kissing noises as he toddled after them & when one brave deer actually got close enough to eat the sweaty corn he held, he said 'Mmmmm!' That alone was worth the very reasonable price of admission.
---

Must have on your summer season list
We discovered Southwick two years ago. For whatever reason, they are not advertising much, so it took my then 3-years old to ask for the elephant rides, and me doing yahoo search on elephant rides to find Southwick... Since then, we're there driving from Cambridge, MA at least twice a month from May to October. Buy the Friends of Earth pass, it will save you tons of bucks over the season. There is no better place to connect to wild animals and make your kids feel like a part of planet Earth than Southwick. What those people do is fantastic!
---

It's an annual event
I was taken to Southwicks as a child and the tradition has been handed down now that I have a daughter. Over the years Southwick has become a nicer place to visit. As soon as we pulled into the parking lot the Zebras were right there. We hurried over even before we entered the zoo and took a few photos, we've never been so close before--the timing was great. We had a coupon that we printed on line and another coupon from the mail. The deer forest was our number one favorite. This is the first year the my daughter 'fed' the deer, it was a young one and approached us very cautiously, she absolutely loved it! The alligator was lying right along the fence, that was a sight to see!!! We went right as school was beginning so it wasn't crowded at all. We certainly will be visiting again next year!
---
A pleasant surprise
We went to Southwick's Zoo recently and both my husband and I were pleasantly surprised. We remembered an old, run-down farm from our childhood. Boy has this place changed!! We decided to go since it was a mere 1-hour trip from our home. Also, they had all the 'important' zoo animals - lions, tigers, zebras, giraffes, etc. Our kids (8 and 3) loved it! The dear enclosure was definitely the highlight. They really loved having these 'wild' animals come up right to them to eat from their hands. The giant tortoises, the elephant ride, and a funny little show with dogs, cats, and llamas were all big hits as well. Unfortunately, the lions, tigers, and zebras were all too sleepy or far away to see very well. We were a bit disappointed, but that's no ones fault. Lots of monkeys there! All different kinds. And we were able to get up close to a number of parrots and cuckotoos that were brought out for people to experience more closely. Unlike a prior reviewer, we didn't have to pay to enter the petting zoo, so maybe Southwick's has changed that? I thought the food was overpriced, but it was ok. I was able to have a pretty good chicken ceaser salad instead of a fatty hamburger. All in all, we would definitely go again! Southwick's is a nice zoo with a small feel, but great displays and animals.
---
Info changes frequently. We cannot warrant it. Verify with Southwick's Zoo before making the trek. If you find an error, please report it...