Wingaersheek Beach - Photos, Tides, Parking, Info
Great beach for families & kids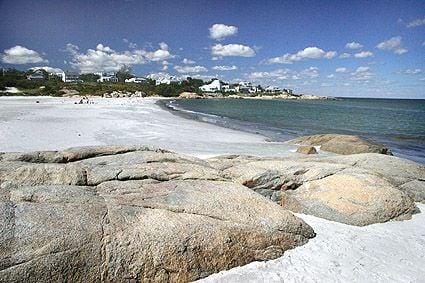 Wingaersheek Beach has white sands, crystal clear waters, and huge rocks in the water that you can climb around at low tide. The beach goes on forever at low tide and the water stays shallow for a long time - plenty of space for everyone.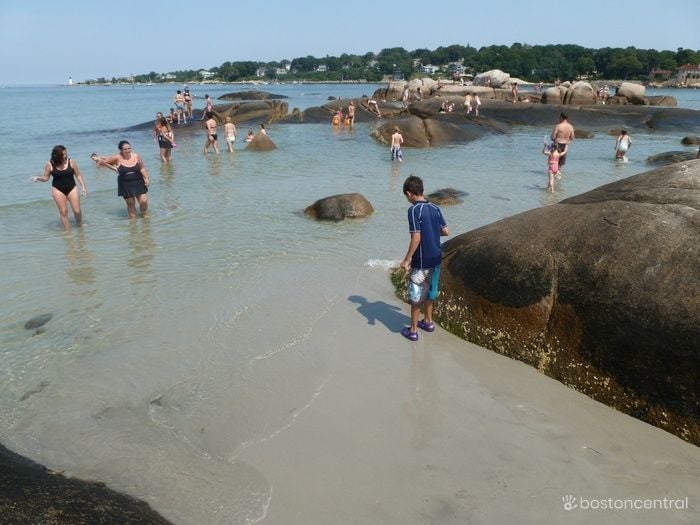 Low tide is our favorite time to visit Wingaersheek Beach. The tide pool formations are perfect places for kids to explore. Be sure to check the tide charts before you go if you are looking to enjoy a low tide experience.
The sand bar also stretches way out into the shallow waters and makes for a satisfying stroll for any visitor. Plus, low tide means more beach space to spread out and enjoy.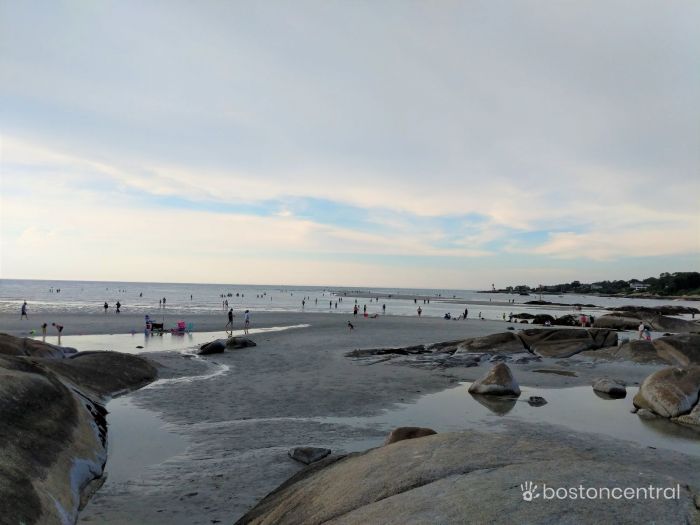 Wingaersheek is especially nice for families with small children as there is no real surf to speak of. Just gentle waves (even at high tide) and a shallow entry to the water (meaning now sharp drop off to deep water).
Also, due to how the beach is situated, you can uniquely watch the sun set over the water (like the west coast) if you opt to stay and have a picnic dinner.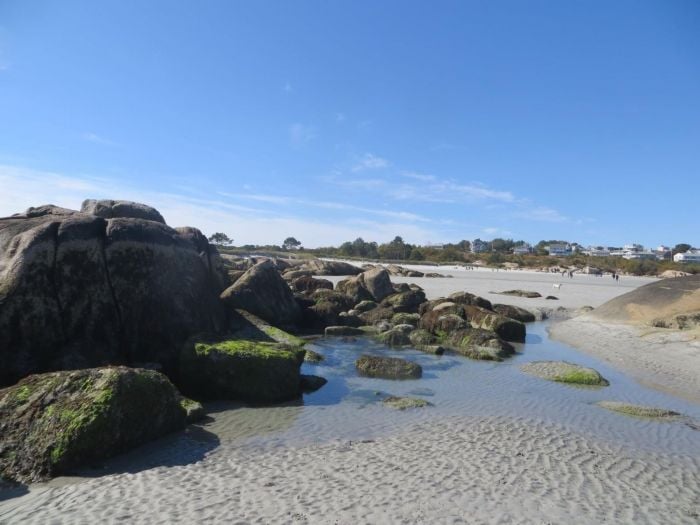 Some people actually prefer to come to Wingaersheek after 5:00pm to avoid parking fees and to enjoy the spectacular sunsets. The parking lots close at 9:00pm during the summer.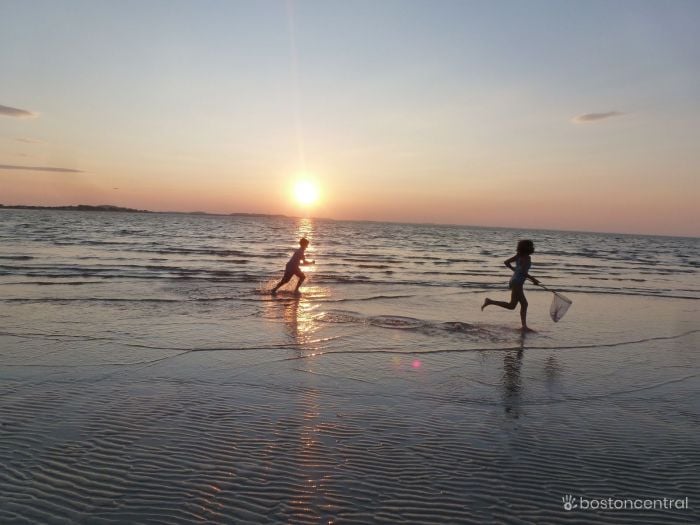 Parking is limited at Wingaersheek Beach, so it's best to plan to arrive very early on summer weekends to ensure a spot. Within the past few years, they have expanded the parking a bit into a grassy field adjacent to the original lot, but these lots do fill up quickly.
2023 - Gloucester Beach Parking Reservations for Non-Residents
The city of Gloucester is launching "Blinkay", a new system that will let non-residents reserve and pay for parking at city beaches ahead of time.
In short, non-residents must purchase a parking pass in advance if you want to visit a Gloucester Beach (Good Harbor, Wingaersheek or Stage Fort Park this year.
Visitors can grab a spot up to 10 days before they hit the beach, a move that will guarantee them a prepaid spot if spots are available. Reserve a non-resident Parking Spot. There is no reservation required for Gloucester residents.
Please note that reservations are required for non-residents at Good Harbor, Wingaersheek, and Stage Fort Park starting Memorial Day! You can reserve your parking space up to 10 days in advance on the Blinkay mobile app or website.
Off-season, (after Labor Day until just before Memorial Day weekend), reservations are not required and fees are not collected.
There is a small snack shack and restrooms to the left of the parking lot area as you head to the beach. There are two sandy entrance paths that will lead you to the beach area.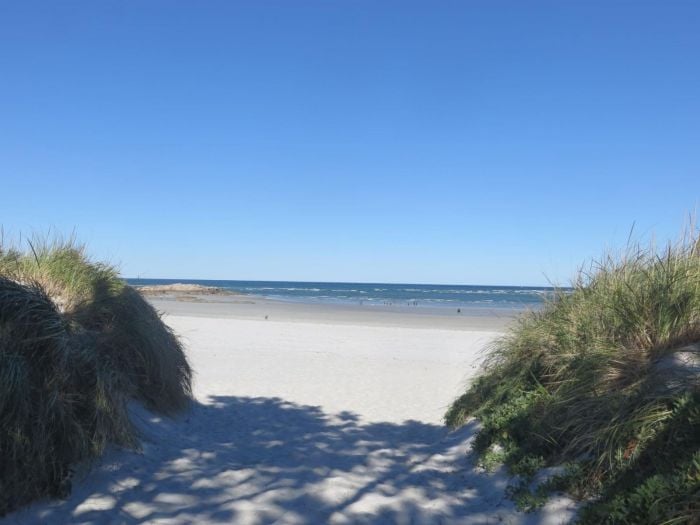 Many people set up in the main area, but note that there is more space to the right of the rocks (as you face the water) if it is crowded. And it does get crowded on hot summer days. You can see how much the low tide makes a difference on space here.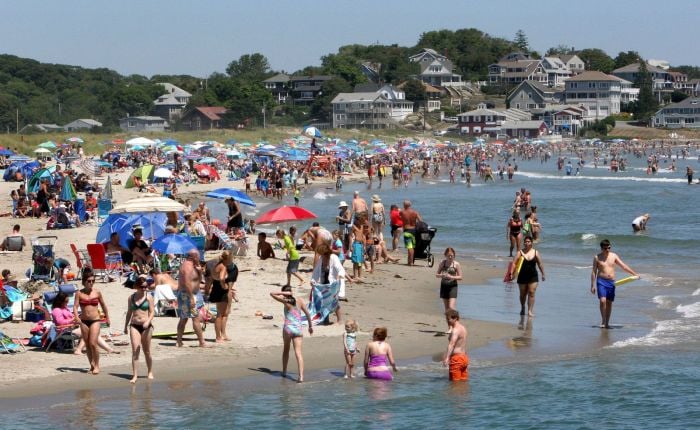 If you are looking for a bigger beach with more waves for boogie boarding, we suggest heading up the road a bit to Good Harbor Beach. Good Harbor is a bit bigger and definitely has more waves for boogie boarders and wave enthusiasts to enjoy.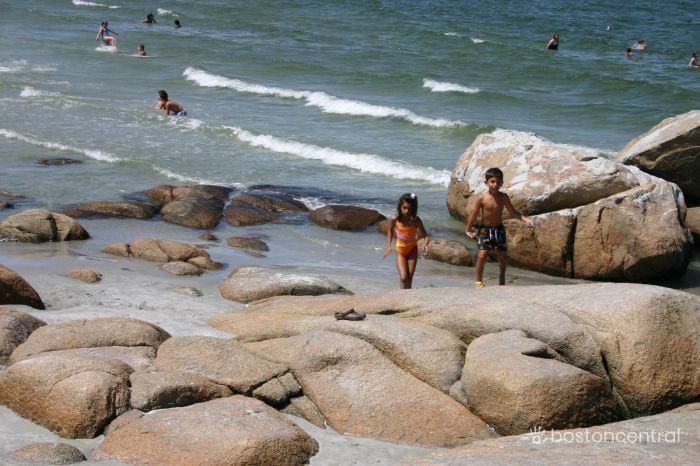 Amenities
There is a concession stand, rest rooms and showers. We recommend packing a cooler with snacks, drinks, and lunch is a good idea. Sometimes, you can find a vendor on the beach selling Italian ice from a cart.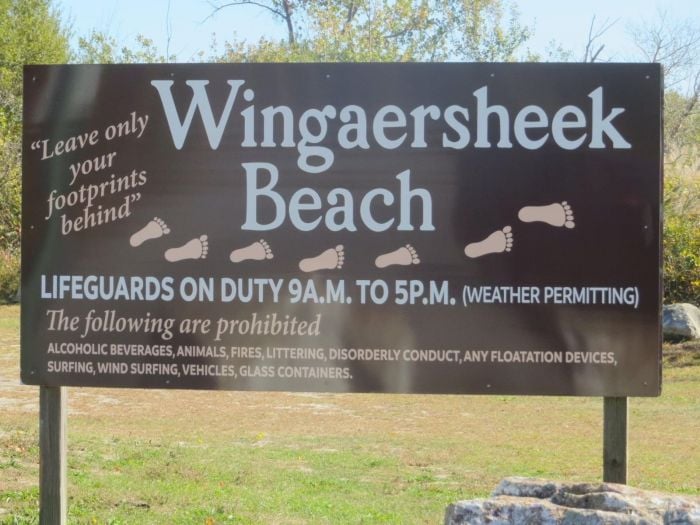 This is a carry-in/carry out beach. You must take your trash with you. As their slogan says: 'Nothing should be left behind but your footprints'.
Dogs are not allowed on the beach from May 1 - September 15.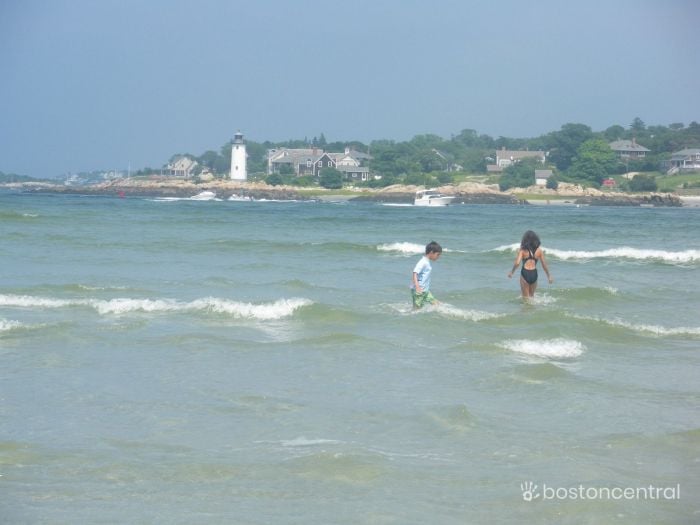 Parking Lot Access & Information
Gates opened April 1 to October 31 annually
Gates closed November 1 to March 31 annually
Parking Fees & Tips - As mentioned above, parking is limited at Wingaersheek Beach. Weekdays provide the best chance to get a spot, and early birds definitely get the worm on the weekends.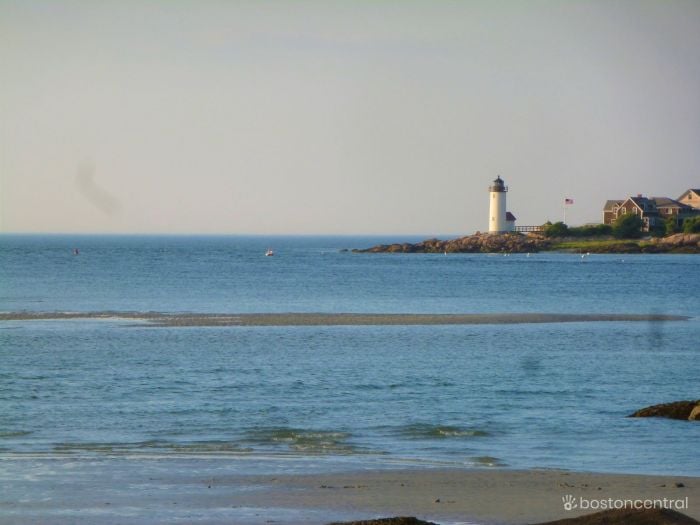 More Ideas for Summer Fun!
Find Fun Things to Do on our events calendar as Summer Begins in Boston. From a myriad of Boston Beaches, Spray Parks & Pool, Waterparks and more, you'll find lots of ways to stay cool during a Boston Summer.
Enjoy your summer nights with these free evening concerts, and you can mix things up with our list of fun options for free summer movies in the Boston area as well.
In addition to summer concerts and movies, there are many other fun things to do for free in Boston - check out our handy guide to free family fun for more ideas.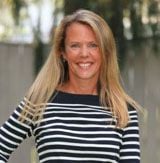 ~~
Stacey Sao has been the Managing Director of the family-friendly events and activities website, BostonCentral for almost 20 years. She continues to enjoy discovering and exploring new places to visit in the Greater Boston area.